Microsoft is today making its Chromium-based Edge browser available to developers. The software giant has Canary and Developer-builds on offer with daily or weekly updates. Only English 64-bit installations of Windows 10 are supported for the time being.
After an early leak at the end of March, Microsoft will officially make the new Edge version based on Chromium available for Insiders. This gives developers an early glimpse of how Edge is changing. For the first public builds, Microsoft mainly focused on the basics: browsing, reliability and extension support. It would now like to receive feedback on these foundations.
Despite the early version, it already has sync support. Today, this only applies to favourites, but in time, the browser history and the extensions will also have to be synchronised. When the Internet browser later enters a beta phase, sync support will be fully effective.
Google blocking
Microsoft goes all-in with Chromium and, according to The Verge, is committed to 150 commits for optimal integration with Windows 10. These include smooth scrolling, touch keyboard, Windows Hello and accessibility features.
We work directly with Google and the wider Chromium community and appreciate the collaboration and open discussions, says Joe Belfiore, Corporate Vice President at Microsoft. Their contributions are work-in-progress and not all of them can be found in the test version today.
Microsoft does its own thing with Chromium Edge. It has extracted a total of 50 Google services from Chromium, including ad blockers, Google Now and other Chrome OS-related services. A complete list can be found below: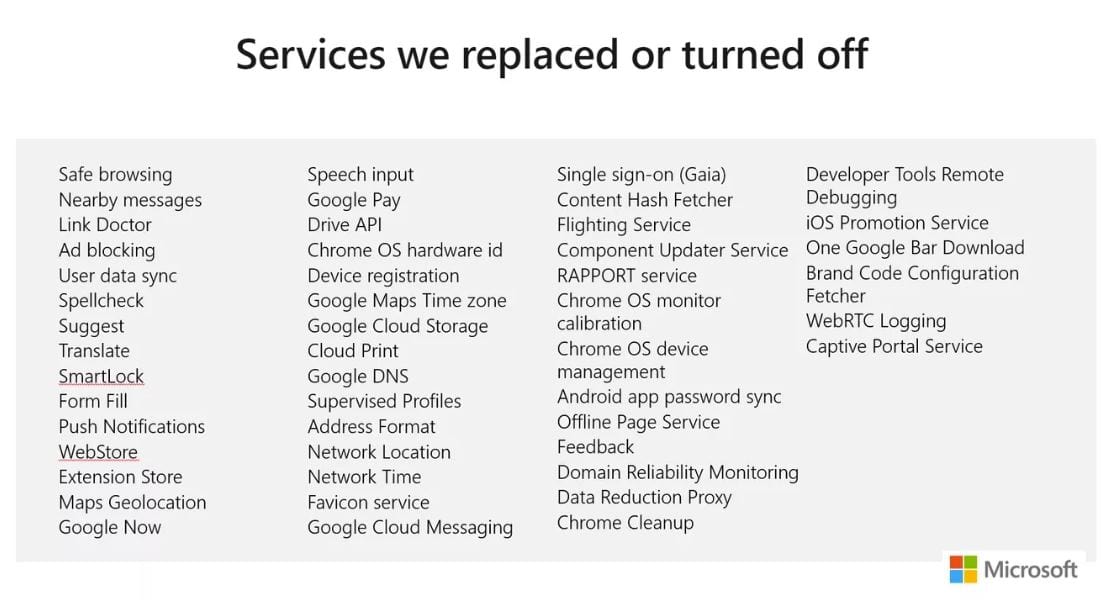 For developers
Microsoft is also working on ARM support for Chromium and continues to focus on PDF enhancements, improved battery life, dev tools and web authentication. According to Microsoft, the development of Chromium Edge is going very smoothly and it has already made hundreds of changes to Chromium to achieve the Edge version offered today.
Today you can download Canary and Development builds as Edge Insider. Click here to register. The current test version only works on an English 64-bit Windows 10 version today. Microsoft plans to support Windows 8, 7 and macOS in the future. The current test version is mainly focused on developers to provide an early insight into the changes under the bonnet. Microsoft expects a more stable beta version to be made available soon with a cautious update cycle of six weeks.
Related: Getting started with Edge on Chromium: Microsoft sauce
This news article was automatically translated from Dutch to give Techzine.eu a head start. All news articles after September 1, 2019 are written in native English and NOT translated. All our background stories are written in native English as well. For more information read our launch article.