SAP is working hard to develop its HANA portfolio. Whereas the in-memory database was initially launched in 2010, it is now an SAP brand that enterprises rely on to solve multiple issues. But what is HANA like today? We spoke to Matthew Zenus, Global VP of SAP HANA Product & Solution Management.
In recent years, SAP extended its HANA portfolio, making it the right time for an update around the strategy and direction. To understand this, it is important to know HANA's position within the broad SAP portfolio. The software giant has hundreds of solutions in-house, all with different tasks and responsibilities.
Zenus indicates that HANA is a key foundation within the Business Technology Platform. With this platform, SAP aims to bring its technologies and services together in one stack, with everything coming together as much as possible on one architecture to create uniformity. This so-called Business Technology Platform should help companies on their way to what SAP calls an Intelligent Enterprise and to convert data into value.
"We want to lay the data foundation for every company and every professional so that they become a data superpower."
"Our ambition is to use tools to lay the data foundation for every company and every professional so that they become a data superpower," Zenus said. But exactly how do you create that foundation?
A database that runs on-premise or in the cloud
Because the HANA brand has been around for years, the product offering consists of several editions. Most enterprises currently run the original in-memory database SAP HANA (from here on HANA). This edition is still very much alive, as SAP regularly provides updates and extended support. HANA is, therefore, one of SAP's most important databases.
SAP offers several deployment options for HANA. If a company prefers to process data in its data center, the database can run on a certified appliance. However, with an increased interest in the technology of choice, SAP wants to offer as many deployment options as possible. That is why HANA can run in most computing environments, including on-premise, private cloud, public cloud, multi-cloud, and hybrid cloud. In most cases, HANA runs within AWS, Microsoft Azure or Google Cloud. SAP also offers extended integrations with Hyperconverged Infrastructure to simplify management of all the different deployments.
Tip: What does SAP's Intelligent Enterprise mean?
In addition to HANA on-premises, there is the new edition SAP HANA Cloud. This implementation has been on the market for several months now. According to Zenus, HANA Cloud is the strategic direction for SAP and its customers. The HANA Cloud database is built for the cloud and fully managed by SAP. It ultimately leads to cloud benefits like an as a Service model, simplicity, scalability, excellent performance and agility.
HANA and HANA Cloud will together form the center of SAP's strategic database direction for the coming years. There is still SAP HANA as a Service, the database on which the software giant focused a few years ago, but which is being succeeded by HANA Cloud. The cloud-native database, therefore, marks a new era.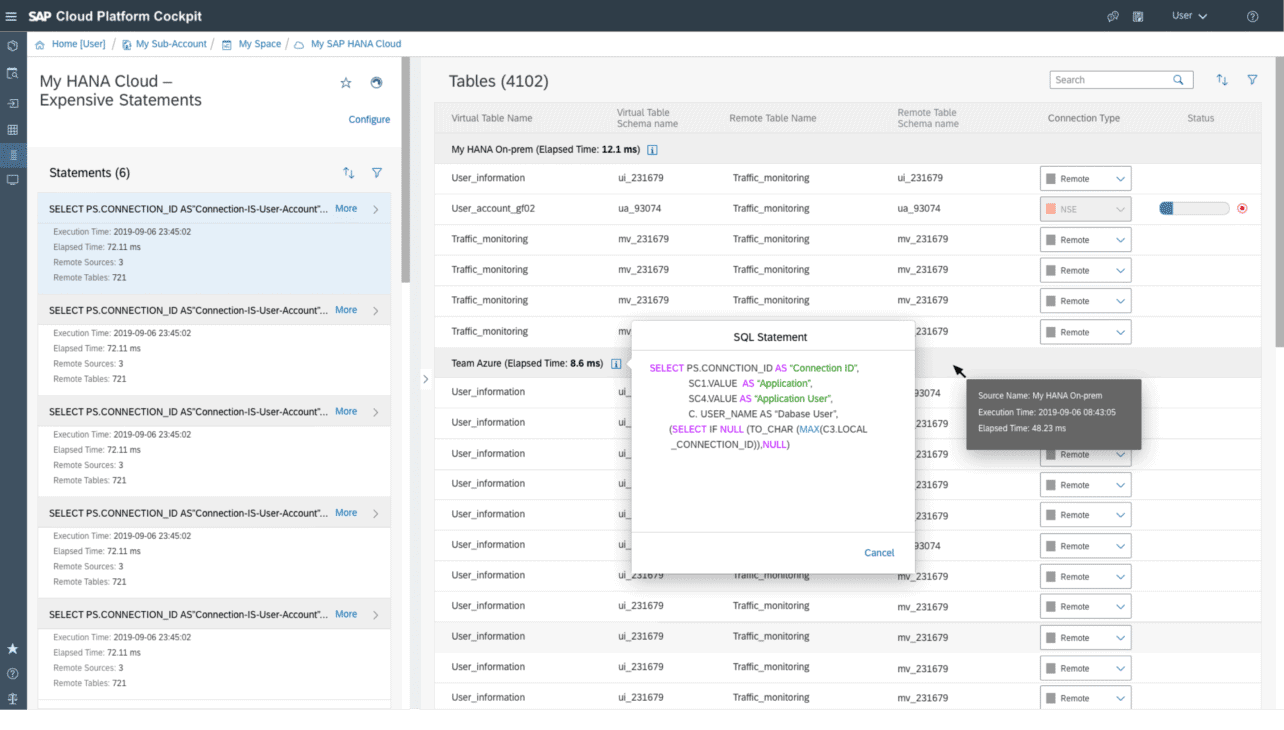 Supporting hybrid scenarios requires commitment
SAP wants to lay the hybrid data foundation for companies with HANA and HANA Cloud, as hybrid cloud has become the strategic choice for many companies. Some services are cheaper when they run on corporate infrastructure, while others are cheaper in the cloud. Besides, on-premise also means retaining control over the software. At SAP, they also see these developments, ultimately leading to a database optimised for this hybrid world.
To support this future SAP released SAP HANA 2.0 SPS 05. This update means the database will be supported for at least five years, although there are more updates expected, which will every time guarantee ongoing support for five years. Users of HANA can continue to rely on their current database for years to come.
The release also offers extended support for hybrid scenarios with tunneling between on-premise and the cloud. It will help enterprises more easily replicate data between environments, and they will also be able to query data across different computing environments. SAP users should be able to quickly bring workloads and data to HANA Cloud, as well as third-party applications.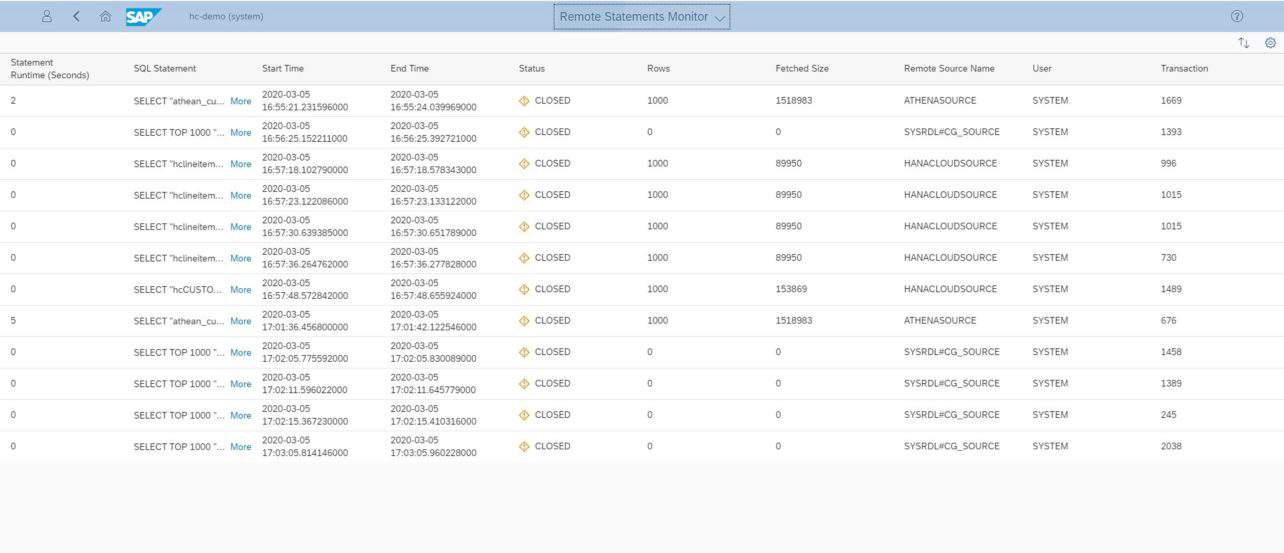 HANA recently increased its focus on reducing the total cost of ownership (TCO) of data management. For this purpose, admins can use a storage extension to optimise data placement. This way, they will achieve optimal cost and performance, taking the different workloads and storage into account.
Long-term data foundation
According to SAP HANA Cloud has a bright future, as a lot of enterprises choose more cloud computing. That is why SAP focused on building a database with true cloud architecture during the development process of the database. At SAP TechEd last year, SAP CTO Juergen Mueller announced the database runs on Kubernetes clusters and microservices. It allows enterprises to scale more easily, while they are also able to run future-proof applications on HANA Cloud. It means both SAP applications and non-SAP applications.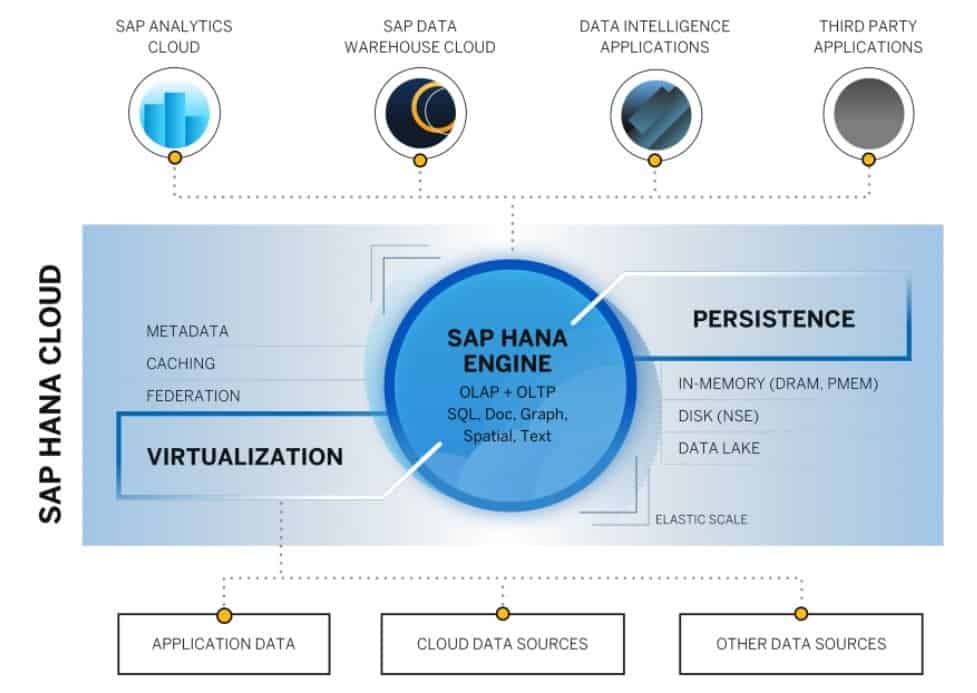 As a result, SAP offers several services on top of HANA Cloud: Data Intelligence Cloud, Data Warehouse Cloud, and Analytics Cloud. Those services together address the entire data process, from implementing data to actual predictions. Therefore, the services integrate deeply, although they can also be used separately.
The first phase of the data process gets targeted by Data Intelligence Cloud, which maps enterprises fragmented data landscape. The Data Intelligence Cloud offers different connectors to extract data from all kind of sources, like legacy systems and modern Software as a Service. It also provides the capability to create AI models or use existing models to apply them on the data. SAP aims to bring together the data into one location and make the data useable with this service, ultimately leading to data-driven insights.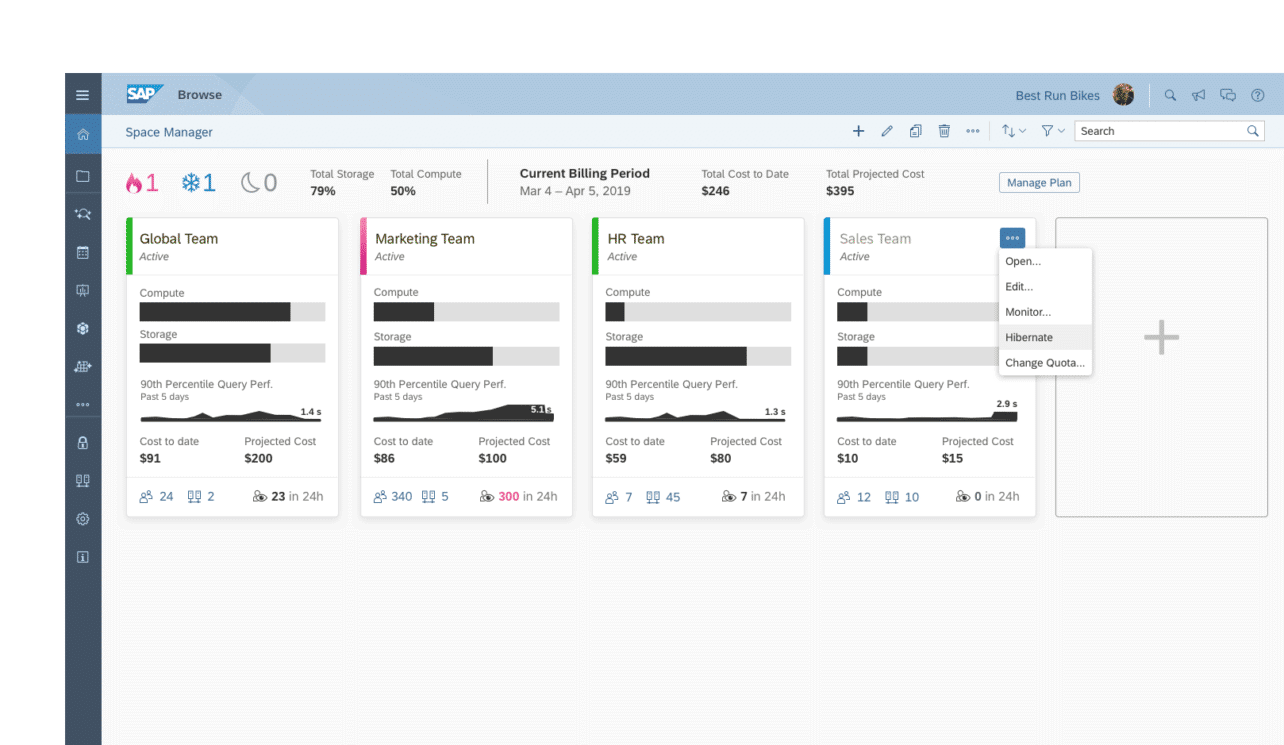 Another service running on HANA Cloud is the Data Warehouse Cloud. Companies use Data Warehousing as a Service (DWaaS) to bring together all types of data into one location, including structured data, unstructured data, as well as data from internal and external sources. Data warehousing technology can then be applied to create datasets, which is required to achieve analytics as software and services store data their way. A data warehouse lets the data work together.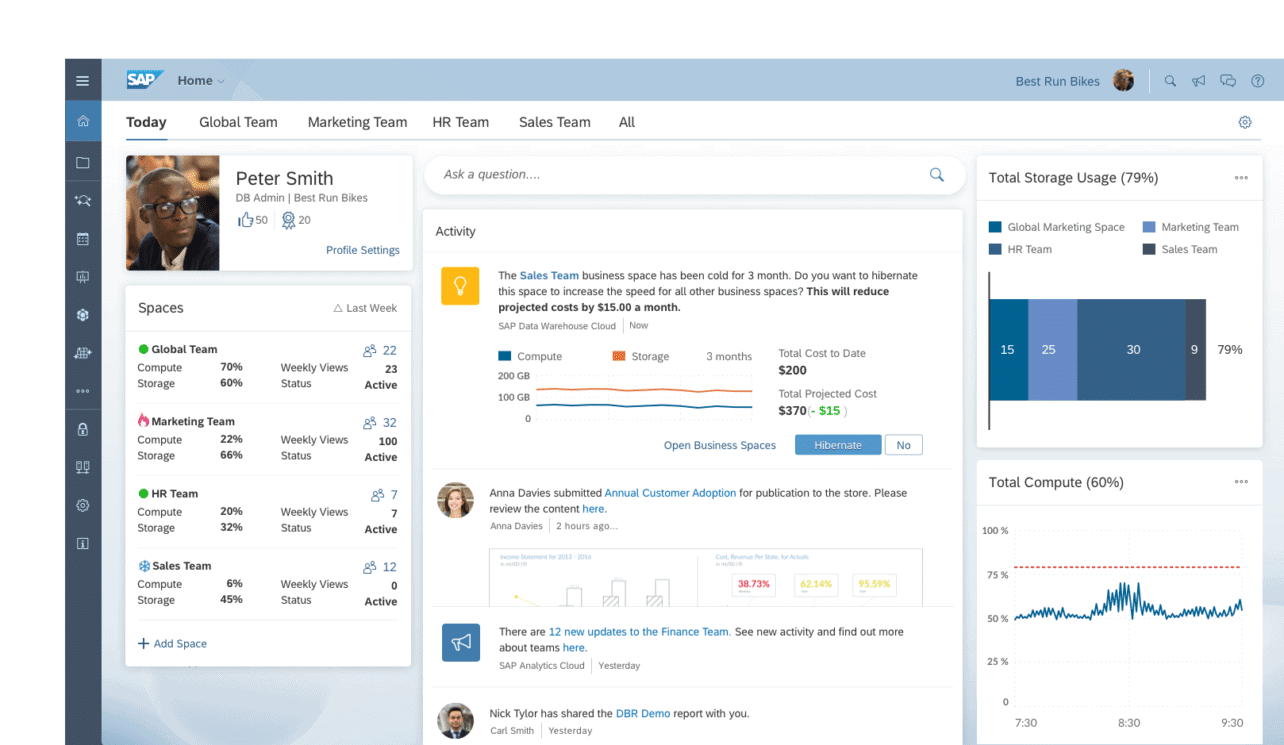 The last data service running on top of HANA Cloud is Analytic Cloud. If it is up to SAP, this service will become the go-to for Business Intelligence (BI), planning, and predictive analytics. Analytics Cloud has been around for some years and is getting more integrated with other SAP applications. SuccessFactors, allows customers to consume and share analytics with new capabilities, enabled by Analytics Cloud. The analytics are prebuilt, and users can interact with all data in self-service mode. It allows the HR employee to make decisions directly based on data and therefore, no need to switch to a separate analytics application.
Embracing more modern applications
With this approach, SAP chooses modern applications to address almost everything related to data processes. Solutions that have been on the market for some time now will get continued support, as many enterprises still rely on them. SAP has specifically designed its new database, data management and analytics cloud applications to work seamlessly with existing on-premise solutions. It allows companies to move to the cloud at their own pace.
The ultimate goal is continued support for on-premise investments and options to move to the cloud. The various services provide enterprises opportunities to build a robust database for the future, with HANA Cloud and other services, which is, with the amount of operation data and experience data in SAP systems and non-SAP systems, interesting.
Tip: SAP continues to focus on ERP in cloud, on premise remains important