Google Cloud has announced its Network Connectivity Center. It is a tool that allows users to manage networks in the cloud and on-premise. This should simplify the management of hybrid cloud and multi-cloud environments.
Users of the Network Connectivity Center can use the tool to connect to VPNs, interconnects from partners, third-party routers or SD-WANs, Google writes in a blog post.
"As an industry leader, a fast & reliable network is essential to maintain our productivity across a large number of our globally distributed work centers," said Miguel Mejia, WAN Engineering Lead, Colgate-Palmolive. "We understand Google Cloud's Network Connectivity Center (NCC) could help us achieve broader access to Google's global network and also enable us to connect our remote site users & applications in a consistent manner."
Overview in a single pane of glass
Google identifies five aspects of the Network Connectivity Center. It offers a single connectivity model to which other networks can seamlessly connect. It also offers the flexibility to add new networks easily and reliably. Furthermore, connections to the cloud can be established with VPNs. Integration with SD-WAN is also an option. All this can be monitored in real-time from a single pane of glass.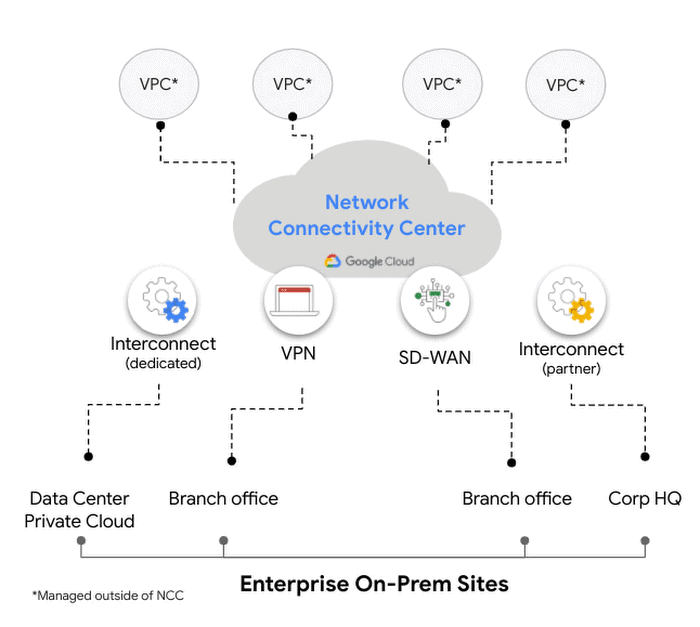 Collaboration with Cisco
To complement the Network Connectivity Center, Google has also announced a collaboration with Cisco. The Network Connectivity Center can be easily connected to the Cisco SD-WAN Cloud Hub. This allows users to use Google's global infrastructure and Cisco SD-WAN's vManage to connect branch sites and on-premises data centres to the cloud.
"Google Cloud and Cisco continue driving innovation for our joint customers to enable secure and automated SD-WAN access from applications and services running on Google Cloud Platform," said JL Valente, vice president, product management, for Cisco Enterprise Routing, SD-WAN and Cloud Networking. "Our latest integration not only extends the Cisco SD-WAN fabric to Google Cloud to automate provisioning of site-to-cloud connectivity effortlessly, but also gives customers the choice of using Google Cloud for providing a highly reliable, high performance global cloud network for site-to-site connectivity that can be deployed in minutes."
Tip: What is Google Anthos? Is this the modern cloud infrastructure you're looking for?