Microsoft wants to offer Windows in new ways. That is why the tech giant is presenting Windows 365 during its Inspire event. The service brings the operating system, Windows 10 and later this year Windows 11, to the Microsoft cloud. The full Windows experience, including personal configurations, is streamed to a private or business device.
With Windows 365, Microsoft is creating a new PC category for the hybrid world: the Cloud PC. According to the tech giant, the introduction is desirable given the changing business landscape. Organisations have started to rely more on virtual processes and remote collaboration in the last year and a half. Parts of this are expected to continue, and hybrid working will take more shape. Some employees work entirely in the office, others entirely at home and still others have a mix. Technology plays a key role in when, how and where to work. That is why Microsoft is going to offer its operating system via a new model.
Windows everywhere
Windows 365 must offer the complete experience of Windows 10 and soon Windows 11, regardless of location or device. Users can stream all their personalised applications, tools, data and settings from the cloud to their device. That may be Mac, iPad, Linux and Android devices, emphasises Microsoft. We must see Cloud PC as an experience. Even when switching devices, everything remains the same as far as possible. In principle, the PC can be logged on from any device, the status of the Cloud PC remains the same.
"You can get the same work done on a laptop in a hotel room, a tablet from their car between appointments, or your desktop while you're in the office. Seasonal workers also can ramp on and off according to the needs of the business, allowing the organization to scale for busy periods without the complicated logistical and security challenges of issuing new hardware. Further, companies can be more targeted in how they outfit specialized workers in creative, analytics, engineering, or scientific roles who need greater compute power and access to critical applications," Microsoft said.
Familiar tools and virtualisation
Although Windows 365 is made for companies, it does not matter what size an organisation is. Companies choose which version suits them best based on their scale and performance needs: Windows 365 Business or Windows 365 Enterprise. It is not immediately clear from the announcement what the differences are exactly. Cloud PC has a subscription model based on the number of users per month.
To underline the commitment to companies of all sizes, Microsoft offers tools that allow administrators with little technical knowledge to choose and configure their own cloud environments. Management must be similar to how physical devices are currently managed. Cloud PCs appear alongside physical devices in Microsoft Endpoint Manager. The rollout of company policies to the devices must also be easy via the console. According to Microsoft, a group of Cloud PCs can be provisioned within minutes, such as defining Windows versions or assigning specific users or groups.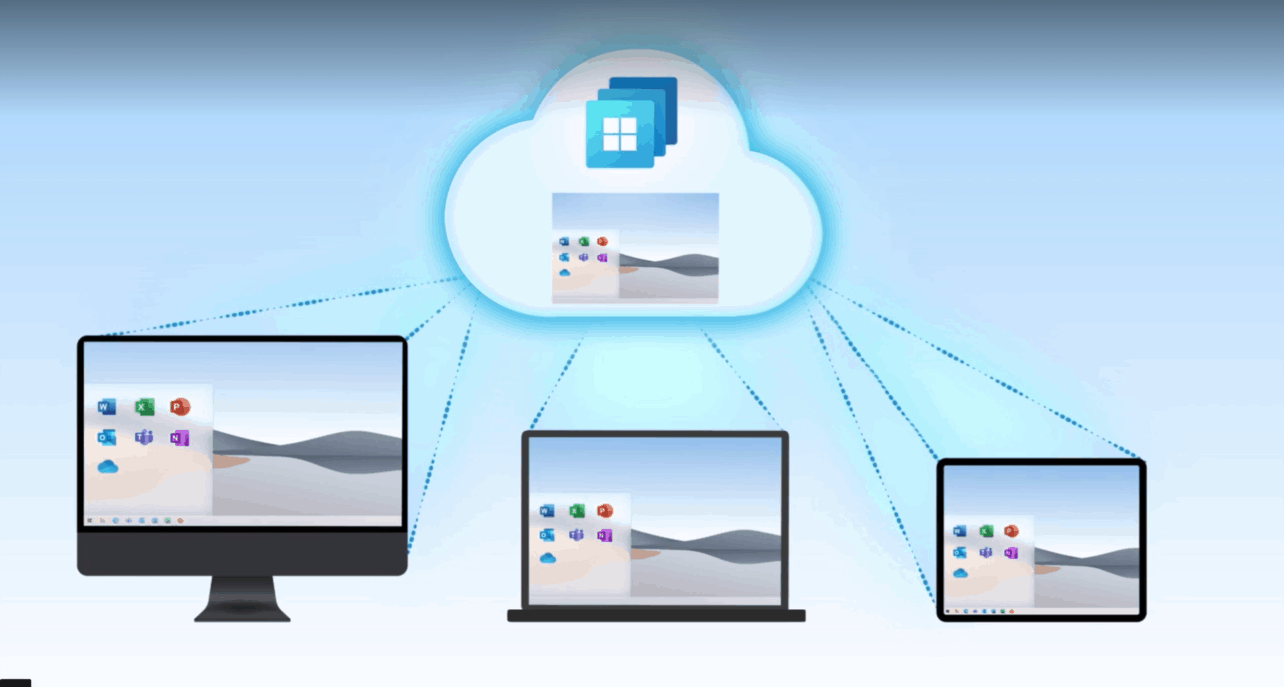 Windows 365 is built on Azure Virtual Desktop. Thanks to AVD's desktop virtualisation, data is stored more securely in a central location. The Cloud PC is intended to further simplify virtualisation by taking care of the work around it. The power of the Cloud PC can be scaled up, and the performance can be monitored so that users get the best experience. Analytics also shows the connectivity status, so users ensure that the connection is optimal and access the things they need. The Endpoint Analytics dashboard identifies Cloud PC environments that are not delivering the required performance.
Microsoft recommends that companies with more customisation and flexibility requirements still use Azure Virtual Desktop.
Also read: Windows Virtual Desktop makes desktop virtualization widely available
Security
Furthermore, Microsoft believes that we are currently in the most complex cybersecurity landscape ever. The need for a solution for employees to work together while data remains secure is therefore great. Information is therefore not stored on devices but in the cloud. This is generally a more secure environment than the local device.
Multifactor authentication (MFA) is also prioritised by verifying every login or access attempt to the Cloud PC. For this, there is integration with Azure Active Directory. In Microsoft Endpoint Manager, MFA can be linked to targeted Windows 365 access policies to assess the login risk of each session. In addition, the user and administrator experience is designed around the least privileged access principle.
The Windows 10 security baselines, Microsoft Defender for Endpoint and Microsoft Edge can be used in the same way on physical devices. Microsoft has also built a Cloud PC-specific security baseline. "If you use Microsoft Defender for Endpointto protect your devices, it also works seamlessly with your Cloud PCs. You can use Microsoft Endpoint Manager to quickly onboard your Cloud PCs just like your other devices with Defender for Endpoint. It not only protects your Cloud PCs, but also gives you security recommendations to lower risks, and helps you quickly discover and investigate any security incidents."
Windows 365 Cloud PC will be generally available from 2 August via the Business and Enterprise subscriptions. Microsoft did not mention the exact prices of the licences at the time of the announcement.