Like many other tech companies, IP camera and security specialist Axis is confronted with artificial intelligence and machine learning. However, the Swedish company does not yet want to commit fully to the technology, just to follow the AI-trend. Artificial intelligence is on their agenda, but it has to deliver proven value for customers. Axis is also increasingly focusing on collaboration with its many partners and emphasizes that open standards are important. The company is also flirting with Google Cloud Platform, Microsoft Azure and AWS.
Artificial intelligence and machine learning are currently among the essential 'technology magic words' in the market. Every IT vendor is working on these technologies and expects to implement them within their portfolio with great speed. Often, they don't want to miss the proverbial boat or simply for marketing reasons.
Averse to the hype
As far as the Swedish company Axis is concerned, this focus on everything around artificial intelligence, machine learning or deep learning is not their first priority at the moment. It goes without saying that the company closely follows the developments surrounding these technologies – just like those surrounding cloud/edge computing and cybersecurity/privacy. The company does, however, have its own approach to how artificial intelligence will be used within its own products.
The most important starting point here is to look very closely at the so-called 'hype cycle'. Often a great deal is expected of new technology in the beginning, but its development or adoption is still very disappointing. As a result, suppliers often put products on the market at a fast pace, which in the end are disappointing in practice. This, of course, has consequences for the suppliers concerned. Axis mentions the disappointing results of the hype around video analytics a few years ago, for example.
No generic application
In the surveillance industry, the use of artificial intelligence is still in a development phase, says Edwin Beerentemfel, Manager Business Development Middle Europe, of Axis. There are not many generic applications yet. According to him, this is the main reason why Axis does not yet communicate a lot about this technology.
According to Beerentemfel, when you talk about AI as a company, customers immediately expect the applications to work reliably and thus deliver proven added value. That is why a number of conditions must first be met so that the technology is really suitable for camera security applications. For example, the lighting conditions have to be on a certain level to achieve sufficient pixel density. This is a requirement to achieve object recognition.
Furthermore, there has to be a 'defined use case'. Beerentemfel refers to an algorithm that works very well for one specific application. According to him, being able to make your products smart in a generic way does not mean anything at all. Algorithms must be trained specifically certain the use case(s), so that it makes sense to use them in specific situations. As essential use cases for the security segment in which Axis is active, the company mentions digital autotracking (tracking of moving objects), license plate registration, camera-related analytics and recognition of loitering people.
Of course, all of this also requires a lot of processing power. The supplier's current camera applications do not yet include this at this time. This also involves additional (server-based) hardware for complex applications. Again, all of this needs to be configured appropriately.
Because the above conditions are not yet met, the supplier is reluctant to use 'smart' technology too quickly. It really has to work first, according to Beerentemfel.
First (cautious) applications
However, this does not mean that 'smart' technology is not slowly appearing in different products. An example of early applications for specific use cases is the technology of French subsidiary Citilog. This concerns the use of camera surveillance for the detection and handling of incidents on roads or in tunnels. This involved adding false positives to an algorithm. The algorithm then learned to distinguish false positives from real ones, so that the number of false positives can now be reduced by a claimed 90 percent. This is all done with machine learning as a basis.
This technology eventually delivered an object detection application, which is now used in other products. The technology now recognizes people, vehicles and objects and will soon be available in two other Axis solutions; an improved version of the AXIS Guard Suite and improved object tracking for PTZ cameras. These cameras will be able to identify and track people, vehicles or objects.
Upcoming ARTPEC-7 chipset opens up possibilities
Beerentemfel goes on to say that the ARTPEC-7 chipset, which was developed and built in-house, forms the basis for all these developments. The chipset now offers sufficient processor capacity for applications such as artificial intelligence, more security options, improved video compression technology and better image processing technology. The new chipset also allows for more extensive analytics capabilities. These can now be run directly on the cameras, with a real-time object detector solution.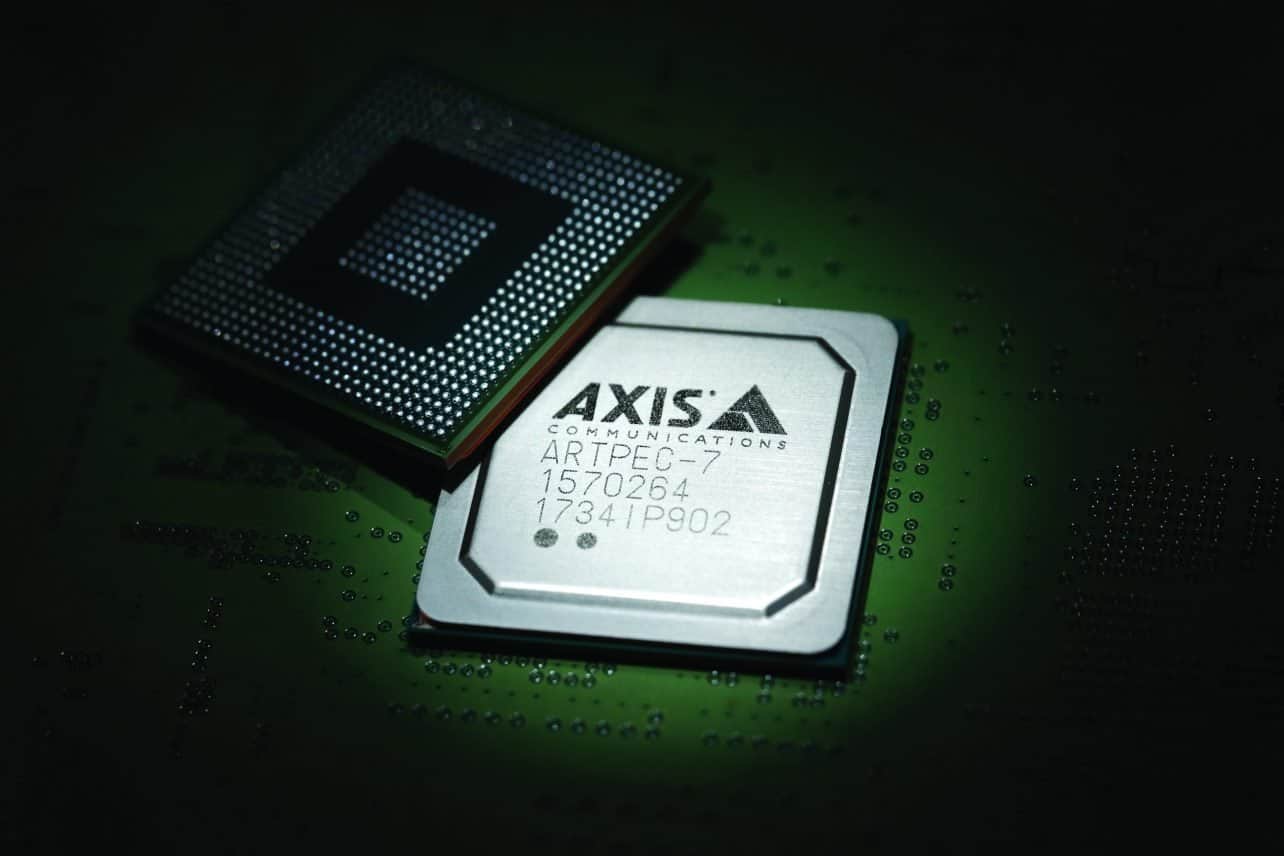 Step by step
According to Axis, artificial intelligence is still very much in the marketing hype-phase, and therefore, the company is very reluctant to use it. If they want to do more with it, it has to happen step by step. According to Beerentemfel's strategy, solutions must provide the highest possible level of quality and value for customers.
Cooperation strengthens development
Another area to which Axis devotes a great deal of attention is collaboration. According to Enterprise Solutions and Eco System Manager Jeroen Kouwenhoven, the IP camera and security specialist sees a lot of added value in this. The core of Axis' collaboration strategy is that the company offers an open platform on which a technical roadmap can be worked on with collaborators. Within this cooperation, approximately 3,700 partners worldwide now participate, even including competitors.
The company also has an open API platform, on which anyone can develop applications that can be run on the cameras themselves: a real edge application. Currently, there are already 106 applications available on this platform. In addition, developers are supported in creating these applications, among other things, through direct chat contact with Axis specialists.
According to Kouwenhoven, all of these open platforms are very important. In this way, partners – especially the software partners – can test all Axis products. Of course, the manufacturer can also use the experience gained from this for improvements. Finally, Axis can then at launch indicate that partners already use suitable applications on the platform.
Open standards
Not only does Axis work together with partners to develop products, but it is also committed to open standards in the industry. Together with suppliers such as Bosch and Sony, Axis has embraced the open standard ONVIF. According to Kouwenhoven, with more than 450 participants, ONVIF can be seen as an industry standard.
In practice, the standard is a partnership to develop standardized interfaces for effective interoperability for IP-based security applications. This means that in the products of the participating companies, standard functions work on the basis of these standards and are therefore the same.
Kouwenhoven states that their own proprietary protocols apply when more supplier-specific functionality is needed. In the case of Axis, this is their own VAPIX protocol. However, not all users have these special functionalities, like analytics, so the products that ONVIF alone provide are more than sufficient. Moreover, these protocols can also be interpreted in a slightly different way. Because of that, the adaptation of Axis cameras to more individual requirements also runs smoothly.
Hesitant contact with (multi)cloud parties
Another question we asked Axis was how the company views the (multi)cloud environments of providers such as Google Cloud Platform, Microsoft Azure or AWS. We are particularly curious about this because, in the modern network environment, Axis' solutions are clearly an example of what is happening at the 'edge'. What turned out to be the case is that the company does not yet have a real strategy here. All the services that the company offers and develops are being prepared for the cloud, though. According to Kouwenhoven, these services will soon all have to be able to run on the edge, on data center servers and, of course, in the (multi)cloud.
There is contact with the well-known large cloud platforms, but the company sees them as huge enterprises, while it considers itself to be 'small'. On the other hand, hyperscalers see Axis as an excellent generator for bandwidth. Think, for example, of all video images that have to be transported, stored and analyzed.
Axis looks at how it can modify their existing partner programs. In addition to the many software companies and infrastructure providers like Dell, HPE or Extreme Networks, it now also wants to add cloud parties. In principle, their office in the United States is leading in this respect. Especially since suppliers that have to be negotiated with are often American. Axis will therefore certainly not remain idle in the coming years when it comes to partners.
Future developments at Axis remain very interesting
If we draw a conclusion from the information we gathered, we see that Axis, like a lot of other companies, has a good grasp on modern technologies and collaboration models.
By deciding to embrace these technologies without too much haste and with an aversion to marketing hype, the company can quietly build good use cases that can deliver real value for customers. The use of an open platform and entering into the right partnerships certainly provides added value – not to mention all the developments in the field of privacy and compliance, the IoT, and smart cities. These fields are becoming increasingly important. It goes without saying that the leap towards hybrid and (multi)cloud environments mentioned above is still a sufficient challenge for Axis.
However, we do wonder whether this 'slow' strategy could also be a disadvantage. Axis does run the risk of being overtaken by its competitors, but possibly also by its partners. Also, an unwillingness to chase hype could mean that in the case of new developments, the company could arrive even later at the party. We naturally remain curious as to what else the company will bring to the table.