Veeam has recently achieved some milestones, of which the company is very proud. For example, it recently broke the $1 billion (€887 million) annual turnover barrier. This brings a nice end to act 1, as Veeam calls this phase. In the just over ten years that the company has existed, the focus has been on the possibilities of virtualization. Nevertheless, Veeam believes that act 2 will be a more successful period to come. That period will be entirely dominated by the hybrid cloud.
At the recent VeeamON conference, the difference between the two periods, or acts as Veeam calls them, was explained in detail. This in view of the turmoil that virtualization caused in the data center market. Veeam has jumped at this in a handy way. Initially, this happened by introducing functionalities for VMware administrators, after which the features were expanded much further.
Virtualization has brought about major changes on several levels. It caused IT professionals to think radically differently about compute, storage and networking. Instead of buying a server for each application, the capacity could be divided into several parts. From now on, it will be possible to run several virtual servers. This makes backup easier, as well as moving virtual machines (VMs) in case of problems.
Veeam's software has mainly responded to this. Availability is the word that has been declared sacred. Data and processes must be and remain available, even if the data center is shut down for whatever reason. If an organization has to deal with downtime, the costs can be high. Veeam is and was a party that tries to keep this to a minimum.
Hybrid cloud and data explosion change Veeam's activities
The traditional data center is still an important environment for organizations, but companies are embracing more and more hybrid environments. For Veeam, this is nothing new, as the software has already focused on virtual environments, physical on-premise environments and the public cloud. However, the mix is getting bigger and bigger, which leads the company to intensify its activities further. The Availability message seems to be giving way to the hybrid cloud data management message.
In addition to the hybrid cloud (or sometimes multi-cloud), Veeam sees another important reason for expanding its tasks. It also sees that the amount of data and its possibilities continue to grow. The main drivers for this are the four 'tech superpowers' that VMware-CEO Pat Gelsinger regularly mentions: cloud, artificial intelligence (AI) and machine learning, mobile and the Internet of Things (IoT) and edge computing.
Promised version 10, the basis for new cloud data management, is on its way.
If we look only at what Veeam products can do for act 2, version 10 will form an important basis. This version has been a promise since 2017, when it was announced as a release in the same year at the VeeamON conference that year. Veeam promises that version 10, which enriches the Veeam Availability Suite and Veeam Backup & Replication, will be finally released later this year.
After the announcement in 2017, the company introduced several version 10 features, but not yet enough to come up with the entire release. According to the company, this is mainly because it prefers to roll out something good that is 100 percent finished and working, rather than something that is not yet fully functional. That's why it's sometimes a bit later to introduce features than competitors.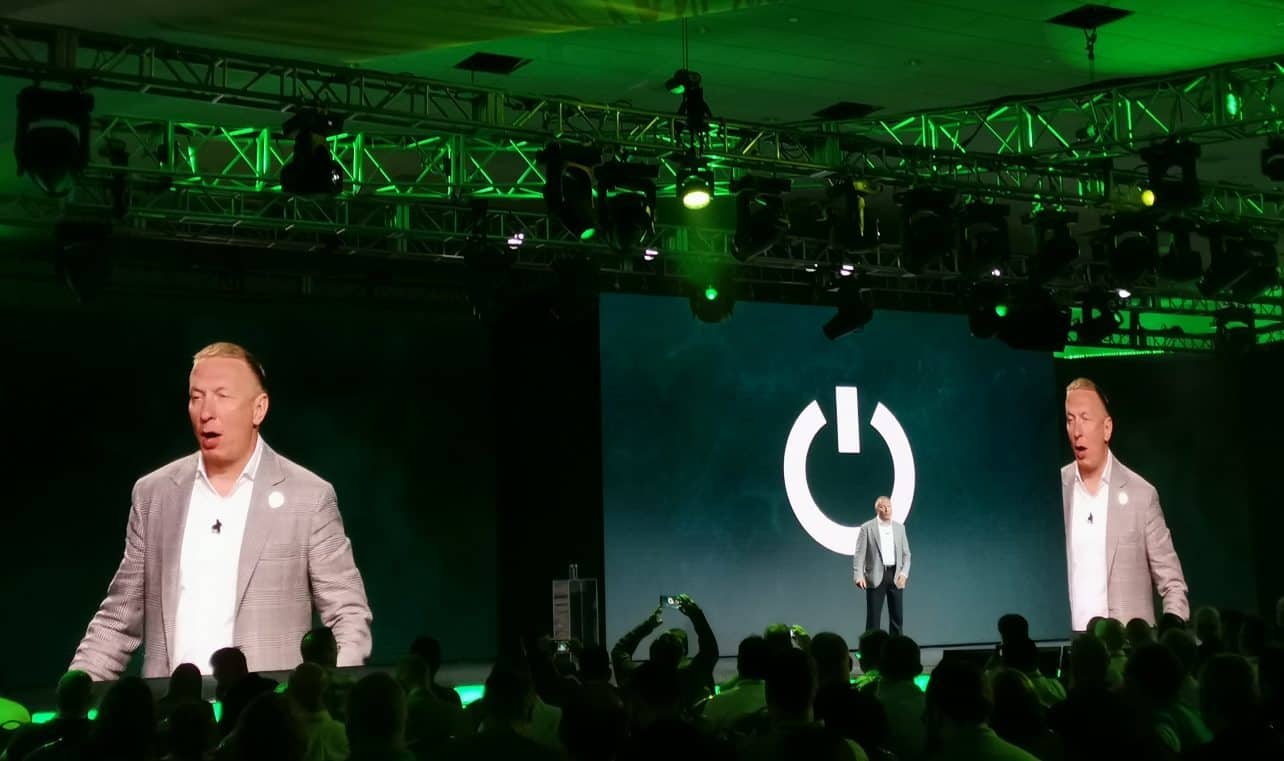 Cloud Tier: a good example
This somewhat cautious approach also ensures that certain functionality from version 10 works very well for users. Cloud Tier, which was rolled out earlier this year, is a good example of this. This allows organizations to transfer older backup files to object storage. Of course, with Veeam's cloud partners, Amazon S3, Azure Blob Storage and IBM Cloud Storage, but it is also compatible with on-premise storage solutions. For these different purposes, your company is less dependent on a single location.
Version 10 will further expand Veeam's Cloud Tier capabilities. With Copy Mode, it will be possible to set up a policy that requires that a copy of a backup is automatically stored in an object storage location. This promises to simplify the work of the IT administrator.
Expand base further
This makes version 10 and all its functionalities the basis of 'hybrid cloud data management'. The company has also provided several updates on all the components and features of the release. However, the overarching roadmap also includes other components for the hybrid cloud journal. For example, there are already some integrations with Google Cloud, but these do not go as far as those with AWS, Microsoft Azure and IBM Cloud. According to Veeam, intensive integrations with the first two hyper scalers were simply the most requested functionality among users. IBM Cloud, in turn, actively approached Veeam to do a little more, which meant that the party had an intensive collaboration before Google Cloud. However, the use of Google Cloud among companies seems to be growing. Veeam sees an increase in demand from users, so better interoperability with that party is on the horizon.
Another role in the overall story is reserved for the new release of the Availability Orchestrator. The orchestration and automation engine has already received additional support for more applications and VMs. In this way, various operational and disaster recovery and data migration scenarios can be anticipated. We already wrote about this (LINK) during VeeamON itself, as Availability Orchestrator v2 was officially launched during the event.
Can automation be realized in act 2?
Veeam's ultimate dream is to introduce enough functionalities within act 2 to achieve comprehensive automation. The company's software will then intervene independently before an incident occurs. It means that when something strange happens to the data, the Veeam software recognizes, for example, that a cybercriminal is trying to break in. And so there are many more signals and scenarios to think of that automation should recognize. Therefore, it seems more likely that the pursuit of automation is more something we can expect in the long term, although we must succeed in doing so within act 2. That would be in a period of ten years, because according to Veeam, the phases of IT companies take that long.
A lot of changes; now it's time to get on with it
What Veeam does and aspires to is clearly part of the vision to provide users with further simplicity in the coming period. Backups were once the basis of Veeam's story, but the possibilities are becoming more and more extensive. For years, availability seemed to be a good description of the basis of the company; now, hybrid cloud data management is the word that is more in line with the activities. Instead of VMware administrators, it is now infrastructure managers who have many more capabilities to make their work easier and more secure.
All in all, Veeam is facing an interesting new era, in which the next steps can certainly be taken. It is now a real cloud company that seems to benefit from the use of multiple environments by organizations. We are curious about how act 2 will work out for Veeam in practice.