IBM Research and the agtech startup Hello Tractor have developed an AI and blockchain driven platform for African farmers. In the course of 2019, the two companies will come up with a trial for the product, which is co-funded by IBM.
The two companies report this to the TechCrunch site. This is the Digital Wallet, a cloud service to support Hello Tractor in connecting small-scale farmers to certain equipment and data analytics to help them achieve better harvest results.Hello
Different variables
Agriculture is a complete industry with many different variables, says CEO Jehiel Oliver of Hello Tractor versus TechCrunch. We bring a decision tool to the Hello Tractor ecosystem, powered by AI and blockchain. The online platform uses a digital registry and machine learning to capture, track and share data.
Digital Wallet also uses IOT-based weather data and AI to help farmers determine what the harvest can be at a particular location. On this basis, farmers can choose what they want to sow best, so that their harvest is ultimately optimised. Our platform connects farmers who need tractor services with tractor owners. We are building this marketplace to bring supply and demand together.
Great potential
The market is potentially very large. Currently, farmers in the sub-Sahara sun harvest eighty percent of their crops using tractors or machinery. As a result, 50% of the farmers see food being lost every year. This is in spite of the fact that there is a great deal of need and that there is an urgent need for a better food supply.
The hope of IBM and Hello Tractor is that through this cooperation they can ensure that less of their harvest is lost and that effective use is made of the available resources. The partnership also fits in with IBM's global strategy, which also places agriculture under the Watson AI platform. To this end, the company regularly enters into partnerships, including earlier this year with the Kenyan startup Twiga.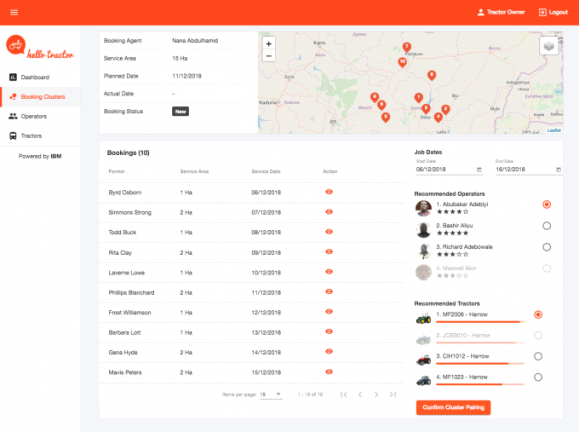 This news article was automatically translated from Dutch to give Techzine.eu a head start. All news articles after September 1, 2019 are written in native English and NOT translated. All our background stories are written in native English as well. For more information read our launch article.