When Google Chrome 71 is released in December, that version of the world's most popular browser will bring a nice new feature. Chrome warns you from now on, when a website tries to ask for money from you without you realizing it. The measures focus on mobile payment services.
Mobile payment services often require little more than a phone number to make money. According to Google, millions of Chrome users come every month to websites that do not clearly specify what kind of mobile subscriptions they take out. As far as Google is concerned, this needs to change.
Unsafe sites
In order to prevent Google from declaring sites to be unsafe, websites need to indicate in advance how much money they might charge users. This means that it must at least be clear that the sites are asking for money for their services. Some sites do indicate this, but mask the payment services by, for example, placing a grey text on a white background.
That's why Google displays the message below from Chrome 71, when a site seems to be unsafe. The webmaster receives an e-mail stating that the payment page needs to be improved. If the webmaster then makes the necessary improvements, Google can remove the warning.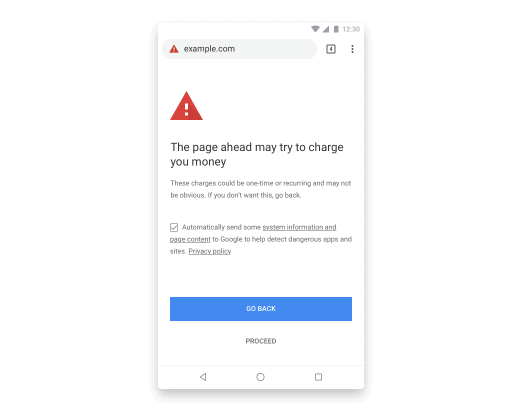 Chrome 71 is an interesting browser release. From this version of the browser, advertisements that mislead users are no longer visible. Google only announced this a few days ago. At the time, it wrote that advertisements that tempt people to click, show unexpected behaviour or contain malware, for example, are no longer visible by default.
This news article was automatically translated from Dutch to give Techzine.eu a head start. All news articles after September 1, 2019 are written in native English and NOT translated. All our background stories are written in native English as well. For more information read our launch article.