The European Commission (EC) has approved a public-private project to develop microelectronics and communications applications. The project is part of the European Chips Act.
The approved Important Project of Common European Interest (IPCEI) ME/CT project is an initiative of 14 European member states, including the Netherlands. The project focuses on developing microelectronics and communication solutions for semiconductors from start to finish. In other words, from the raw materials and tooling to be used to the chip designs and manufacturing processes.
For multiple sectors
The solutions should lead to technological advances in several sectors. A few examples are the telecom sector, for 5G and successor 6G, autonomous vehicles, AI and quantum computing, among others. These solutions should also help generate energy and green the distribution sectors.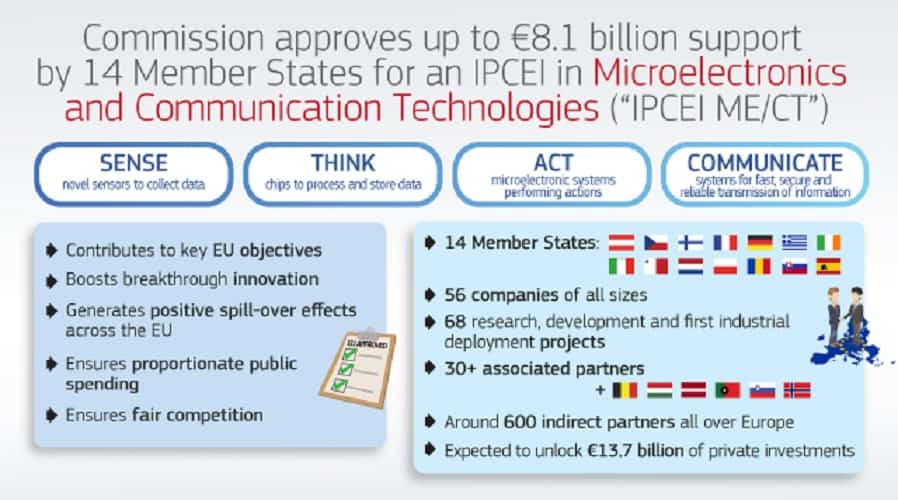 Investment of 22 billion euros
The public-private IPCEI ME/CT collaboration involves 56 companies from the participating member states in 68 joint projects. The EC is funding €8.1 billion. This is conditional on an additional 13.7 billion euros of investment from the business community.
It is hoped that the project will create 8,700 jobs and many more indirect jobs. The 68 projects are additionally part of a broader IPCEI ME/CT ecosystem with EEA member Norway.
The first solutions developed should come to market in 2025. The entire project will run until 2032.
Also read: European Chips Act gets green light, but is it too late?