Industry association SEMI calculated that the world's chip manufacturers will invest a total of $109 billion (€104 billion) in production capacity in 2022.
According to the researchers, investments are about twice as high as three years ago. In 2019, chip manufacturers invested $55 billion (almost €52.5 billion) in new factory hardware worldwide. Though spending increased three years in a row, the figures seem to have reached a ceiling. SEMI expects a slight decline in 2023.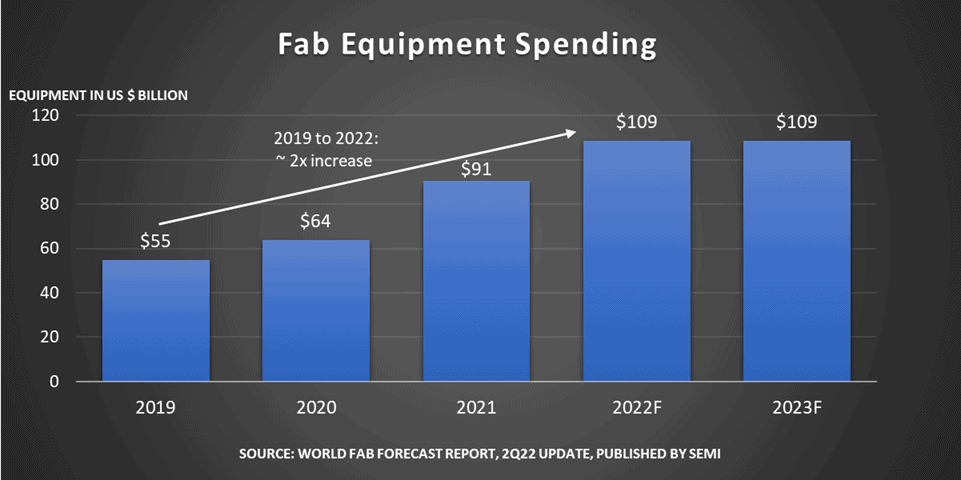 More production capacity
The chip industry aims to increase production capacity, in line with the current chip shortage. According to SEMI, capacity will grow by 8 percent in the remaining year and another 6 percent in 2023. Capacity should reach a total of 29 million 200nm wafers per month in 2023. In 2010, capacity peaked at 16 million 200nm wafers per month.
Most equipment is destined for 185 factories and production lines worldwide. Foundries account for most equipment in both 2022 and 2023 (53 percent). The memory industry ranks second, with 33 percent of all investments in 2022 and 34 percent in 2023.
Growth in regions
The bulk of the money is spent in Asia. Taiwan will invest up to 52 percent more (€32 billion) in new equipment this year, with manufacturer TSMC in the lead. South Korea follows with a 7 percent increase (€24 billion). China faces a decline of 14 percent.
The European region and the Middle East are also seeing record spending on equipment (€8.9 billion). Spending in North, Central and South America is expected to increase by 193 percent in 2023 (€8.9 billion).
Tip: SK Group to invest $195 bln into batteries, biopharma & semiconductors through 2026