Samsung recently introduced the NVMe PCIe 4.0 990 Pro Series SSD. According to Samsung, its high speeds and performance are especially suited for 3D rendering, gaming and 4K/8K video editing.
Samsung claims the 990 Pro Series SSDs are the most powerful and fastest PCIe 4.0 SSDs available today. The SSDs are especially suitable as storage capacity for applications and workloads that require high performance and speeds. Applications include 3D rendering, 4K/8K video editing, data analysis and other data-intensive workloads.
Heat
According to Samsung, the speeds and performance are made possible by its proprietary V-NAND controller. Energy efficiency was improved by 50 percent while a nickel coating and heat-dissipating label speed up cooling. In addition, the SSDs can feature a dedicated heatsink.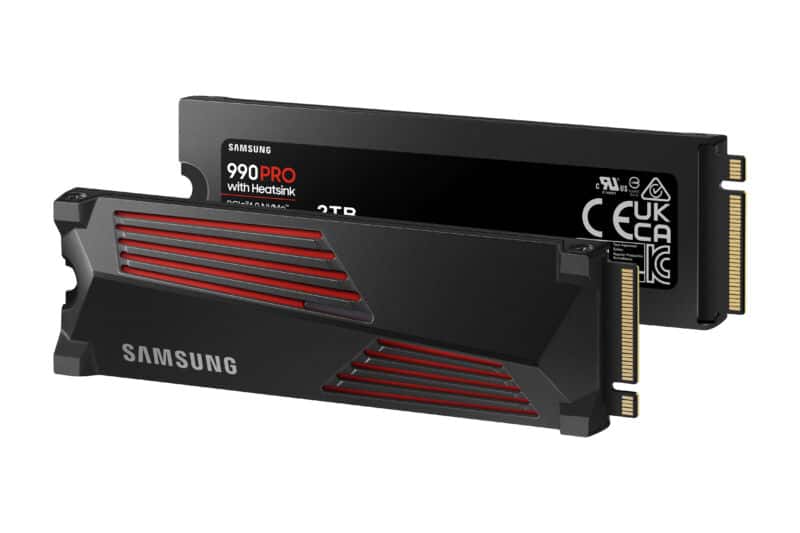 Performance
Performance includes read/write speeds of 7,450Mbps and 6,900Mbps, respectively. Random read/write speeds are valued at 1,400K and 1,550IOPS. The 990 Pro Series also use 3-bit TLC (triple-level cell) NAND storage. The SSDs further feature 1GB of DRAM memory per TB of storage, up to a maximum of 4GB for the 4TB model.
The 990 Pro Series and Pro Series Heatsink SSDs will be available in October of this year. Prices range from $179 for a 1TB model to $309 for a 2TB model. A 4TB model is expected in 2023.
Tip: Gigabyte introduces first PCIe 5.0 AORUS Gen5 10000 SSD