Fortinet has announced updates to its single-vendor Secure Access Service Edge (SASE) product FortiSASE. The new functionality should help companies secure hybrid workers.
The rise of hybrid working means companies need to pay more attention to employee security, including when they move more frequently between work situations in the office or at home.
According to Fortinet, consistent security is a key requirement. In Fortinet's view, however, this consistent security is difficult to maintain when companies use solutions from different vendors. Especially when the solutions are not integrated with each other in on-premises and in cloud environments. It is also difficult to provide this consistent security when networks are more distributed.
Fortinet is therefore a big proponent of a single-vendor SASE strategy that can provide hybrid workers with the best security, on-premises or off-premises. With its existing Fortinet Secure Edge SD-WAN integration, enterprises can achieve this, through FortiGate, for on-prem environments. Using FortiSASE, they can do this for cloud environments.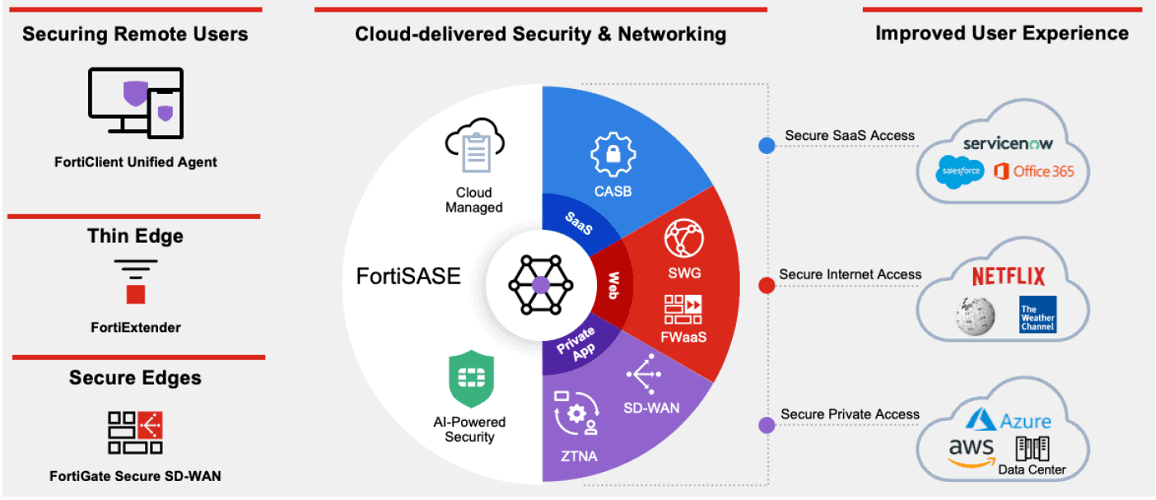 New functionality
Fortinet is therefore adding new functionality. Fortinet Secure Edge SD-WAN integration should give companies more detailed control and more flexibility in applying consistent security for on-premises environments or in their cloud environments. This should improve the user experience.
Also extension for FortiSASE
FortiSASE itself is also getting enhancements. Features are now being added to the security solution to protect users connecting to the internet, secure private hosted applications and SaaS applications.
New features are in place for secure Internet access. These include improved performance and scaling capabilities for infrastructure and dedicated support for public IP addresses. An improved geolocation experience has also been added.
For secure private access, FortiSASE has received enhancements such as more comprehensive Secure SD-WAN hub connectivity. This should especially help support larger global hybrid networks with hassle-free on-premises integration, allowing remote employees to more securely access corporate networks.
Furthermore, Fortinet's SASE solution has been extended to include more secure access to SaaS applications. To this end, functionality has been added that enhances the CASB already in place and covers more applications. In addition, the new features should ensure better monitoring of the behavior of SaaS applications in use and the ability to control employee access to these applications.
Tip: Modern organizations can no longer do without a security fabric