Uber's data has hit the streets once more. Employee information became public after an attack on Teqtivity, one of the company's software vendors.
Cybercriminals managed to penetrate Teqtivity's AWS backup environment, BleepingComputer reports. The IT asset management provider has since confirmed the attack.
Data exploited
The attack breached data and source code associated with the mobile device management (MDM) platform of Uber, Uber Eats and other vendors. Info on 77,000 employees got leaked. Customer data is untouched. In addition to source code, the breached data includes IT asset management reports, data destruction reports, login credentials for Windows domains and email addresses.
The attack was carried out by one or more cybercriminals operating under the name 'UberLeak'. A user of hacker forum BreachForums published the information in four different posts, each covering a distinct data type: Uber MDM, Uber Eats MDM, Teqtivity MDM and TripActions MDM. Each post referred to one of the members of Lapsus$, a notorious cybercrime gang.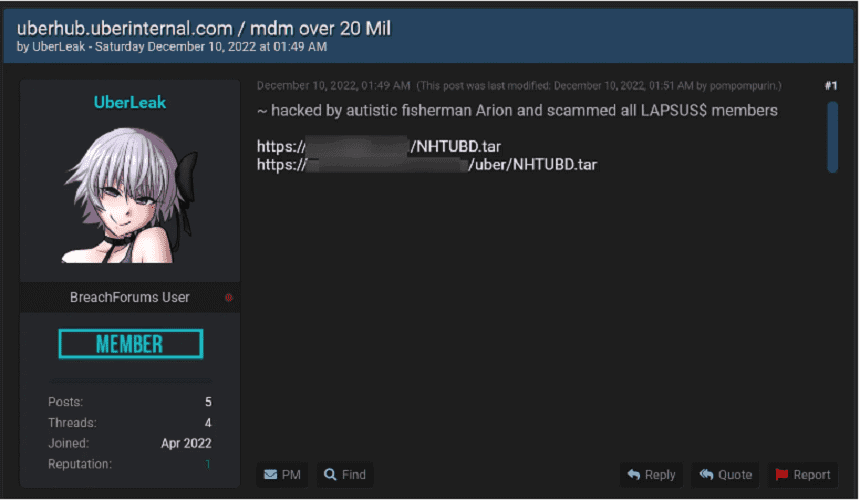 Implications for Uber
Uber confirmed to BleepingComputer that employee data was breached. Although the company insists that no customer data was stolen, the implications are serious. Employees can expect a flood of phishing emails and attempts to steal login credentials in the coming weeks. The damage of the breach can quickly increase if employees take the bait.
Uber was hit by a major cyberattack and data breach earlier this year. Cybercriminals gained access to Uber's network through a compromised Slack server. The company faced several more attacks and breaches over the past years.