In October, OnePlus announced the OnePlus 8T: an affordable high-end smartphone with some minor upgrades compared to its predecessor. If you don't need the latest and greatest features in your smartphone, this device will serve you well. In this review, you can read all about the OnePlus 8T.
Compared to the OnePlus 8 preceding it, the OnePlus 8T received two major updates: the display has a faster refresh rate, and the battery has been improved. The latter is larger and is quicker to charge. It is also noticeable that the display is no longer curved but flat. It's a matter of taste which of those you prefer. OnePlus now offers you this choice, as the OnePlus 8 will remain available, as well as the OnePlus 8T. Both smartphones are very similar, so the choice might just end up hinging on your display preference. This is actually good news for the 8T: its predecessor was an excellent phone for the price, and the same can be said about the OnePlus 8T. In this review, we'll tell you why.
Main specifications
| | |
| --- | --- |
| Display | 6.55″ AMOLED, 1080×2400 pixels. 120Hz refresh rate |
| Network support | 5G |
| Processor | Qualcomm Snapdragon 865 (2,84GHzz octacore) |
| Memory | 8GB/12GB RAM, 128GB/256GB storage |
| Battery | 4500mAh, 65W fast charge |
| Software | Android 11 with OcygenOS 11 |
| Camera | 48-megapixel main camera, 16-megapixel ultrawide camera, 5-megapixel macro camera, 2-megapixel black-and-white camera, 16-megapixel front camera |
Handy design
Handy may not be the first word you think of when you read the OnePlus 8T has a 6,55-inch display. Still, this smartphone feels a lot more compact than many other high-end phones. It's 188 grams make it lighter than many other modern phones, and with a thickness of 8.4 millimetres, it's fairly thin. Combine that with an excellent finish, and you get a smartphone that fits nicely in your hand.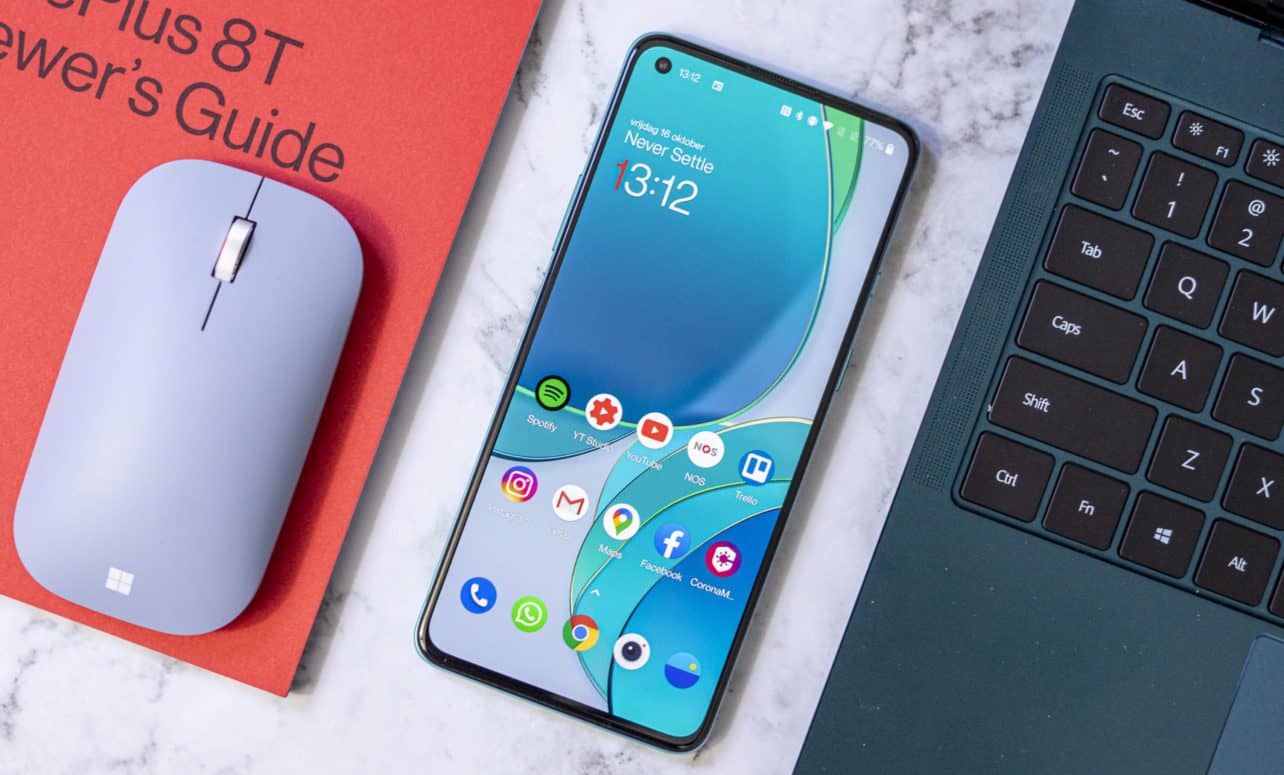 The OnePlus 8T also has a great functional design. It performs facial recognition at lightning-fast speeds, and the in-screen fingerprint scanner is one of the best in the field. The smartphone isn't officially waterproof, but OnePlus does mention it's 'waterproof for daily use'. Tests with previous OnePlus devices with similar waterproofing show that the phones can handle quite a bit. You shouldn't take your OnePlus 8T for a swim, but you also don't have to worry about water damage that much. The smartphone has dual sim support, and the speakers on the top and bottom of the display produce stereo sound.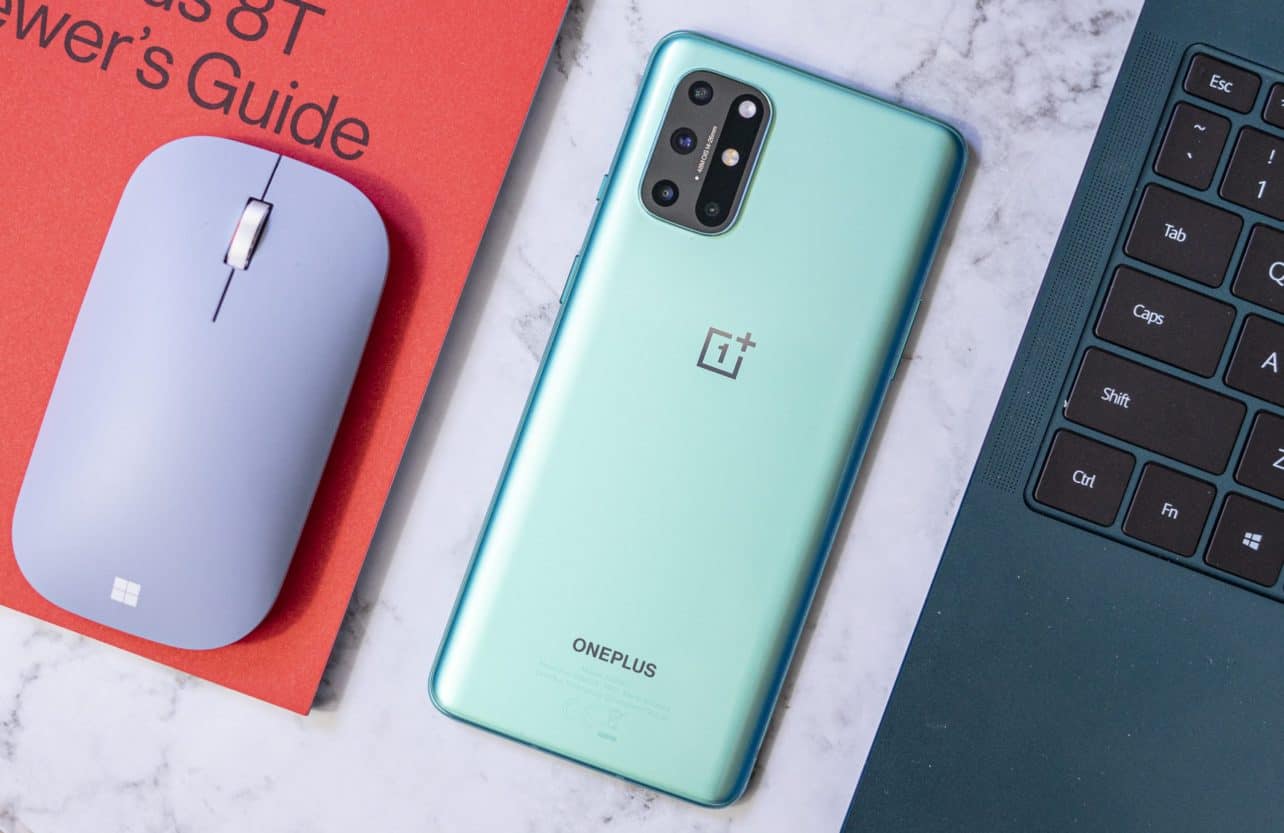 OnePlus offers the 8T in two different colours: Lunar Silver and Aquamarine Green. The former has a matte finish, and the latter is equipped with a special finish that should make fingerprints less visible. In practice, we think the shiny green version looks a bit cheaper than the matte green found in the OnePlus 8 series, and it's unfortunate that the camera bump is no longer centred. OnePlus claims this change was made to make room for a larger battery and better cooling.
Even smoother scrolling
The OnePlus 8's display has a refresh rate of 120Hz. This means the smartphone feels incredibly smooth when scrolling and games stutter less too. It's impressive, but in practice, there isn't that much difference to the 90Hz display in the OnePlus 8 and mand high-end phones. The difference between 90Hz and 120Hz is difficult to make out, whereas the difference between 60Hz and 90Hz is obvious. That's not to say that there isn't any difference at all: going through your e-mails does feel a bit smoother on the OnePlus 8T than it does on the OnePlus 8. Whether that will make you very happy, is up to you.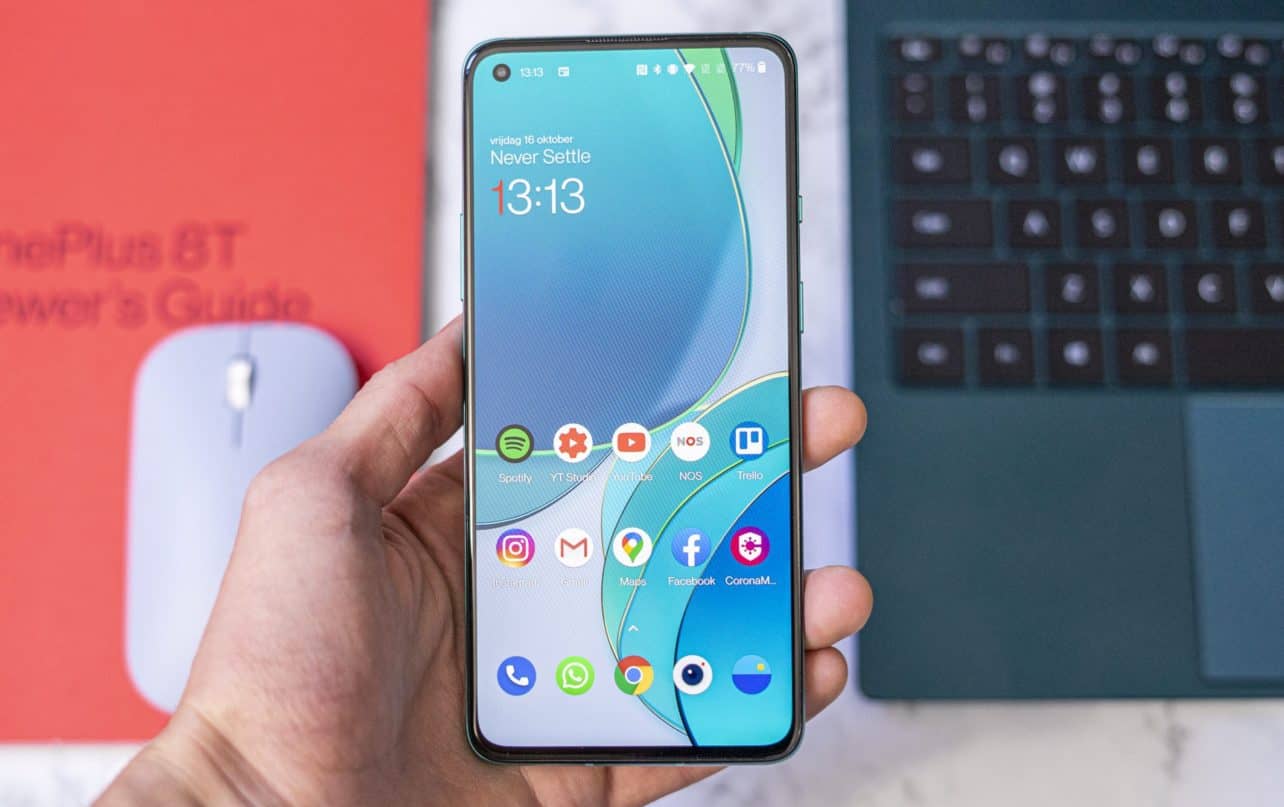 Something that will make you very happy is the display quality of the OnePlus 8T. The smartphone is equipped with a 6.55-inch Full HD+ AMOLED display that displays colours beautifully. The white balance is great, making documents, e-mails, websites and your LinkedIn feed pleasant to look at. Thanks to the brilliant colour reproduction, watching pictures or videos on the OnePlus 8T's display is also a pleasure. Finally, the combination of high maximum brightness and a direct sunlight mode makes the display easy to read in all circumstances.
Performance first
As always, performance is the main priority at OnePlus, and it's no different from the OnePlus 8T. The smartphone is equipped with a Snapdragon 865 chipset with support for 5G, making it one of the fastest smartphones available right now. In terms of memory (8GB or 12GB), it's also up to snuff.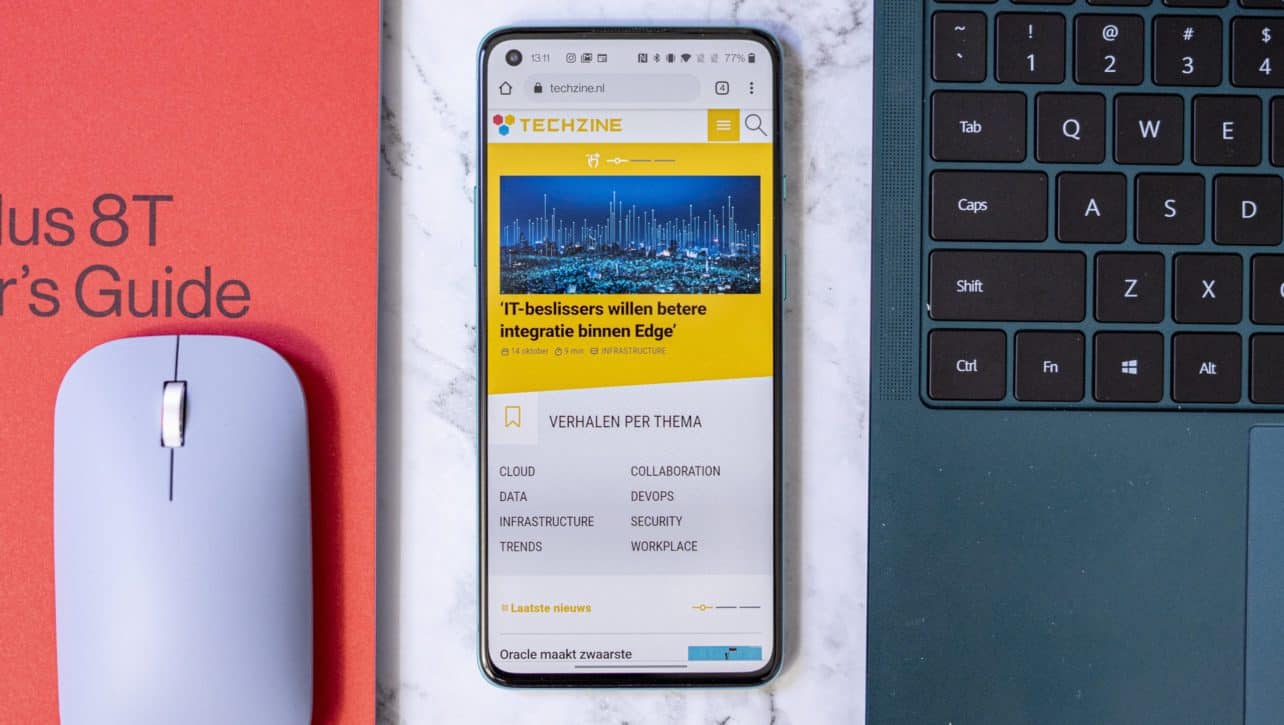 Nothing new so far: you will find similar fast hardware in nearly all high-end smartphones released this year. What is special, however, is its excellent battery performance. The OnePlus 8T is equipped with a 4500mAh battery, getting you through the day with ease.
In the unlikely event that you do run out of power, the OnePlus 8T can be quickly recharged. OnePlus split the battery into two cells, enabling a breakneck charge speed. This so-called Warp Charge 65 enables the smartphone to be charged from 0 to 100 percent in 39 minutes, without getting too hot. Unfortunately, wireless charging is not an option, but since you can put a lot of juice in the phone in a matter of minutes, that's not much of a problem. Another advantage is that the included charger also supports USB Power Delivery up to 45W, making it able to charge your laptop, for example.
A refreshed OxygenOS
The OnePlus 8T is one of the first smartphones running Android 11. OnePlus added a completely revamped version of its OxigenOS skin to it: OxygenOS 11. More than ever, OnePlus has changed its own software when compared to stock Android, but fortunately, the overall streamlined look and feel is maintained.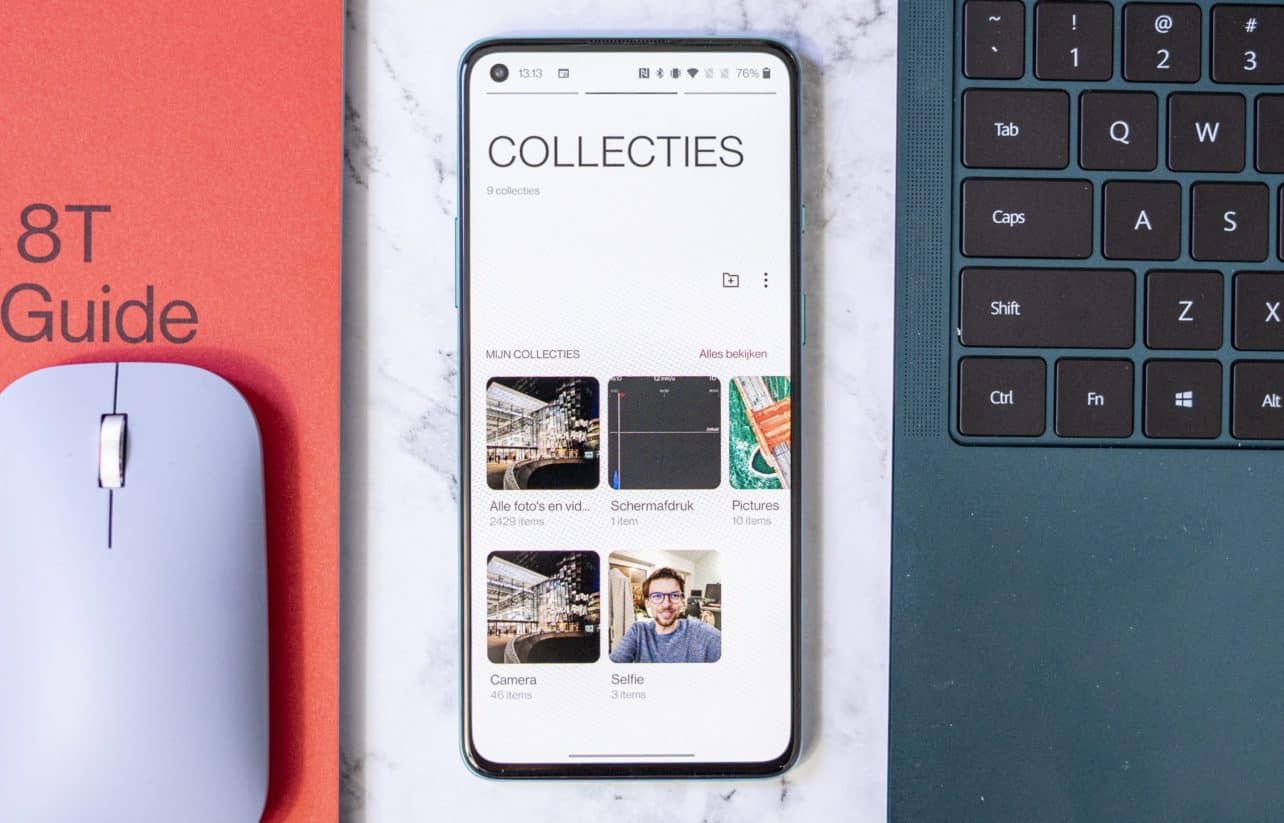 OxygenOS 11 is more spacious and better suited for use with one hand. The latter is especially evident in default applications such as the gallery, weather app and settings app. All controls of those applications are located on the lower half of the screen; the top is mainly for visual elements. Another eye-catching change is the addition of an always-on display that shows how many times you have unlocked your phone. It's a nice and subtle way to get more insight into your phone usage or maybe even addiction.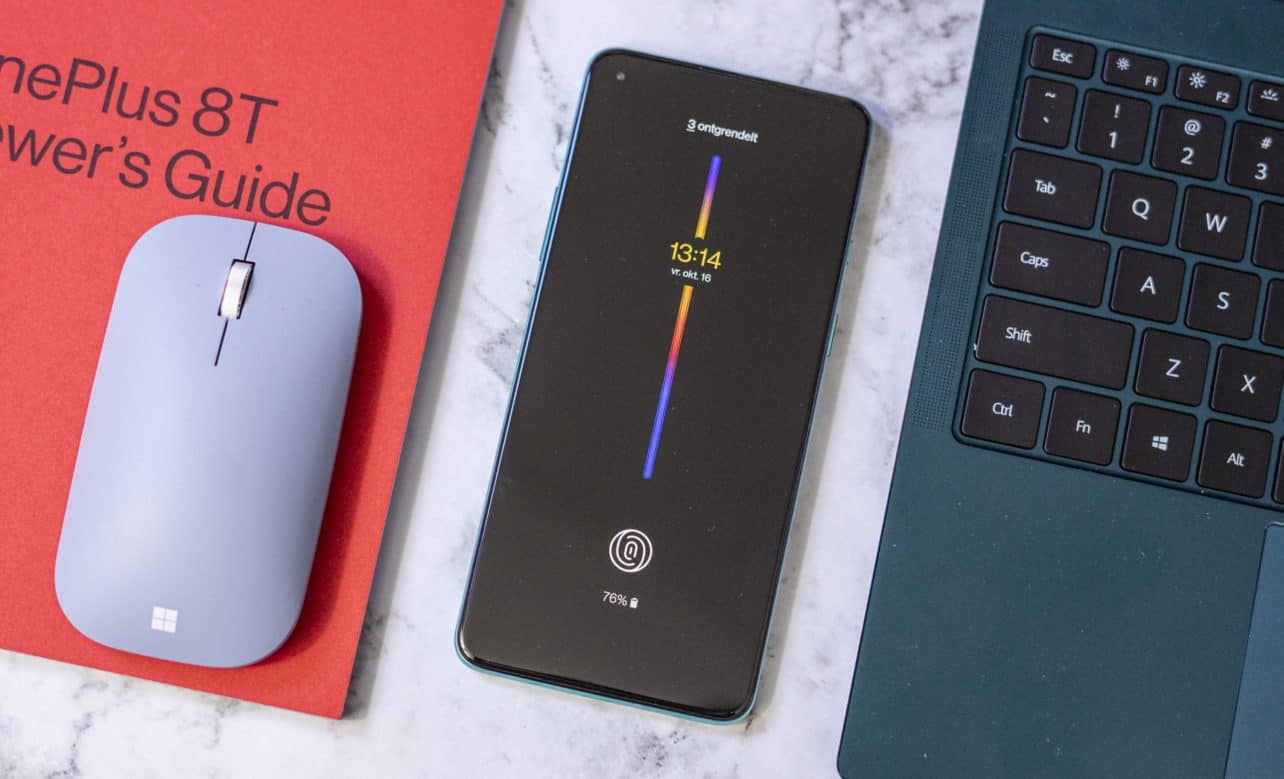 When we reviewed the OnePlus 8 and OnePlus 8 Pro, one of the disadvantages we noted, was that they weren't included in the Android Enterprise Recommended program. OnePlus has been certified into the program, making it easier to use the smartphones in a BYOD policy. The OnePlus 8T isn't shown in Google's overview of AER devices, but we expect the certification to happen soon. This, combined with the bloatware-free software and OnePlus' excellent update policy (at least 2 years of Android upgrades and 3 years of security updates), makes the software in this smartphone excellent for business use.
Camera: more isn't always better
The OnePlus 8T has gained an extra camera compared to the OnePlus 8. That sounds positive, but in practice, little has changed. The back of the OnePlus 8T features a camera bump, containing a 48-megapixel main camera, a 16-megapixel wide-angle camera, a 5-megapixel macro camera and a 2-megapixel black-and-white camera. This last camera is a new addition and is supposed to take pictures with a filter look better. In practice, pictures with a filter don't look very special, and the fourth camera mostly appears to be added for marketing reasons.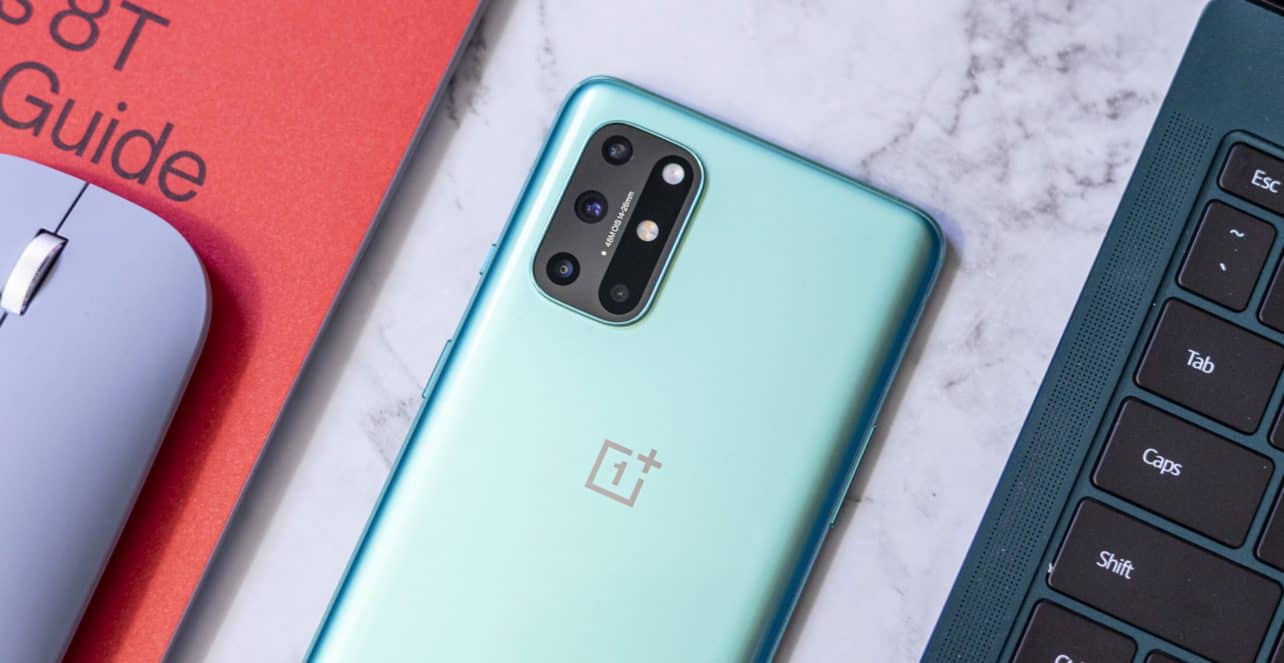 There are some more changes to the cameras. The macro camera now has a 5-megapixel resolution, making it a bit more useful. It still doesn't take brilliant pictures, but at least it's useable now. The wide-angle camera is good enough, and the field-of-view has been increased from 116 to 123 degrees when compared to the OnePlus 8.
The main camera uses the well-known Sony IMX586 sensor that OnePlus has used since the OnePlus 7 series. It's a 48-megapixel sensor that takes 12-megapixel photos by applying pixel binning. These pictures are sufficient for daily use and thanks to the improved night mode, they also look alright in the dark. Still, the camera quality doesn't come close to the OnePlus 8 Pro or many other high-end smartphones, which is a bit disappointing.
Conclusion
OnePlus has priced the 8T at 599 euros, positioning it just below the top of the market. The company achieved this by mostly saving on extras that aren't essential for a good user experience. Think of wireless charging, a fully waterproof housing and an impressive camera. The things that do directly lead to a better user experience are all very well done. Think of the handy and well-finished design, the beautiful display, the good battery and the quick and pleasant-to-use software.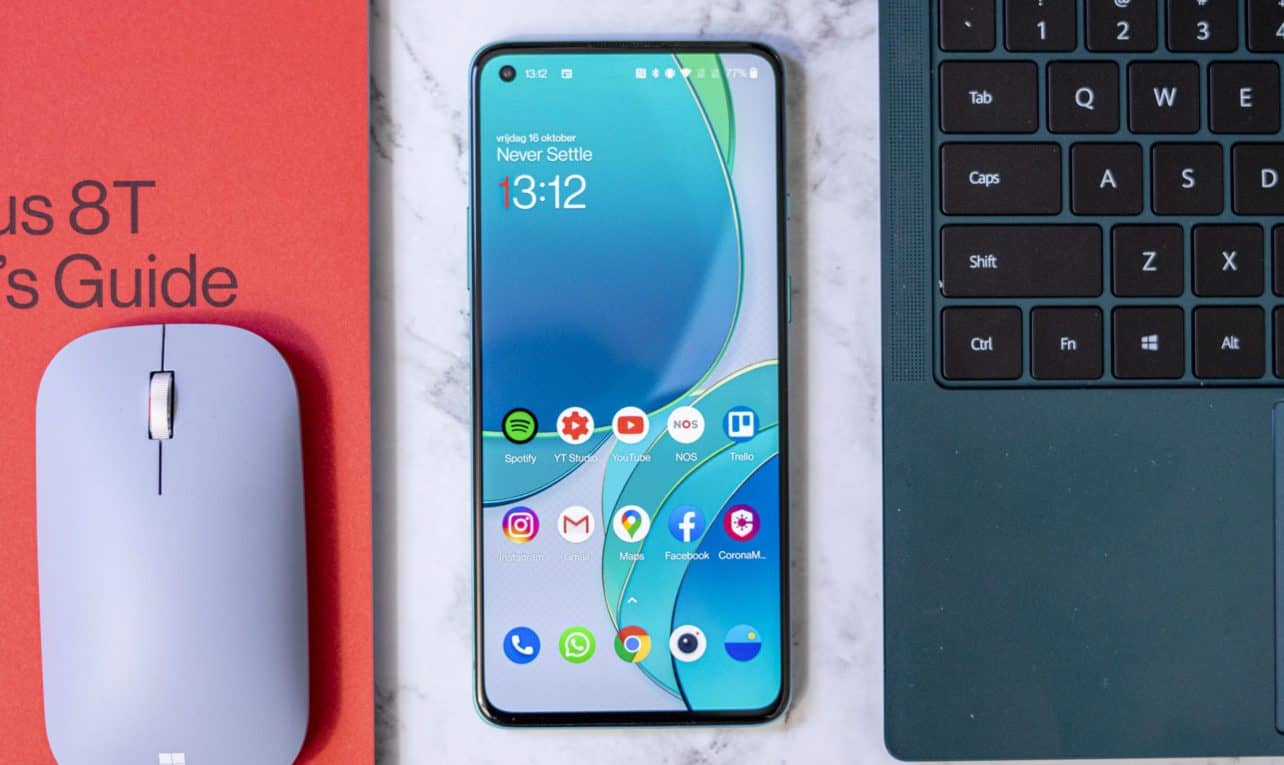 Add to this the excellent support OnePlus provides for its smartphones and the fact the company has joined the Android Enterprise Recommended program. It all contributes to the overall picture of the OnePlus 8T, making the smartphone an excellent choice for whoever wants a fast, no-nonsense smartphone that will last him a long time.
8.5
Beatiful and relatively compact
Superb performance
Pleasant software with good support
Battery with 65W fast charge
Mediocre camera
Few extras