Last month, OnePlus announced the 9 series. These two high-end smartphones clearly carry the OnePlus DNA and are closer to each other than ever. In this review, we discuss the duo and find out which one you should buy.
The major spearheads of the OnePlus 9 series are the cameras: OnePlus even partnered with Hasselblad for this. Of course, the devices have more to offer than that. It is striking that the savings of the 9 versus the 9 Pro are more in aesthetics than in features. The OnePlus 9, for example, has a plastic frame and flat display. But, like the 9 Pro, it can charge wirelessly and has a clearly better camera than the previous non-Pro models from OnePlus.
Main specifications
| | | |
| --- | --- | --- |
| | OnePlus 9 | OnePlus 9 Pro |
| Display | 6,55″ AMOLED, 1080×2400 pixels. 120Hz refresh rate | 6,7″ AMOLED, 1440×3216 pixels. 120Hz variabel refresh rate |
| Network support | 5G | 5G |
| Processor | Qualcomm Snapdragon 888 (2,84GHz octa-core) | Qualcomm Snapdragon 888 (2,84GHz octa-core) |
| Memory | 8GB/12GB RAM, 128GB/256GB storage | 8GB/12GB RAM, 128GB/256GB storage |
| Battery | 4500mAh, 65W fast charge, 15W wireless charging | 4500mAh, 65W fast charge, 50W, wireless charging |
| Software | Android 11 with OxygenOS 11 | Android 11 with OxygenOS 11 |
| Camera | 48-megapixel main, 50-megapixel ultrawide, 2-megapixel black-and-white. 16-megapixel front camera | 48-megapixel main, 8-megapixel 3x zoom, 50-megapixel ultrawide, 20-megapixel black-and-white, 16-megapixel front camera |
Luxurious design for the Pro
The OnePlus 9 Pro features a significantly more luxurious design than the OnePlus 9. The Pro variant has a slightly curved display, an aluminium frame and IP68 certification. This means that the smartphone is officially waterproof. The OnePlus 9 has a flat display, plastic frame and no official waterproofing. However, OnePlus does say that the device offers exactly the same protection against water. Such a certification costs money, and the budget for the OnePlus 9 did not allow for that. Too bad, but it is nice that the smartphone is still protected against water.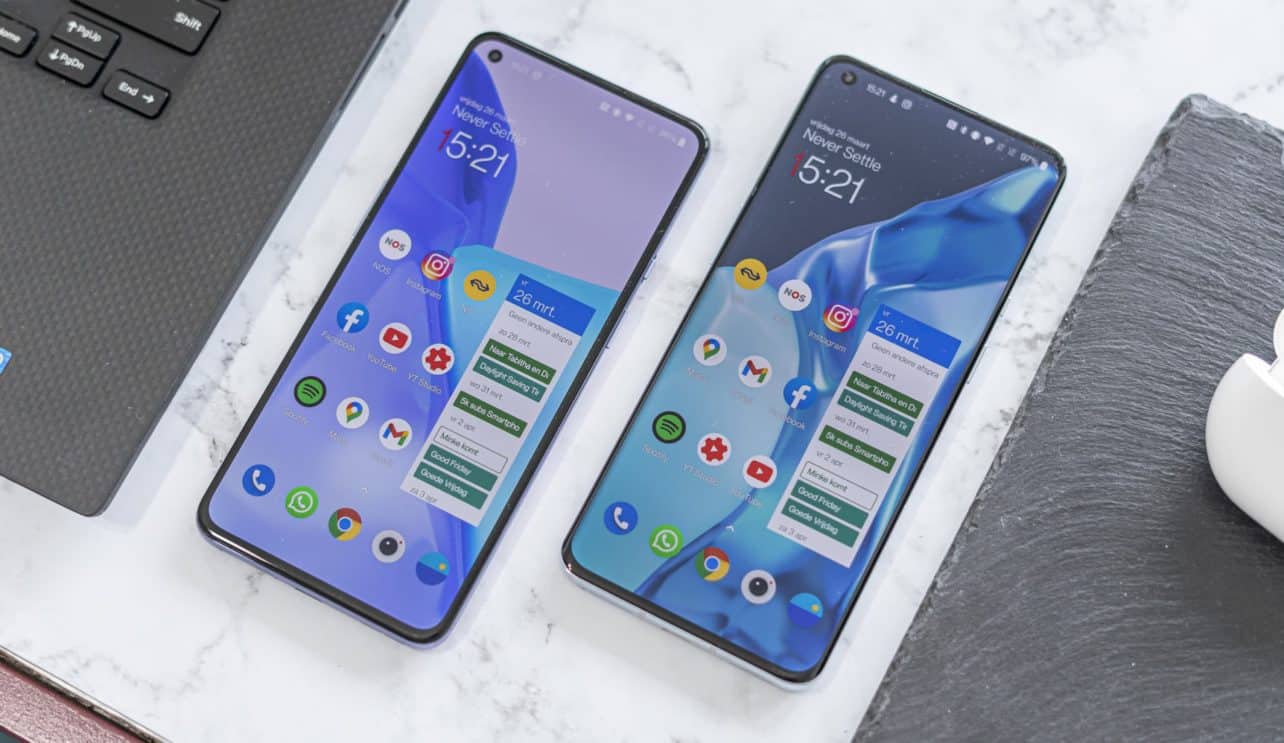 In both cases, the smartphones are noticably light and manageable for devices of their calibre. That is always nice. OnePlus also offers a lot of choice in terms of back finishing. Both phones have a glass back and are available in both matte and glossy versions. The OnePlus 9 can be bought in glossy black, glossy purple or glossy blue. The OnePlus 9 Pro comes in shiny silver, matte green or sandstone black. The latter version is inspired by the OnePlus One, although it's still made of glass and therefore naturally feels a bit smoother.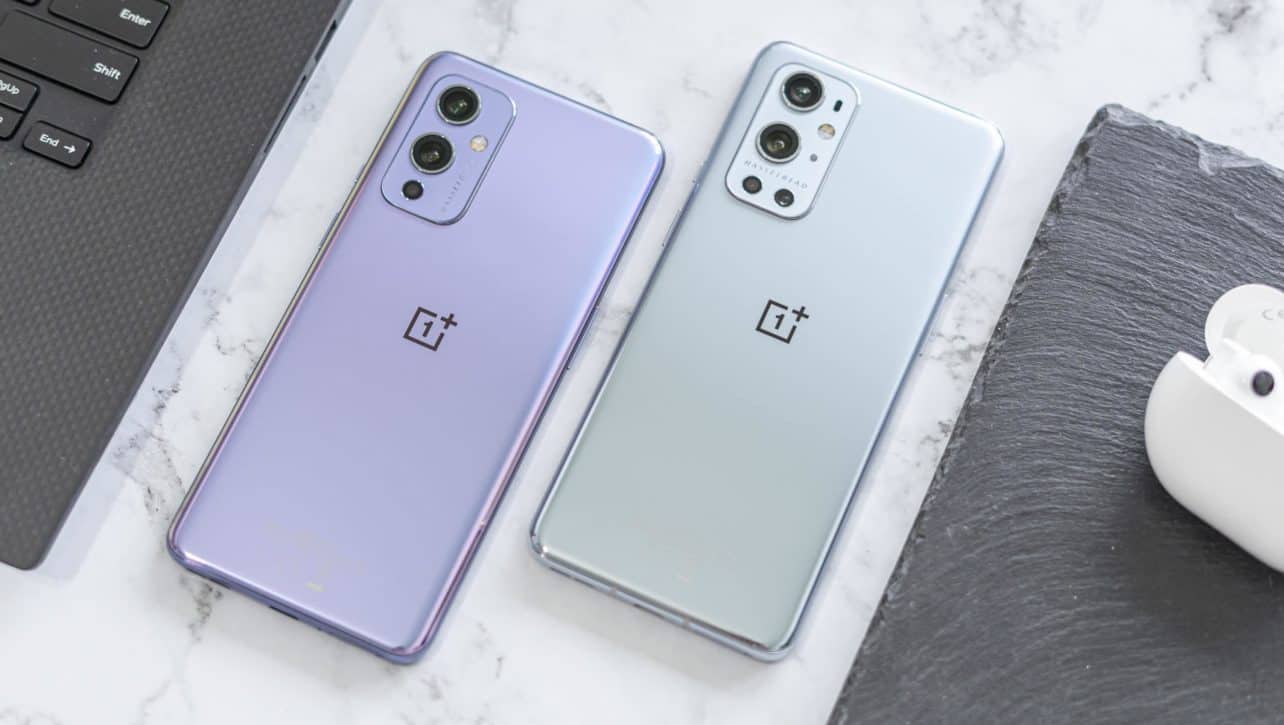 Functionally, the two designs are good and comprehensive. A memory card slot and audio jack are missing, but unfortunately, that is the standard these days. The selfie camera has face recognition, and the in-screen fingerprint scanners are fast. They are placed somewhat low and are therefore hard to reach, but you'll get used to that. The smartphones both have the mute switch that OnePlus is known for, support two SIM cards and feature stereo speakers. These sound a lot better on the OnePlus 9 Pro than on the OnePlus 9.
Beautiful displays
The display is one of the components that set these two smartphones apart. The OnePlus 9 Pro clearly wins out with its 6.7-inch QHD+ AMOLED display with a variable refresh rate of up to 120Hz and colour depth of 10 bits. It's a stunning panel with high brightness and beautiful colours and is among the best out there.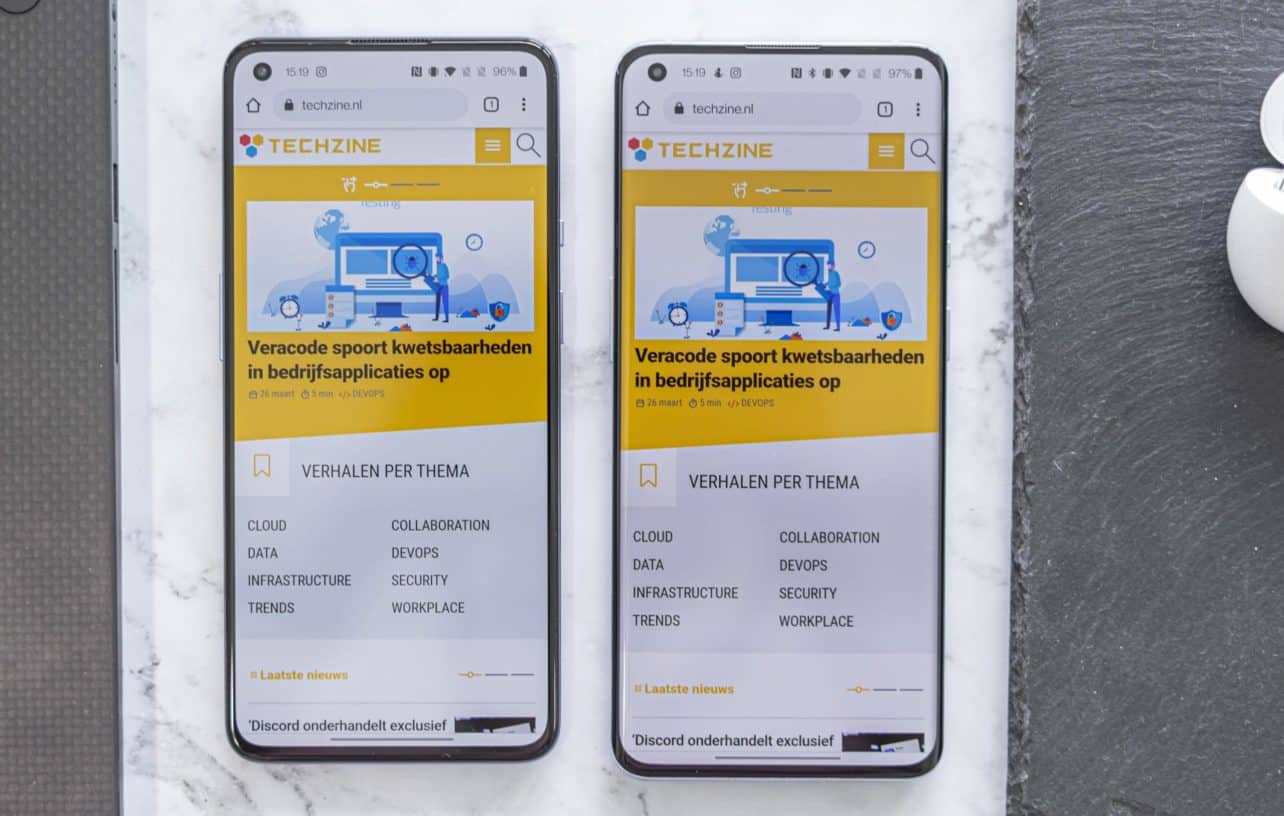 Still, the OnePlus 9 certainly doesn't disappoint in that regard either. The smartphone has a 6.55-inch AMOLED display with full HD+ resolution and a refresh rate of 120Hz. This is not variable and therefore uses a bit more power, but you don't really notice the difference in practice. The lower resolution is visible but not annoying. The same goes for the colour reproduction: the display doesn't pop as much, but if you don't put the smartphones side-by-side, you won't notice it.
Superfast with great software
Traditional advantages of OnePlus phones are their excellent software, good optimisations and fast performance. This is no different for the OnePlus 9 series. Both have a Snapdragon 888 chipset, 8GB or 12GB of RAM and a display with a high refresh rate. That combination makes for excellent performance. We didn't feel any hiccups or slowdowns during our testing period and can conclude that these two smartphones are among the fastest on the market.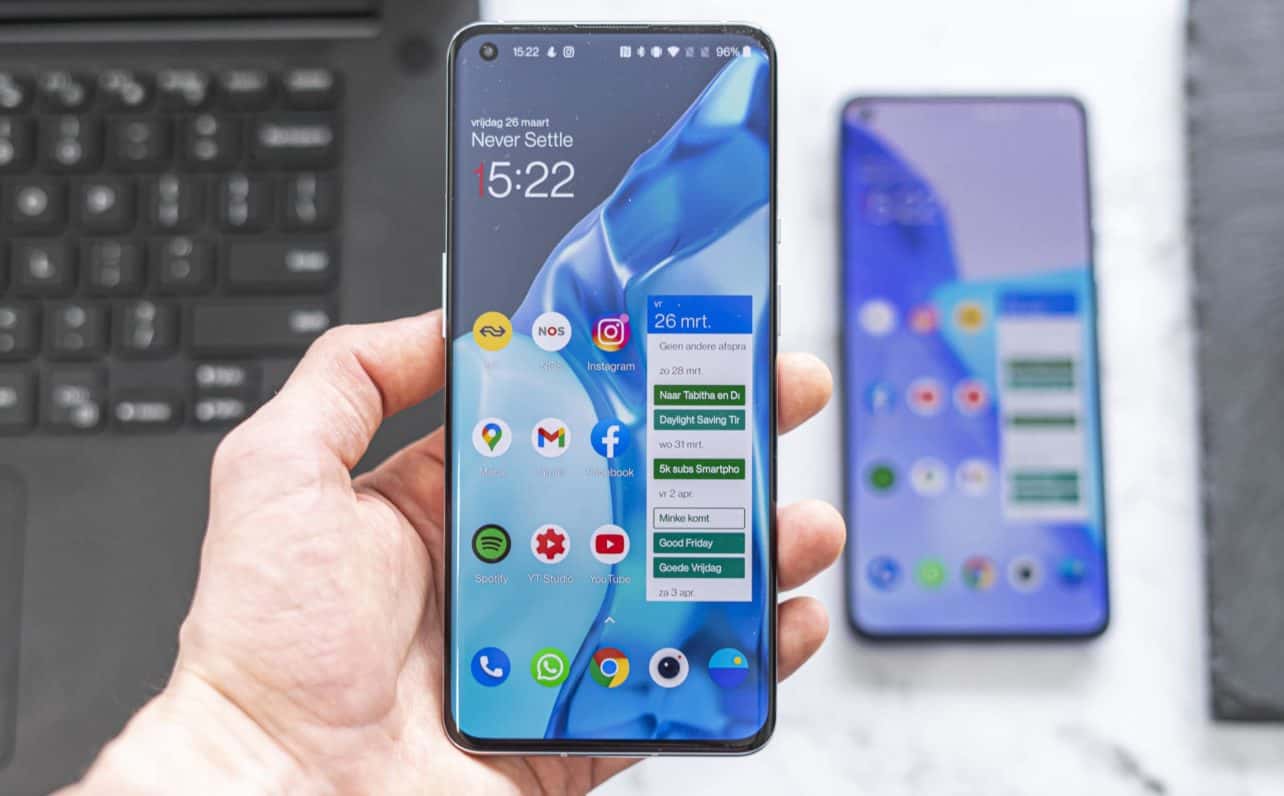 Moreover, the software is very nice. OnePlus puts Oxygen OS 11 on top of Android 11, a shell with many extras and a modest design. Visually, OnePlus is increasingly going in its own direction. We think the result is great with unobtrusive icons, lots of white space and little fuss. The OnePlus 8 series was the first OnePlus phone to get the Android Enterprise Recommended certificate, but that certification has not yet been completed for the OnePlus 9 series. OnePlus says it is working on that, but that the decision whether the devices will be allowed lies with Google. That's something to keep in mind if your company requires it.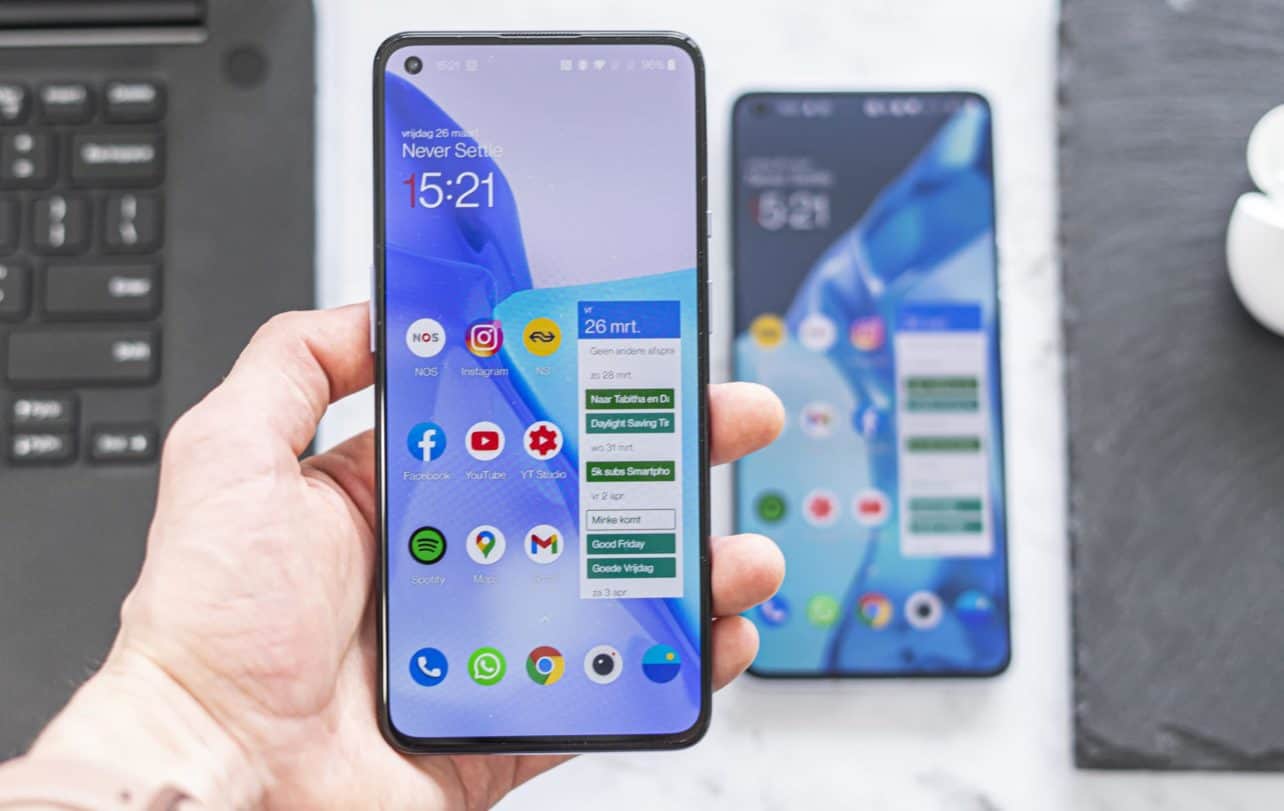 OnePlus' update promise is good. The smartphones will receive three years of security updates and two years of Android upgrades. If the past is any indication of what will happen to these devices, you can count on fast version upgrades but relatively slow security updates. The latter is certainly a downside for business users.
Batteries recharge quickly
The OnePlus 9 and OnePlus 9 Pro both have a 4500mAh battery. Funnily enough, it lasts a lot longer in the OnePlus 9 than in the OnePlus 9 Pro. We can imagine that the 9 Pro's larger QHD+ screen consumes a bit more power. However, that doesn't explain the big difference: where we barely make it through the day with the OnePlus 9 Pro under intensive use, the OnePlus 9 easily lasts a day and a half with the same use. Perhaps OnePlus will improve the battery life of the OnePlus 9 Pro with updates. For now, however, we rate the Pro's battery as barely sufficient while the OnePlus 9 scores more than good enough.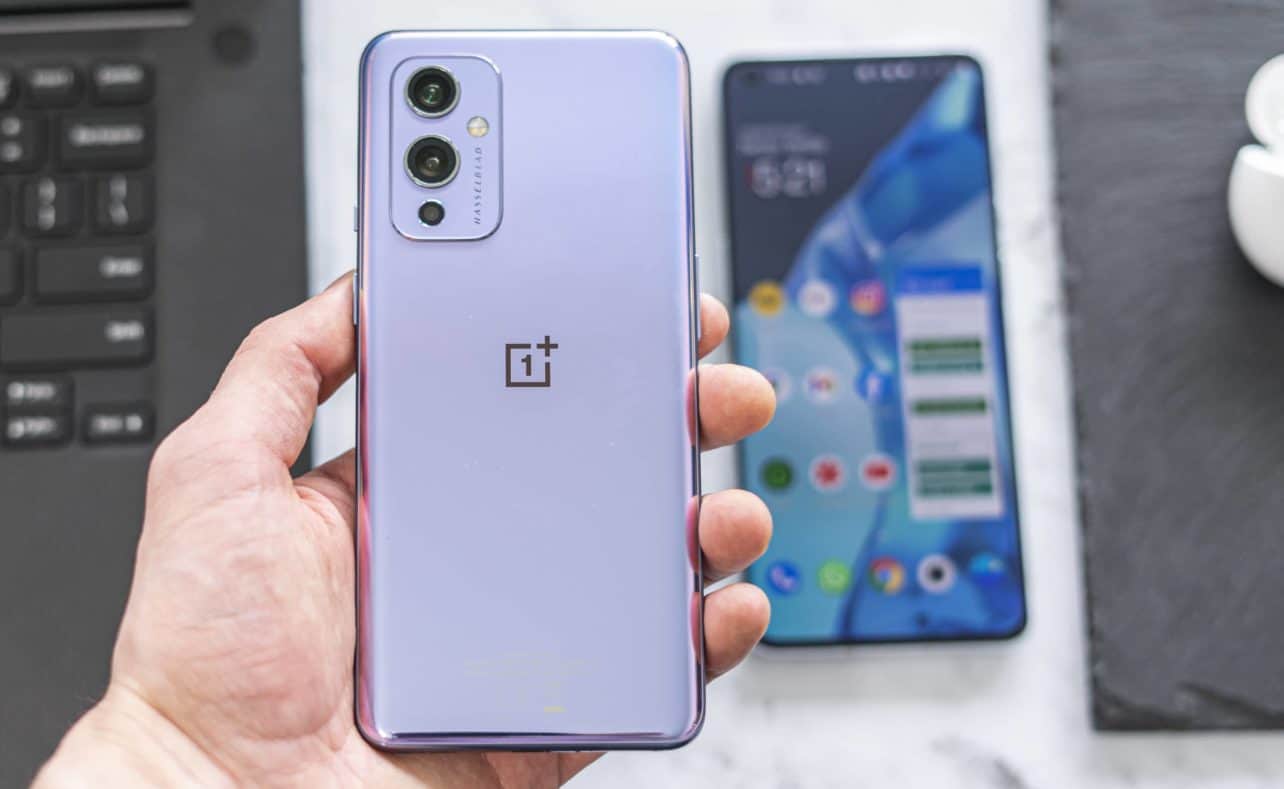 One aspect where both smartphones perform well is their charging speed. Both support Warp Charge 65T, a charging technology that charges at up to 65W. In addition, because the battery consists of two separate cells that are charged separately, the smartphone can maintain that charge speed for a long time and the battery life deteriorates less. All in all, the smartphones are charged in 29 minutes. OnePlus uses a proprietary charging technology for this, but the included charger also supports USB PD, so it can charge all USB devices, including laptops.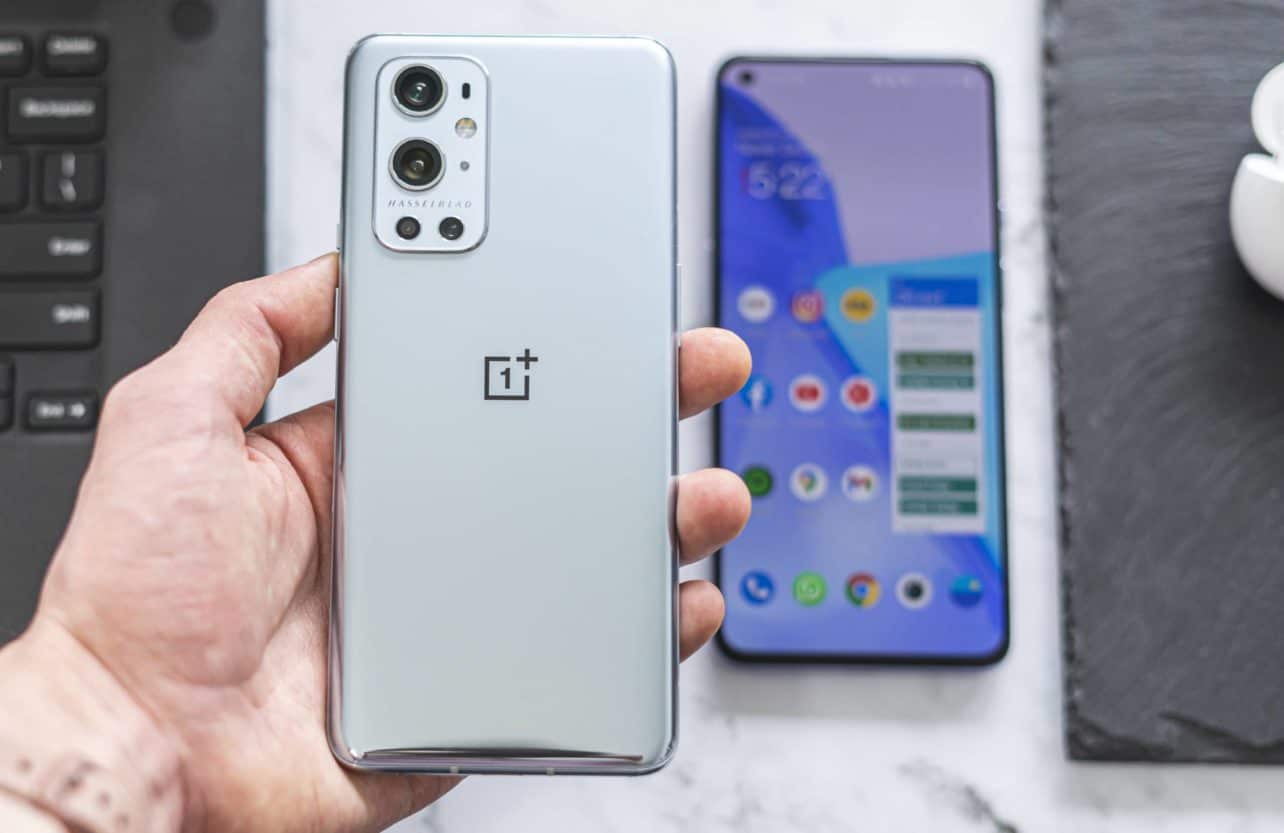 Wireless charging is supported on both models for the first time. The OnePlus 9 features regular wireless charging via the Qi standard with a charging power of up to 15W. With the OnePlus 9 Pro, the maximum wireless charging speed is 50W. This gives you a full charge in 43 minutes, which is impressive, but you do have to buy a special 70 euro wireless charger for it. Don't feel like spending that kind of money? Then there's little difference in practice between the OnePlus 9 and OnePlus 9 Pro charging features.
Hasselblad camera
For the cameras, OnePlus has partnered with Hasselblad. This iconic camera manufacturer has helped OnePlus mainly by adjusting the colours of photos, giving them a more natural look. That difference is noticeable compared to previous OnePlus devices and also compared to other smartphones on the market. The OnePlus 9 and 9 Pro take beautiful photos with realistic colours. Still, the colour calibration is not as great as the Hasselblad logo might suggest, and the white balance of the photos is not always entirely consistent.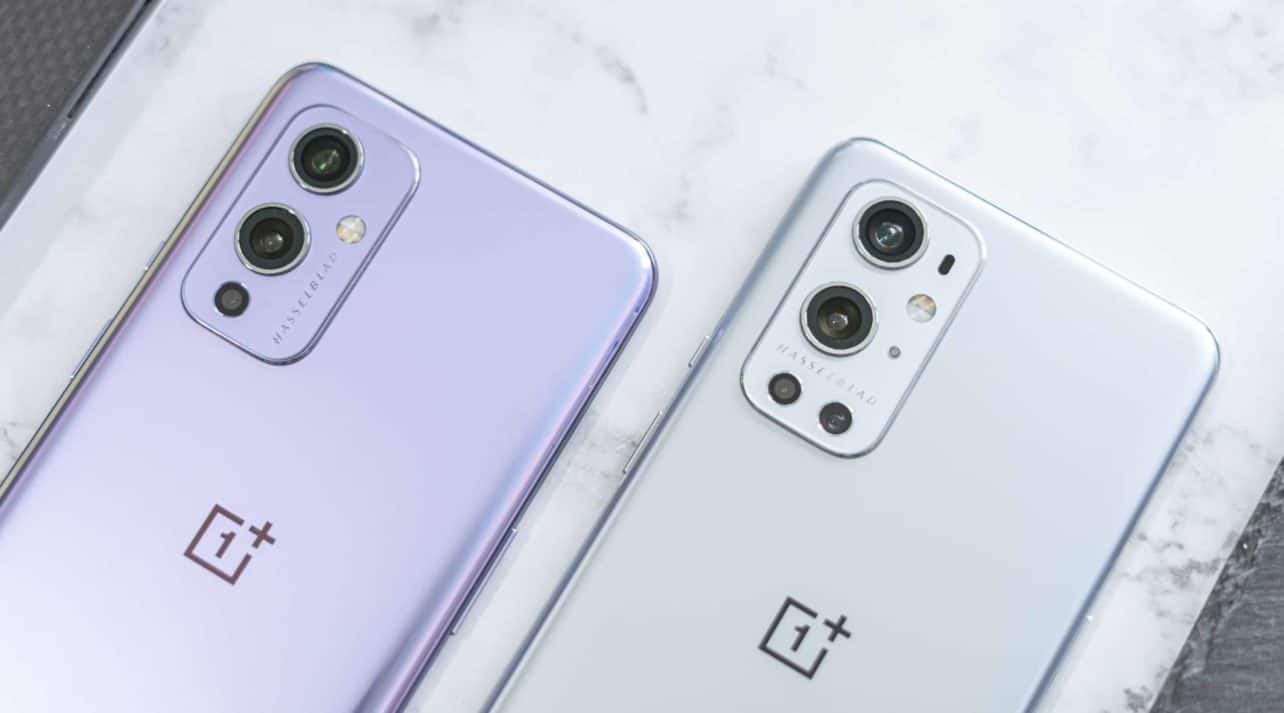 Regardless of the realistic colours, the photos of the OnePlus 9 and OnePlus 9 Pro look great. When it gets dark, both smartphones still manage to get a fair amount of detail in the picture, and the lighting is often excellent. The OnePlus 9 has the Sony IMX689 primary sensor that was also found in the OnePlus 8 Pro, while the OnePlus 9 Pro has an entirely new Sony IMX789 sensor. It performs slightly better in the dark but mainly takes photos with significantly more sharpness and detail. This makes the camera of the OnePlus 9 Pro, without a doubt, a step better than that of the OnePlus 9, but the OnePlus 9 also performs quite well.
Both smartphones share the same wide-angle camera, and it is very impressive. It is a rather large 50-megapixel Sony IMX766 sensor placed behind a so-called freeform lens. This lens is supposed to counteract the distortion caused by the wide angle, and it does so well. We do have to note that the viewing angle is a bit narrower than that of many other wide-angle cameras, which means that you can fit a bit less on the picture. However, the extra quality is more than worth it. The high-quality sensor ensures that wide-angle photos are sharp and rich in detail, pretty consistent with the main camera in terms of colours, and good even in low light. For the first time, it feels like you have not just one but two really great cameras on your smartphone.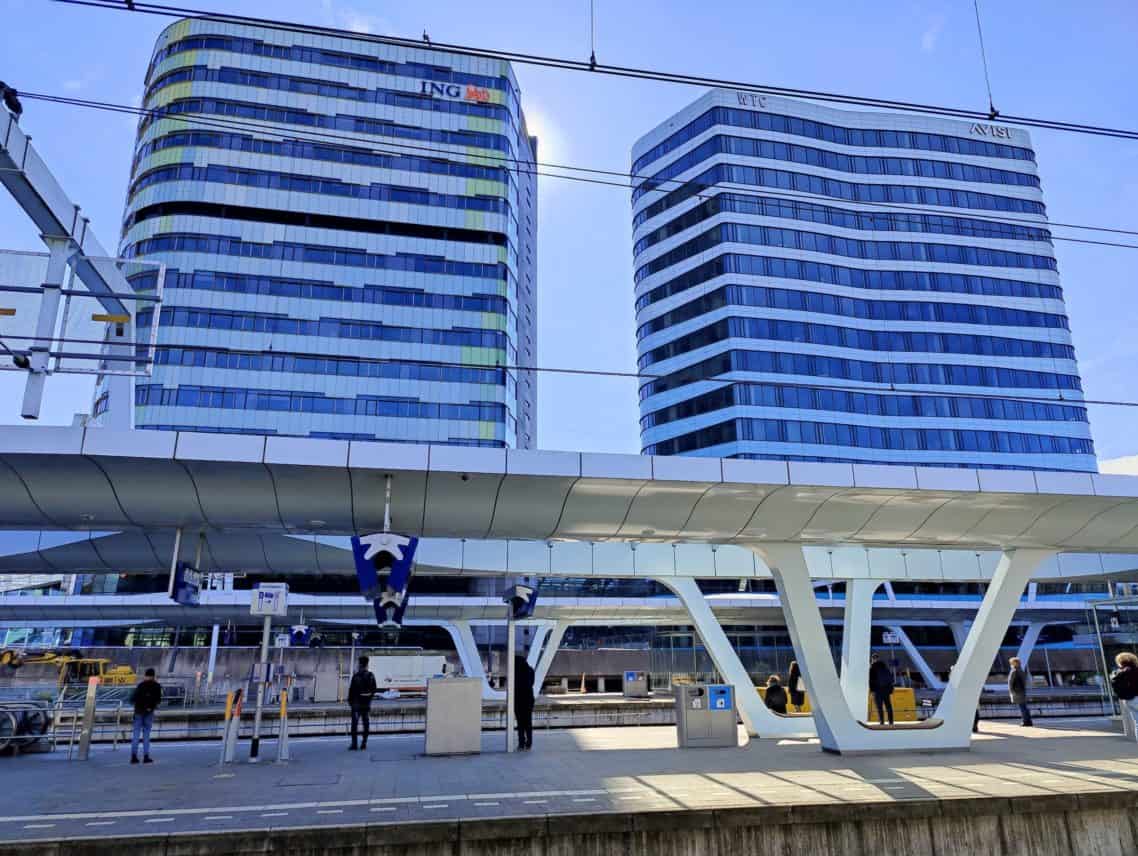 Next to the wide-angle camera, the OnePlus 9 Pro features an 8-megapixel 3x zoom camera. It's a nice addition, but it doesn't quite keep up with the quality of the other cameras. Not compared to the other two cameras on the OnePlus 9 Pro anyway, but neither to the zoom cameras of many other top smartphones. Finally, both smartphones have a 2-megapixel black-and-white camera; according to OnePlus, it is meant to better add colour effects to photos. However, this can also be done with software, and this extra lens seems to serve a marketing purpose. The 16-megapixel front camera of both smartphones is sufficient but does not belong to the greatest.
Filming with the OnePlus 9 series can be done in up to 8K resolution, although it's better not to. Those 8K videos take up a lot of space and are less stable than the 4K videos that the OnePlus 9 and OnePlus 9 Pro make. The 4K videos are beautiful in colour and rich in detail, but can't quite keep up with the best video cameras in the smartphone market with their dynamic range and stability.
Conclusion
With the OnePlus 8 series, OnePlus put out a truly mature duo of flagships for the first time, and the manufacturer continues that trend with the OnePlus 9 series. Both smartphones are fast, have great software, beautiful displays, good cameras and a complete feature set. The Hasselblad cameras are good but do not quite live up to the high expectations that the brand name brings with it. Furthermore, it is notable that the OnePlus 9, thanks to its improved camera and wireless charging function, gets a lot closer to its Pro brother. This makes the OnePlus 9, with its starting price of 699 euros for most users, a better deal than the OnePlus 9 Pro, which costs at least 899 euros.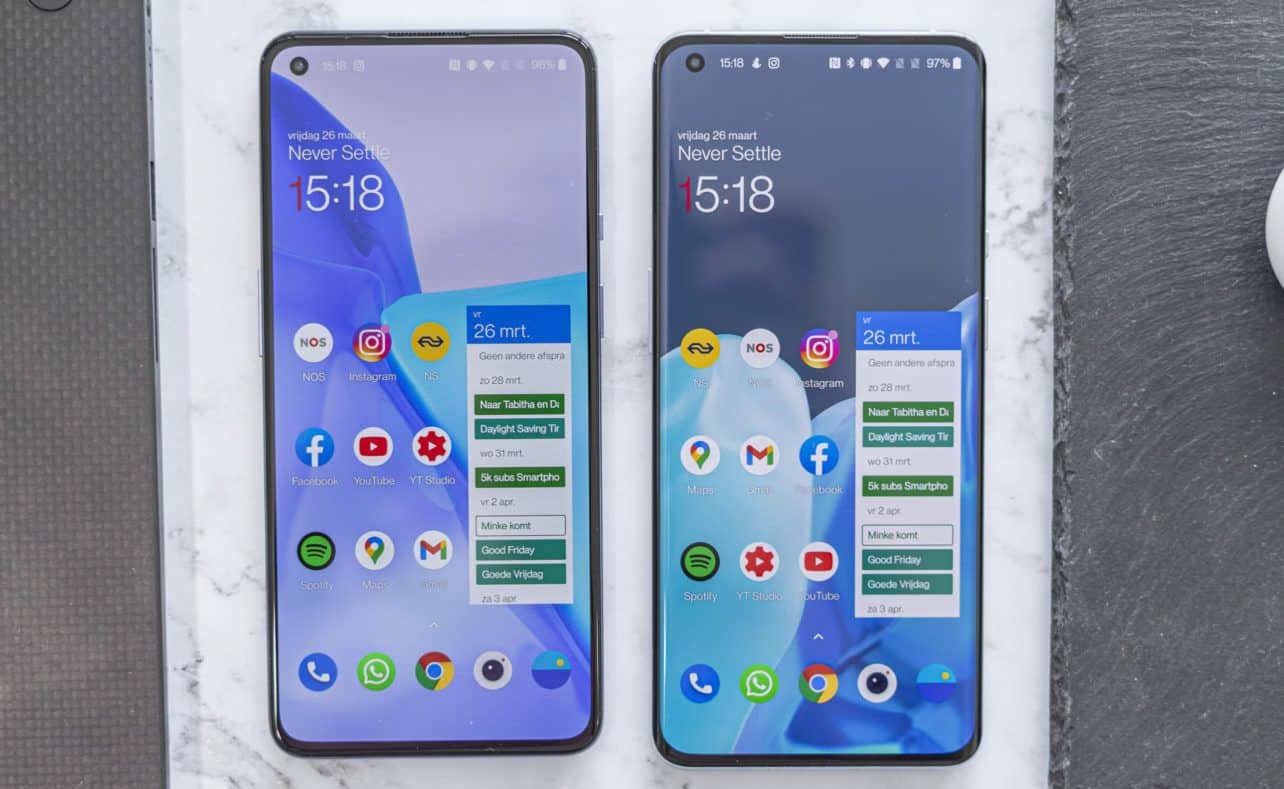 The 200 euros extra get you a more luxurious design with official IP certification, a camera that takes sharper and more detailed pictures, a QHD+ screen with a variable refresh rate and better speakers. In addition, the OnePlus 9 Pro supports faster wireless charging, but you'll need to spend another 70 euros for a dedicated charger. On the other hand, the OnePlus 9's battery performance – at least for now – is significantly better.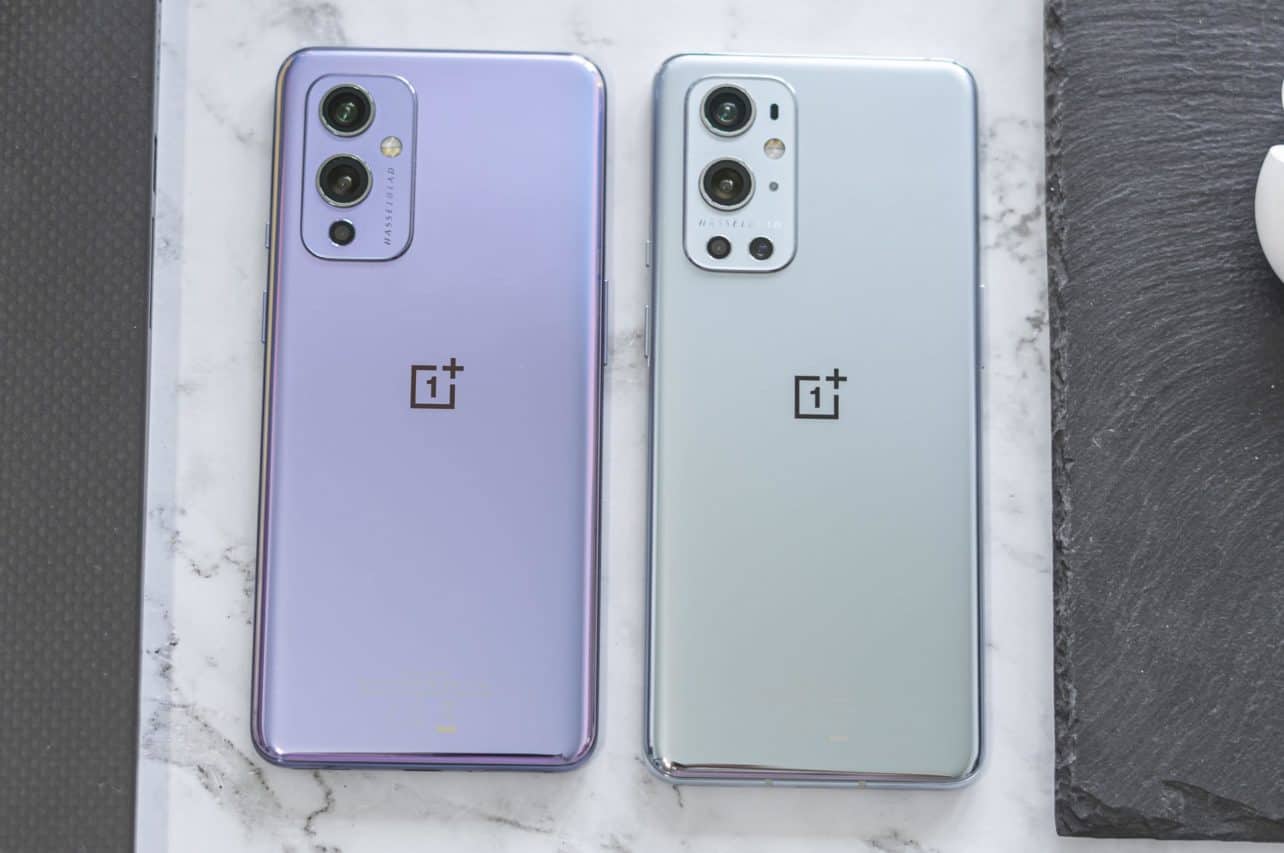 Whichever one you choose, you can be sure that you're getting a great smartphone that you'll enjoy for a long time to come and that has few real drawbacks. If OnePlus can still get the devices through the Android Enterprise Recommended programme and improve the battery performance of the OnePlus 9 Pro with a software update, the two will be complete.
OnePlus 9 score
9
Great performance
Nice software
Complete and affordable
Decent camera
Plastic frame
Display resolution
OnePlus 9 Pro score
8.5
Great performance
Nice software
Excellent camera
Superfast (wireless) charging
Battery performance
Zoom camera isn't ideal