During the European version of VMworld 2018 in Barcelona, we were invited to see how VMware is doing and which way the company is moving. At VMware, they probably see standing still like a step backwards, because the company is steaming ahead, and it presented updates for just about all solutions. Ultimately, VMware simply wants to be the cloud infrastructure provider for every business, both on-premise and in the cloud. It now adds containers and shows how it is preparing for edge computing.
VMware is still a real technologist's company, as was also shown during the keynote. Pat Gelsinger, the CEO of VMware, gave a keynote of two hours, in which each VMware solution was reviewed, updates were presented, and he even showed three product demos with the help of a number of colleagues. For the VMworld visitor who is not fully aware of the VMware products, it was hard to keep up.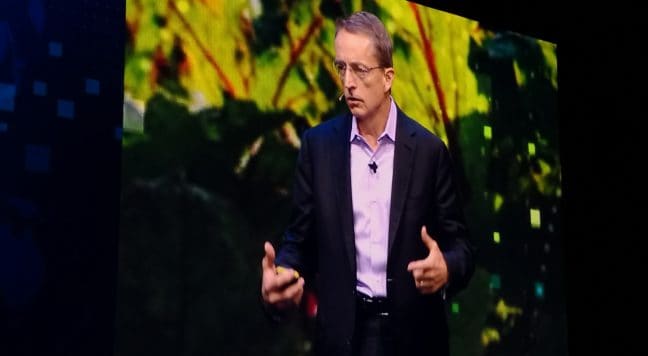 So, it was a bit much, but if you put all announcements next to each other, an overview emerges. VMware remains a virtualization expert, and that is the basis of every product, whether it's on-premise, the cloud, workspace or the more complex NSX network virtualization. The hybrid and multi-cloud remain VMware's focus, and it is now going to focus heavily on containers. The company is also already working on edge computing, which we have set out in a separate article.
VMware as the most important hybrid cloud infrastructure supplier
VMware is the largest provider of on-premise and cloud infrastructure, and with all these announcements, it will not lose that position. It also wants to expand its footprint in the public cloud, which is why earlier this year at VMworld US, we already saw an expansion of VMware on AWS. This made it possible to combine database and storage solution in AWS with VMware on AWS. This also reflected the company's real multi-client strategy. Where we also discussed the hybrid cloud strategy in detail before.
Expanding the partnership with AWS and IBM Cloud
During this edition of VMworld Europe, the company will be adding to it. VMware on AWS will be available in all AWS regions. It has also further developed its collaboration with IBM. VMware on IBM Cloud could already be linked to other IBM Cloud solutions, but the two platforms were not seen as one. Companies simply had to pay for the network traffic between VMware on IBM Cloud and, for example, IBM Watson. This is now coming to an end. The restriction has been lifted. VMWare on IBM Cloud is now also within the IBM Cloud so that all IBM solutions are linking without network costs. That is a logical step forward; the services were already in the same data centers. Customers, therefore, do not need to be migrated.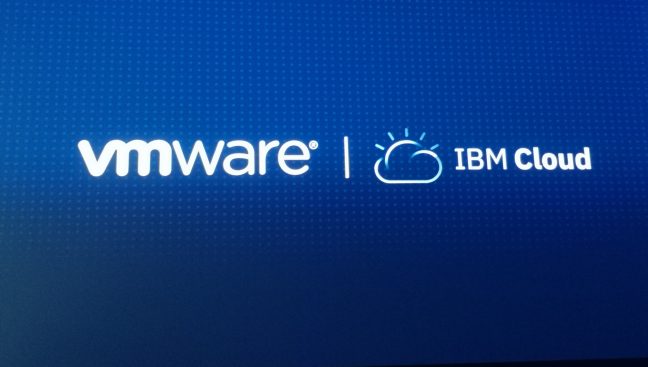 Mission Critical cloud
VMware on IBM Cloud is also going to try to differentiate itself from VMware on AWS. All customers are welcome on the IBM Cloud, but the focus will clearly be on the larger enterprise organizations. IBM has introduced a mission-critical cloud environment in all regions with an uptime guarantee of 99.99 percent. It can offer this by building a lot of extra redundancy into this cloud environment. Companies that have applications that simply need to be available at all times and that are truly business-critical can now choose this IBM Cloud offer, without having to install all the redundancy themselves.
Of course, there will be a slightly higher price tag for this cloud solution, but companies with business-critical applications are expected to be happy to pay for this. Any downtime within this environment will then always be limited to seconds or a maximum of a few minutes based on the size of the VM.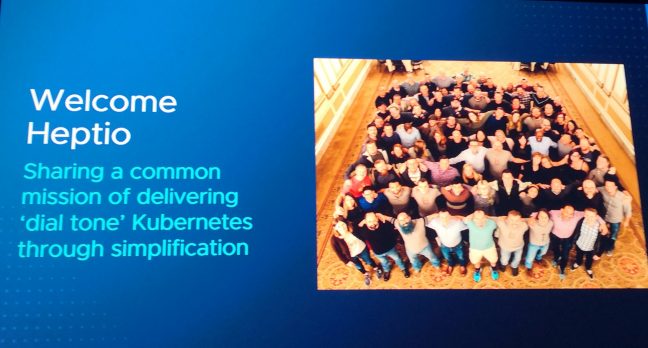 VMware acquires Heptio and further invests in Kubernetes container platform
Together with the other Dell Technologies subsidiary, Pivotal, VMware already had a Kubernetes container platform called VMware PKS. With the acquisition of Heptio, which was announced during VMworld, it adds the necessary expertise to the company regarding Kubernetes. Two of the three creators of Kubernetes are involved in Heptio.
Heptio will add the necessary PKS technology, which will enable VMware to further distinguish itself as one of the best solutions for containers. Especially for companies that want to use containers in a hybrid or multi-cloud environment that also includes on-premise. This makes it easier to move containers between different cloud environments.
More and more companies are opting to subdivide their VMs at the application level further, and put them in containers. This allows applications to be managed and updated independently of each other. Containerization is becoming a new buzzword within enterprise organizations.
In terms of multi-cloud strategy, VMware has opted for an even broader model at VMware PKS. VMware PKS is currently available on AWS, but will soon also be available on Azure and Google Cloud Platform and VMware on AWS. The IBM Cloud will not be included in this for the time being, which is a remarkable choice.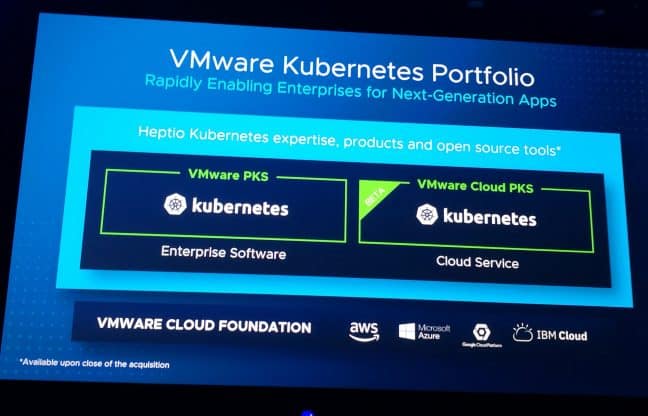 VMware NSX-T brings network micro-segmentation to containers
With VMware NSX, it was already possible to secure network traffic between virtual machines with micro-segmentation. VMware now goes a step further by making AppDefense a standard addition to the vSphere offering. This makes it possible to determine which network traffic is considered to be good automatically, the rest is blocked and locked by default.
With VMware NSX-T, VMware also extends this solution to containers. The network traffic between containers can also be closed by means of micro-segmentation and AppDefense can also automatically scan and record the good desired network traffic, as a result of which any deviating traffic is automatically blocked and logged. By using what is good and blocking the rest, an environment is much safer, because there is no need to actively search for what goes awry, everything else is simply blocked and logged for the IT admin.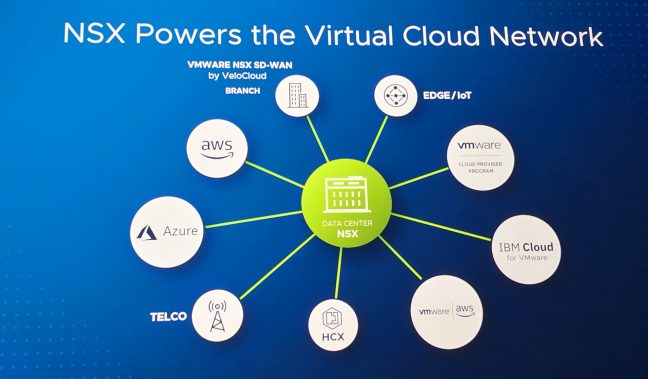 Saving costs with Cloudhealth
During VMworld US, VMware announced that it had taken over Cloudhealth. The Cloudhealth solution is capable of mapping out a company's entire cloud portfolio. This will provide insight into costs, use, security and performance. In some cases, for example, it may be useful to use less compute or storage for certain VMs because they do not need it. Or, on the contrary, to expand them because certain services run up against the limits of the available compute or storage.
The extensive analytics can provide analyses of possible problems with the limits at an early stage. Or, on the contrary, they can result in enormous cost savings, certainly for companies that spend thousands of euros per month on the public cloud. These types of companies often have a large number of VMs and solutions running. It is difficult to keep track of this in all the different control panels. This is what Cloudhealth brings together in one package. They currently offer support for AWS, Azure and Google Cloud Platform. Once again, IBM is strikingly absent.
All in all, we can conclude that VMware has carried out another major update across the board. At VMworld, we had to make a real effort to keep up with it all. Next year we will certainly attend an extra day so that we can continue to discuss things more.