NetSuite is now part of one of the largest multinationals in the world, Oracle. However, NetSuite knows how to distinguish itself from this. It operates independently, and the culture in the company is clearly different from Oracle's. The way of communicating and the mentality is distinctive and it has a strong image. The customers and partners we spoke to are very satisfied, although they still look at Oracle with some fear and a skeptical eye. According to Oracle and NetSuite, there is no need for that.
We recently visited SuiteWorld, the annual event of NetSuite in Las Vegas. This gave us the opportunity to get to know NetSuite, a company that became part of Oracle some 2.5 years ago but still operates independently. As far as we're concerned, that's a good thing too. If Oracle integrates the company, then we suspect that it will be a quick death for NetSuite. NetSuite is really different from Oracle on many fronts.
NetSuite was originally a cloud company, even when the cloud did not yet exist. This is the only model they know. This mindset ensures that they are currently growing at a rapid pace, even though Oracle's financial resources also ensure that this is the case. NetSuite is expanding into more countries and regions. People are being hired everywhere, and the capacity is being increased to meet the demand from the market. The global expansion is important for NetSuite and also creates extra work, as NetSuite has to be localized.
Mark Hurd about NetSuite: " NetSuite products will remain forever".
Oracle's CEO Mark Hurd was also present at SuiteWorld. He was part of the keynote, and we had the opportunity to ask him questions. He praised NetSuite, calling it the best acquisition Oracle has ever made. And that he can't be more satisfied than with the results that NetSuite is now achieving.
The question of whether NetSuite will not ultimately be integrated into Oracle and whether the companies will not come into conflict with each other has been raised countless times. This is also noticeable with partners, who are also afraid that Oracle will leave its mark and that this will have negative consequences for the NetSuite products. Hurd and Goldberg, the founder and executive vice president of NetSuite, try to reassure people time and again.
Oracle's vision on Oracle ERP and NetSuite ERP
Since we detected that feeling among customers and partners, we have once again presented the problem to Mark Hurd. How will two large ERP packages coexist within Oracle? NetSuite is a large cloud ERP player, while Oracle has of course been a big player in on-premise ERP for years. For Oracle, the path to the cloud has now also been started.
Oracle ERP
After the acquisition of NetSuite, Oracle made a very clear choice. The company has removed Oracle ERP from the mid-market segment. In fact, Oracle ERP is only available to multinationals with billions of euros in turnover. Oracle is also developing a very heavy and scalable cloud ERP system that is, in principle, not very easy to roll out. Based on input from the customer, an Oracle ERP is completely custom configured and built to meet the customer's workflows. Since Oracle really focuses on very large enterprise organizations this is also possible. They have the budget and also make these kinds of demands.
NetSuite ERP works with SuiteSuccess, a three-step plan
NetSuite goes more or less the opposite way. NetSuite does not focus on those huge enterprise players, but mainly on the middle segment. We also understand that the company is working on a starter's edition for small businesses that expect to grow fast. That's what the low price shows, but this still includes a bit of implementation. However, the low price does not include the margin to build an ERP system that is completely tailored to your needs. That's why NetSuite works with SuiteSuccess, configuration templates that are optimized based on the customer's wishes.
Every company is different, which makes it extremely difficult to build a generic ERP product. With SuiteSuccess, a three-step plan has been developed that is partly generic and offers Netsuite the flexibility to offer an extensive ERP system at a competitive price.
SuiteSuccess consists of configuration templates per vertical, as it were, which is the first step. This is done in cooperation with a large number of companies that are active in such a vertical. We look at what an ERP should look like in a certain vertical, what requirements it must meet and what processes and workflows there are. This, combined with NetSuite's in-house knowledge, gives the company the opportunity to develop these kinds of templates. Soon partners will also be able to develop SuiteSuccess templates.
After that first step, there is a generic template for a certain vertical. The second step is that this template needs to be optimized for each local market. The simplest example is tax rules and laws. These are slightly different all over the world, but an ERP system must be able to handle them. Banks, too, are just that little bit different in many countries. For the processing of payments, links with banks and the import of bank statements are a standard requirement. In addition, NetSuite also looks at what local players offer and whether they offer things that the company should take into account. Finally, the SuiteSuccess template is made suitable for each country.
Finally, there is the last step. For new customers, a standard NetSuite environment will be rolled out in the cloud. Next, the SuiteSuccess template will be unleashed, but this gives the customer a generic environment that works well in its market segment. This does not mean, however, that the environment also works well for the customer by definition. For example, the customer can work with a completely different price structure or a different discount mechanism. Or, in contrast to many market parties, it still has an external partner who is responsible for part of the process. However, this must be taken into account, and the ERP system must work for the customer and not the other way around. This is what NetSuite calls the "last mile". The last part has to be configured specifically for the customer, and it is part of the implementation.
In this way, NetSuite differentiates itself more than enough from Oracle to justify the two ERP systems next to each other.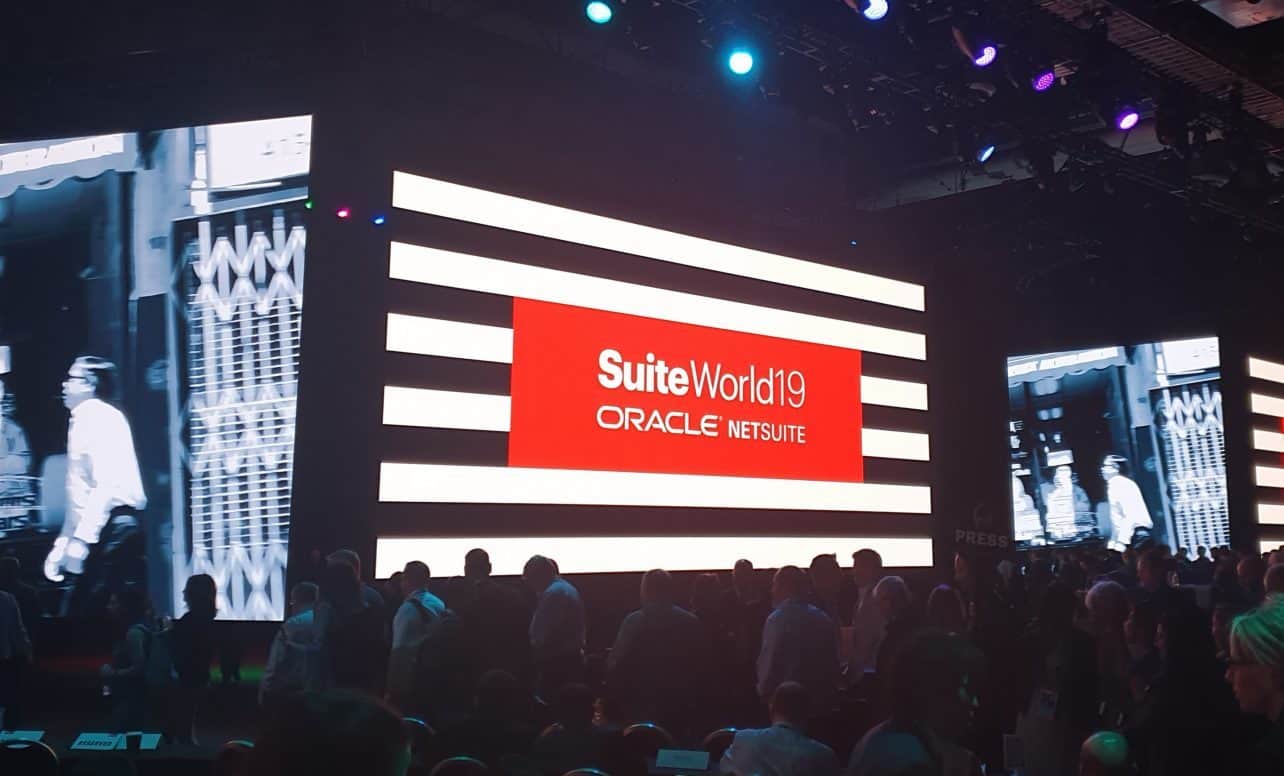 At NetSuite, Oracle is not forced onto anyone
NetSuite is, therefore, a separate entity within Oracle. A movement that is cloud-native and operates very differently than Oracle. You would expect them to push Oracle products at NetSuite, mainly. With these kinds of large environments, you often have integrations with third-party products, something that the Oracle Integration Cloud could help you with. In fact, we haven't heard any of this all week. Instead, it was Dell Boomi all over, a competitor of the Oracle Integration Cloud. Dell Boomi was also one of the big sponsors of SuiteWorld.
In that respect, NetSuite seems to adhere to a somewhat modern style. The focus is less on whether something competes with NetSuite or Oracle. Everyone is welcome, and everything must be able to work well together so that the customer benefits the most. This is something we see at more IT companies, but not at Oracle. Oracle clearly has an aversion to competitors. In that respect, NetSuite is refreshing and shows Oracle how it can be done.
NetSuite will fully switch to Oracle Cloud Infrastructure
The only Oracle product that NetSuite is currently going to push is the Oracle Cloud Infrastructure (OCI). At this moment NetSuite still uses its own infrastructure which consists of a complete Oracle stack, but in the coming years, all NetSuite customers will be migrated to the Oracle Cloud. The customer will only benefit from this. This does not result in extra costs or efforts, because NetSuite is a real SaaS vendor, which includes hosting.
With the transition to OCI, the Oracle databases on which NetSuite customers run will be replaced by the Oracle Autonomous Cloud, including the multitenant support from that database. This ensures that the performance and speed of NetSuite environments will improve significantly.
NetSuite will eventually upsell Oracle products
During the event, Evan Goldberg, the founder and executive vice president of NetSuite, was regularly available to talk to. This allowed us to speak to him on a one-to-one basis or in a small group from time to time. One of the things we asked him was if NetSuite wouldn't sell Oracle products at all. Many large organizations, even Oracle, always try to sell more products to customers or at least introduce them to them.
Especially with the transition to the Oracle Cloud, it can be interesting for companies to bring their infrastructure to the Oracle Cloud so that it can integrate and collaborate with the ERP environment at lightning speed. Goldberg acknowledged that this can indeed be a great advantage for customers and that they will certainly take a look at it, but as far as he is concerned, it is always additional. NetSuite must be leading in the conversation. About Oracle Integration Cloud, he said: "If customers want to use Integration Cloud, that's good, but Dell Boomi is also fine. We're not going to encourage customers to stop using Dell Boomi".
Goldberg also explained that NetSuite is a truly cloud-native company. That's how it's done, that's how the products are developed, and that's how it's sold. With this, he more or less says that the old-fashioned upsell model doesn't suit the company well. Or, it just has to offer real advantages like bringing infrastructure to the Oracle Cloud so it can work better and faster with NetSuite.
NetSuite founded by Goldberg and Ellison
During this conversation, we also got them to the core of NetSuite. The company was founded by him and Larry Ellison, the founder of Oracle. It was also Ellisson who said that there will be no on-premise product, but that it all has to work via the internet (in the cloud). Only when Goldberg was migrating customers from an old version to a new version did he realize what that meant. NetSuite was a service organization that took care of the entire infrastructure, hosting, management and upgrades.
"The body will no longer reject the organ"
According to Goldberg, this vision of the cloud was also the reason for Ellison to co-found NetSuite. He would have said that it was impossible within Oracle at that time. Then, there would be guaranteed on-premise versions, and there would be resistance to offer it in a cloud/SaaS way. Goldberg said that Ellison a few years ago made the announcement that it was time for a takeover. "The body will no longer reject the organ", Ellison would have said. In that metaphor, Oracle is the body and NetSuite the organ. According to Ellison, the resistance to the cloud and to the SaaS model would no longer be present at Oracle. From there, the acquisition came about.
With this, Ellison realized that the way in which the Oracle organization works is less flexible for new business models. It is clear that NetSuite really understands what the cloud is and how it works. Perhaps, NetSuite is the right example for Oracle to become more successful in the cloud. Netsuite, on the other hand, will most likely profit from Oracle's cash injection.