NetSuite will be hosting the virtual event NetSuite on Air in the coming days. Before this event, we spoke with the founder and executive vice president at NetSuite, Evan Goldberg. He explained that NetSuite is grown significantly, that there are new features within the platform on its way, and a major update is planned for next year.
We have been following NetSuite closely for several years now. What started as an independent SaaS-based ERP vendor has now been part of Oracle for several years. Under that wing, NetSuite is trying to make bigger steps, and it seems to be succeeding. Last year, NetSuite grew by 24 percent, which may seem like a low percentage in a booming IT world, but it is good for the more traditional ERP market. NetSuite now has more than 24,000 customers who are mainly active in the mid-market. According to NetSuite's website a few of their customers are Commvault, MongoDB, Tableau Software, Transavia and Western Global.
NetSuite also sees the number of partners continue to increase. There are now 542 partners who are responsible for offering 579 SuiteApps on the SuiteNetwork.
New platform features
Over the next few days, NetSuite will be showing several new features at the On-Air event. Goldberg says about the new features: "The latest updates help streamline and improve financial, inventory and operational management." Also, NetSuite is introducing tools for more Automation and better efficiency.
Goldberg further states that more feature requests from users have been implemented in this and the next release of NetSuite. "Long-held feature requests that NetSuite could not fulfil or were very challenging will finally be fulfilled." These are statements that make customers happy but also create an expectation.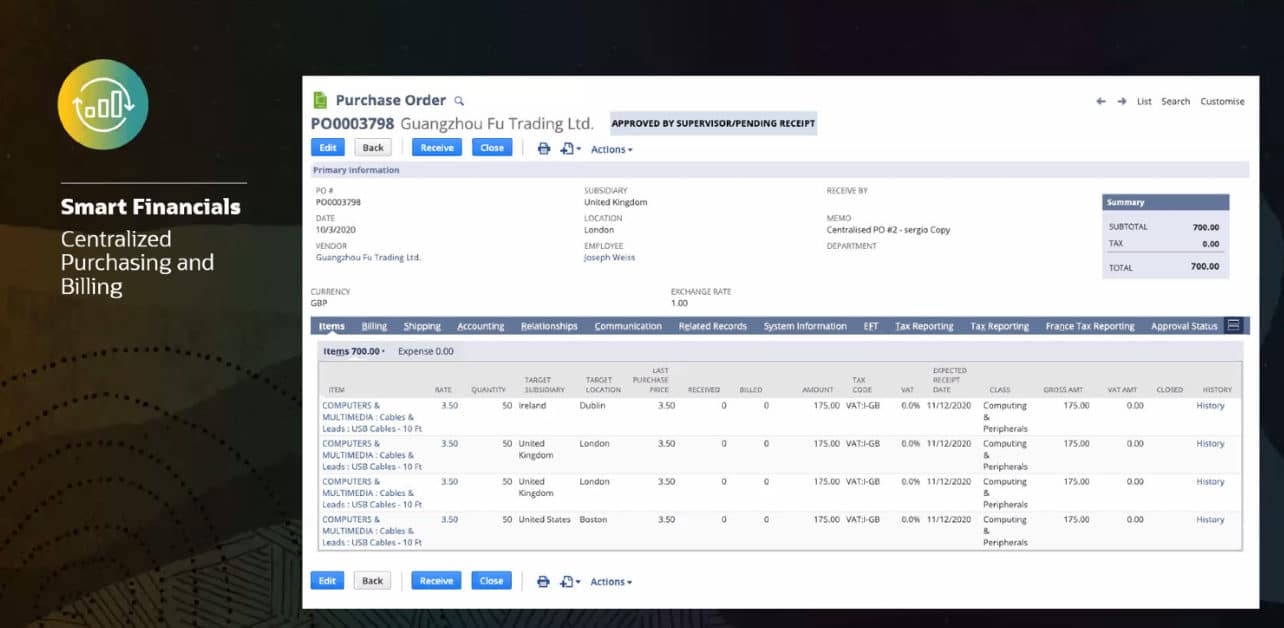 Smart Financials and Operational Automation
NetSuite comes with a centralized solution for purchasing and billing. With this, companies can better manage their expenses and achieve greater productivity. For example, fewer POs are needed because companies can combine different orders into one PO. Also, payments to suppliers are now created from one location.
An email approval workflow has been built to check, approve or reject payments. Managers responsible for approvals can now receive an e-mail for each transaction and indicate if it's allowed from within the e-mail with one push of a button. The idea is that managers will process waiting transactions faster as a result. This is one of the long-awaited feature requests, Goldberg said.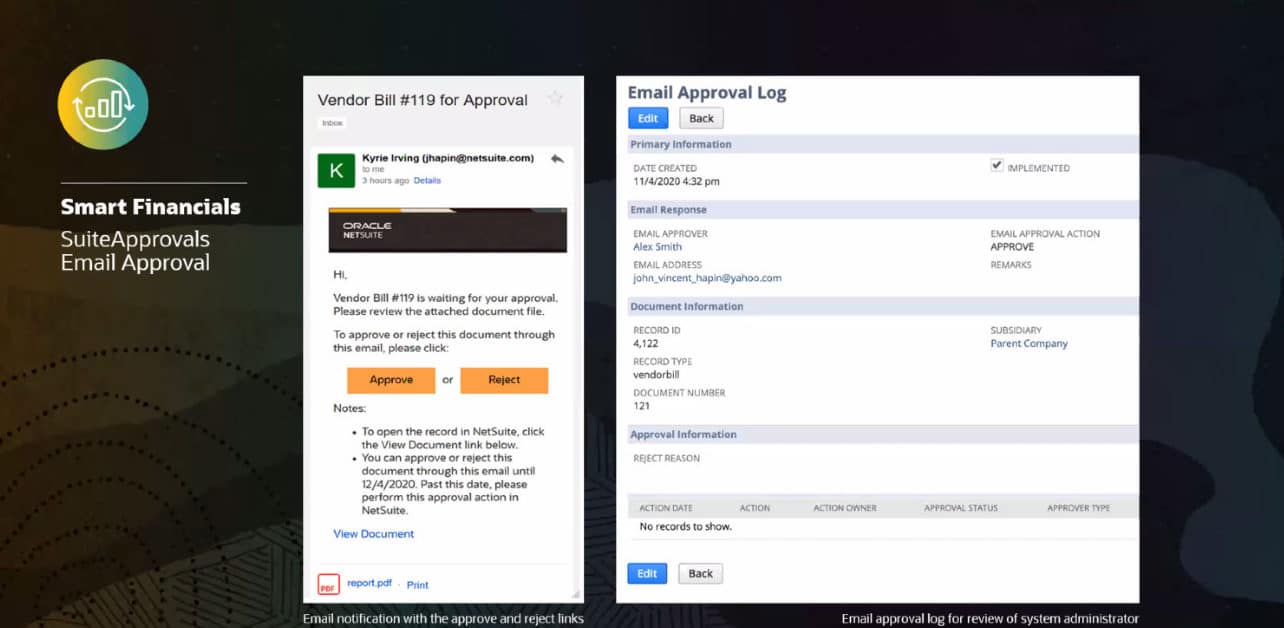 SuiteCommerce Sites
NetSuite offers retailers the ability to use SuiteCommerce Sites to open a webshop. Now a blog feature has been added to that. Besides an online shop, you can now also start a blog. With blogs, a webshop can write about the products and promote them indirectly. This helps with the SEO on the webshop and saves on external marketing costs.
Automated Inventory Management
Within the Inventory management solution, Pack Station is now available. Pack Station features a simple touch screen interface in which the packing process is made efficiently transparent. Several orders going to the same address can now be bundled while packing. This saves on shipping costs.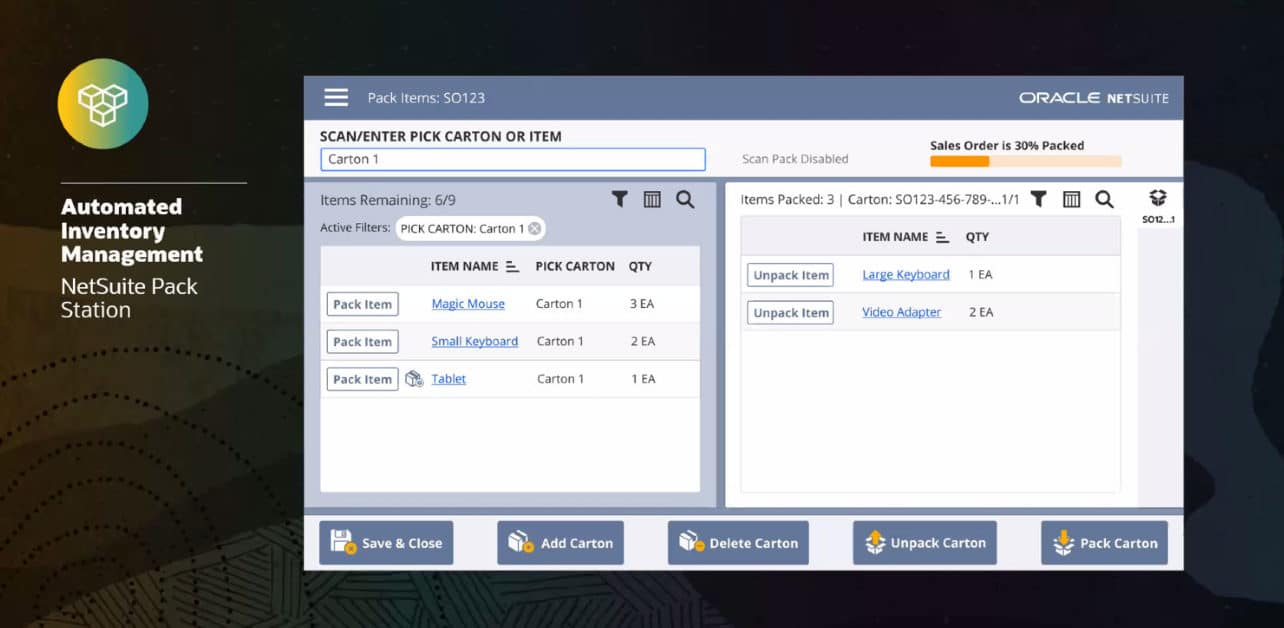 Also, new features have been added to the Warehouse Management System (WMS). This offers organizations the possibility to apply Wave Picking (the collection of products from multiple orders simultaneously) and Tally Scans (automated scanning of shelves to keep track of stock more easily) and easier printing of labels. Waves can also be sorted by delivery time and shipping address.
Analytics and Insights
It's all about data within an ERP solution, so getting good analytics out of it is extremely important. SuiteAnalytics can be used to create all kinds of reports. These can be filtered by customers, product lines, or specific products or a combination of these. The possibilities are very varied. It is now also possible to calculate fields based on composite columns in workbooks.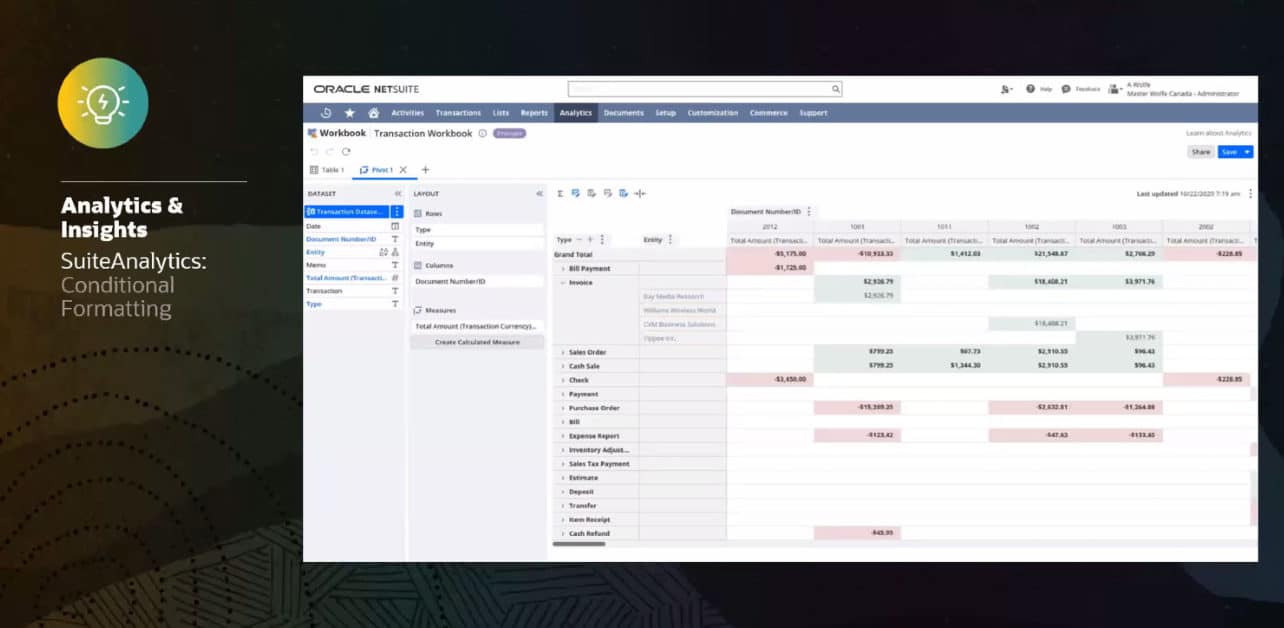 NetSuite has big plans
Goldberg had difficulty suppressing his enthusiasm about the upcoming releases. According to him, a major NetSuite update is really coming in early 2022 from which he has very high hopes. He did not want to say much about it, which resulted in questions. What we do know is that NetSuite's entire interface will be overhauled and the design will be aligned with Oracle's Redwood UX. Based on Goldberg's statements we can say that he thinks this is a good step forward, but that it is separate from the major update that NetSuite has planned for next year. We will have to be patient for that.