Fortinet is the market leader in network security, but the company sees a considerable acceleration in its growth. This clearly increases ambition. If it were up to Fortinet, they would secure the entire network and provide it with hardware, so that a complete Security Fabric of Fortinet would be placed over the network. We talked to Vincent Zeebregts, country manager of Fortinet Netherlands.
In the past year, Fortinet has grown explosively in SD-WAN, among other things, according to Zeebregts. The company itself had not expected this enormous growth either. Because network security is in such good shape, many companies have opted for an SD-WAN solution from Fortinet, because this allows them to extend this security further.
In addition, Fortinet sees many companies changing. More and more organizations want to innovate and try to improve business processes. In the retail sector, among others, there is a large rise in the number of small hand terminals and scanners, so that employees can work faster. However, this type of equipment must all be connected to the network and must connect to a central database or software solution via the Internet.
This causes the network needs of companies to change; in the first place, perhaps, for network security. The hand scanners also need to be neatly secured on the network, but the company networks are also becoming much busier. There are many more devices on the network. This means that it is sometimes also important that, for example, payment transactions are given a clear priority over the network, so that the processes at the cash registers continue to run smoothly. On the other hand, the larger chains often also want to build in failover with several connections. Of course, the firewall is still a much-needed product, but SDWAN has been added.
In this situation, we mainly focus on retail. In healthcare, however, there is also a large increase in mobile devices. This gives doctors and nurses access to patient data directly at the bedside, among other things.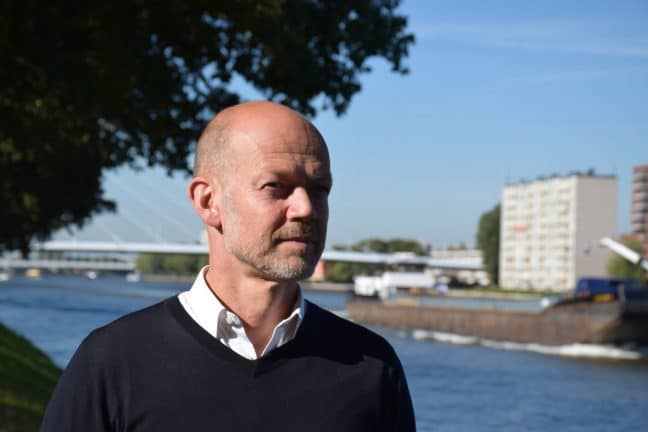 Broader conversations with the customer
Previously, Fortinet served customers purely for firewalls. Companies wanted a firewall and called Fortinet. This was delivered and ready. Now, networks are becoming more complex, companies want SDWAN and they have more and more equipment. Because of this, they have more questions and needs. Fortinet is now communicating about the entire network, which means that their portfolio is much broader.
The fact that Fortinet is now having a more extensive discussion with the customer is not so much due to the broader demand from customers. A few years ago, Fortinet changed its product strategy. At the time, the company chose to integrate its products better and to have them work together. In addition, everything can now be managed via a single platform, FortiManager.
Because all Fortinet solutions can now be managed centrally, analytics can also be applied to all the different products, and a start has been made with automation between the products. If you now block an IP address in a firewall, this can also be communicated to other products within the company network. In this way, such a block becomes active everywhere and not only in the firewall. Fortinet even offers an endpoint security solution, comparable to McAfee and Symantec, for the endpoints of companies. This software can also communicate with the FortiManager and will, therefore, become more secure.
In the case of a complete network strategy, there is also room for peripherals.
Fortinet has a huge product portfolio, but in the Netherlands, they have traditionally focused on network products. However, Fortinet also has a whole load of lesser-known products that suddenly become very interesting. For example, it has a complete product portfolio of security cameras. There is often a need for security cameras in retail and large commercial buildings. Not that companies will call Fortinet if they need security cameras, but if they are still talking to Fortinet about their network equipment, the subject of cameras can be included. A company can then purchase everything from one supplier. So if it doesn't work, they also have a single point of contact. In general, most companies like that.
In addition, the entire network, including the cameras, can be managed centrally. The same applies in principle to access points. Companies and partners will not easily call Fortinet when they need an access point, because HPE Aruba, Cisco, Juniper and the like are of course much better known in the access point market. Some partners will also keep their preference for these kinds of brands because they are certified for them. However, in that case, it's not possible to manage things centrally. With that argument, Fortinet is able to make the difference.
Centralized management, logging and security is a strong argument
Fortinet's story is certainly not bad. Some IT professionals will probably prefer best-of-breed. So, for example, a good Fortinet firewall in combination with switches from Cisco and access points from HPE Aruba. Then you have three different brands for your core network infrastructure that can't talk to each other, all have their own management portal, and the logs are all different. If you want to analyse all of these data, you will have to put it all in an external tool, such as Splunk. On the basis of that analysis, you can then make configuration decisions.
If everything is purchased from Fortinet, you can manage all those devices from one portal. From the Fortinet Manager, you can do the configuration, view the logging and apply automation. This allows you to make a network much safer, much faster. The FortiManager can also be deployed via an appliance or via a cloud portal. That approach is a strong one, and Fortinet often conducts proof-of-concepts with potential customers in order to show what the benefits are.
Of course, Fortinet is not the only company whose activities have become broader. Other companies also offer more products that can be managed centrally. Fortinet does see considerable growth in the Netherlands and expects to grow faster than many a competitor at SDWAN next year. Their network portfolio will also become broader and stronger.
Fortinet strongly represented in public cloud
According to Zeebregts, Fortinet is currently the most strongly represented in the cloud on the basis of network security. Fortinet offers solutions in market places and stores of major public cloud providers. However, the exact offer varies from one public cloud provider to another. They all have a next-gen firewalls, but no SDWAN yet, for example.
Public cloud providers run Fortinet like a virtual machine (VM), so they don't have any appliances to deliver it. Companies are now increasingly aware that they also need to set up a good firewall in the public cloud. The public cloud providers are trying to keep malicious traffic out of the network. In an interview with Werner Vogels of Amazon Web Services, we already learned that they are quite active in network security.
The fact is that if you run VMs in the public cloud, the best thing to do is to put a firewall between them, so that you can protect them all. If there is a Chinese DDoS attack or strange activity from a fraudulent IP address, Amazon will intervene. However, if you are dealing with a more advanced hacker, a next-gen firewall is very important.
Fortinet wants to expand its business further in 2019
In the coming year, Fortinet wants to further expand its business by reminding customers that Fortinet can now provide the entire network infrastructure and even an endpoint solution. In addition, better support and education of resellers and partners regarding the total portfolio is important. Partners can achieve a lot more revenue as well, would they offer the complete network portfolio.
Fortinet also wants to do more with public cloud and SD-WAN, because these are really the greatest opportunities for growth. Of course, the public cloud has been a growth market for years. Companies are still migrating many servers to the cloud, and those VMs simply need to be well protected. However, some more awareness is needed there, as companies sometimes think that security is provided by Azure or AWS. Anyway, for Fortinet, activities in this area can continue to increase, and SD-WAN is also becoming increasingly popular. Before companies start adopting it, however, they do want to ensure that security is properly coordinated, and Fortinet can play a major role in this.