Dell Technologies is undergoing an enormous transformation. Where it previously mainly sold hardware to fill up your data centre or office, it now wants to relieve organizations by taking a large part of the IT management out of their hands. Dell Technologies offers the APEX portfolio for this purpose. It includes things like infrastructure as a service, backups and cyber recovery.
The APEX portfolio consists of scalable solutions that can be purchased "as a service" in your own data centre or colocation environment. The company wants to offer an on-premises cloud-like experience. Through Dell Technologies, you can also have infrastructure placed in an Equinix data centre (colocation). You do not have to sign a contract with Equinix; everything goes through Dell Technologies. Michael Dell uses the word simplicity: everything must be simple.
For almost all APEX solutions, you, as a customer, enter into a contract with Dell Technologies for one or three years. Within this contract, Dell Technologies delivers a solution, for example, VXrail (HCI), a storage solution, backup services or even cyber recovery services. An estimate is made of the average usage, and this becomes the basis of the contract. You pay a fixed amount per month for this basis.
Regarding infrastructure, a complete rack is delivered, fully installed and wired. You can place the rack directly in your data centre and connect it to the existing infrastructure. Dell supports 10, 25 or 40 Gigabit connections. After connecting the rack, the infrastructure is immediately ready for use. Everything has been tested and configured beforehand, so you can instantly create storage volumes or migrate VMs to the infrastructure.
Sufficient capacity
To make the cloud experience as optimal as possible, Dell delivers more than agreed upon by default. With Flex-on-demand, that is about 15 percent more and with APEX Data Storage Services, that is 25 percent more storage capacity. This extra capacity allows customers to scale up at peak times or simply as their usage increases. You do not have to do anything for this. The additional capacity is always available to you, but it is not free of charge. Dell monitors all APEX environments several times a minute. It then calculates the average usage per minute and hour. The average use of the extra capacity will be charged on top of the monthly fee you pay for the contract. It is a very affordable way to scale temporarily for customers who occasionally have peak loads. They don't have to buy the entire infrastructure or lease it for the whole year. It's also an alternative to moving peak loads to the cloud.
You can expect a phone call if the infrastructure runs short and the total capacity is almost entirely used (basis + additional). A Dell Customer Success Manager will contact you to discuss your contract and possible upgrades. Dell will hang additional servers in the rack if an upgrade is chosen or even add racks.
The APEX solutions that need to be placed on-premises or in a colocation have a standard delivery time of 14 days. When upgrading infrastructure, this can sometimes be faster, depending on the upgrade. Adding hard disks or SSDs to an existing server can be done more quickly than adding a complete rack. Because Dell continually monitors the environments and the growth of data and workloads, it can also predict when you will run out of capacity. Dell states that it will always contact you in time to stay ahead of such a moment.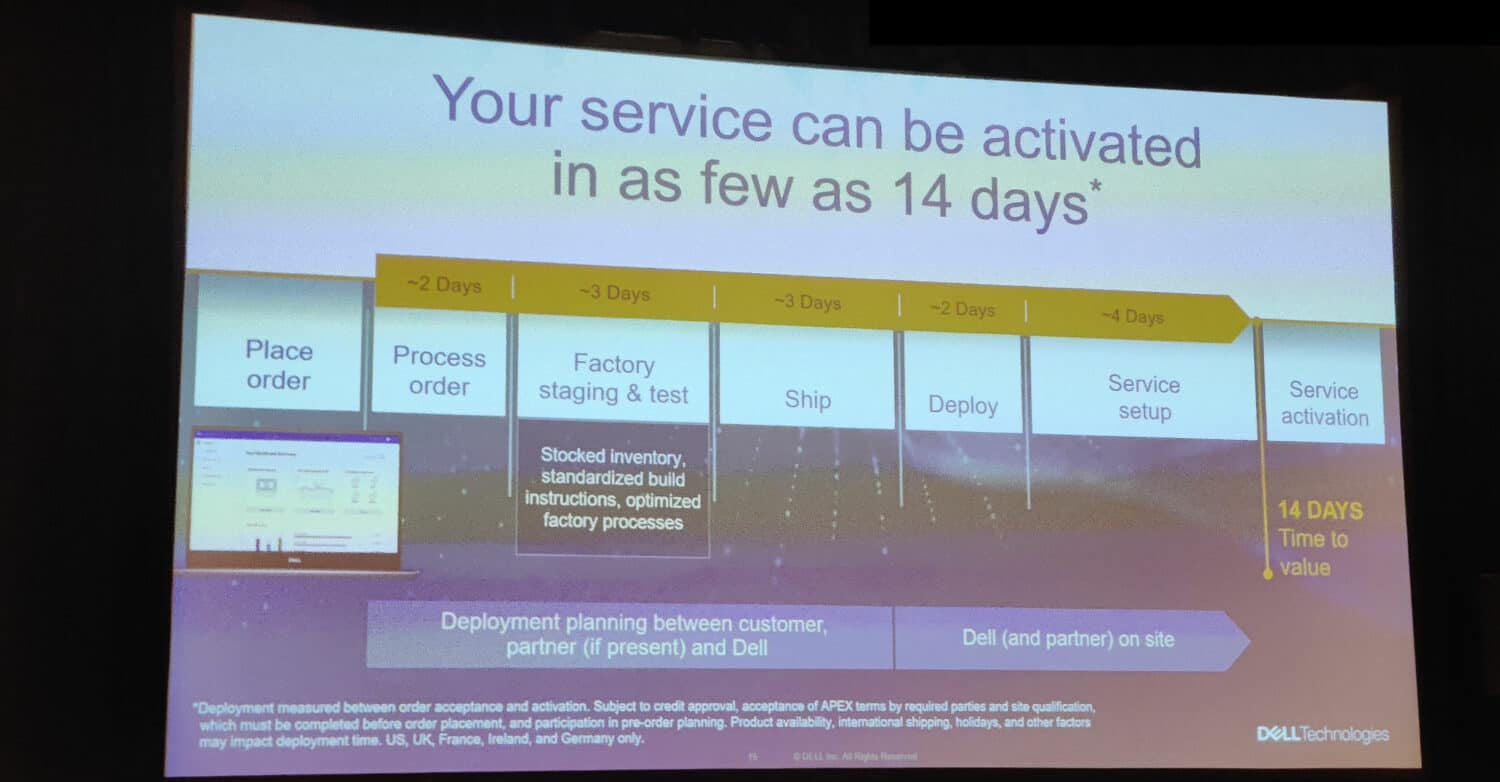 To have a clear picture of what different APEX solutions exist, what they entail and which ones are available. We have explained them in this article.
All APEX solutions at a glance
Dell has been active with APEX for about a year now. In that time, it introduced quite a few APEX solutions. In total, Dell now has six APEX solutions:
APEX Flex on Demand
APEX Private and Hybrid Clouds
APEX Data Storage Services
APEX Backup Services
APEX Cyber Recovery Services
APEX Cloud Services with VMware Cloud
APEX Flex on Demand
The APEX Flex on Demand offering is the very first APEX product. It is also available in many countries. However, Flex on Demand is a limited service if you compare it to other APEX services and the vision and strategy of which Michael Dell speaks. It makes Flex on Demand a bit of an odd solution within APEX.
In short, with Flex On Demand, you can purchase virtually any Dell infrastructure in a subscription form. Think of a bunch of PowerEdge servers, PowerProtect, HCI or storage servers (PowerMax, PowerStore, PowerEdge and PowerFlex). You pay a fixed amount per month for the basic capacity. On top of that, Dell delivers about 15 percent more, and if you need to use it, you pay an additional fee, as explained earlier.
With Flex on Demand, Dell is not aiming for simplicity; the customer can put together the hardware himself. In terms of support, Dell will try to solve hardware problems as quickly as possible, but that's it. Dell does not offer maintenance or patching. The vision of APEX is to relieve IT teams, but this does not apply to Flex on Demand. Dell does state, however, that in the future, it hopes to be able to offer this product from the console. It does, however, not mention maintenance or patching.
With many other APEX services, Dell is offering a lot more. For example, with the APEX Data Storage Services, Dell provides maintenance and optimizations. Dell will monitor customers' storage environments, and maintenance and optimization tasks are done automatically by Dell. This is the true vision of APE because it saves the in-house IT department a lot of work. With Flex-on-Demand, customers still have to do the patching and optimizing themselves.
Dell APEX Private and Hybrid Clouds
Dell APEX Private and Hybrid Clouds is a VMware-based infrastructure that can run both on-premises and in the AWS cloud. Dell uses Dell EMC VxRail for this, with a choice of private cloud or hybrid cloud.
For the private cloud, VMware vSphere is included so that a customer can run VMs. Tanzu Basic can also be added as an option, allowing you to run containers on top of vSphere. Furthermore, you can hang the supplied servers in your own rack. If the infrastructure is large enough, Dell delivers a complete rack.
For the hybrid cloud, Dell works with VMware Cloud Foundation. In this case, you always receive a rack. You can also expand this environment to VMware on AWS. In addition, you can get Tanzu Standard for container workloads, which can run both on-premises in vSphere and in AWS.
Dell let us know that the private cloud variant is especially suitable for smaller environments, such as an edge location or a small office. For full-fledged infrastructure, it always delivers the hybrid variant.
The solution is fully VMware-based. Dell is, therefore, partly dependent on its former subsidiary. In terms of support, Dell naturally takes care of the hardware, installation, and connection to existing IT infrastructure. Dell offers no additional patching or optimizations. As soon as the infrastructure is delivered, you as a company must manage, patch and update it yourself. Once again, we think this does not entirely fit with APEX's strategy.
APEX Data Storage Services
With Dell Apex Data Storage Service, Dell offers Storage a Service. As a company, you can purchase storage in a cloud-like manner for your own data centre or colocation. There are several advantages to buying a storage solution through APEX versus traditionally purchasing a storage server or through APEX Flex-on-Demand.
With APEX Data Storage Services, the storage capacity is always elastic. You can decide to increase your basic storage capacity at any time. You can also handle bigger peak loads because Dell delivers 25 percent more by default, 10 percent more than Flex-on-Demand. Optimization of storage environments and maintenance like patches and updates are also all carried out by Dell. Dell relieves your organization of IT management. Dell can even offer the migration from an existing to a new APEX Data Storage solution for you. In the end, you need less qualified staff to manage your storage environments. In other words, Dell takes the burden off your IT organization.
Dell offers APEX Data Storage Services for block, file and object storage.
Dell APEX Backup Services
With APEX Backup Services, the company also offers backup as a service. With this service, you can not only backup your NAS, file server, SQL server, VMware or Oracle environment, but also laptops, desktops, mobile devices and online services such as Microsoft 365, Google Workspace and Salesforce. To make this possible, Dell Technologies has partnered with Druva. The platform is provided from the AWS cloud to manage all the backups. Backups are stored in an AWS region of choice.
This is the only APEX service that works from the cloud, not your own on-premises data centre or colocation. As a customer, you don't have to worry about these environments. Druva maintains them. With this, Dell does take the burden off your shoulders.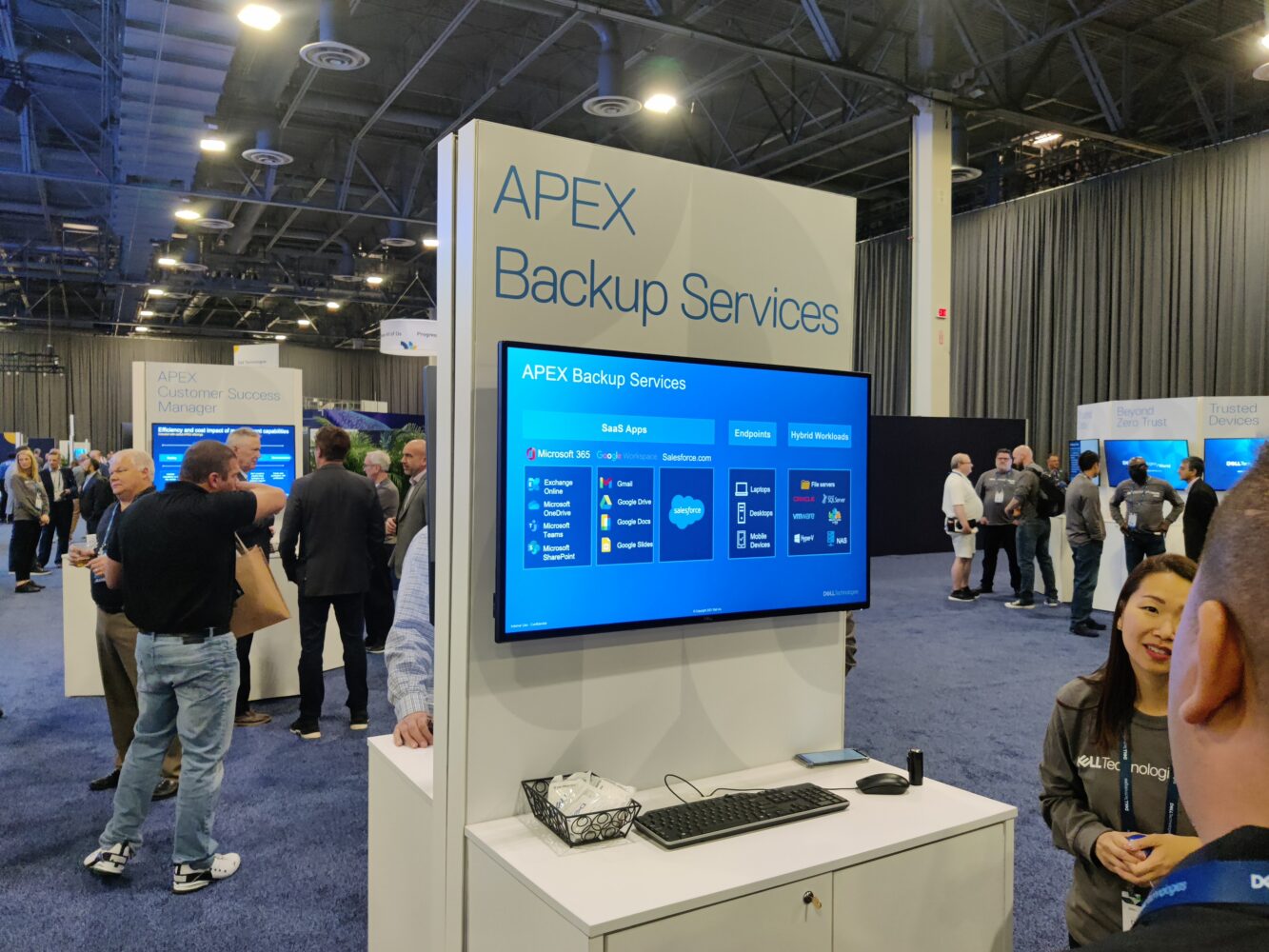 Dell APEX Cloud Services with VMware Cloud
The name of this product suggests that it is a cloud product, but that is not entirely the case. With APEX Cloud Services with VMware Cloud you get an on-premise VMware environment that is based on the VMware Cloud. The idea behind this is that you have two identical environments that are easy to link. VMware Cloud runs within the Amazon Web Services cloud but is not offered by Dell as a solution. Customers must purchase this solution themselves in the AWS Marketplace or via VMware. It is especially interesting for companies who have chosen to virtualize their infrastructure with VMware. If they use Dell APEX Cloud Services with VMware Cloud, you can expand and scale that infrastructure with VMware Cloud. This can be useful for development projects and handle peak loads in other regions or migrate specific data to the cloud to train AI models. Almost all customers use VMware Cloud on top of their existing infrastructure. VMware on AWS is managed by VMware and does fit into the APEX idea, but is not an APEX product.
Dell APEX Cyber Recovery Services
With Dell APEX Cyber Recovery Services Dell Technologies goes one step further than just creating and managing backups. It offers a Cyber Recovery Vault on-premises or in your colocation. It's a secured appliance which is not easily accessible. The idea is that your organization makes backups to a PowerProtect Appliance and that this Appliance then synchronizes the data with the Cyber Recovery Vault. You can do this in the same data centre and a separate data centre to add additional security. The only form of communication that this Cyber Recovery Vault accepts is the synchronization of the PowerProtect Appliance.
In addition, Dell Technologies also applies CyberSense technology within the Cyber Recovery Vault. With this, each synchronization is closely monitored to see what data has changed and what data has been added. The aim is to detect ransomware or other malicious behaviour. If any deviations occur in such an incremental backup, the backup administrator will be notified. The administrator can then determine whether the integrity of the Cyber Recovery Vault has been compromised and restore the data to its last healthy state.
If the company is hit by ransomware and a large-scale recovery is needed, Dell can help. That is part of the Dell APEX Cyber Recovery Services. For example, Dell can help you migrate to a new (clean) cloud environment, so that you have more certainty about the integrity of your system. With this, Dell also relieves its customers.
Recently Dell added the possibility of purchasing a Cyber Recovery Vault in AWS and Azure. This gives organizations more flexibility and data is automatically stored on a separate location. The CyberSense component is currently only available in AWS; later this year Azure will follow and the Vault should also appear at Google Cloud.
APEX works from one portal
In addition to unburdening its customers, Dell wants to pursue simplicity with APEX. The idea is that APEX works from one and the same portal and preferably quickly and simply. Dell has already started using this portal, but it is mainly used for ordering APEX solutions and managing current contracts. For example, if you are logged into the portal, you can order a complete Dell APEX Data Storage Service in five clicks. There are only five things you need to configure;
Location: on-premises or Dell colocation;
Data service: block, file or object;
Performance Tier: Optimized for capacity, performance or balanced;
Base Capacity: How many terabytes of storage you want (not including the 25 percent);
Contract period: One or three years.
That's all you need to specify, and you can hit order after these five steps. Or you can make a quote that you can have approved internally by procurement or the IT decision-maker. A quote from the portal is just as straightforward as the order process. Dell has stopped making 25-page quotations that include exact details such as which server, motherboard, hard disk and raid card. APEX is a service, and Dell ensures that it works well and continues to work. What hardware they use for that exactly is no longer so important. The company guarantees 99.99 percent uptime in colocation, the hardware is designed with 99.9999 percent uptime.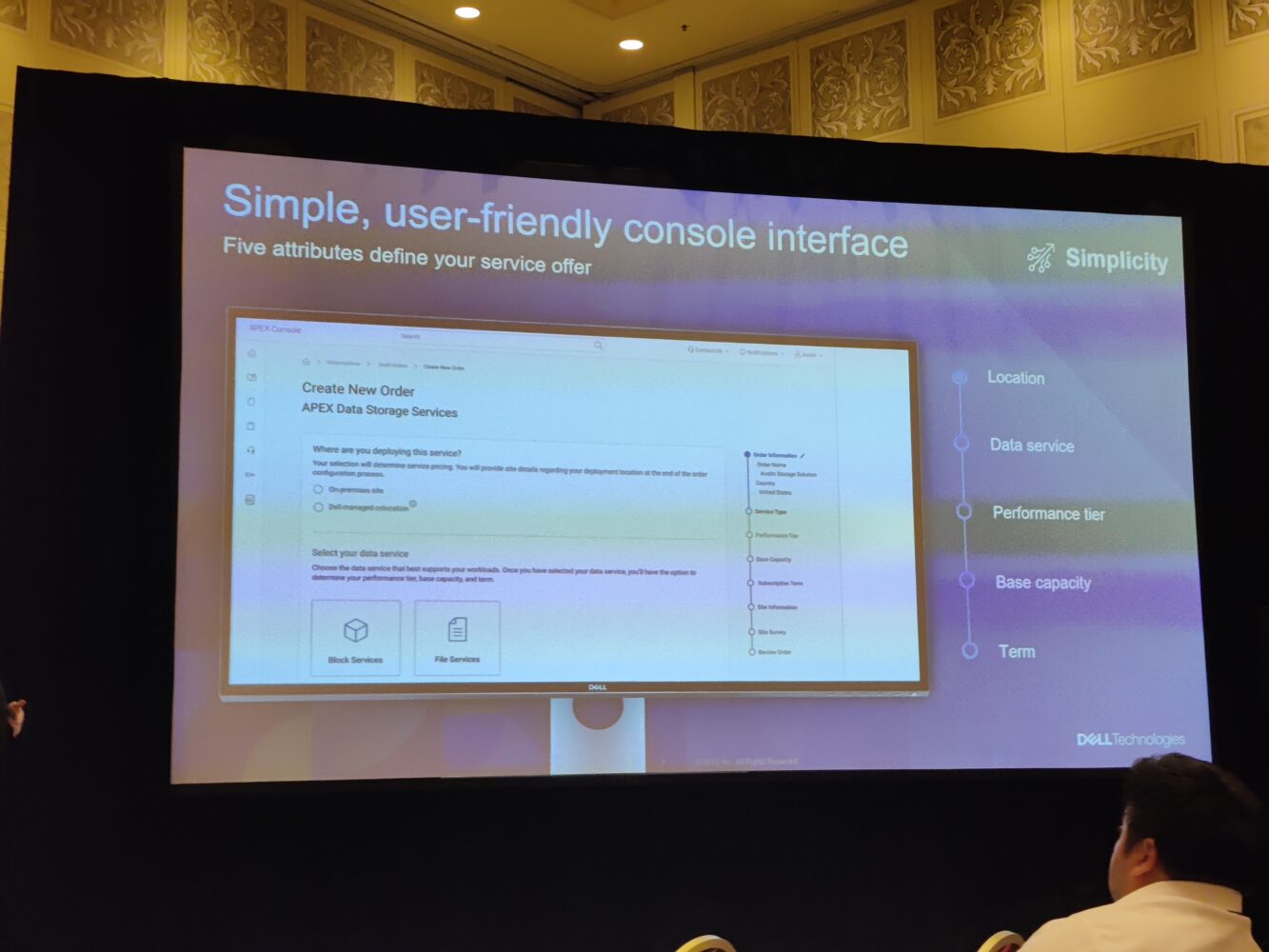 Integration of multiple portals
After asking around, we discovered that the team working on the portal is already busy working on a similar portal for cloud services. Many management interfaces will soon have to be integrated into the APEX portal. Screenshots of this portal for cloud services were also circulated during Dell Technologies World, the company's recent conference.
IT managers currently use the OneFS Web UI or PowerStore Manager UI. The intention is that, in time, all these portals will be integrated into the APEX portal. All of Dell's modern solutions are API driven. It means that software can communicate with each other in the background. In this way, you can also manage all the infrastructure from a central portal. That is the simplicity that Dell strives for, Michael Dell emphasized during his keynote at Dell Technologies World.
Simplicity is important
If we are to believe Michael Dell, in a few years, "as a service" will be the standard of infrastructure consumption. We will no longer be purchasing servers but will have a subscription on them, with the possibility of scaling up or down. Furthermore, much of the IT management will be automated or taken off our hands by a party like Dell. It allows IT organizations of large companies to focus on more important things than managing storage servers or setting up a new Hyper-Converged Infrastructure.
Flex on Demand and VMware will not fit into APEX in the long run
Earlier, we indicated that Flex on Demand was somewhat out of place in the APEX strategy. Michael Dell talks about subscriptions, unburdening and simplicity. It is a very flexible product in which you can compose your hardware and pay for it in a subscription, but that is where it ends. Dell does not provide management, patch management or optimizations. Simplicity is no where to be found either. The offers are not short and sweet, but each server is still specified in full detail, as we learned from a customer.
We suspect that Flex on Demand will be replaced in a couple years by a better APEX offering. The same applies to many VMware solutions. VMware can be a great solution, with which you can virtualize your workloads very well. The disadvantage is that your workforce needs a lot of training to work well with VMware. It's the opposite of the simplicity vision of Michael Dell.
Enquiries made during Dell Technologies World also revealed that behind the scenes, Dell Technologies is already looking at how it can deliver PowerEdge servers with a virtualization layer that is not based on VMware. They are probably looking at KVM for this, this can be a simpler solution than using VMware. Of course, there are also challenges with KVM, for example, security. We are curious to see how Dell Technologies will deal with this.
Dell's multi-cloud ambitions
Another primary objective of Dell Technologies is to become a major multi-cloud provider. VMware fits into a multi-cloud strategy in many ways, but not if you look at simplicity and compatibility with large hyperscalers. Using VMware for a multi-cloud strategy on many hyperscalers would mean that Dell will have to relay on many external partners. Partners it cannot control. This creates many challenges if it wants to relieve organisations from their IT management tasks.
How exactly this will take shape, we do not know yet. Possibly Dell Technologies has not made up its mind yet either. At least, that is what we were told during Dell Technologies World.
VMware sold, freedom for Dell Technologies
While writing this article, the news suddenly came that VMware has been sold to Broadcom. We find it valuable to add this to the article. In our opinion, VMware has become a burden for Dell Technologies. Of course, there are many synergies and they can push each other's sales upwards. On the other hand, the APEX strategy, the pursuit of simplicity and the multi-cloud are somewhat at odds with this. In addition, it is difficult internally to push other virtualisation solutions when the big boss also owns VMware. With the sale of VMware, that obstruction will disappear. We predict that the VMware offering within Dell Technologies will become a lot smaller. As soon as the acquisition is complete, we expect a new APEX service will emerge that virtualized compute on PowerEdge servers with a simple virtualisation layer. Which is not powered by VMware.
Availability of APEX still a problem
Although Michael Dell is a great advocate of simplicity, there is still a lot to be gained. Especially if you include availability in that concept. Many of these APEX solutions are in fact only available in the United States. Some are now also available in Germany, France and the United Kingdom. Dell APEX Storage Services is now available in the United States, some Asian countries and much of Western Europe. For some reason the Netherlands and Belgium are not included.
APEX also relies on the cloud for some services. Some services are only available in AWS, while others are also available in Azure. Then there are additional services that are only available in Google Cloud. We won't bother you with that.
The point we want to make is that the end goal is simplicity, and that's a good thing. However, at the moment, you are in for a rude awakening if 90 percent of APEX solutions are not available in your country. Or if your company has a strong preference for Azure. Since Dell seems to have an AWS first strategy.
We asked Michael Dell for clarification on this. He didn't want to answer the question, his right-hand man did. "Dell APEX is being developed and rolled out in phases. We learn new things and gain experience from each roll-out. Experience we immediately apply to a new rollout," said Vice Chairman and Co-Chief Operating Officer Jeff Clarke.
In most regions only Flex on Demand is available
In most regions customers will have to make do with Flex on Demand. Of all APEX services, this is probably the least attractive option. It does not yet offer the peace of mind aspect. We have asked Dell Technologies about ten times why, for example, APEX Data Storage Services is not available in the Netherlands and Belgium. They won't comment on availability or a future roadmap when we can expect certain services to become available in more regions.
Conclusion
The strategy of Dell Technologies to fully invest in APEX, offering all infrastructure and solutions in a subscription form, is definitely a good move. The whole industry is moving towards this and it offers customers more flexibility. Automating and relieving customers of IT management, patching and optimisation is also very valuable, for customers and Dell Technologies. There is a huge shortage of IT staff and it's only growing. If this can be properly automated on such a large scale, it is a win-win for everyone. IT is becoming more complex every year, so if you can add simplicity that is a good thing. If complexity can be moved to the back, and customers can manage things with a simple console. As long as it works well, of course.
This transition that Dell Technologies is in will take a few more years. Although we are critical of the availability of APEX solutions and the communication around it, with time this should resolve itself. The sale of VMware also comes at an excellent time for Dell Technologies. This means that the APEX portfolio can continue to be developed without VMware.
Finally, there is one other comment to make. Dell Technologies still has to prove itself in the area of automated IT management. Dell Technologies can take over patch management and infrastructure optimisations, but it should also be done quickly and sufficient. When we talk to companies that already have some experience with similar services from other vendors, their is no guarantee that it will be a success. It it is very complex to manage and patch hundreds of thousands of servers in an automated way. Dell Technologies should be able to do it, but let's wait until they proof themselves.
All in all, Dell Technologies is on the right track in terms of strategy. However, there are still some hurdles to take before APEX is truly successful.