Most manufacturers of high-end SSDs are also the ones who produce the flash themselves. That manufacturer's main goal is to sell more chips. They do make high-performance NVMe SSDs, mainly for generic use. At SmartIOPS, they are developing the very fastest SSD in the world with the goal of making enterprise applications and databases perform better. In addition, they are working on Functional Storage Device. We visited the company in Silicon Valley.
SmartIOPS uses high-end flash memory from major manufacturers. Think Kioxia, Micron and SK Hynix. However, it develops its own drivers, NAND firmware and controller. That software stack it calls TrueRandom technology is what makes SmartIOPS interesting. It also gives it complete control over how the flash is used and controlled, as well as the form factor of the card you end up plugging into a server or workstation.
SmartIOPS consists of a group of experts coming from Sandisk and Juniper. So there is a tremendous amount of NAND knowledge in the company but also network technology knowledge. That combination of NAND and networking knowledge provides the right mix to develop even faster SSDs, according to SmartIOPS. Those would be 2 to 3 times faster than the well-known high-end SSDs from the major manufacturers, which SmartIOPS says is mainly due to consistency of design and software.
The amount of IOPS for a NAND SSD on PCIe Gen4 with 8 lanes is theoretically 3.48 million, SmartIOPS said. However, most manufacturers are between 1 and 2 million IOPS. At SmartIOPS, they can deliver 3.4 million IOPS.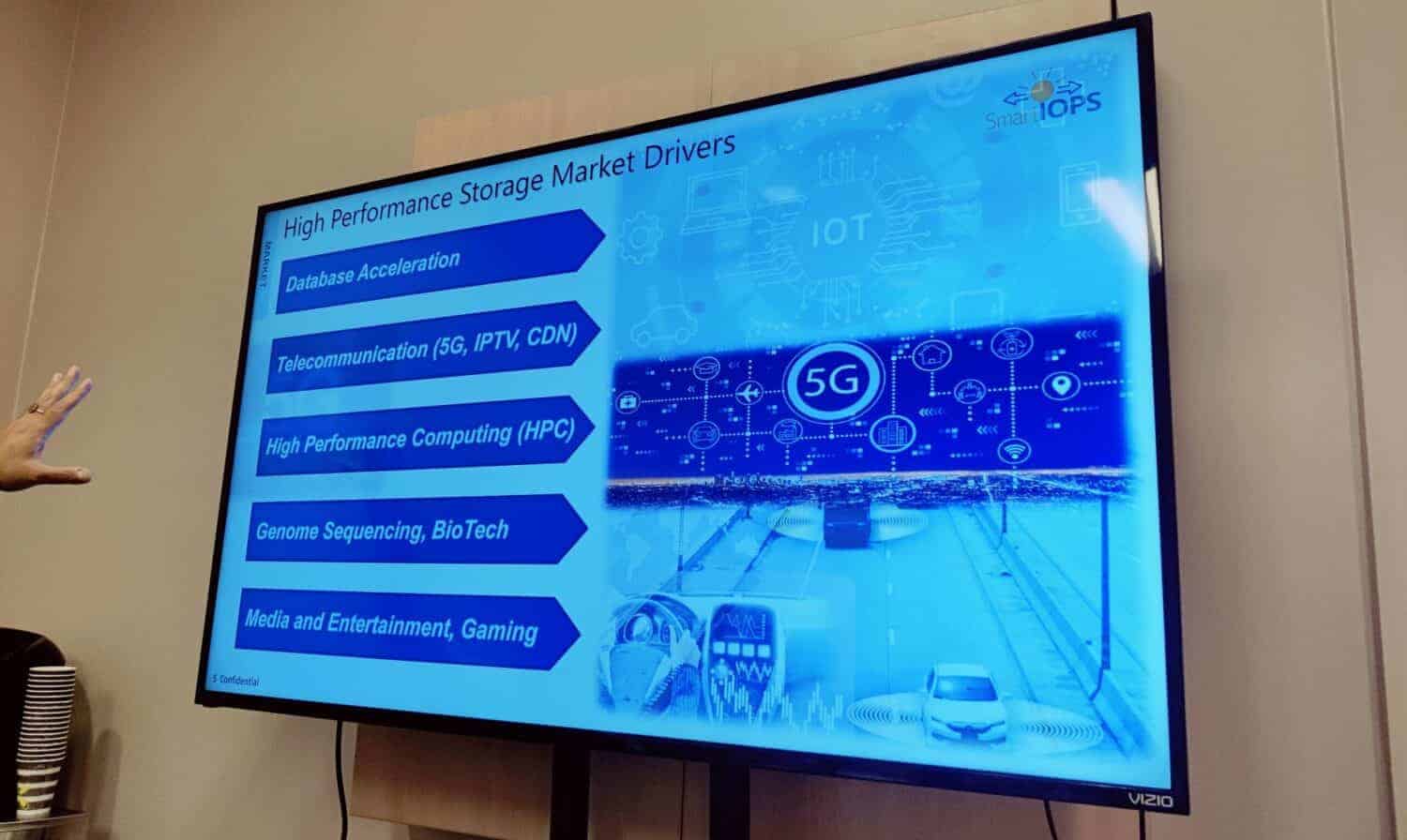 Three models; high performance, high capacity, low latency
SmartIOPS currently has three different SSDs: a high-performance edition SSD with 3.4 million IOPS, ultra-low latency and a high-capacity SSD. All three are aimed at the enterprise IT market but do differ in purpose. The ultra-low latency SSD is an alternative to Intel Optane, which Intel pulled the plug on, but there are companies that opted for this and are now looking for an alternative. Optane offers latency under 5us, SmartIOPS can offer latency under 20us with its SSD. While that is slightly slower, this is NAND and not DRAM. It is so fast, though, that it is a good alternative in many situations. Finally, there is the high-capacity SSD. This offers enormous capacity. It comes in 18, 36 and 72TB, with the latter using QLC rather than TLC.
All of SmartIOPS' SSDs use a PCIe plug-in card or the U.2 form factor. That is the only way to offer such a performance. SmartIOPS also does not opt for M.2 because that would make it compete with the NAND manufacturers and that is simply a margin business. There is simply less possible there in terms of customizing an SSD.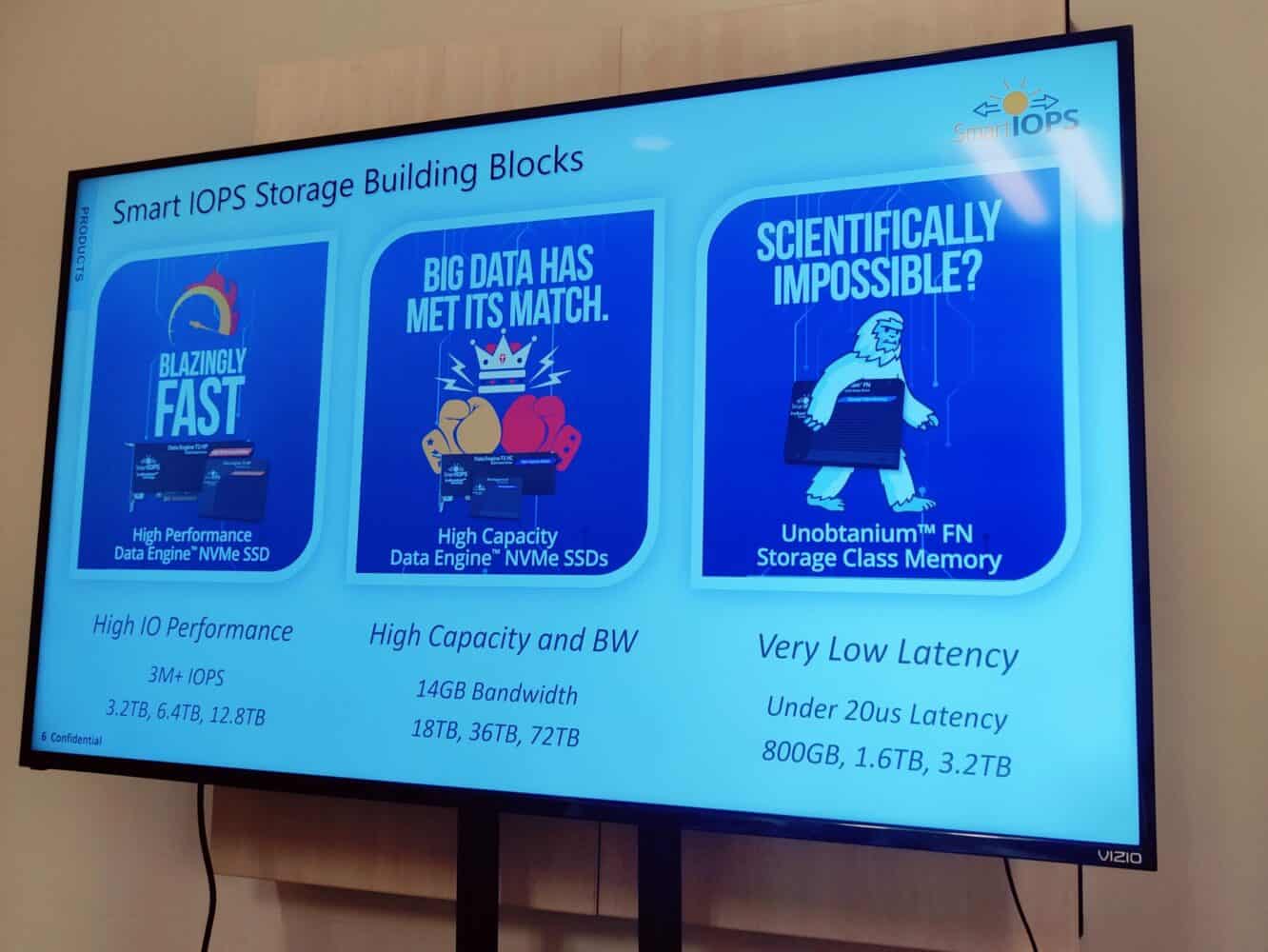 What does SmartIOPS offer?
SmartIOPS currently offers unique SSDs that perform better than the competition, at about the same cost. According to SmartIOPS, its SSDs are at most 5 to 10 percent more expensive than comparable competitor SSDs. However, the savings that SmartIOPS can deliver with its technology will provide savings, according to the company.
As an example, SmartIOPS cites China Telecom, which uses SmartIOPS' SSDs to deliver IPTV to customers. With one unit, it can provide 9,000 customers with an IPTV signal at the same time. It did a test with several models. SmartIOPS was the best, followed by Samsung and with the Samsung SSD only 4300 people could be provided with a signal. Bandwidth and IOPS go hand in hand, according to SmartIOPS. With other manufacturers, you often see higher bandwidth at the expense of IOPS.
The future of SSD to FSD
SmartIOPS' future may not even lie so much with SSDs but with FSDs. That, according to SmartIOPS, is the next step. FSD stands for Functional Storage Device. This is an SSD with one or more FPGAs on it. An FPGA is a chip that can be programmed for specific purposes.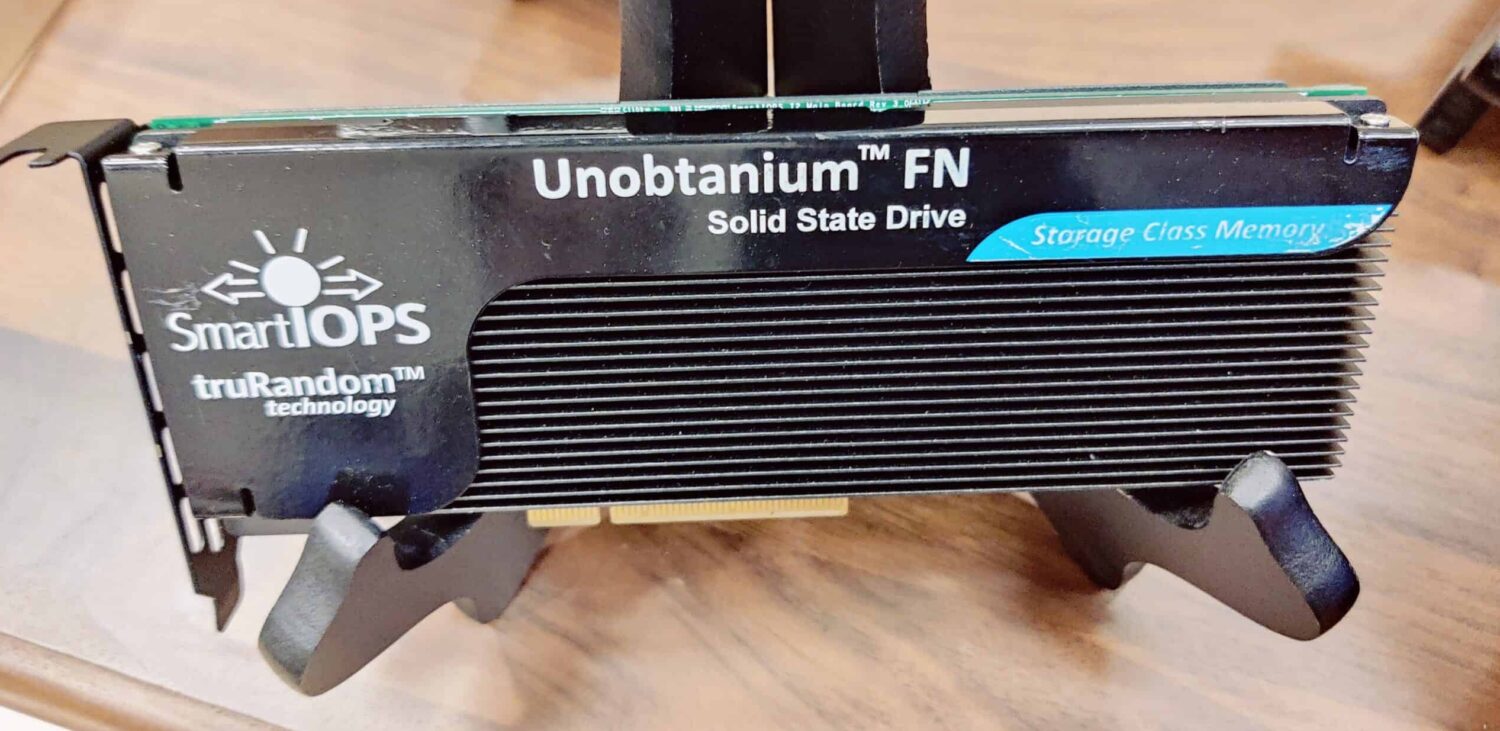 The intention is that SmartIOPS will provide a complete framework that developers can use to build their own FPGA applications that can run on such an FSD. In addition, SmartIOPS will also build its own library of FPGA applications that can be applied.
It is even intended that applying such applications in microseconds will become possible. So on an FSD the active FPGA applications can also change continuously. However, SmartIOPS also wants to market FSDs that have multiple FPGA chips, so that certain applications can always be present.
You can think about encrypting or compressing data, but also, for example, a search function for a database. If data can be found faster through an FPGA, that means much faster database performance. FPGAs can also be immensely useful for things like AI and machine learning, as they have direct access to stored data.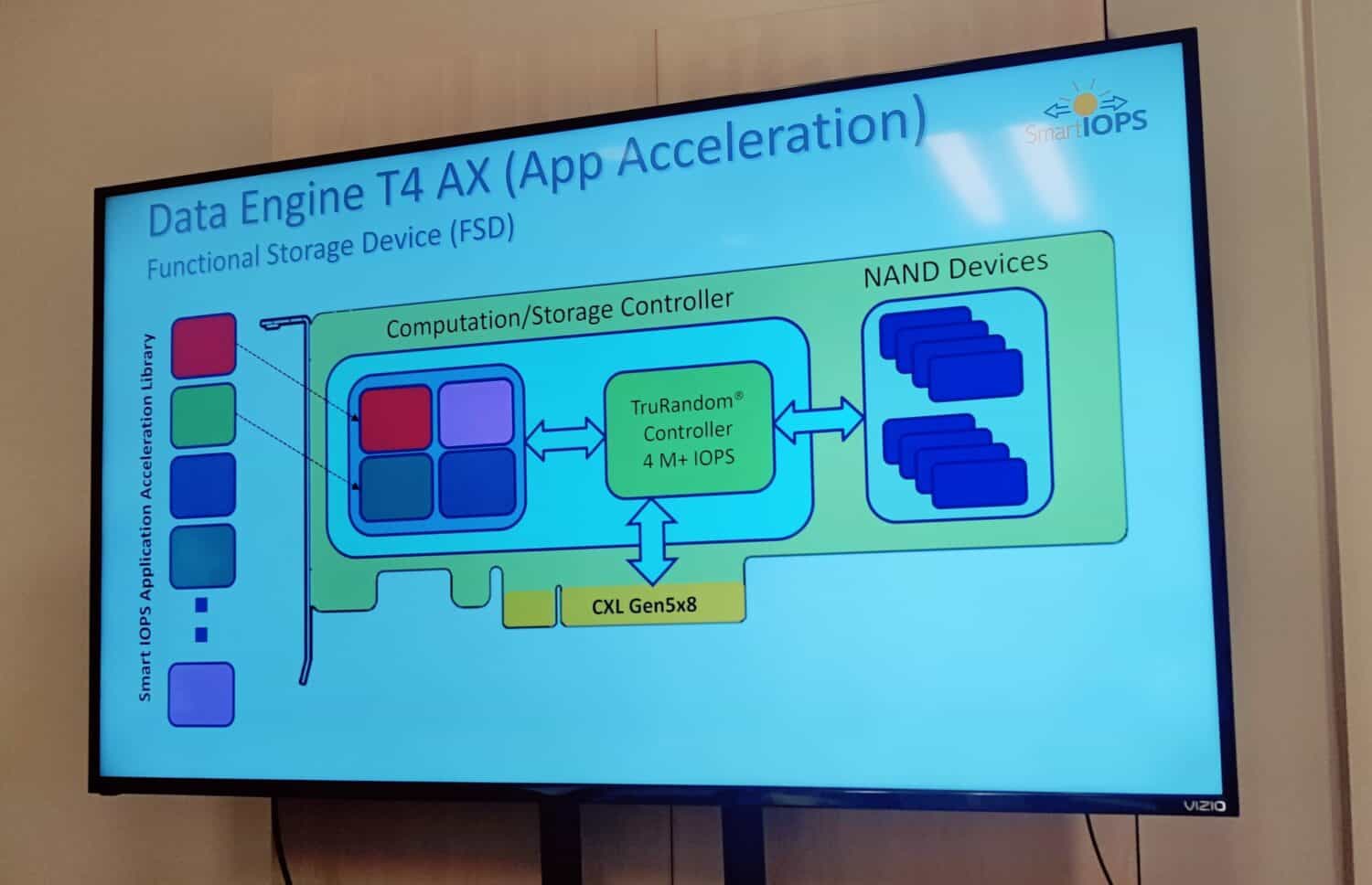 Probably the biggest drawback of the FSD is that applications must be modified to make good use of the FPGA. Automatically detecting workloads and then automatically applying an FPGA application to them is something that may become possible, but that is still years away. For now, developers will have to modify their applications to effectively use an FSD. That's not yet possible, by the way; the FSD is coming to market next year.
Overview
| | |
| --- | --- |
| Name | SmartIOPS |
| Founded | 2013 |
| Industry | Enterprise workloads, hardware |
| Location | San Francisco Bay Area, Silicon Valley |
| Employees | 50 – 100 |
| Founder(s). | Ashutosh Das, Dr. Manuel d'Abreu and R.K. Nair |
| Venture Capital | 20 million dollars |
What's the differentiator?
SmartIOPS' differentiator is that it has redeveloped the entire software stack of controlling NAND, so to speak. Proprietary controllers, drivers and NAND firmware. As a result, it manages to get more performance out of the same chips than the competition. This causes several organizations to specifically choose SmartIOPS because they need that performance. China Telecom is one of the customers, as well as NASA and Verizon Media. In the image below, some examples of how databases can take advantage of those higher IOPS and lower latency.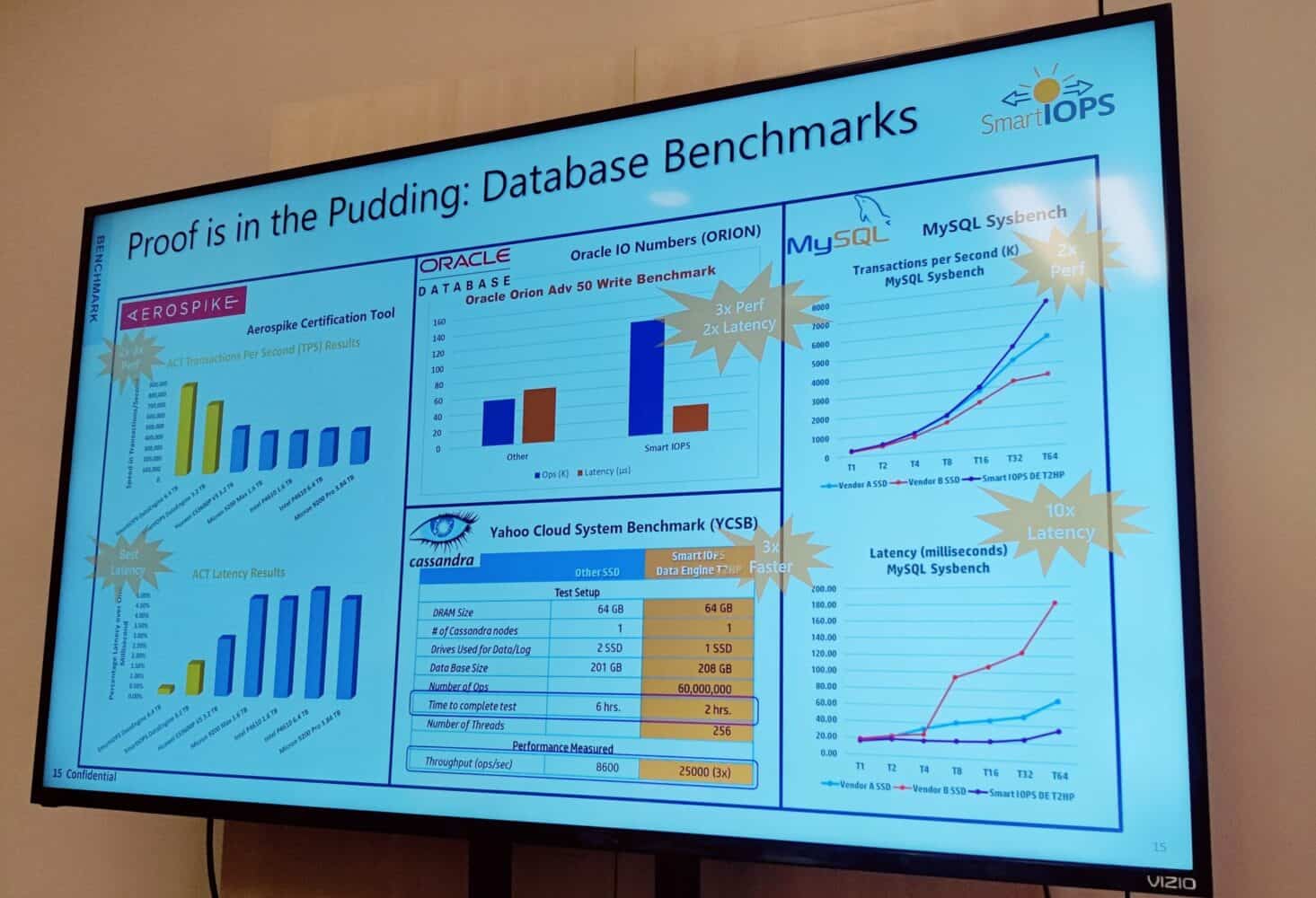 The NAND chips it uses just come from household names. It's a bit the same as the smartphone camera industry in that regard. With many high-end smartphones (including Apple iPhones and the Samsung Galaxy smartphones), you can take great pictures thanks to the Sony camera sensors. However, if you take a picture with a Sony smartphone, using the same camera sensor, the results are significantly disappointing. SmartIOPS, courtesy of its software, manages to trump the NAND manufacturers.
Where is the focus?
SmartIOPS' focus now is primarily on expanding its sales market and developing its FSDs. That is where the next revolution in data storage should come from. Applying specific features to an SSD to greatly accelerate certain workloads. Whether the FSD will be truly successful is still difficult to predict. We cannot judge that until the company is further along in its development. The big question we have is whether SmartIOPS can provide a low-threshold framework to develop FPGA applications on, but also whether companies are willing to invest in FPGA modules.
What are they doing in Europe?
In Europe, SmartIOPS has now found a distributor to market the SSDs. That's actually the first big step. If the sales market becomes large enough then no doubt an office will soon follow in Europe. The most important thing for SmartIOPS is that the sales market is Europe is now being created. That starts with selling the SSDs.