Kronos and IBM enter into a partnership to help human resource departments with artificial intelligence. Kronos will use IBM's Watson technology. He serves as a career coach within the software. At the same time, Kronos is rolling out an AI engine called AIMEE.
Within the partnership, Kronos and IBM bring the Watson Career Coach AI to hourly wages. Watson will work with them via a private chatbot and communicate via an app on employees' smartphones. IBM states that Watson will learn from the employee and can train and retain people. Since hourly workers usually have a high throughput, Kronos wants to use this software to try to make people leave less quickly.
Wide range
Kronos has a very wide range. Worldwide there are 40 million hourly workers who have contact through the software of Kronos. Kronos and IBM announce that they will work together to bring the technology from IBM Watson to the Workforce Dimensions, the company's software. The software makes schedules, will advise people which training courses they can follow and coach them.
IBM also joins the Kronos Workforce Dimensions Technology Partner Program. Kronos also rolls out AIMEE, which stands for Artificial Intelligence for Managers and Employees. AIMEE is at the heart of a series of updates released by Kronos within the Workforce Dimensions suite. According to Kronos, this software has been developed to analyse data from companies and to provide the necessary advice to managers and employees in real time.
AIMEE has personal schemes, which also help people to find a better balance between their work and their private life. For managers, AIMEE also indicates changes in the agendas, and can see how this affects the accuracy of schedules. Below is a look at the Watson bone within Workforce Dimensions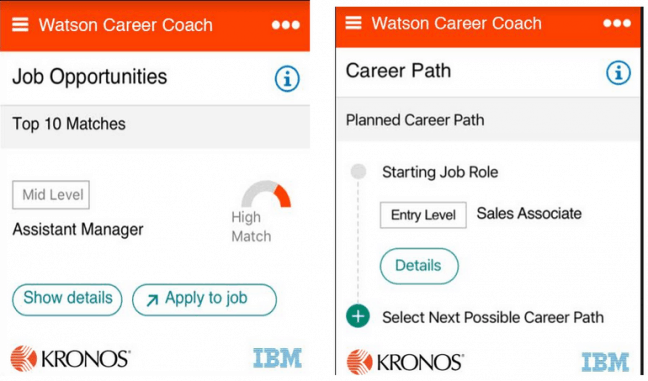 This news article was automatically translated from Dutch to give Techzine.eu a head start. All news articles after September 1, 2019 are written in native English and NOT translated. All our background stories are written in native English as well. For more information read our launch article.