In the three months ending September, Europe was the fastest-growing region for artificial intelligence hiring among tech industry companies. The number of roles in Europe makes up 10.1% of total AI jobs, up from 8.9% in the same quarter in 2020.
The region was followed by the Middle East and Africa, which recorded a -0.2 year-on-year percentage point change in AI jobs.
The numbers were compiled by GlobalData, which tracks the number of new job postings from key companies in various sectors over time. Textual analysis is also used to classify the job ads thematically.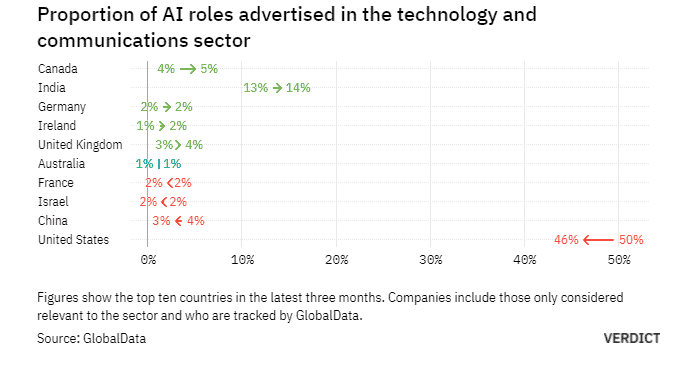 GlobalData's approach
The thematic approach taken in the sector analysis aims to uncover key information by topic to discover the best-placed companies and help weather the inevitable disruptions these industries will see.
The key themes, which include artificial intelligence, are chosen to cover any issue that a CEO would have to worry about.
By tracking them across job ads, GlobalData allows us to see which companies are at the forefront of specific issues and which ones are not keeping up with the pace. It also allows us to know which markets are expanding or contracting.
Canada is rapidly rising
On the analysis, Canada emerged as the fastest-growing country, with 3.5% of all AI job adverts in the three months ending June last year and closing with a 5.1% increase in the three months ending September this year.
Canada was followed by India (up 0.799 percentage point), Germany (up 0.7%) and Ireland (up 0.5%).
The top country for AI roles in the tech industry is the United States which experienced 46.4% of all roles in the three months ending September. About 4.2% of all tech industry roles in AI were advertised in Washington in the three months ending September, more than any other city.