Chrome is rolling out a new ad feature in the Chrome browser. It allows websites to show ads based on end users' browsing activity. The feature can be disabled, however.
The new functionality first surfaced in the July release of Chrome 115. Among the features supported in this release is Topics API. This API is part of the Privacy Sandbox project that develops alternatives to third-party cookies.
Stopping cookies
Google has indicated that starting with the release of Chrome 115, it will slowly stop setting third-party cookies. By 2024, the process should be complete.
The underlying Topics API for the new ad service, instead of tracing via cookies, allows Web sites to retrieve visitors' potential interests directly from Chrome.
They can then automatically place a particular ad based on those interests. The information about these interests is extracted by the API from the search history of the relevant end user.
Objections privacy experts
Privacy experts have objected to the new Google Topics cookie replacement functionality. For example, the functionality would allow browser fingerprinting. Because of privacy concerns, Apple and Mozilla have announced that they will not integrate the Topics technology into their Safari and Firefox browsers.
Disabling functionality
Through a reasonably promoted pop-up, Chrome users do get the option to disable the functionality. This pop-up would have different versions for different regions, writes The Register.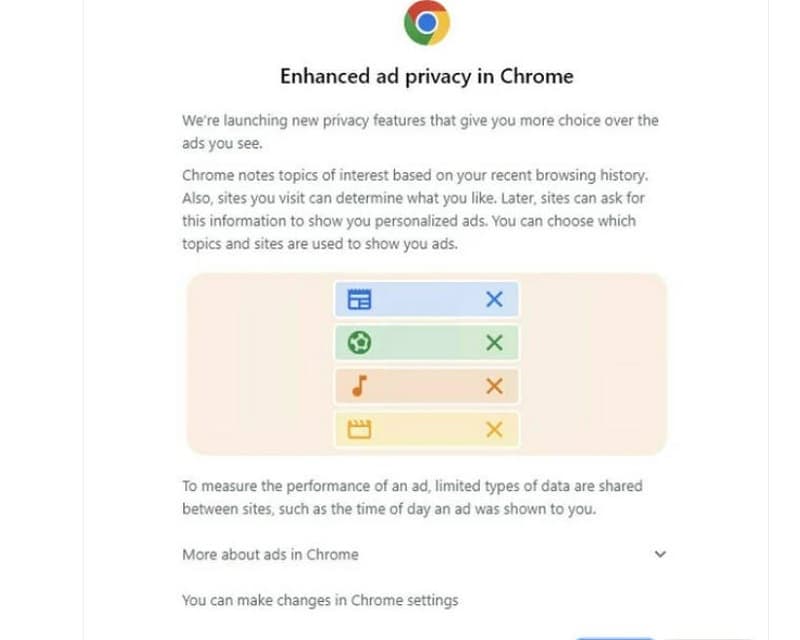 To properly disable the push ad functionality, users do have to dive deep into their Chrome browser's settings.
Also read: Google starts rollout Privacy Sandbox Topics API in Chrome