The screens that allow consumers to determine their default browser choice exert great influence on the outcome of that choice. This is stated by Mozilla, the developer of Firefox. These screens will be manipulated.
The Digital Markets Act will come into force next year in the EU. These regulations mean, among other things, that vendors such as Google, Amazon, Apple, ByteDance (TikTok), Meta and Microsoft must make it possible for end users to choose a browser of their choice as the default browser.
Vendors should offer a choice screen that allows consumers to determine their final default browser choice. It is precisely these configuration screens that play an important role in how this choice is made, say researchers commissioned by FireFox developer Mozilla.
Five points of influence
According to the researchers, choice (configuration) screens influence browser choice in several ways. First, they make end users less likely to use existing well-known browsers. The share of independent browsers, such as Brave, Opera or Vivaldi, will increase as a result. Second, adding information about browsers also decreases the share of known browsers.
Moreover, the presentation order of browsers on a choice screen affects the final browser choice. In addition, displaying a choice screen when using a pre-installed browser for the first time makes users more likely to check that browser as the default.
Fourth, an absolute majority of respondents said they would like to use a browser selection screen. Finally, the researchers find that browser choice improves the end-user experience without hindering end users in their work.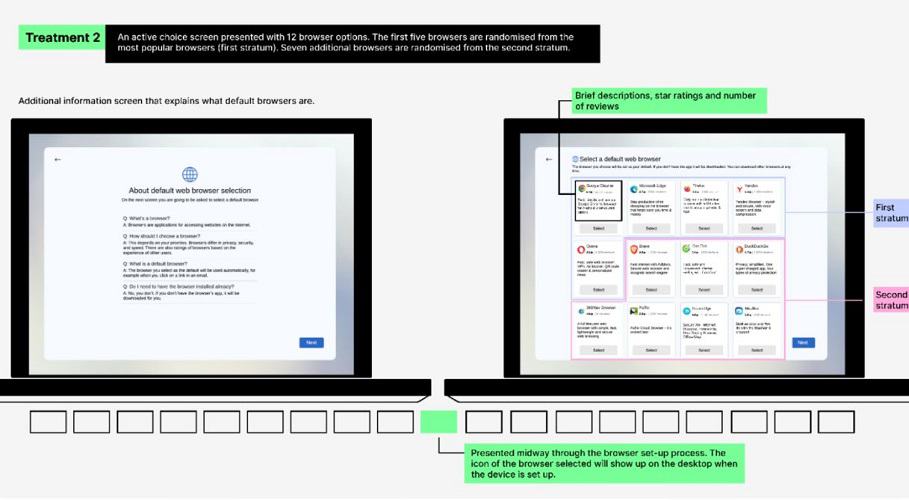 Regulators need to be more alert
The researchers do warn that it is easy for OS developers to push or "nudge" their own browser to end users. Small, but specific changes in browser design and appearance can have a big impact. According to the researchers, it is therefore important for regulators to pay close attention to this and include web and application design in their laws and regulations.
Mozilla is not the only browser provider warning against browser screen manipulation. Microsoft indicated back in 2021 that consumer choice alone will not push back the market segment of a dominant player.
Also read: Big Tech gets new rules from EU, what will you notice as a user?