SAP also jumps on the generative AI train and presents its own generative AI copilot. For this, it does not use the name Copilot like most companies, it has chosen to name it Joule. With SAP Joule, companies get smart insights from SAP solutions and external sources.
According to SAP, Joule will transform the complete SAP user experience. Users should think of it as a conversation with their smartest colleague. A colleague whom you can ask questions in plain language and then get a comprehensive answer. However, Joule can do more than answer, it can also suggest ways to optimize business processes, as well as perform actions to implement those optimizations.
Joule's knowledge to provide answers to questions, but also to analyze and improve business processes comes from a huge amount of customer data. SAP has used a vast amount of company data across the entire SAP portfolio. During a presentation by Thomas Saueressig, he stated that 25,000 customers have made their corporate data available to build their own foundation model. We checked how they obtained that permission. Philipp Herzig, Head of Cross Product Engineering & Experience told us; if customers want to use SAP AI services they can specify whether SAP is allowed to access the company data. Whether customers are really aware that their data is being used in the SAP Foundation model is unclear.
As a result, Joule can make all kinds of recommendations within SAP. For example, it can help improve an organization's sales performance. It can identify underperforming regions, pinpoint a problem in the supply chain, as well as connect directly to supply chain systems to provide solutions. Joule will also continuously calculate and offer new scenarios to SAP solutions.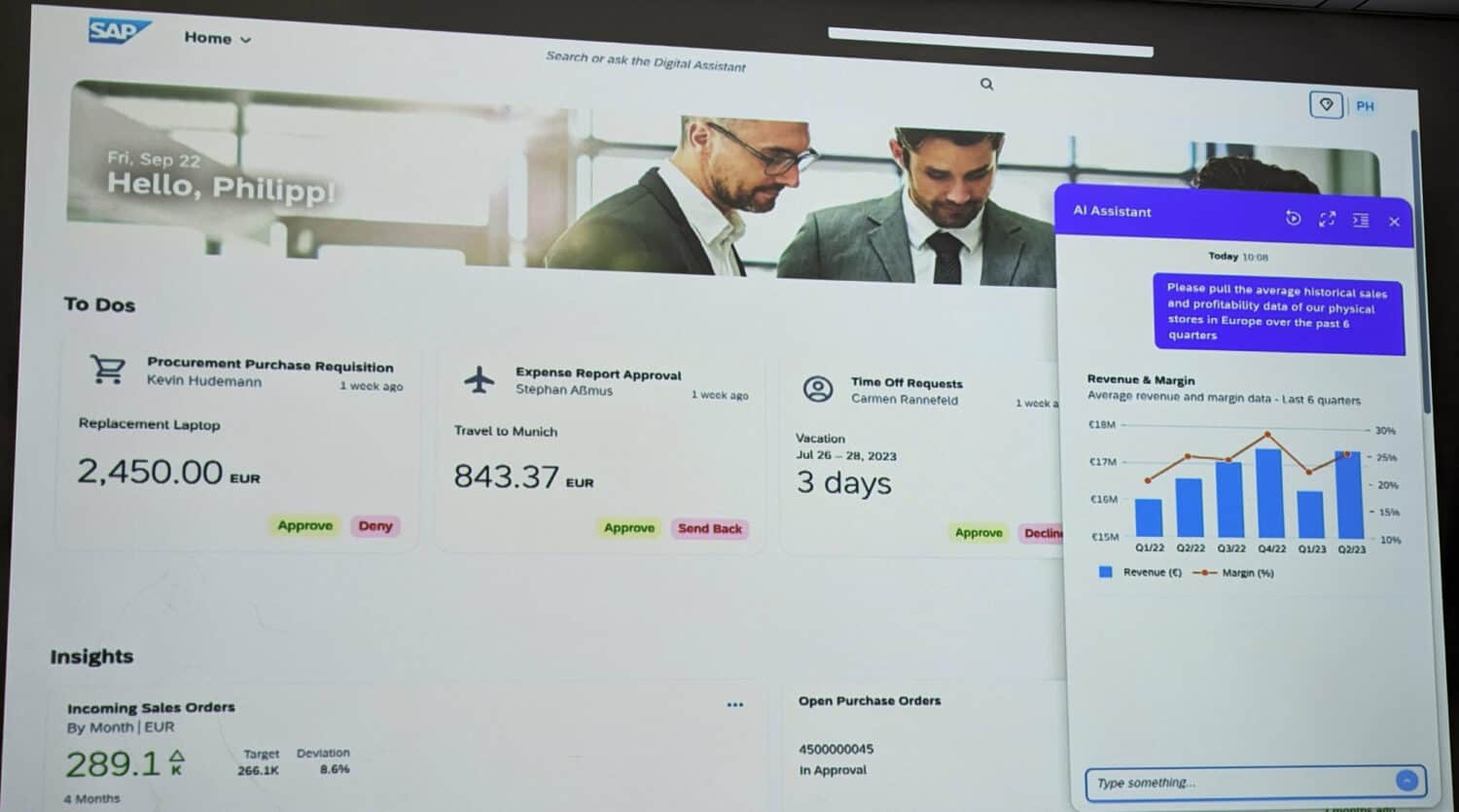 People are mostly familiar with generative AI that can generate text or images. That is possible with Joule as well. For example, Joule can help write unbiased job descriptions. Or help create the most relevant interview questions to find the better candidates. The more important part is, as earlier described, understanding how businesses operate and where to improve.
Joule is part of SAP Business Technology Platform
Joule will be integrated into the SAP Business Technology Platform and into all SAP applications. Among others in Customer Experience, Finance, HR, Procurement and Supply Chain solutions. When Joule gets a question it can directly search all company data and use it to formulate an answer. Of course, compliance is taken into account.
Ultimately, everything aims to enable employees to work better, more efficiently and faster. Among other things, being able to better interpret results giving employees more insight into the organization's performance.
SAP has nearly 300 million business users
The CEO of SAP, Christian Klein, says the power of Joule is made possible in part by the sheer volume of SAP users and data they generate. "With nearly 300 million business users around the world working regularly with SAP cloud solutions, Joule has the power to redefine the way businesses and people work."
Joule builds on existing SAP AI offerings. More than 26,000 SAP cloud customers now have access to SAP Business AI.
Availability SAP Joule
Joule will become available in SAP SuccessFactors and SAP Start later this year. Early next year, Joule will become available in SAP S/4HANA Cloud public edition. At other events in October and November, the availability of Joule will be announced for other SAP solutions.
Also read: Sapphire 2023: what's new in ERP?