They claim the new features make their videoconferencing platform "more fun".
This week Google announced a slew of enhancements and feature additions to their Google Meet video calling solution. The new additions include tiled views and new options for presenting.
While not as popular as its competitors such as Zoom, Microsoft Teams and WebEx, Google Meet is gaining momentum. It has rolled out enhanced features to its 2 million G-Suite customers, which itself is helping to push adoption of the platform.
Riding the wave of remote work applications
Smita Hashim Director of Product Management, Google Meet, Voice & Calendar, detailed the new feature rollout in a blog post this week. "Remote work has become increasingly necessary for public safety and well-being," she says.
Hashim then describes the four main feature additions Google is currently introducing.
First, the expanded tiled layout now lets web users simultaneously see up to 16 participants at once . Previously, tiled layouts only enabled a user to see four people at a time).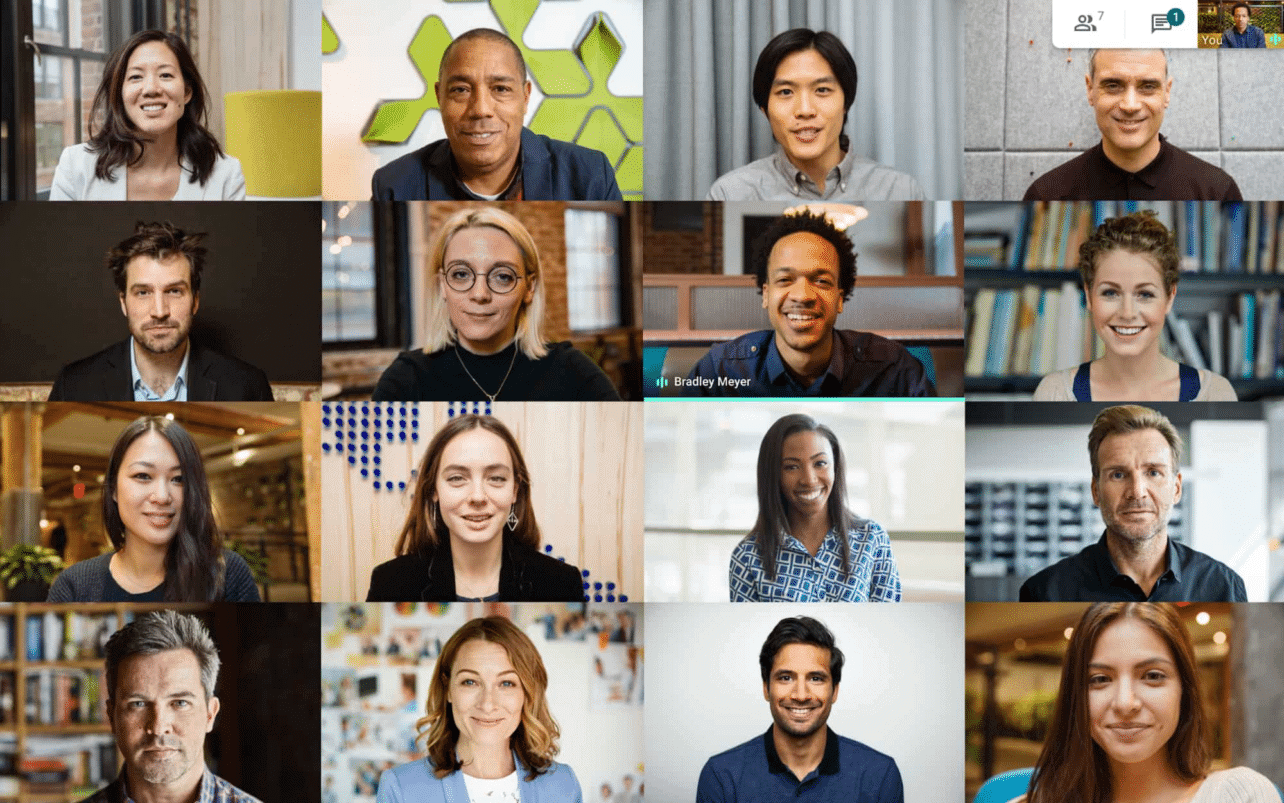 Second, users now have the option to present a Chrome tab instead of just presenting their window or entire screen. This is the best option to share high-quality video with audio content, according to Hashim.
Thirdly, users can now use AI to automatically adjust their video to make themselves more visible to other participants in sub-optimal lighting conditions. This feature is currently rolling out to mobile users, and will be available to web users in the future.
Finally, Meet can now intelligently filter out background distractions. This noise cancellation feature will begin rolling out in the coming weeks to G Suite Enterprise and G Suite Enterprise for Education customers starting with web users and later to mobile users.
An option to add a video background
Dave Citron Director of Product Management for Google Duo & Google Meet, also wrote a blog post naming other new features. "In the coming weeks, we're adding the ability to replace your background with a video," he wrote.
"Video background replacement can help you maintain privacy for what's behind you while also making your video calls more fun. There will initially be three options to choose from: a classroom, a party and a forest, with more on the way soon."
"Looking ahead, we're excited to continue improving the Meet experience to further help in all the ways people connect, collaborate and celebrate," he concluded.