Microsoft and Cohesity greatly expand collaboration. Deeper integrations between the two parties' portfolios, DMaaS solutions becoming available on Azure and the addition of OpenAI technology to Cohesity's platform allow backups to provide context and insight.
Cohesity made a pretty big announcement today. Or actually several big announcements. However, we are still going to try to include it all in a single article. After all, there is a common thread running through today's story. That common thread listens to the name Microsoft.
Microsoft has made it clear in recent years that it takes data protection seriously. Not only by designing its own products and services accordingly, but also by entering into partnerships with other parties. A few years ago, there was already the investment the company made in Rubrik. Today, the partnership with Cohesity gets a major upgrade.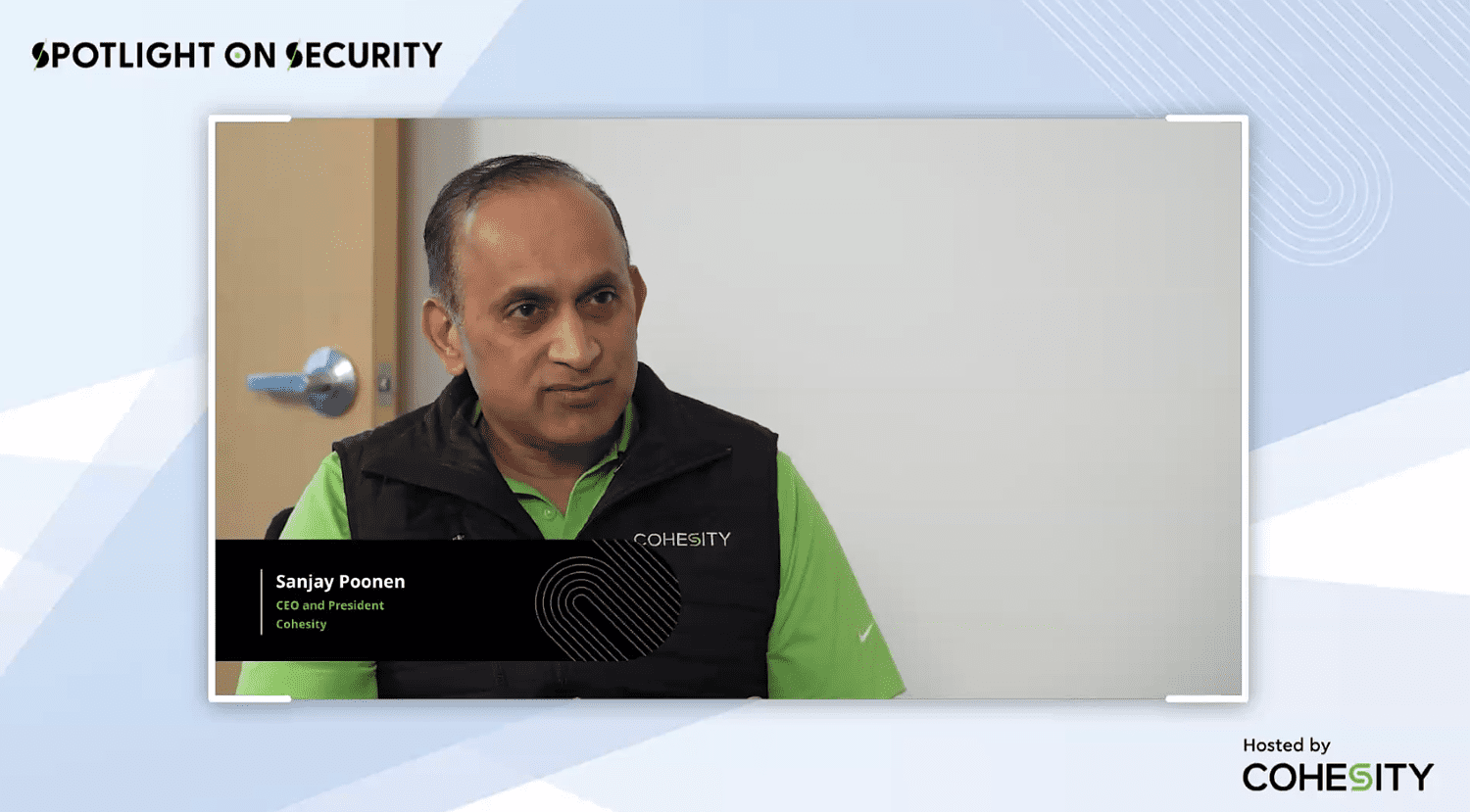 Deeper integrations between Cohesity and Microsoft
The first area in which the collaboration between Cohesity and Microsoft is being expanded has to do with linking products and services from both parties. For example, as of now, there is an integration between Cohesity DataProtect (for backup and recovery) and Microsoft Sentinel. That is Microsoft's SIEM platform. Customers who purchase both services will thus have easier and better access to reports and ransomware alerts.
Furthermore, there is now also an integration between Microsoft Azure AD and MFA and the Cohesity platform. This therefore allows you to use these services from Microsoft to give and receive access to Cohesity products and services in a safe and secure way. These include Cohesity Data Cloud and Cohesity Cloud Services.
Finally, in terms of integrations and partnerships, there is one between Cohesity and BigID. BigID is a company primarily concerned with data security, privacy, compliance and governance. Cohesity uses BigID for data classification. However, this company also has a built-in integration with Microsoft Purview. So through this partnership, Cohesity customers can access this for their Microsoft environment as well.
Cohesity Cloud Services no longer only on AWS
In recent years, Cohesity has been strongly committed to moving to an as-a-service model. The goal was and is to offer as much as possible as a service that customers can purchase from Cohesity. All of this falls under the umbrella of Data Management-as-a-Service (DMaaS), which has been renamed to Cohesity Cloud Services. With this approach, however, Cohesity did take a rather biased position as to where these services would then run. Initially, there was an exclusive partnership with AWS. That is, services such as Cohesity FortKnox and Dataprotect delivered as a service (its BaaS offering) could only be offered in AWS.
This exclusivity will no doubt have been a condition from AWS. It made a hefty investment in the company in Cohesity's fifth round of investment. AWS probably didn't do that purely out of altruistic motives. It is also obviously not sustainable for a company like Cohesity to permanently limit its services to AWS. That is not how to do things nowadays. Almost every organization is moving toward a hybrid cloud strategy, in which it deploys multiple public clouds, combined with on-prem. A company like Cohesity needs a good story for that reality.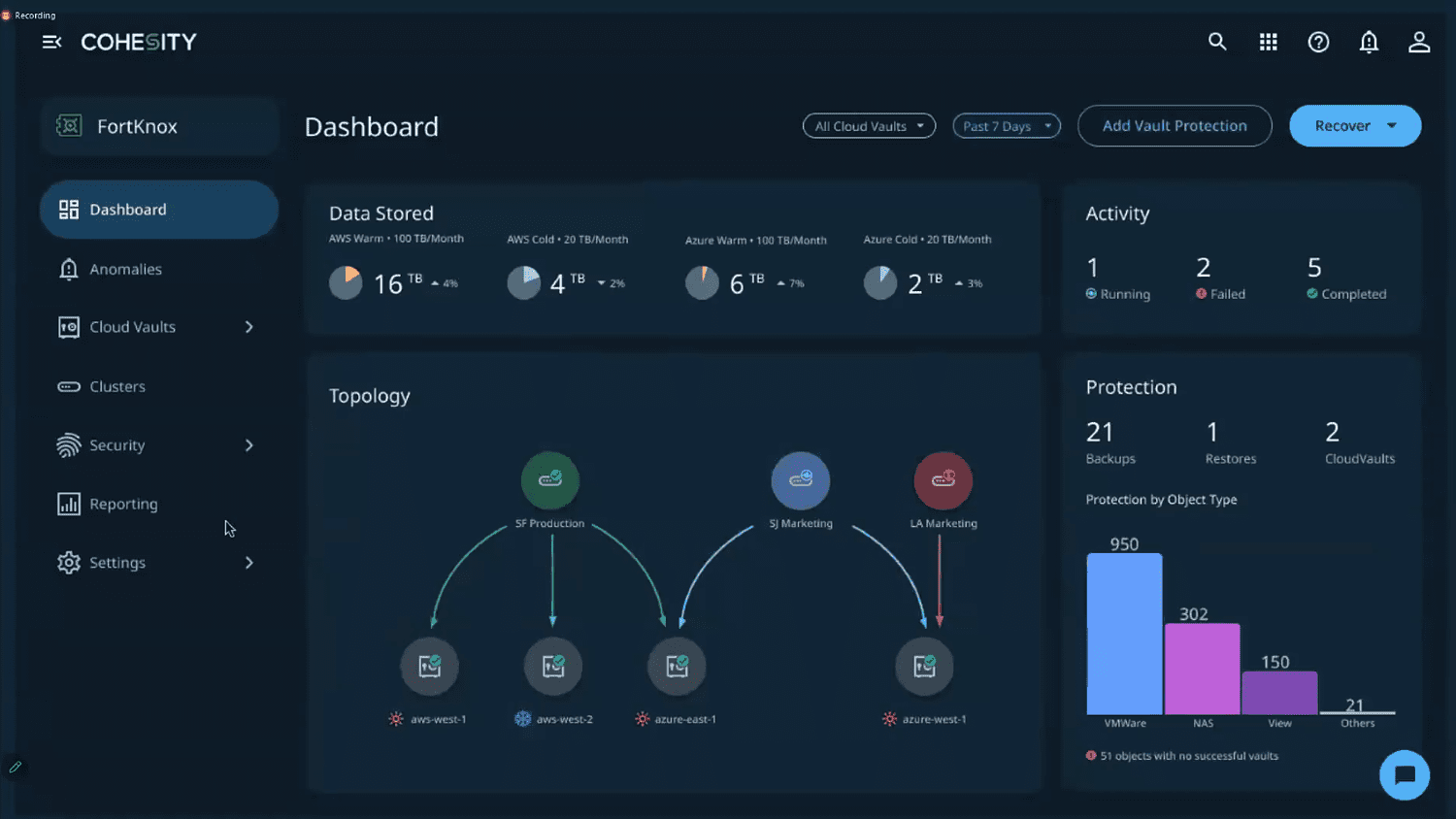 It was clear from the beginning, however, that the exclusivity on AWS had an end date. So when the DMaaS offering was launched, the intention was already to start offering it on other clouds as soon as it was possible. That is what has happened now. As of now (or at least in a couple of months time), Cohesity FortKnox and Cohesity DataProtect delivered as a service are available on Microsoft Azure. That means customers can write airgapped backups to Azure and the DataProtect BaaS offering is now available there as well.
Talking to backups via ChatGPT
Much of what companies like Cohesity do doesn't capture the imagination tremendously. That's not justified as far as we're concerned, because backups and all sorts of services related to them are very important to organizations. Still, it's not immediately a great topic to bring up when you want to have a smooth conversation with someone within an organization. With the latest integration between Cohesity and Microsoft, that could well change. Cohesity, together with Microsoft, is going to integrate OpenAI technology into the platform. In other words, it will be possible to talk to your backups via ChatGPT.
The potential of this integration is huge. Backups often contain enormous amounts of data, which is difficult to gain an overview of. This while a lot of value can be extracted from this data. That should be possible with the integration of ChatGPT. Cohesity already uses AI to detect anomalies, for example. However, this still generates a lot of data. With the integration of OpenAI's technology, it is also possible to summarize this data into clear and short summaries.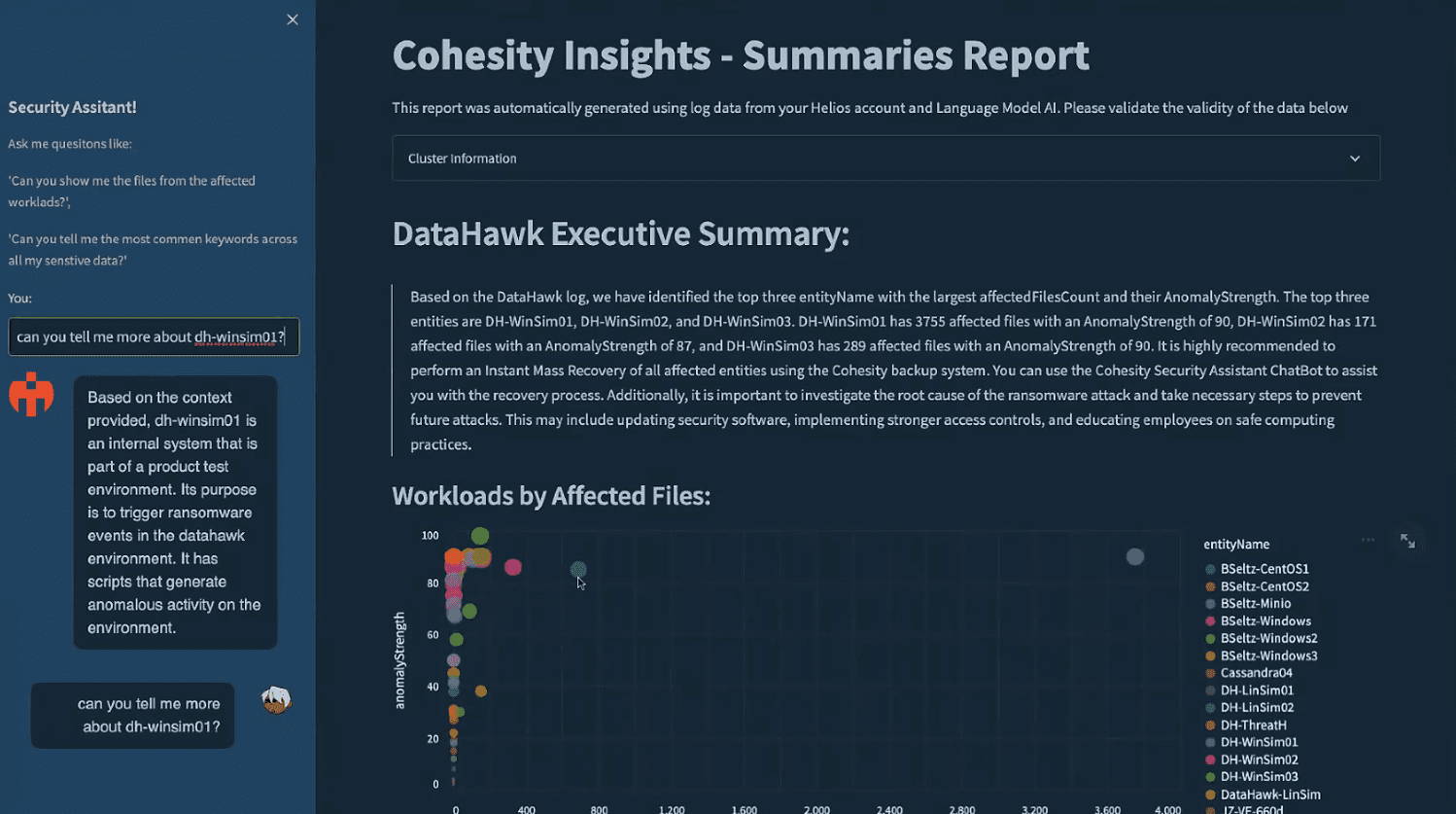 Finally, you can also query the data. During a demo, we saw an example of this. If a company comes across a situation that resembles something it dealt with in the past, it is possible to ask your backups about it via ChatGPT. You'll get a summary, as well as the exact documents and files that contain specific parts of the answer. That is, you get a source reference, with the entire passage of the source file included. Below you can see in three images what such a conversation might look like (click on for large):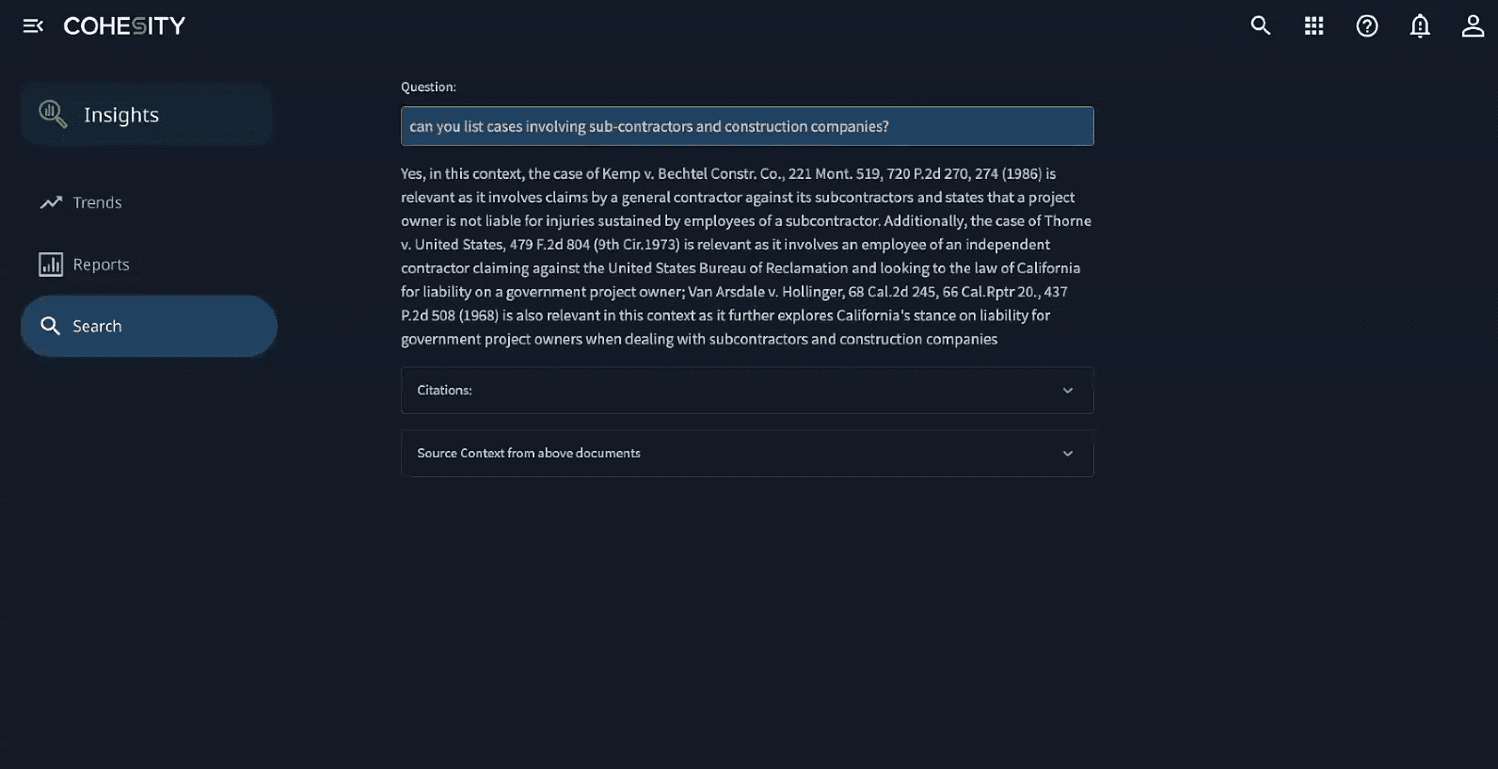 The integration between Cohesity and OpenAI's technology is not currently available. Which is just as well, because there is still a typo in the panel showing the OpenAI-powered Security Assistant (called Security Assitant there). It is not entirely clear when this new feature from Cohesity will actually become available. What is clear, however, is that the impact OpenAI is also being felt in the world of backups.