Database company MarkLogic has announced its connector for Tableau. This connector makes it possible to apply the data visualisation of Tableau to a MarkLogic database.
MarkLogic announced the connector in a blog post. The company describes it as a fast, simple, real-time connection for full Tableau functionality. "It enables you to unearth the value in your data with MarkLogic's integration, search, governance, and built-in curation capabilities and the dynamic visual analysis and reporting of Tableau."
Tableau Connector for MarkLogic works on Mac, Windows and Linux and is built on top of PostreSQL's open source ODBC driver. It uses Tableau's SDK and MarkLogic claims reliability and easy accessibility for business analysts, data engineers or others who want to show data to end users.
Installation
Installing the connector is done in a few steps. Users need to download the connector, move the taco file to the 'My Tableau Repository' folder, launch Tableau and select the MarkLogic connector under the 'Connect' tab. After this, users have full access to analyse the data.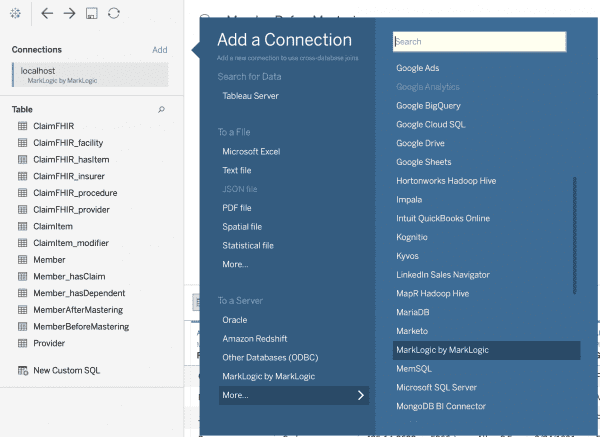 MarkLogic is an American company that mainly revolves around its NoSQL database, also called MarkLogic. The company has 500 employees and is one of the ten largest NoSQL providers on the market.
Tip: Tableau wants to make analytics understandable for everyone