In order to be ready for a post-Covid working environment, Google is completely overhauling its corporate campus. The changes made by the tech giant give a glimpse of what the modern workplace might look like.
Google has been rearranging its corporate campus for some time to prepare for a future in which hybrid work is much more the norm. The Covid-19 pandemic has pushed this plan, which was intended for implementation in the coming 10 years, a lot forward. Working from home has become the standard and it is expected that many employees will continue to do so, at least partially, after the Covid-19 pandemic.
Team Pods
The New York Times outlines the changes Google is making to its corporate campus to prepare for a mix of home and office workers. The newspaper describes the result as if you were to combine Ikea with Lego. Instead of the usual areas with open offices and separate conference rooms, Google came up with 'Team Pods'. With these, components such as chairs, desks and other office furniture can easily be put together in all kinds of different configurations to create personalised spaces.
This setup makes it easy to quickly adapt office environments to the preferences of a flexible worker. One problem to overcome is that walls, and especially climate control, are difficult to move. Therefore, Google has come up with walls that are easy to move around and has even shown a concept of an inflatable wall, with which an employee can easily isolate himself. All these types of walls are designed to be easy to move, if needed in a truck to an office on the other side of the world.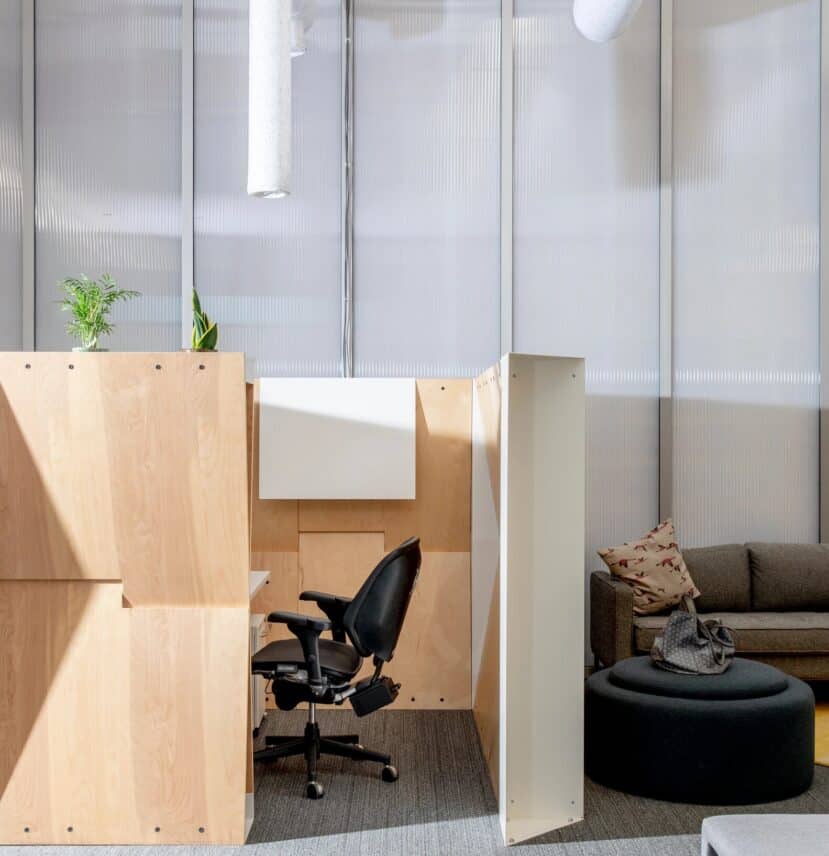 For climate control, Google has devised a system of air ducts made of fabric and zippers. This makes it possible to easily adapt the locations where the air comes out of the ventilation systems to the locations where workplaces are currently located.
To give the hybrid worker without a fixed workstation the feeling of a personalised workstation, Google has designed a flexible workstation that automatically adapts to the worker. When an employee holds his or her card to the desk, it automatically adjusts to the desired height. It also automatically adjusts the monitor and even changes the local temperature.
Campfire
A new idea that Google has come up with is a meeting room that the company calls Campfire. Employees sit in a circle around a 360-degree camera and behind the chairs there are large screens on which external participants are displayed life-size. In this way, the external participants look almost as present as the people who are physically there.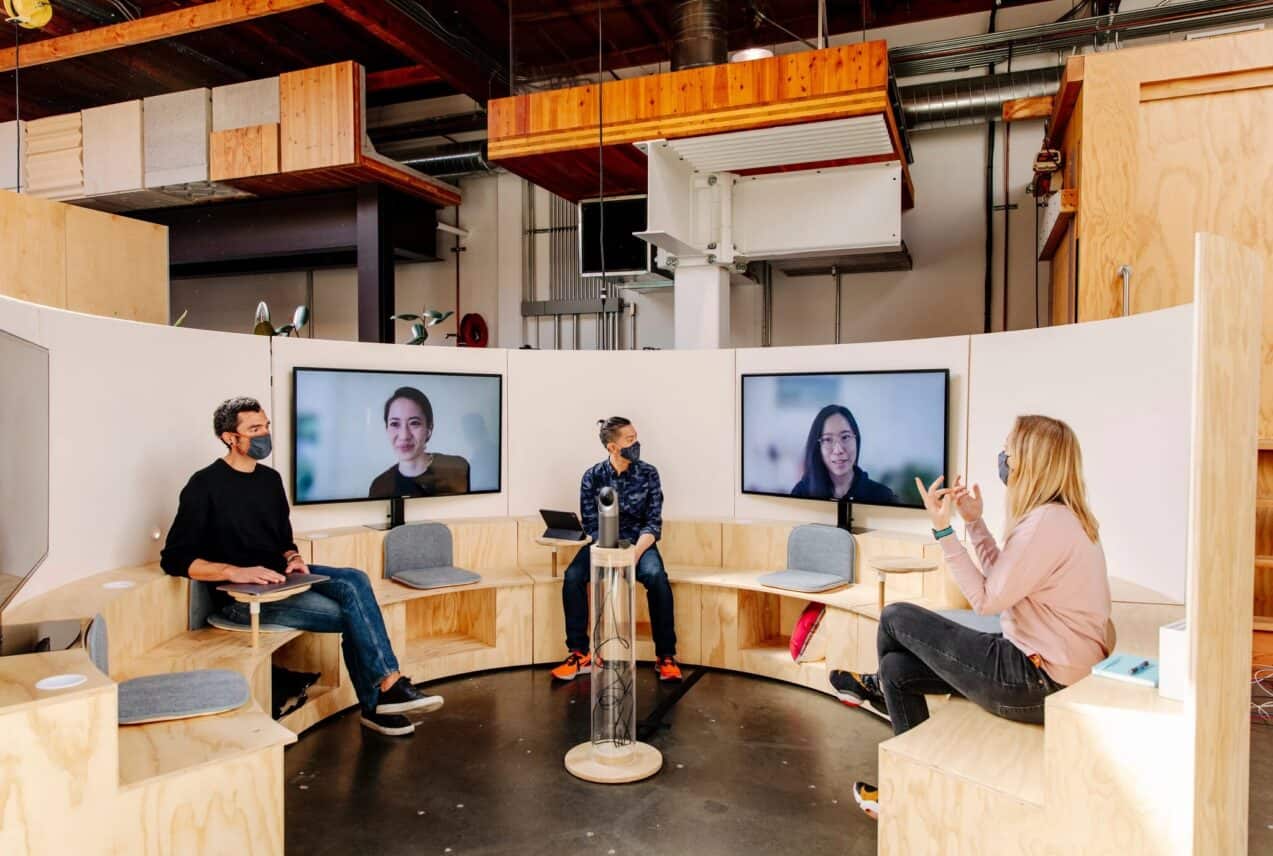 Working outside
Another example of modern workspaces are places where employees can work outside. After all, the coronavirus does not spread as easily outside as inside. In the gardens of the campus, places have been created where employees can work comfortably, including open tents where employees can congregate under. Of course, excellent Wi-Fi connectivity is available.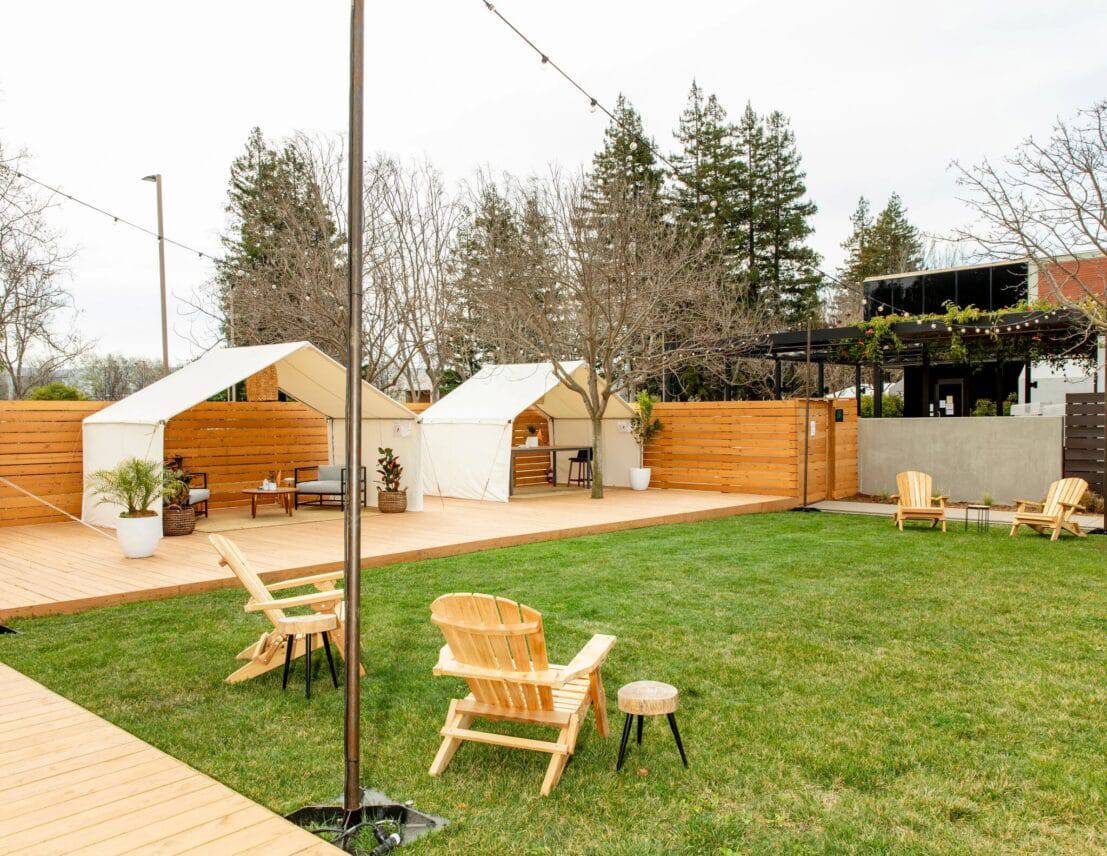 Additional measures against Covid-19
To provide greater security against infections, Google has taken a number of additional measures. There is now more distance between individual workstations. Lunch is no longer served as a buffet, but as separate meals. Massage rooms and fitness rooms will remain closed for the time being, and the free shuttle buses to the office are currently not running. Small conference rooms will become individual workplaces and only fresh air will be used in the ventilation system. Furthermore, the sanitary facilities will be modified so that fewer touches are needed.
The opinions of Google employees on the extent to which they see themselves working at home vary enormously. In a recent poll, employees gave answers ranging from zero to five days when asked how many days they would like to be in the office to work effectively. However, the vast majority are positive about working from home, and only 15 percent is dissatisfied.
Google has dozens of offices around the world. The company expects to eventually apply some of the ideas at its corporate campus in Silicon Valley to its other workplaces.
Tip: Zoom preps for the post-pandemic world of hybrid workplaces