The first six processors of Intel Core's 12th generation are available. Here's what's changed.
Intel is kickstarting the 12th Gen — which is eventually to include 60 processors — with six new designs. For the first time, the processors distribute workloads simultaneously across a combination of CPU cores (or P-cores) and efficiency cores (or E-cores). Both cores provide power, but while P-cores are uncompromising, E-cores save energy when possible. The new balance is facilitated by Intel Thread Director, software that, according to Intel, enables operating systems to optimally distribute workloads across a mix of E- and P-cores.
DDR5
Each of the new processors supports DDR5, a form of working memory. Intel reports that the designs perform exceptionally well for video editing, photo editing, 3D modelling, and multi-frame content rendering.
Overclocking of E-cores and DDR5 working memory is supported through software tools XTU 7.5 (for cores) and XMP 3.0 (for DDR5).
PCIe 5.0
PCIe 5.0 appears in every model, improving data exchange between the processors and other PC components. PCIe 5.0 provides twice the bandwidth of PCIe 4.0, the technology currently found in common desktop processors.
A balance of E- and P-cores, DDR5 support and PCIe 5.0 add up to three of the most prominent similarities among the six new processors. Price tags and number of cores (from 10 to 16) are perhaps the most prominent differences, as (partially) exemplified by the image below.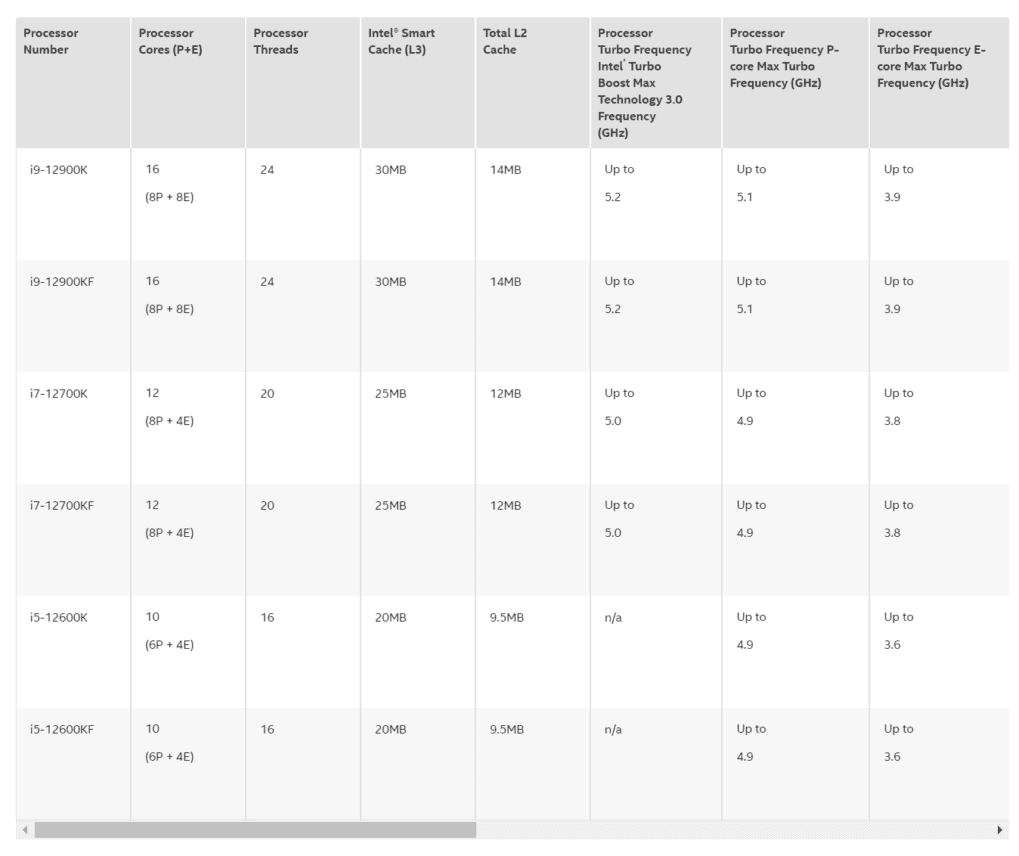 When?
Manufacturers, retailers and channel partners have been able to pre-order the models since October 27. General availability will follow starting November 4. The processors cost between $264 (€228) and $589 (€508). Intel expects the processors to be included in the line-ups of 140 customers in 30 countries worldwide before the end of 2021.
Tip: Intel's strategy has failed, won't recover until 2025?
Source article image: Intel Corporation, Newsroom