2018 is the year in which Intel regularly made negative news. Spectre and Meltdown are still critical leaks that are difficult to plug. Linux 4.20 partially tackles the problem, but some benchmarks note a delay of up to 50 percent in performance.
Phoronix' test results leave little to the imagination. An Intel Core i9-7980XE takes 1.28x longer since the Linux 4.20 kernel in the Rodinia 2.4 heterogeneous compute benchmark suite. Performance in DaCapo benchmark (V9.12-MR1) is even more dramatic with a collapse of almost 50 percent.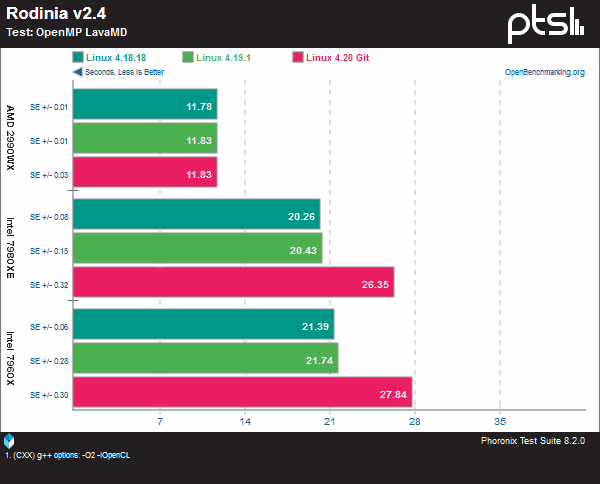 Fortunately, not every test is equally dramatic: most show a loss of five to eight percent. According to Phoronix, the main culprit is STIBP (Single Thread Indirect Branch Predictors). There are three ways to initiate a Spectre attack, of which STIBP is one. The new Linux 4.20 kernel is suppressing hyperthreading, resulting in moderate to sometimes heavy performance losses.
Uncertainty
The performance impact on Intel processors means that in certain benchmarks AMD is suddenly the winner. Their chips are less performance dependent on Spectre and Meltdown. Whether that's good news for AMD remains to be seen. According to Extremetech, analysts expect Intel's sales figures to climb because companies want to replace their servers with secure ones when Intel has mastered Spectre, Meltdown and other variants with hardware-based solutions.
According to the analyst, there is little discussion about the fact that companies would suddenly switch to AMD. This may change when Epyc 2 appears on the market with strong performance gains and competitive prices.
Intel's in uncertain times. It had to say goodbye to CEO Brian Krzanich recently, and is being attacked on all sides by other competitors such as Qualcomm and Nvidia, while it is diligently looking for ways to redistinguish itself. Meanwhile, it is struggling with the production of its new 10nm chips, while the foundation of its processor architecture is under pressure from the effects of Spectre and Meltdown, and more recently Foreshadow and PortSmash.
Related: The curse of Spectre: Why does it keep haunting you and Intel?
This news article was automatically translated from Dutch to give Techzine.eu a head start. All news articles after September 1, 2019 are written in native English and NOT translated. All our background stories are written in native English as well. For more information read our launch article.