Microsoft replaces the old Rings model for testing Windows previews with Windows Insider Channels. The Dev, Beta and Release Preview Channel each serve a different purpose.
Previously, testers could try out new versions of the OS via Rings, but according to Microsoft, that model is outdated. The rings consisted of a Slow Ring, Fast Ring and the Release Preview Ring. Differences between the rings had to do with the order in which updates came out. Users in the Fast Ring had the earliest access to the operating system, but this version did contain the most bugs.
Channels instead of Rings
Microsoft has decided to stop using Rings, and the company replaces this model with a Dev Channel, Beta Channel and the Release Preview Channel to test previews of Windows 10. Not only are the names different, but users of the various channels also get access to different content. Users in the Dev Channel get first-time access to early builds, and this channel is primarily intended for users with extensive technical knowledge. These Dev Channel-builds are not explicitly linked to new Windows 10 releases.
Users of the Beta Channel get access to early but complete builds of Windows 10. According to Microsoft, feedback from users in the Beta Channel has the most impact on the final product. And last but not least, there is the Release Preview Channel where users can test the upcoming builds that are officially supported by Microsoft.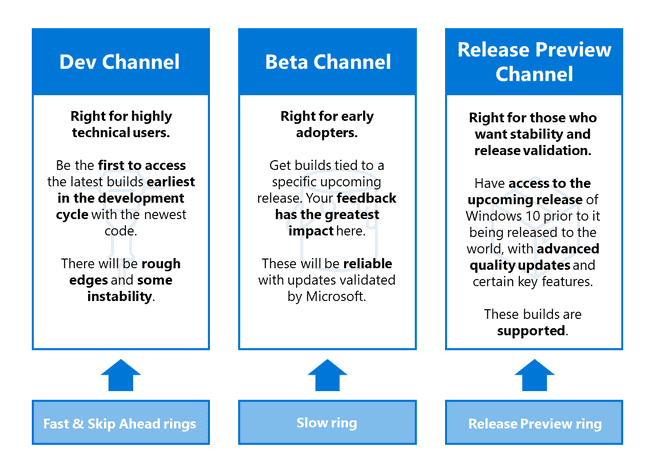 "New features and OS improvements in this channel will show up in future Windows 10 releases when they're ready and may be delivered as full OS build updates or servicing releases," Microsoft writes in a blog post. Microsoft thinks it is no longer relevant to divide previews into early and later betas. "It is critical that Insiders have options that are tailored to their needs. We believe the best way to do this is to shift focus from frequency to quality."