The economic benefits highlighted by the study are enormous. However, the European Union is on the "back foot" when it comes to implementation. The study comes from the European Commission's Directorate-General for Communications Networks, Content and Technology (DG Connect). The study's authors include a team from the think-tank OpenForum Europe and Fraunhofer ISI.
The nearly 400-page long report focuses on the impact of open-source software and hardware on technological sovereignty, competitiveness, and innovation. The detailed study finds its basis on a survey of over 900 companies and developers, interviews, analyses of existing research, literature, and open repos on GitHub.
Brexit issues and cost-benefit studies
The UK factors into some of the figures but is not included in others, thanks to Brexit. However, a pie-chart notes that the UK provided 26% of the EU companies contributing to GitHub, more than twice what the next country, Germany, at 13%, contributes.
Investments in open source are highly beneficial, the study asserted.
According to a cost-benefit ratio of 1:4, the costs needed for the investment in OSS will generate benefits four times higher, according to the macroeconomic approach taken for the study, which finds its basis on a stakeholders assessment.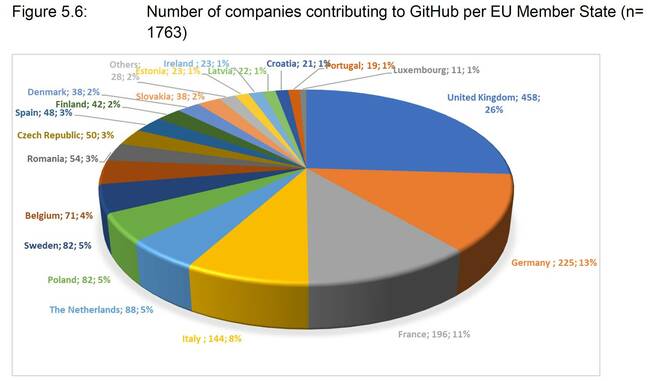 The bloc can do more
The study continues to say that a 10% increase in OSS contributors would generally generate an additional 0.4% to 0.6% GDP and more than 600 additional ICT startups in the EU.
It is not all good news though. The OSS scale of investment in the bloc is disproportionately smaller than the scale of the value created by OSS. The findings also reveal that the smaller the company, the greater the relative investment in OSS.
The study seems to indicate that more can be done. However, implementation is slow or flawed. However, this report could provide a way to create a roadmap for the bloc to claim a bigger stake and gain more benefits from OSS.