Intel has added vRAN functionality to its fourth-generation Intel Xeon SoCs. This should provide telecom operators with more efficient technology for optimizing network virtualization paths.
During Mobile World Congress, Intel announced that its 4th Gen Xeon SoCs now include vRAN technology. Intel calls this technology Intel vRAN Boost. With the technology, telecom operators can more easily adopt network virtualization, is the thinking. With the transformation from one-way hardware-based networks to software-based networks with more flexible functionality and features, networks become not only more flexible, but also more cost-effective.
No physical accelerator cards
Intel states that the arrival of Intel vRAN Boost technology to its fourth-generation Intel Xeon SoCs will primarily eliminate the need for telecom operators to insert physical accelerator cards into their OpenRAN-based networks. Normally, operators using Open RAN networks have to rely on external hardware accelerator cards to accelerate the capacity of the processors needed for network functionality.
With Intel vRAN Boost, up to twice the capacity could be delivered compared to the old situation. It would also save up to 20 percent more energy through this integrated virtualized acceleration. A demonstration held during MWC 2023 reportedly showed that the Intel RAN Boost functionality for Intel Xeon SoCs delivered a performance of 1 Tbps for 5G user workloads.
The technology is supported by partners including Advantech, Capgemini, Canonical, Dell Technologies, LM Ericsson, Supermicro, Red Hat and operators Verizon and Vodafone.
Other Intel telecom introductions
In addition to this functionality, Intel is introducing other telecom solutions. The new Infrastructure Power Manager for 5G Core reference software is to work with Intel vRAN Boost. This software helps dynamically match run-time server consumption with data traffic. This without creating a burden on data throughput, latency and packet drop. This allows telecom operators to achieve greater efficiency and performance for their networks.
The Intel Converged Edge Media Platform, which is also new, is designed to deliver various video services from a shared multi tenant architecture. This brings cloud-based scalability to the delivery of these video services, allowing providers to respond intelligently to changing demand.
New FPGAs and an eASIC
Intel also introduced another new series of Agilex 7 FPGAs and the eASIC N5X for cloud environments, communications applications and embedded applications. The new Intel Agilex 7 FPGA AGI 041 devices should help transition from 200G to 400G networks.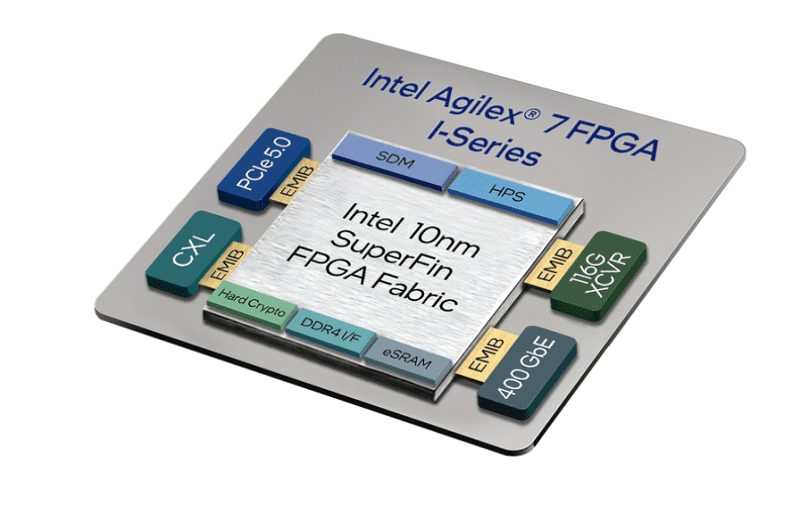 Intel's new eASIC N5X should enable network operators to better reduce the cost and power consumption of individual applications. Compared to standard FPGAs, this eASIC is said to reduce consumption by 60 percent.