With FlashArray//E, Pure is making flash even more widely available to organisations.
During Pure Accelerate, Pure Storage's annual event, we often hear the prediction that the days of HDDs are over. Earlier this year, we took note of a prediction from Pure that HDDs will not be sold beyond 2028. Such statements naturally do well in the media, but the reality is that organisations need alternatives. Pure is committed to providing those. It has been steadily at work since its inception to make flash-based systems more widely available.
FlashArray//E
With today's announcement of FlashArray//E, one could say the portfolio is complete. FlashArray//E focuses primarily on offering as much capacity as possible with its new 75TB DirectFlash Modules (DFM). This positions Pure FlashArray//E alongside FlashBlade//E, which was introduced earlier this year. Whereas FlashBlade focuses on file and object storage, specifically in a single product, FlashArray offers file and block storage. FlashBlade//E is available from a capacity of 4PB, the new FlashArray//E from 1PB.
Pure claims that the Pure//E family brings the price per gigabyte to $20 cents/GB. This should allow it to compete with HDDs. After all, the only reason to choose HDDs at the moment is price, is the reasoning. This is no longer necessary. In addition, flash consumes significantly less energy. This is not only good for the wallet, but also a good development in terms of sustainability.
TIP: We recently wrote an extensive article about merging file and block storage into a single array. You can read that article here.
Offer is complete
With today's introduction of FlashArray//E, Pure has come full circle, so to speak. It now has a FlashArray or FlashBlade for all uses. If you want the best performance, your go-to solution is FlashArray//XL; if you want the best in terms of capacity, you arrive at FlashArray//E and FlashBlade//E. In between, Pure also has FlashArray//X and FlashArray//C, where both features balance each other out a bit more. This is especially true for the on FlashArray//C. And then there's also FlashBlade//S.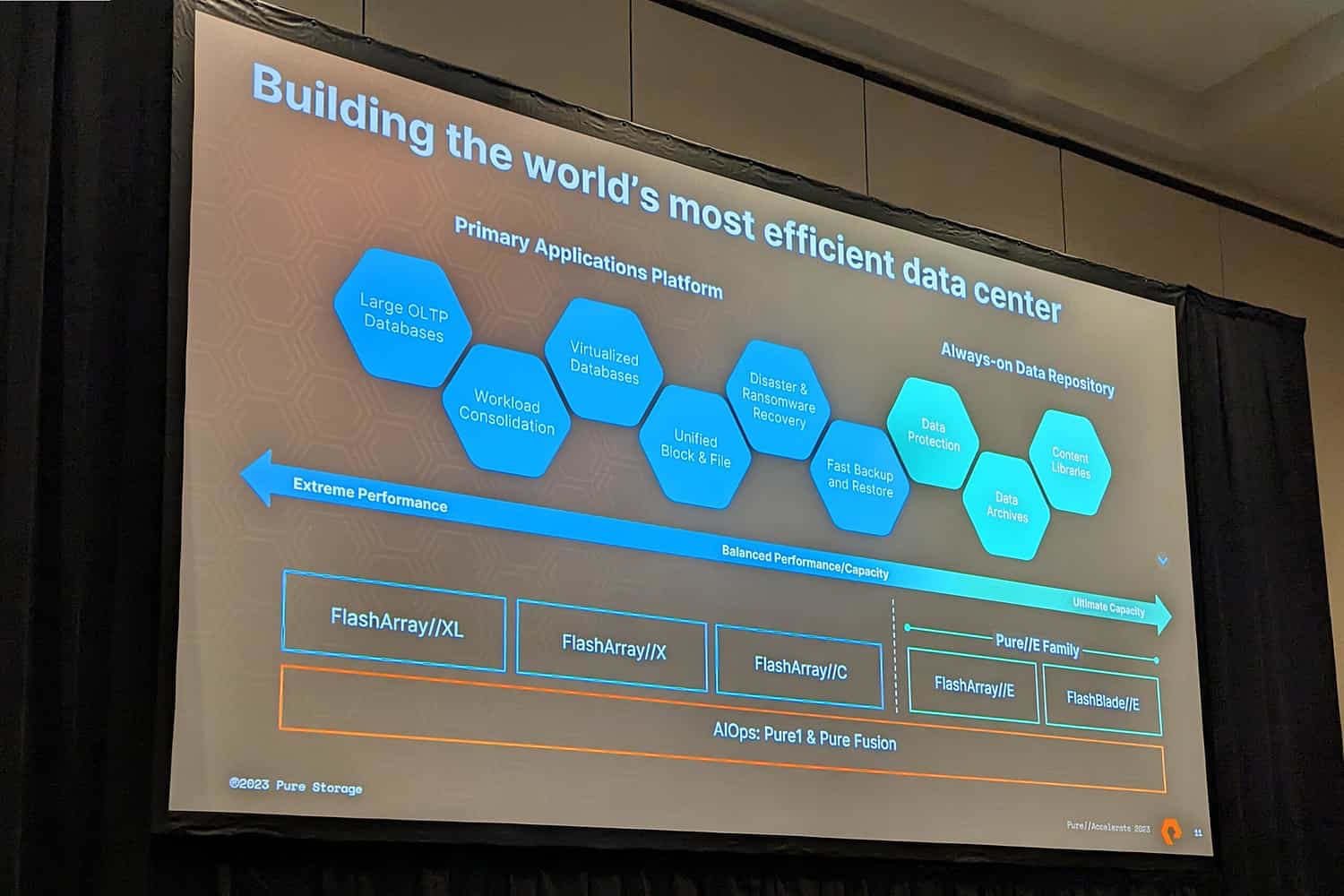 By the way, Pure is not just announcing FlashArray//E today. It also announces that FlashArray//X and FlashArray//C are getting upgrades. The FlashArray//X R4 and FlashArray//C R4 offer 40 percent better performance than previous generations thanks to the use of the latest Intel Sapphire Rapids Xeon chips, among others. The new FlashArray//C R4, like FlashArray//E, uses the new 75TB DFMs. The modules in FlashArray//X R4 have a capacity of 36TB. Since FlashArray//X is focused on Tier 1 storage and FlashArray//C is focused on Tier 2 storage, there is obviously a difference in performance. FlashArray//X uses TLC flash, whereas FlashArray//C uses QLC flash. However, that is the only difference between the products. Everything else is converged, including the controller.