The European Processor Initiative (EIP), an EU-backed initiative to develop European processors, concludes its first development phase. Developments resulting from the phase include an Arm-based Rhea processor, security technology for HPC and edge processors, and a proof-of-concept for the European Processor Accelerator (EPAC) test chip.
To make Europe less dependent on processors from other regions, the EU has long wanted to develop its own industry. To this end, 28 European companies and organizations from ten countries have founded the European Processor Initiative (EIP) consortium. The consortium is
supported by the European Union (EU).
Results of the first development phase
Now, the consortium announces the completion of its first development phase. Based on a 79 million euros budget, various European companies and startups worked on developing their own processor technology.
Significant results include the introduction of the Arm Neoverse V1-based Rhea processor by SiPearl in collaboration with Atos. The processor features Arm technology and 29 open-source RISC-V cores operating as controllers. Open-source technology is an important aspect of the pan-European initiative. By 2023, the 'European' processor should be actively deployed in supercomputer environments.
Another result is the development of security technology for HPC and edge computers. Among other things, so-called 'crypto tiles' were developed for this purpose. The technology should integrate with other open-source processor solutions and applications.
Finally, phase one resulted in a proof of concept of the European Processor Accelerator (EPAC) test chip. The Barcelona Supercomputing Center and the University of Zagreb (Croatia) developed so-called vector processing units for high-performance and low-power computing. In doing so, the solution is based on the Avispado RISC-V core from Barcelona's Semidybamics.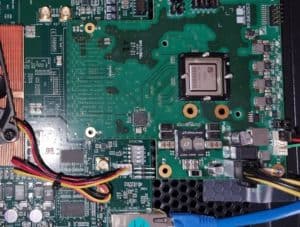 Phase two in 2022
The second phase of the EIP is scheduled to start in 2022. In this phase, the consortium focuses on bringing processors developed in phase one into production.