Microsoft introduced several new products for Azure cloud-based telecom services at MWC 2022.
Azure Distributed Services builds on AT&T's technology and explicitly supports this operator. The service offers 5G mobile and voice networks solutions through a combination of Azure Security, Azure Arc, management, monitoring, analytics, AI and machine learning. The solution supports AT&T's mobile core network with more than 60 cloud-based network functions (CNFs) and virtual network functions (VNFs) from 15 different vendors currently running on the AT&T Network Cloud Platform. The first test runs should start later this year.
The newly introduced Azure Operator 5G Core is a component of Azure Operator Distributed Services. This solution provides a cloud-based 5G Core environment that operators can deploy in edge environments within Azure Distributed Services. The solution is available immediately.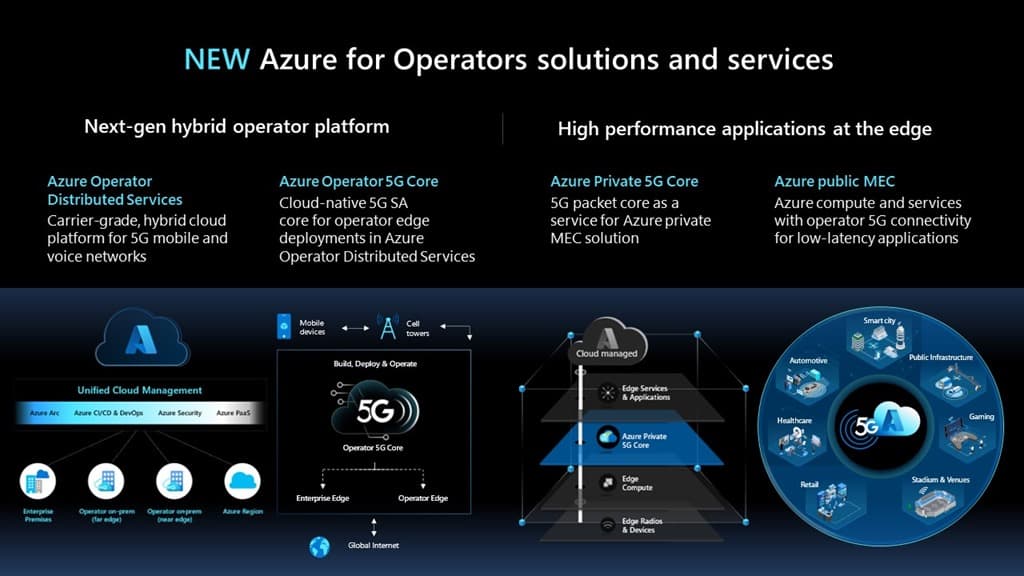 Secondly, Microsoft introduced the Azure Private 5G Core. This solution provides a 5G packet core-as-a-service for the existing Azure-based private multi-access edge compute (MEC) platform. Azure Private 5G Core allows operators and system integrators to more easily deploy private LTE and 5G networks at the edge through solutions such as Azure Stack Edge.
Private cloud-based edge platform
Microsoft also announced Azure Public MEC. This platform primarily supports applications that run at the edge of public 5G networks and depend on high performance and low latency.
Among other things, the platform allows users to process data closer to various data sources. Sources include IoT devices, cars and smartphones. To realize the solution, Microsoft collaborated with various operators and software developers such as AT&T, Singtel, Checkpoint, Couchbase and VMware.
The Mobile World Conference 2022 has kicked off. We're reporting live from the event site in Barcelona. Read the most important news in this overview.