Qualcomm recently presented a series of chipsets for WiFi 7. Qualcomm is one of several manufacturers preparing for the upcoming WiFi standard.
The new Network Pro Series Gen 3 platform consists of multiple WiFi 7 chipsets with a throughput of up to 33 Gpbs. This is a significant increase over WiFi 6 and WiFi 6E, which deliver up to 9.66 Gbps. In addition, the chipsets offer point-to-point speeds of more than 10 Gbps.
The chipsets have interference detection and multilink operation functionality. This allows data traffic to simultaneously run over multiple frequency bands. The benefits are lower latency and higher application performance in private frequency environments. 2.4GHz, 5GHz, and 6GHz are supported, as well WiFi 7's 320 MHz. Qualcomm offers both 3- and 4-band options.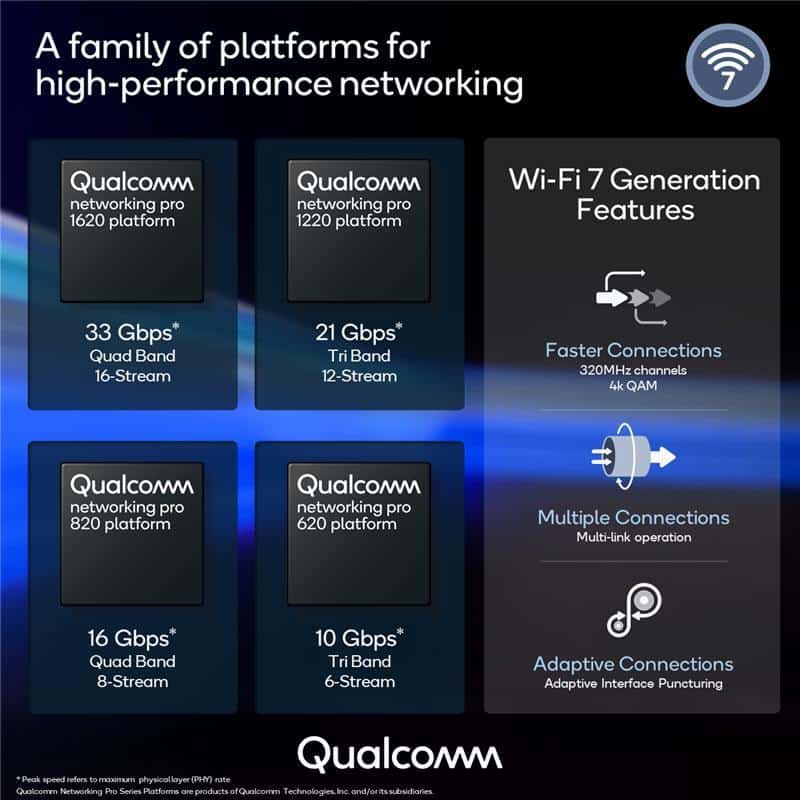 Qualcomm WiFi 7 applications
The chipsets are particularly suitable for network-intensive applications. For instance, solutions for VR and AR, 4K video streaming, cloud computing and gaming. Qualcomm is not the only chipset manufacturer already working on solutions for the upcoming WiFi standard. MediaTek and Broadcom recently introduced WiFi 7 chipsets as well.