Latest releases of compute and storage building blocks from VMware should result in significant performance and efficiency gains.
vSphere and vSAN are the foundation for much of what VMware does. Today at VMware Explore in San Francisco, VMware announced the latest versions of these. With vSphere 8 and vSAN 8, VMware environments should once again be able to better cope with the demands of the present day. We will briefly run through the two updates below.
VMware vSphere 8
Without a doubt the most important update with vSphere 8 is the support for DPUs, or Data Processing Units. This addition is, of course, not unexpected. As usual with VMware, this was first a project, namely Project Monterey.
The impact of adding support for DPUs to vSphere can hardly be underestimated, especially in the longer term. Indeed, these programmable chips are playing an increasingly important role in data centers. They should provide solid performance and efficiency gains for environments. You can offload specific network and security functions from CPUs to DPUs. As standard, you spend up to about 20 percent of resources within a CPU on this. With the deployment of DPUs, that capacity becomes available for workloads. According to VMware, applications that rely heavily on high bandwidth and fast access to cache (think in-memory databases) can count on 20 percent savings for the CPU cores and a 36 percent increase in transaction speed. This is without compromising on performance. At the bottom line, the whole thing should yield a lower TCO this way.
An additional advantage of running infrastructure services and functions on DPUs and not CPUs is that VMware also creates a certain degree of isolation with this. So that also means it should have a positive effect on security. By the way, the new NSX Distributed Firewall, which is currently in beta, is also going to offload to DPUs. The idea is that it secures East-West traffic within environments at line rate, without the need for software agents. But no doubt we'll hear more about that in the future.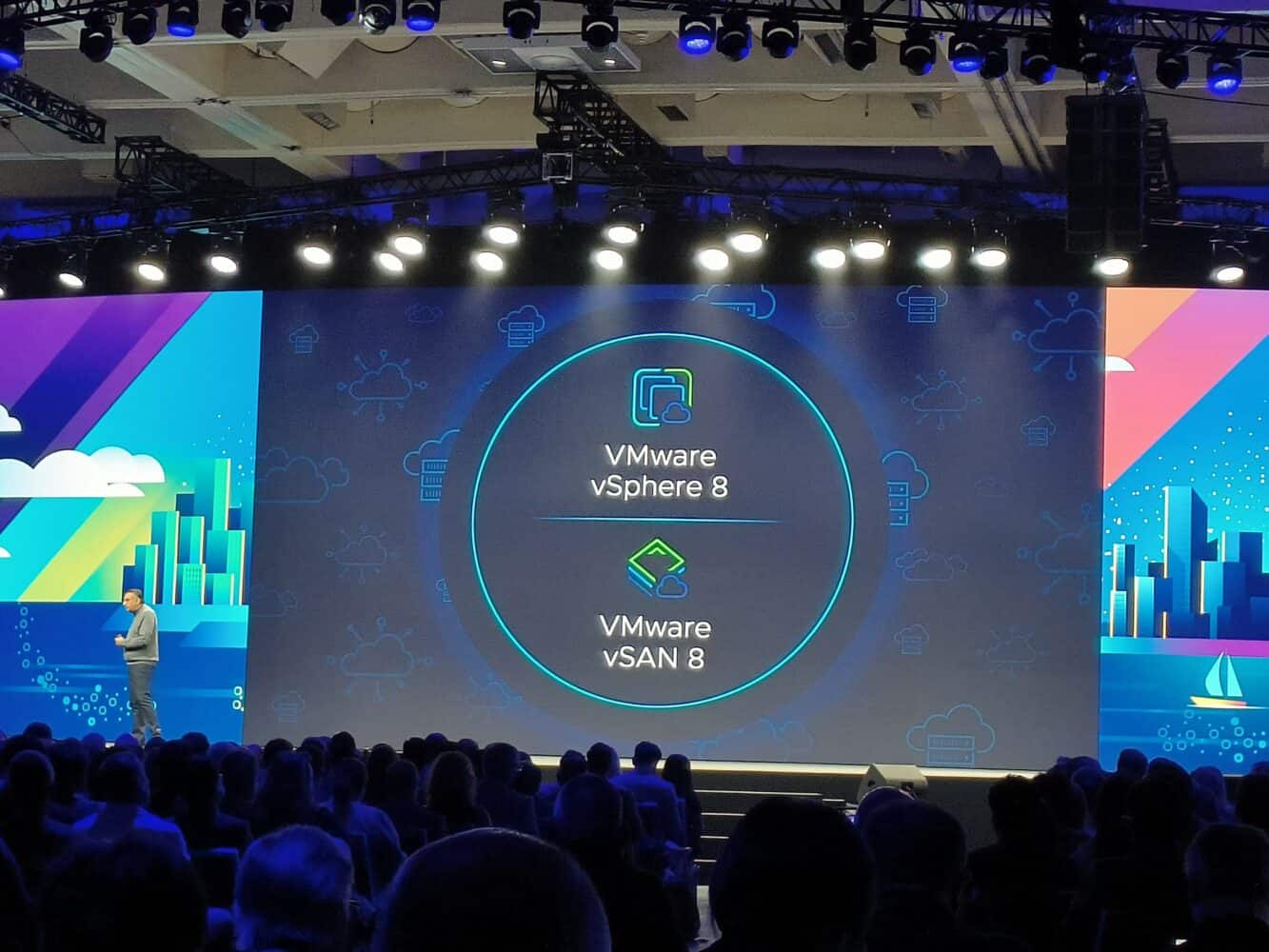 VMware vSAN 8
In addition to vSphere, the compute building block, there is of course the storage side of the story, namely vSAN. VMware is also introducing a new version of this today, vSAN 8. Again, it's all about greatly improving performance and efficiency. Data protection also plays an important role here.
VMware has built a completely new vSAN Express Storage Architecture to achieve this. vSAN 8 offers support for modern TLC storage devices and, according to VMware, should deliver performance that is four times higher than the previous generation. VMware further promises a forty percent lower TCO. This is possible thanks to improved compression of data, among other things.
Cloud Updates
In addition to updates for vSphere and vSAN, VMware today also announced several updates aimed at the cloud infrastructure. First up is VMware Cloud Foundation+. This is what VMware itself calls a cloud-connected architecture aimed at managing and running full-stack HCI in data centers. It is effectively a new service in the + catalog and is built on top of vSphere+ and vSAN+. It's mostly about the operational side of things, rather than the infrastructure design phase. The idea is that you can centrally manage both VMs and container-based workloads running across hybrid and multi-cloud environments.
Finally, VMware is announcing updates to VMware Cloud environments running on top of hyperscalers. For VMware Cloud on AWS, for example, there's the availability of Amazon FSx for NetApp ONTAP. Customers can now use FSx for ONTAP as a datastore for VMware Cloud on AWS. This allows them to scale up and down storage independently of compute. For Microsoft Azure, it will now be possible to purchase Azure VMware Solution as part of VMware Cloud Universal. This should make it easier for customers to get started with Azure VMware Solution and run workloads in Azure.
VMware also has updates in store for Google Cloud Platform and Oracle OCI. Within GCP, Google Cloud VMware Engine makes it possible to run both VMs and containers on the same infrastructure using VMware Tanzu Standard Edition. VMware Tanzu Standard Edition will also become available for Oracle Cloud. In addition, VMware is introducing single host software-defined data centers in that environment.