AMD announced Instinct MI300 and Alveo V70, two high-performance datacenter processor series. The chipmaker also presented new Ryzen 7000X3D and Ryzen 7040 desktop and laptop processors.
CEO Lisa Su announced the datacenter processors at CES 2023 in Las Vegas. The introduction of the AMD Instinct MI300 Adaptive Processing Units (APUs) stood out. The processor is the chipmaker's first datacenter model to combine a CPU and a GPU in a single unit. It features as many as 146 billion transistors.
Chiplets in two layers
The MI300 consists of 13 chiplets over two layers in a three-dimensional configuration. The first layer features nine 5-nanometer CPU and GPU chiplets. The CPU chiplets are based on the new AMD Zen 4 architecture, while the GPU chiplets use the CDNA 3 architecture. AMD uses the same architecture for dedicated datacenter GPUs.
The CDNA 3 and Zen 4 circuits in the MI300 are placed on a second semiconductor layer with four more 6-nanometer chiplets. These chiplets perform supporting tasks, such as data input and output operations.
Furthermore, data is stored in an onboard memory pool of 128GB. The pool is shared by CPU and GPU chiplets. AMD claims that the latter makes the model more efficient than traditional datacenter processors. The MI300 is especially suitable for supercomputing, HPC and AI applications.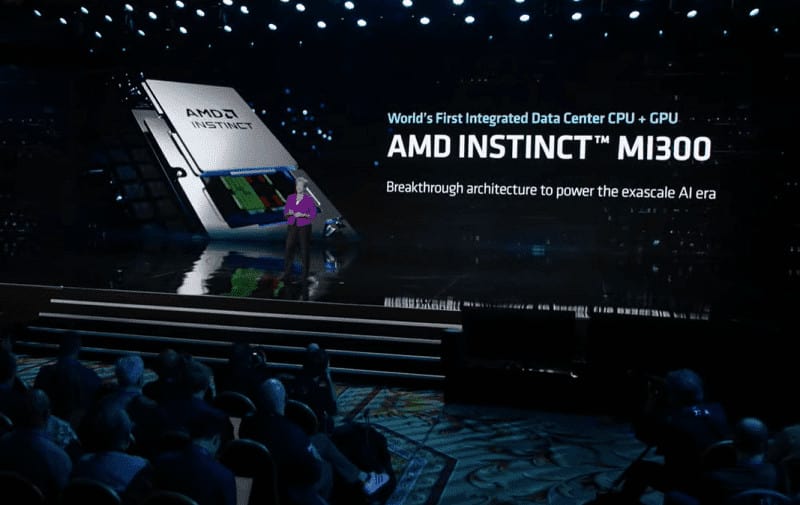 AMD Alveo V70 processor
In addition to MI300, AMD announced the arrival of Alveo V70. This processor is based on technology from Xilinx, which AMD acquired last year. The model is especially suitable for running trained AI applications in production environments. The processor can perform up to 400 trillion calculations per second.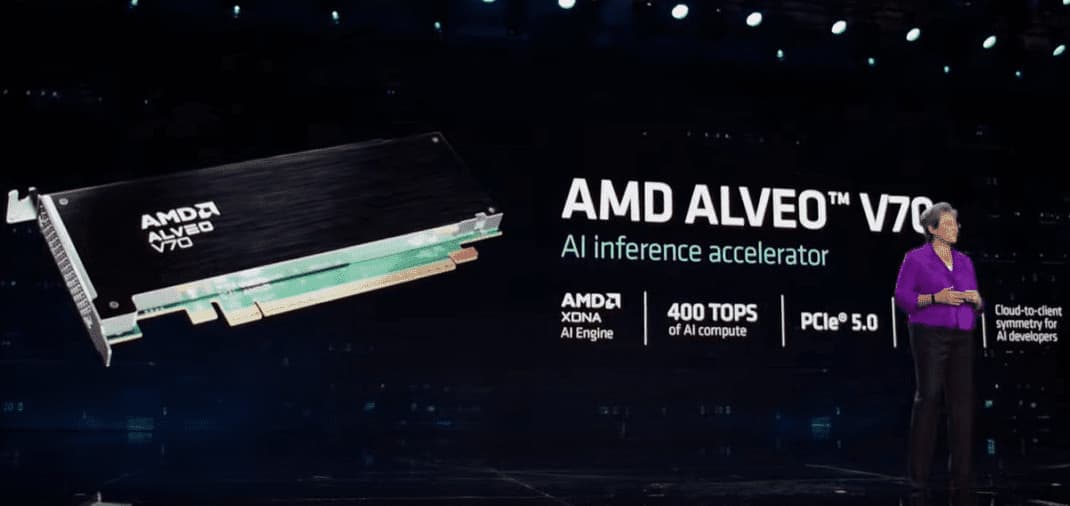 Desktop and laptop processors
AMD also introduced desktop and laptop processor series. The new Ryzen 7000X3D desktop processors feature between 8 to 16 cores and a maximum clock speed of 5.7GHz. The models include V-Cache technology, allowing a cache module to be placed on top of a CPU in a three-dimensional configuration.
For laptops, AMD presented the Ryzen 7040 series, a range of 4-nanometer models based on the latest Zen 4 architecture. According to AMD, the processors include an AI module that allows ML applications to run faster than Apple's latest Arm-based M2 processor.
Lastly, several new AMD Radeon GPUs for laptops were announced. The AMD Radeon RX 7000 series now consists of four different GPUs, the top model being the AMD Radeon RX 7600M XT.
CES 2023
This year's Consumer Electronics Show (CES) takes place in Las Vegas from January 5 through 8. Thousands of companies showcase new and upcoming products during the event. Techzine is reporting on the news. Navigate to this page for an overview of important announcements.