Big Tech pushed US stocks to the third straight winning year in 2021. Giants like Amazon, Apple, Microsoft, and others, continue to experience demand, even as the economy slogs on to the third year of the COVID-19 pandemic.
The most notable names, Alphabet (Google's parent company), Amazon, Microsoft, Apple, and Meta (Facebook), experienced a rise this year, even as they ended in the red on the final trading day of last year. The 2021 performances varied. For instance, Alphabet saw a 65% surge, while Amazon recorded a 2.4% rise.
All said, a great year for tech
Collectively, these companies and their varied rises added more than $2.45 trillion in market valuation. Microsoft, Alphabet, and Apple contributed a significant value to the S&P 500 Index's 2021 gains.
Mark Luschini, the chief investment strategist at Janney Montgomery Scott, which manages about $125 billion in assets, said that investors have recognized that big tech companies continue to do well.
The rapid growth they experience increases their profits, competitive moats and robust balance sheets continue to protect them from some of the year's risks. Speaking about 2022, Luschini mentioned the merits of tilting to cyclical names but cautioned against abandoning tech.
The $2 trillion market cap club grows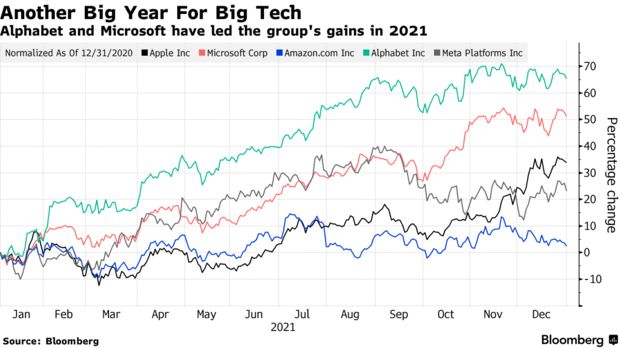 Google's parent company, Alphabet, rose a whopping 65% in 2021, making it one of the top performers among Wall Street's top names. For a brief moment, the company even joined Apple and Microsoft, hitting a $2 trillion market valuation.
Alphabet benefited from growth in the cloud business and a rebound in digital ad spend. Microsoft surged 51%, reaching the $2 trillion market cap club, while Apple rose 34%, trouncing the S&P 500 for the third straight year. Meta Platforms rose 23%, in line with the S&P 500.