European companies plan to further increase their IT security budgets over the next three years. This is what Kaspersky found in a recent survey.
According to the security specialist's annual IT Security Economics report, European large and SME companies plan to invest more in their IT security budgets until 2025. Currently, the IT security budget already makes up one-third of the total IT budget, according to the 3,230 respondents from 26 countries who participated in the survey. Large companies spend an average of 1.8 million euros on IT security and SMEs spend an average of 345,000 euros. Companies plan to increase their IT security budgets by 10 percent through 2025.
Reasons for budget increase
The main reason cited by respondents for increasing the budget is that it is needed because of the increased complexity of their IT environments. In addition, companies want to put additional money into IT security to increase their knowledge in this area. Furthermore, respondents cite current geopolitical and deteriorating economic conditions as reasons to invest more in IT security.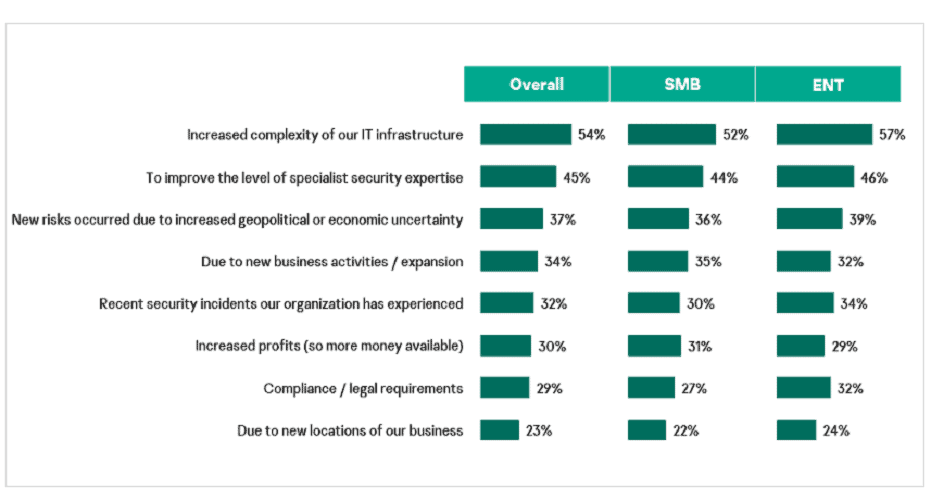 Goals
The survey also looked at what goals companies want to achieve with this budget increase. Just over half of the respondents indicated that data protection issues are the biggest challenge. Almost half of the companies have experienced an internal or external data breach in the past year.
Another issue that companies hope to address with their IT security budget increase are problems created by the adoption of cloud-based infrastructure. Also, by increasing IT budgets, companies want to cover the growing security costs of their increasingly complex IT environments.
Finally, Kaspersky also cites the increasing influence of laws and regulations as a reason why European companies are increasing their IT security budgets. Government regulators are increasingly demanding that companies secure their operations and especially data. Not just for individual companies, but often for an entire vertical market segment.
Ensuring business continuity paramount
Kaspersky concludes that business continuity for companies is becoming increasingly dependent on IT security in this way. As IT environments become increasingly complex and the number of cyber attacks increases, companies are becoming more aware of cyber issues and better understand the need to protect every asset within the organization, according to the security specialist.
Also read: Cisco builds integrated and open security platform; what does that mean?