Samsung has announced its latest mid-range phones in the A-line. Besides improved specifications compared to their predecessors, Samsung has also extended the software support by one year.
Three new phones have been announced: the Galaxy A52, A52 5G and A72. The devices offer various features that you would expect from high-end phones, such as a decent camera, large battery and beautiful screen, but are hundreds of euros cheaper than, for example, the devices in the Galaxy S series.
Galaxy A52
The Samsung Galaxy A52 is equipped with a Super AMOLED screen with a diagonal of 6.5 inches. The panel has a resolution of 1080×2400 pixels. It has four cameras on the back: a 64-megapixel camera with optical image stabilisation, a 12-megapixel wide-angle camera, a macro lens and a depth lens. On the front, there is a 32-megapixel camera. Furthermore, the device has a 4500mAh battery and can be fast-charged with 25 watts.
Differences with 5G version
The device comes in two variants, with and without 5G. They also differ in memory and storage capacity: the 4G version can be equipped with 6 or 8GB ram and 128 or 256GB storage, while the 5G variant is only available with 6GB ram and 128GB storage. Storage can be expanded with an SD card.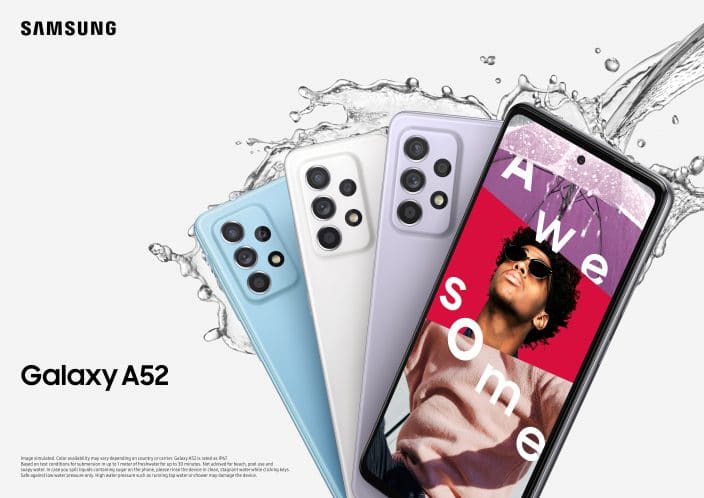 Interestingly, the SoC in the 5G version is also slightly slower. It has an octacore SoC with two fast cores and six slower cores at 1.8GHz. The fast cores run at a maximum of 2.3GHz in the 4G version and at a maximum of 2.2GHz in the 5G version. The screen is a bit smoother though, with a refresh rate of 120Hz versus 90Hz.
Galaxy A72 lacks 5G
The Galaxy A72 is a slightly larger phone, and with it, it has a slightly larger 6.7-inch screen. It has the same resolution of 1080×2400 pixels, with a refresh rate of 90Hz. The larger body also means there is room for a larger battery, at 5000mAh. The cameras largely match those of the A52, although the depth camera has been replaced with a 3x zoom lens of 8 megapixels.
Just like the 4G version of the A52, the A72 has an octacore SoC with a maximum clock speed of 2.3Ghz. In terms of storage, however, there is only a variant available with 6GB ram and 128GB storage. Samsung has not announced a 5G version of the A72. That may come later.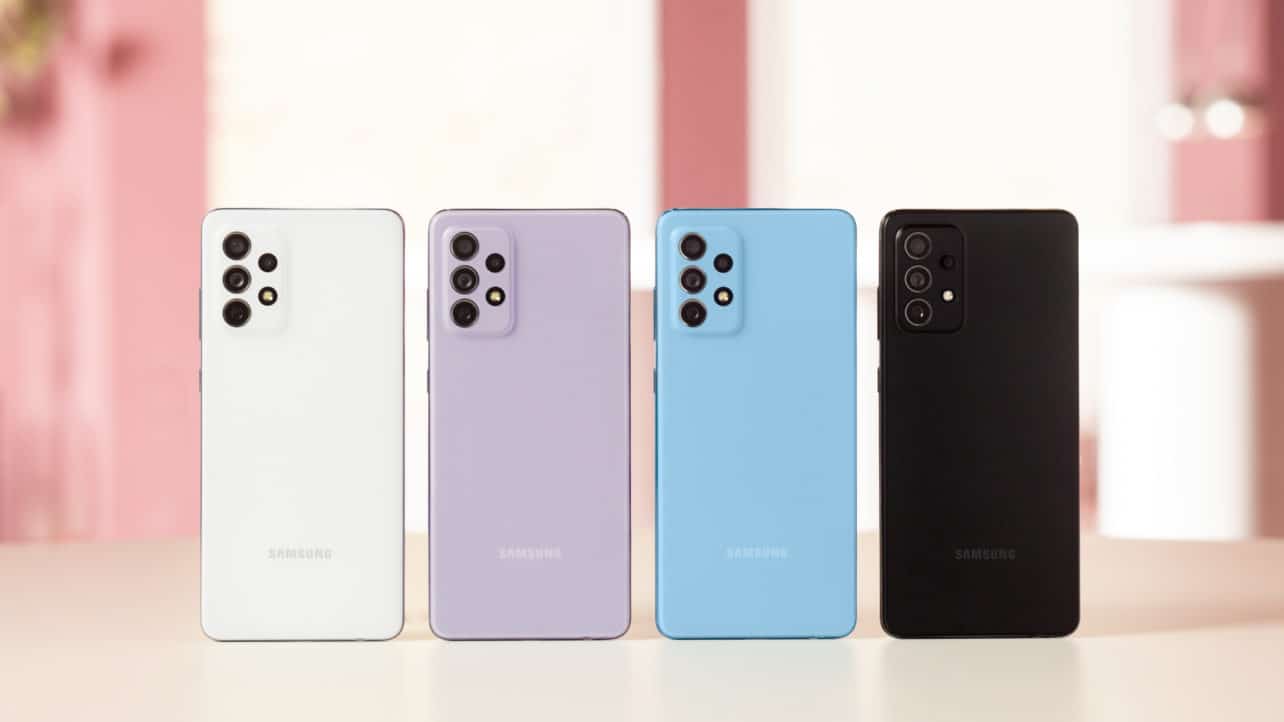 All three devices are waterproof according to ip67 certification and have stereo speakers, a fingerprint scanner and an nfc scanner.
Improved update policy
An interesting new development is that Samsung promises to give the devices three major Android updates and four years of security updates. This is a year more than the company did with its predecessors and unique in the Android world, especially in the mid-range segment.
Pricing and availability
The phones are available immediately. The recommended prices are as follows:
Samsung Galaxy A52 6/128GB: 349 euro
Samsung Galaxy A52 8/256GB: 409 euro
Samsung Galaxy A52 5G 6/128GB: 429 euro
Samsung Galaxy A72 6/128GB: 449 euro