Huawei has been prohibited from doing business with Google for about a year now. The result: Huawei smartphones with Android, but without Google apps and services. Donald Trump recently tightened the restrictions even further, and with it the chances of recovery seem to be slim. The Huawei P40 Pro is the latest flagship of the brand and a prime example of the new generation of Huawei smartphones. Is this smartphone worth it without Google?
Important specs
| | |
| --- | --- |
| Screen | 6.58″ OLED, 1200×2640 pixels. 90Hz refresh rate |
| Network support | 5G |
| Processor | Huawei Kirin 990 (2.86GHz octacore) |
| Memory | 8GB RAM, 128GB/256GB/512GB storage |
| Battery | 4200mAh, 40W fast charging, 27W (reverse) wireless charging |
| Software | Android 10 with EMUI, no Google Play services |
| Camera | 50 megapixel main, 12 megapixel 5x zoom, 40 megapixel ultrawide, TOF 3D sensor. 32 megapixel front camera |
Great security despite the small notch
The front of the Huawei P40 Pro is almost all screen. The so-called Overflow Display does not only run along the sides but along the top and bottom of the device. The P40 Pro seems to have an almost borderless screen, and it looks quite lovely. Furthermore, the device is also assembled well. It is made of aluminium and glass, is IP68 waterproof and is available in a glossy or matte version.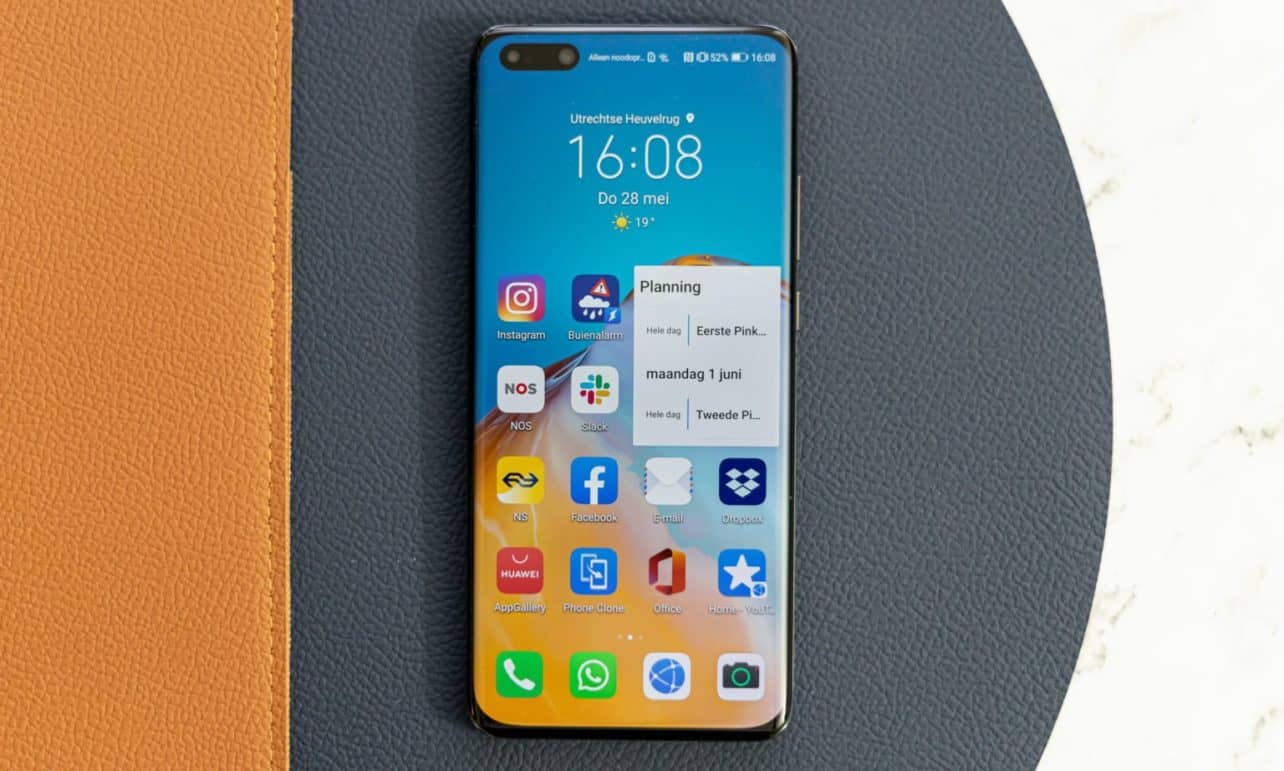 Like most modern smartphones, the Huawei P40 Pro integrates its fingerprint scanner into the screen. That works pretty well, but for the time being, it is slower and less accurate than a separate fingerprint scanner. Fortunately, Huawei managed to solve this problem. The facial recognition of the device works with a 3D infrared scanner, just like Apple's Face ID. In contrast to the camera-based facial recognition in many Android smartphones, this method of facial recognition is safe and reliable. Huawei also managed to fit all the necessary hardware into a small punch hole notch (the black surface at the top left of the screen, as shown in the image above); which is a first. It provides more usable screen space which is a good thing.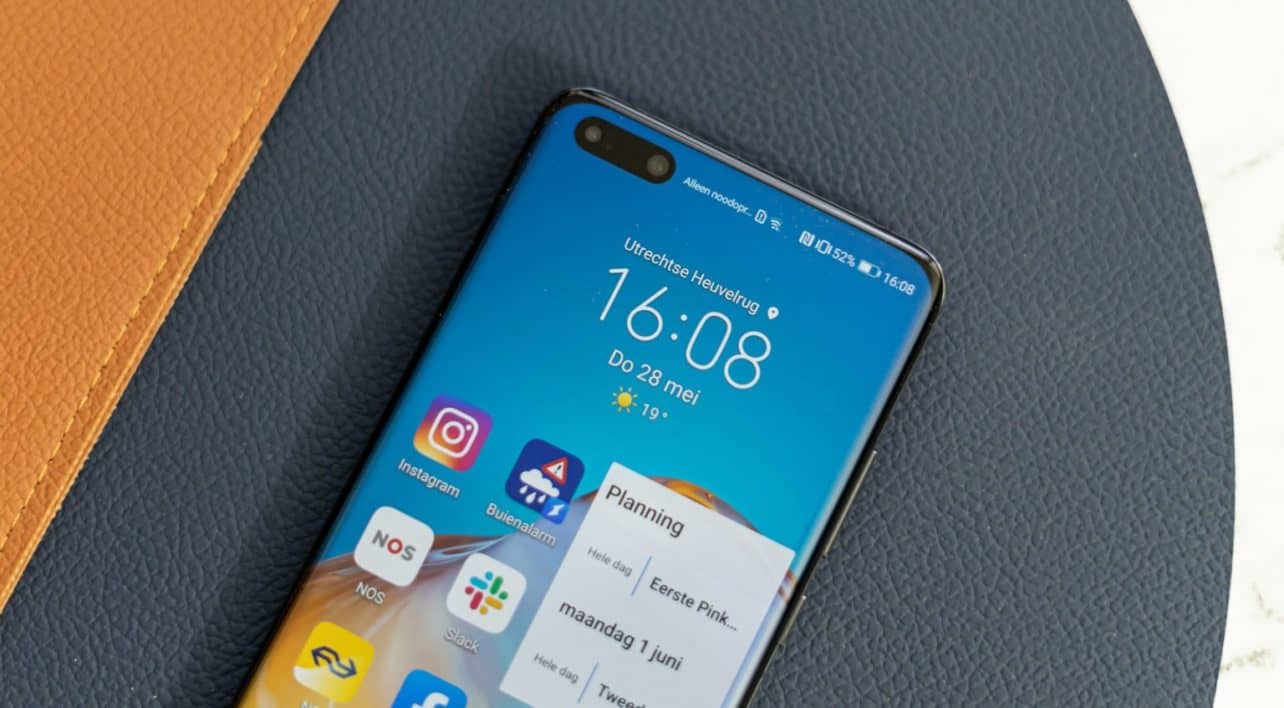 Excellent hardware
The hardware of the Huawei P40 Pro is excellent. The smartphone is based on Huawei's own Kirin 990 chipset. It comes with 5G support and is extremely fast. No matter what you do with the Huawei P40 Pro, it will always run smooth. The 8GB working memory is also more than sufficient, and multitasking on this smartphone works just fine.
The 6.58″ OLED screen is beautiful and has a high refresh rate of 90Hz. This may not seem very relevant for business applications, but it is an advantage nevertheless. Simple tasks such as scrolling and interface animations are noticeably smoother, which certainly benefits the user experience of the P40 Pro. The screen is unfortunately not very ergonomic due to its curved edges. Every now and then the device accidentally registers touches, and selecting text on the side of the screen can be a bit tricky. In that respect, a flat screen is just a little bit more user-friendly.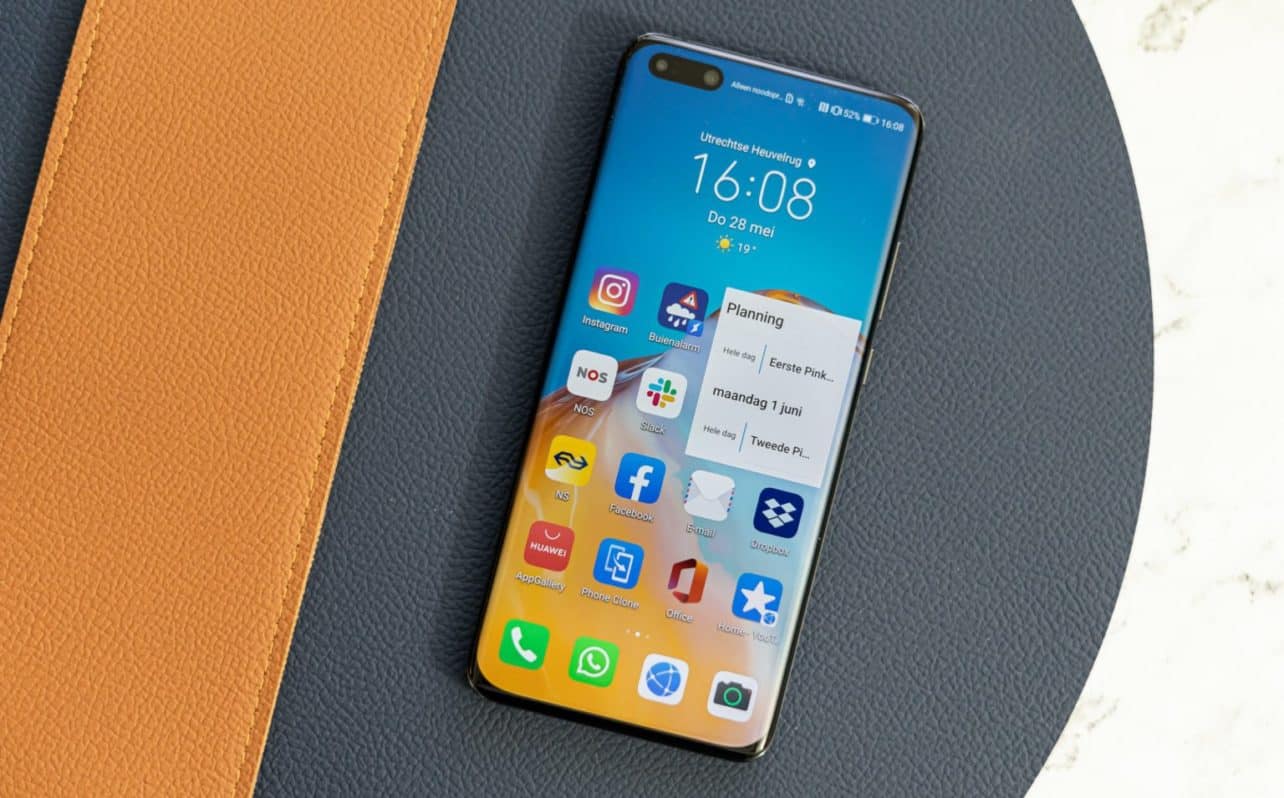 The 4200 mAh battery of the Huawei P40 Pro is quite large and charges at 40W. Wireless charging is also fast and charges up to 27W. Place a quick wireless charger on your desk, and you can quickly recharge the battery between meetings. Fortunately, that's a convenient addition and not a necessity: the P40 Pro's battery will easily last the day, even when used intensively.
Life without Google
Although the Huawei P40 Pro runs on Android 10 despite the Huawei Google trading ban and receives neat security updates, it does not offer a complete Android experience. Apps and services from Google, including the Google Play Store, are not available on this device. For employees of companies that work with the G Suite, the smartphone is a no-go. Even if you are not dependent on the G Suite, it is annoying not to have access to Google services.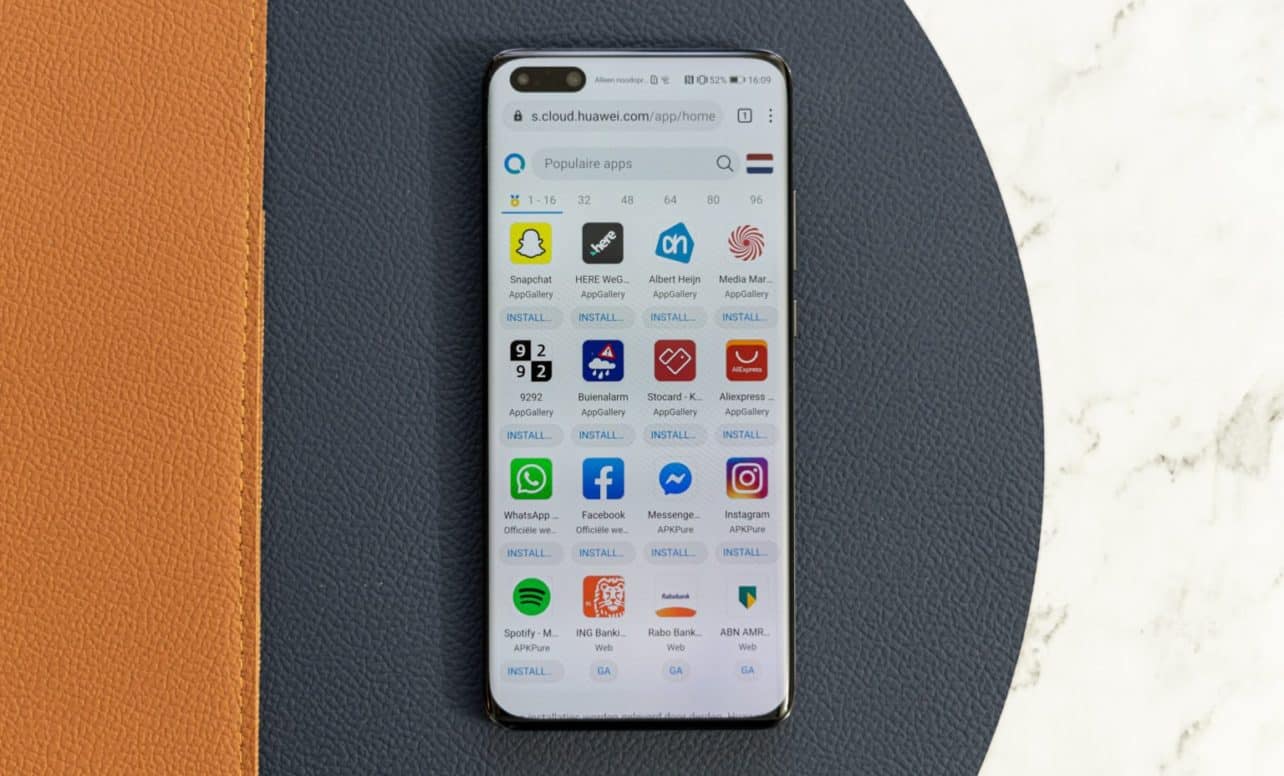 Downloading additional apps is a lot more difficult due to the lack of the Play Store. Apps have to be downloaded in Huawei's AppGallery which is more limited. For apps that are not included in the AppGallery, Huawei built a browser-based app search engine. It searches installation files from different sources and enables you to install WhatsApp, Outlook and Slack, for example. A practical solution, but it does come with a clear drawback. Applications are not screened as thoroughly as they would be in the Play Store or AppGallery, which makes it easier to unknowingly download malware. Moreover, apps that are installed using this method will not be updated automatically; this is another security risk. Then there is the problem that some apps do not work properly. For example, WhatsApp uses Google Drive to back up your messages, which is not possible on the P40 Pro.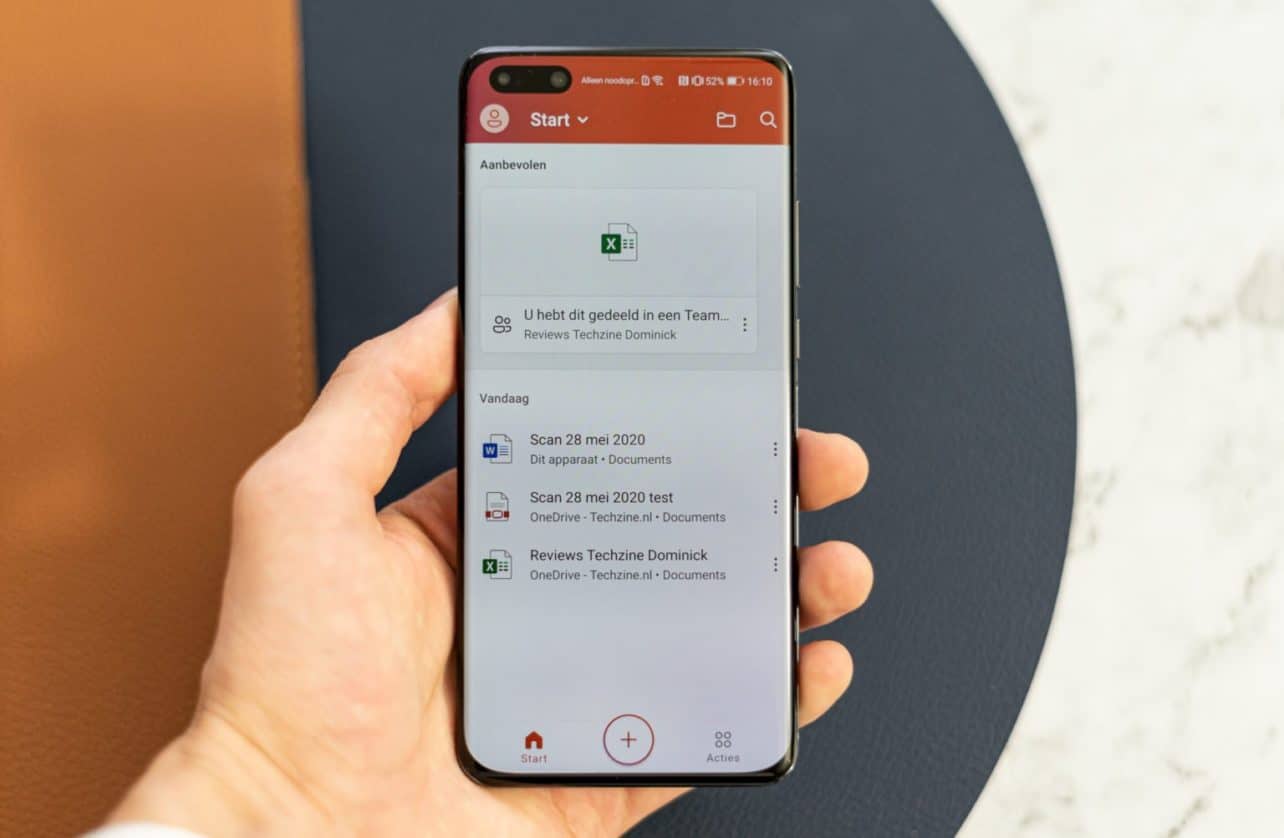 But there is also some good news. Microsoft Office is officially available for the Huawei P40 Pro and is well supported. Other Microsoft apps such as Teams and Outlook cannot be found in the AppGallery, but will run on the P40 Pro. So if your company works with Microsoft services not all is lost.
Amazing cameras
Huawei has been one of the leading players in smartphone photography for many years now and the company continues its legacy with the P40 Pro. The back of the P40 Pro features three impressive cameras: a 50-megapixel main camera, a 40-megapixel ultrawide-angle camera and a 12-megapixel periscope camera with 5x zoom. In addition, there is a TOF 3D sensor that helps with focusing and portrait mode. The set of cameras is completed with a 32-megapixel front camera. The front camera is sufficient and good enough for video calls, but it does not stand out among the competition.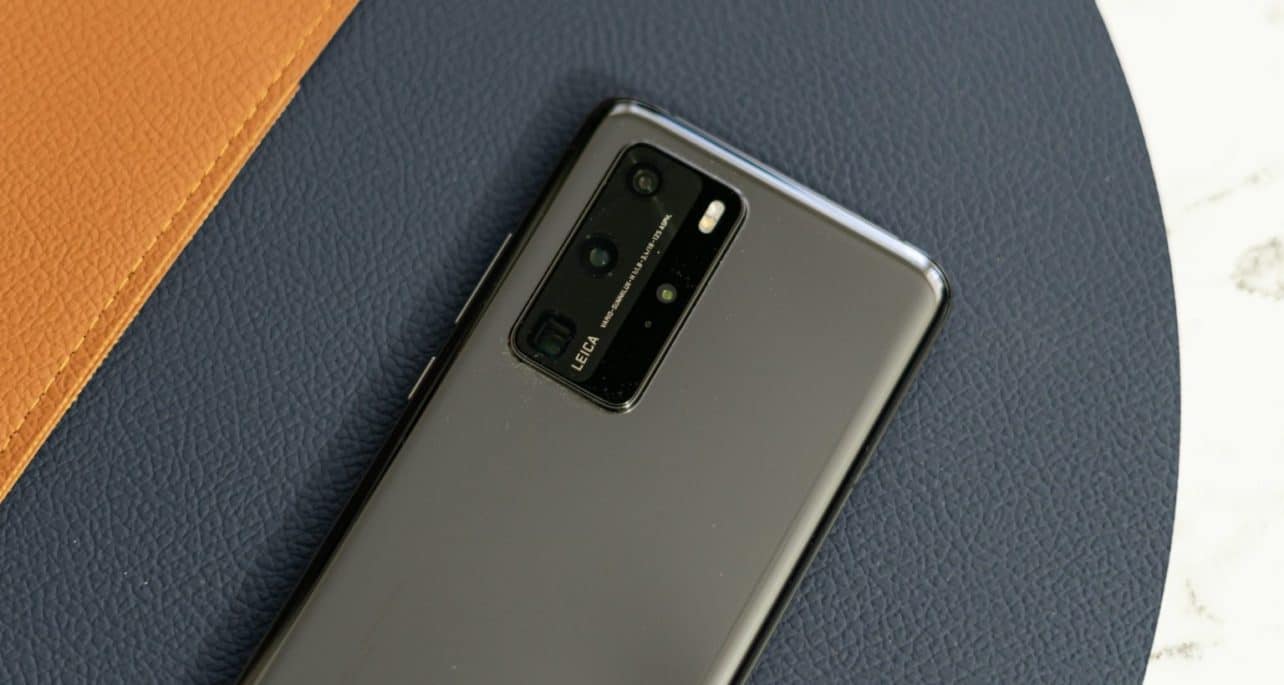 The other cameras on the Huawei P40 Pro do stand out among the competition. The main camera captures incredibly detailed photos with beautiful colours. Huawei has opted for a natural look with less saturated colours and no excessive contrast. That may not look very stunning, but it is much more realistic. Naturally, everyone has their personal preference. The wide-angle and zoom camera also capture gorgeous photos, but are not as extraordinary as the P40 Pro's main camera. Furthermore, it's a pity that the zoom camera has a 5x zoom level. Although this is technically impressive in such a small casing, in reality it is not as practical as a proper 2x or 3x zoom camera.
The three zoom levels of the Huawei P40 Pro
What makes the Hauwei P40 Pro special is that it still performs very well even in poor light. The 50-megapixel sensor of the main camera is one of the biggest in a smartphone and the RYYB filter over the pixels allow more light to pass through than a traditional RGB filter. Combined with the extremely effective night mode, which also works for the wide-angle and zoom camera, this ensures the best low-light performance in a smartphone at the moment. Good job, Huawei!
Photographs taken with the main camera of the Huawei P40 Pro
Conclusion
The Huawei P40 Pro is a very impressive smartphone from a hardware point of view. It looks good, packs secure and reliable facial recognition into a small hole in the screen, is lightning fast and has a great camera. Although the price is about 900 euros, the hardware alone is worth it.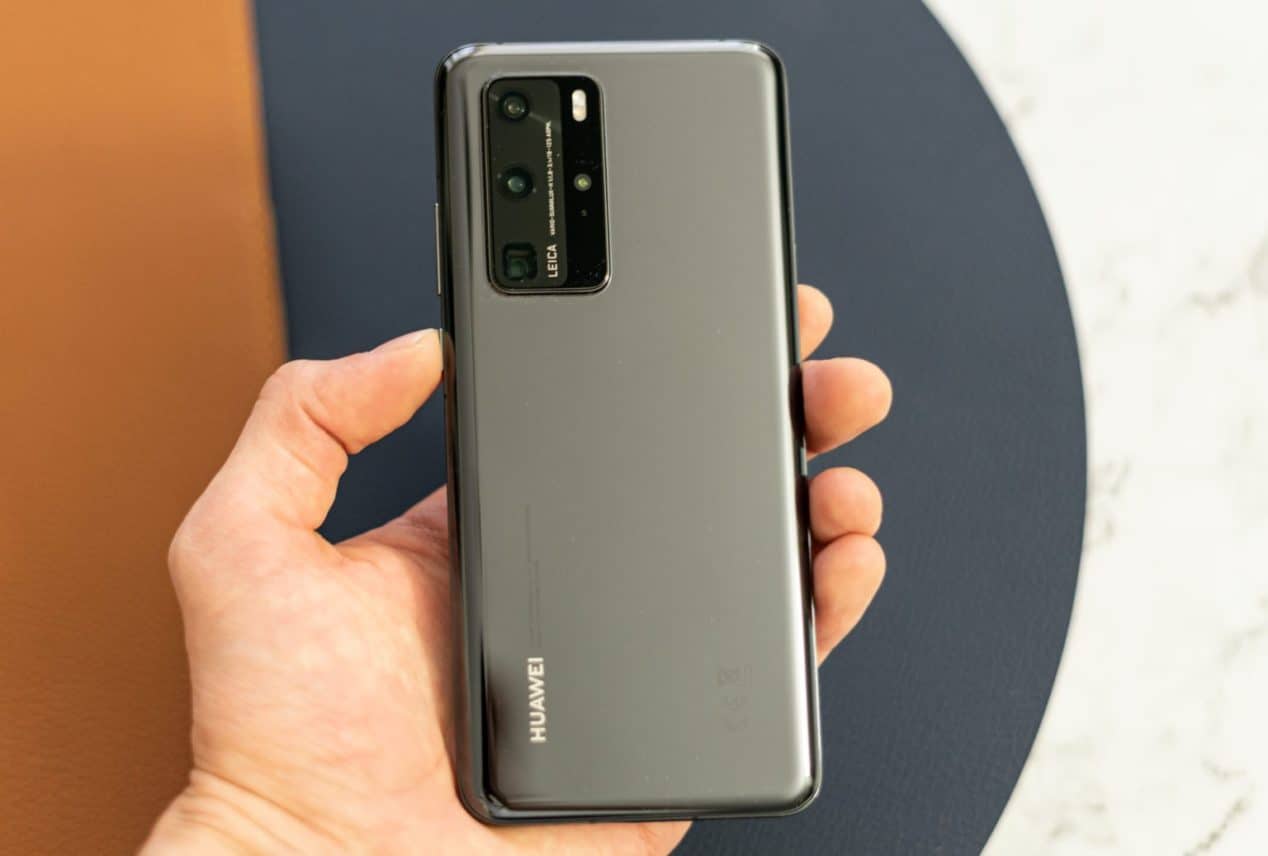 Unfortunately, the limited software means that we cannot recommend this smartphone after all. Even if your company is not dependent on the G Suite, the lack of Google services is a problem. It also makes other software not as easy and safe to install. The Huawei P40 Pro is only worth considering for companies that work exclusively with Microsoft's Office 365 or mainly use their own software.
6.5
3D facial recognition
Beautiful, big display
Great performance
Excellent camera
No access to Google services
Inferior access to applications is a potential security risk