In front of us are the iPhone 14 and iPhone 14 Pro, two new models from Apple's 2022 lineup. Just last year, we concluded that it was best to skip a generation, but what about now? Are these two models worth their (sharply increased) price?
The first peculiarity is that Apple changed this year's lineup — which doesn't make any more sense than before. The smallest model (the 'mini') has had to make way for a new mainstream device with a large 6.7-inch screen, but instead of the 'Max' description Apple uses for the iPhone 14 Pro Max, this device was named iPhone 14 Plus.
Still with us? Good. This year, we're dealing with the iPhone 14, iPhone 14 Plus, iPhone 14 Pro and iPhone 14 Pro Max. You can see the differences between the models in this comparison. It's become clear that Pro and Pro Max sales exceeded sales expectations while the 'regular' iPhone 14 fell short. This is likely to have consequences for the iPhone 15: it's rumoured that Apple will differentiate more between models, especially when it comes to the Pro and Pro Max. We'll know for sure next year.
'Regular' iPhone neglected
The iPhone 14 Pro and Pro Max clearly received the most significant upgrades this year, leaving the 'regular' iPhone 14 somewhat starved compared to its more expensive brothers. The comparison makes this painfully obvious: on paper, there's virtually no difference between the iPhone 13 and iPhone 14, but the new model costs €110 more. Then again, specifications don't tell the full story. While there are differences between the iPhone 13 and iPhone 14, the change is marginal. The A15 Bionic processor went from 4 cores to 5 cores and the working memory from 4 GB to 6 GB. The cameras became slightly more light-sensitive and filming in cinema mode now supports 4K resolution with image stabilization. The internet has started referring to the iPhone 14 as the 'iPhone 13S', and as far as we're concerned, that's not entirely unjustified. If you currently have a working iPhone 12 or 13, we don't recommend an upgrade unless you necessarily want a larger screen. In that case, the iPhone 14 Plus is an option.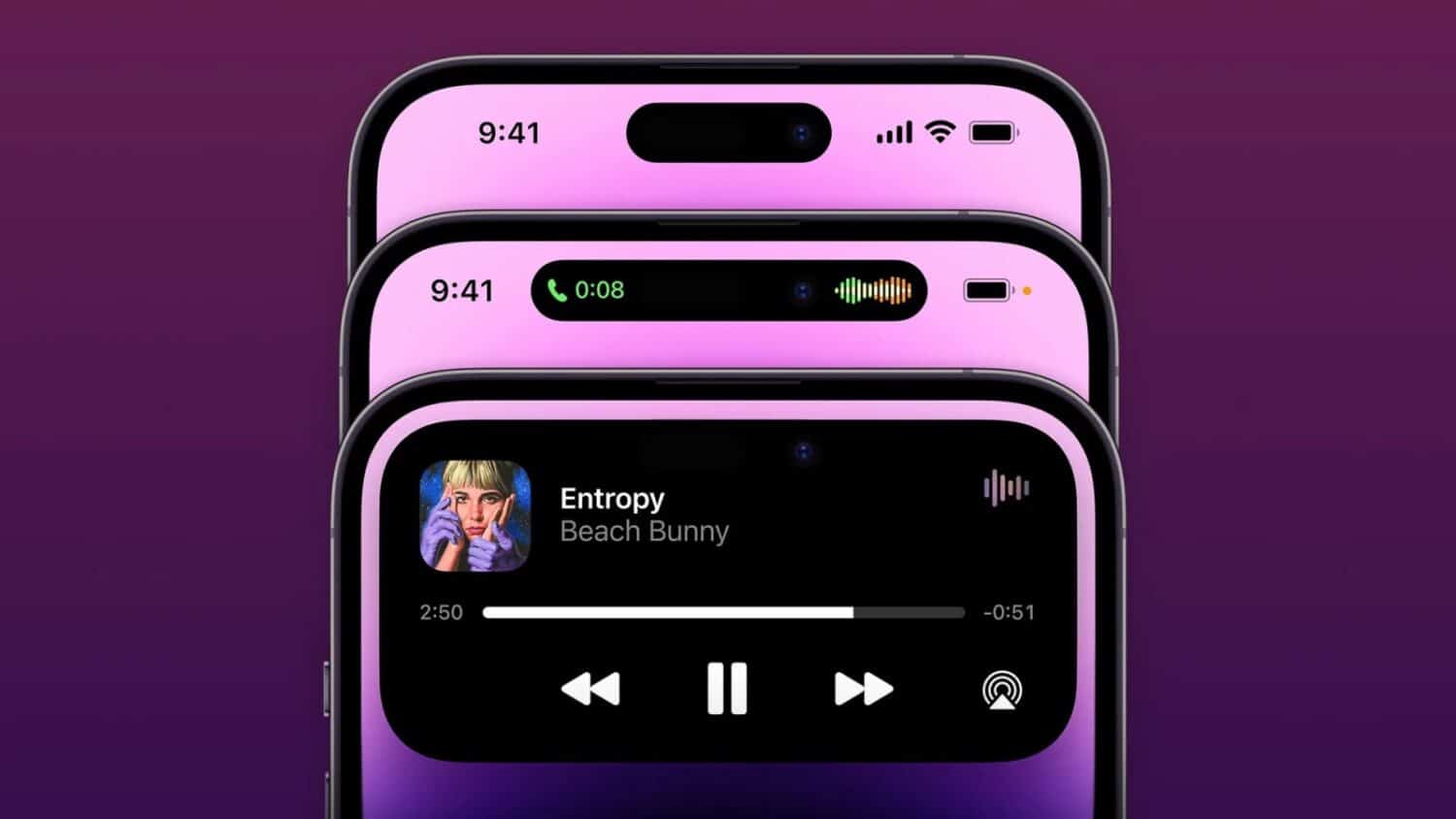 Pro: Dynamic Island, Always On
Apple saved the big improvements for the Pro models. To start with the smallest: the processor. The A16 Bionic isn't radically different from the A15 Bionic, except that the processor is now baked on a 4nm process. The most significant benefit is lower power consumption. A16 benchmarks don't suggest major improvements over the last generation, but that's not a big deal as far as we're concerned — the A15 Bionic is fast enough and still way ahead of the competition.
The screen is without a doubt the biggest difference is the screen, both visible and invisible. For the first time since the iPhone X, Apple has designed a model without its signature 'notch'. Instead, the iPhone 14 Pro features a digital in-screen cutout. Apple has pulled out all the stops to make the so-called Dynamic Island as much of a part of the user experience as possible. The cutout displays all kinds of interface elements on the left and right sides of the screen. These include icons for locking, playing music and adjusting the microphone level. A tap on the Dynamic Island lets you switch to the selected app. Although the feature may seem a bit gimmicky at first, we soon noticed how useful it is in daily use.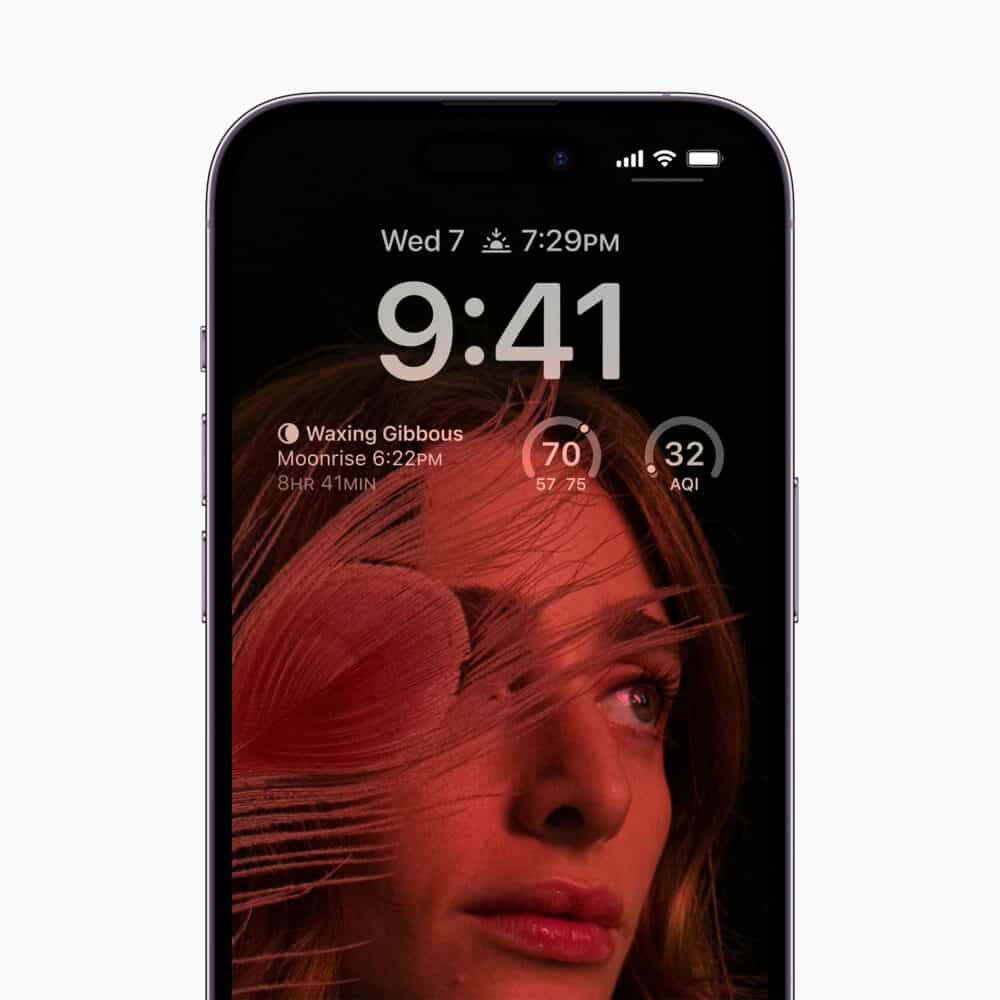 In addition, the Pro screen now supports 'always-on' functionality. Locking the iPhone dims the display. In combination with improvements to iOS 16's access screen, the feature allows you to read widgets and notifications without having to turn on the device. The always-on functionality isn't perfect yet: you can't configure the dimming intensity, and with the current setting, the difference between on and off isn't always obvious, which can be quite distracting in practice. Although there are tricks to make the screen background completely black in off mode (so that only text is visible), there's some work to be done here. The maximum screen brightness was increased to 2,000 nits. Anyone who has ever tried using an iPhone in bright sunlight will appreciate the change: compared to our iPhone 13 Pro, the iPhone 14 Pro is much easier to read.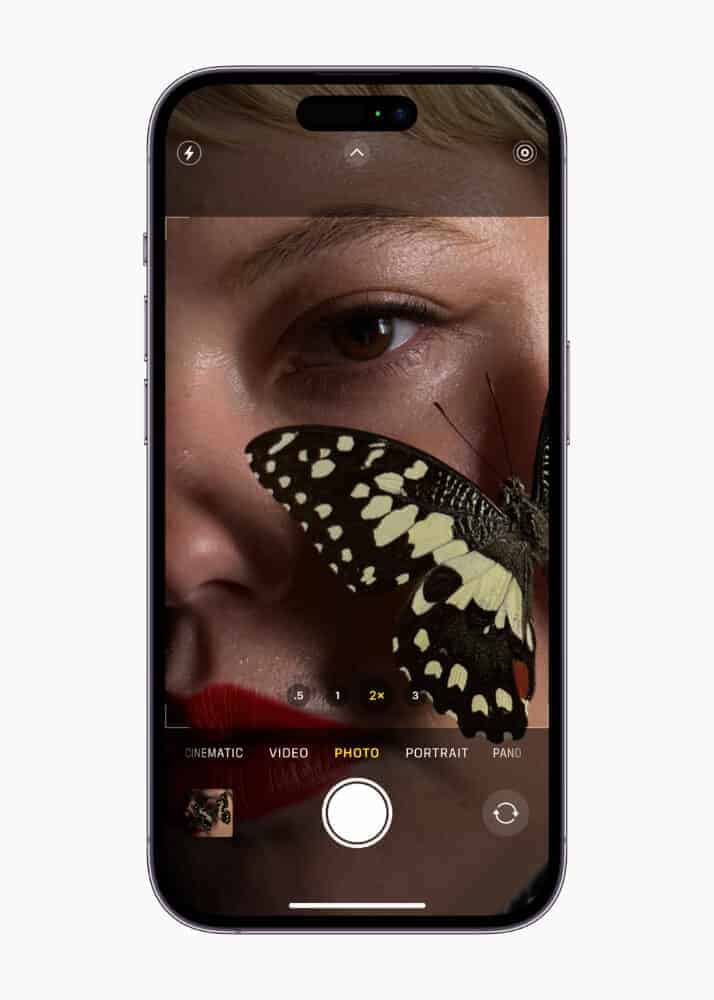 Camera upgrades and minor improvements
Onto the cameras. The size of the 'bump' on the back of the iPhone 14 Pro has increased, and with it, the weight of the device. More than ever, we wish Apple would have moved the bump to the centre of the casing instead of the corner to balance the weight, but unfortunately, wishes don't always come true. What do you get in return for the enlarged bump? A significant upgrade to the main camera, which now features a 48-megapixel image sensor. The built-in Camera app automatically combines sensor information into razor-sharp 12-megapixel photos. The other two cameras haven't changed much, if at all, though optical image stabilization was further improved. In addition to triple zoom (made possible by the telephoto lens), the Camera app now supports double zoom, which uses the main camera and 48-megapixel sensor that comes with it. The front camera was designed for video calling. It's more light-sensitive and has finally received autofocus. Video calls are free of blurred faces at last.
Three new features are supported in all iPhone 14 models: action mode, crash detection and emergency messaging via satellite. Action mode provides image stabilization when filming, similar to the image stabilization of GoPro cameras. We briefly tested the functionality, and while it does provide stable images when filming sports, sharpness declines. GoPro's stabilization is better in that regard, but since we don't see the iPhone as a replacement for 'action cams', the feature is welcome either way.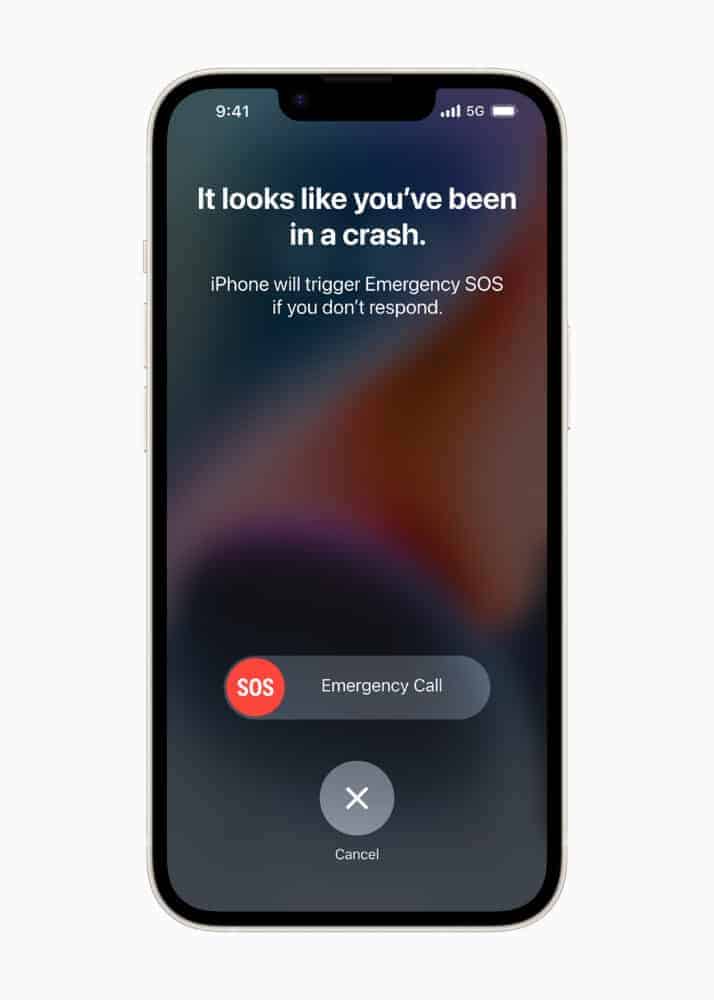 Crash detection can automatically call an emergency service number when you're in a car accident, similar to how the Apple Watch is capable of calling for help after a bad fall. Handy, but not that exciting outside of the United States and Canada. For now, emergency notifications via satellite only work in North America.
iOS 16
Software changes are just as important as hardware, and with iOS 16, Apple took a big step. Here's a list of the main improvements:
Access screen (iOS 16): Android users have long been able to customize their phone's access screen. Apple now offers the same. Customizations include different fonts, widgets with live information (weather, calendar, activities) and backgrounds. Support for multiple access screens lets you design an interface for every occasion.
Live Activities (iOS 16.2): Want to know when Uber is at your doorstep or who won the World Cup? Live Activities allows supported apps to display and refresh live information on the access screen.
Focus Filters (iOS 16): Focus modes allow you to create different 'environments' for your iPhone, such as 'personal', 'work' and 'sleep'. Focus filters let you set which apps can and cannot send notifications when a particular focus mode is activated.
Shared Photo Library (iOS 16.1): Allows you to create a shared photo library with up to five people. When shooting a photo with one of these people nearby, the photo automatically appears in the shared library. Ideal for vacations or sharing photos with your partner.
Passkeys (iOS 16): A replacement for login passwords, based on 2FA with Face ID or Touch ID.
Home (iOS 16): A completely new, uncluttered Home interface. Also supports the new Matter standard as of iOS 16.2.
Health (iOS 16): Records medication and tracks when you take or need to take it. Furthermore, Fitness now works without an Apple Watch.
Messages (iOS 16.1): You can delete messages for up to two minutes after hitting send. Edits can be made for up to 15 minutes after. Finally, SharePlay lets you share activities with contacts.
Conclusion
Last year, we concluded that the iPhone 13 was everything but a must-buy. For the iPhone 14 Pro and Pro Max, we conclude differently. Improvements to the screen and camera actually make for a better user experience and show that Apple still values ease of use. You'll have to dig deeper than ever, though. The cheapest model (iPhone 14 Pro) retails for €1329. Those who want to buy the iPhone 14 Pro Max with 1TB storage capacity will pay dearly (€2129).
When it comes to the standard iPhone 14, we have to be critical: the improvements over the iPhone 13 are minimal, especially when you realize that many of the innovations (such as access screen widgets) are part of iOS 16 and thus available for older devices as well. If you really want a new large-screen iPhone, you could consider the iPhone 14 Plus, but as far as we're concerned, you won't miss much by skipping a year.
There's little good news for small-device lovers. There's no iPhone 14 mini and it doesn't seem like there will be an iPhone 15 mini either. Fortunately, the iPhone 13 mini is still included in Apple's lineup, and we believe it remains an excellent choice. For those who find all of these iPhones too expensive: Apple renewed the iPhone SE (with a physical home button) this year with prices starting at around €559.