For businesses and organizations, the move to cloud environments is a normal thing to do today. However, this step creates complexity when it comes to monitoring how applications function across all network and Internet connections. Monitoring specialist ThousandEyes offers a complete holistic overview or a 'Google Maps' of sorts, says co-founder and CEO Mohit Lad.
Nowadays, many companies and organizations are expanding or transforming their applications within their on-premise data centres towards (multi)cloud environments. This often means selecting the right technology, the most desired cloud architecture, the service orchestration and the automation of the network.
The question of how all these applications can properly perform in all these environments is often neglected. For this purpose, these applications are highly dependent on the connectivity offered via the various (internet) connections. After all, without properly functioning connections, there is no point in using or offering applications and the associated data or purchasing SaaS services and products.
Complete overview needed
When switching to these kinds of environments, adequate monitoring of how these applications move within the different environments is necessary. Companies and organizations already use Application Performance Management (APM) tools for monitoring, but these solutions still mainly show the performance of the applications within their own on-premise network environments or only up to the used internet service provider (ISP) or hosting provider. Outside, to the cloud and back again or between cloud environments, they do not do this. A so-called 'blind spot' is created, as a result of which companies cannot properly assess whetherthey can find causes of poorly performing applications on their own or whether the problem is hidden elsewhere in the chain.
In order to be able to keep an eye on all environments, an overview is needed that 'looks' further than just the ISP. Preferably all the way up to the various hyperscale (public) cloud providers and therefore also between these providers themselves. Only then do companies and organizations get a complete holistic overview for monitoring the performance of all used or to be used applications and are able to intervene when necessary.
Deep insight
This holistic view, actually a kind of 'Google Maps' for the entire application traffic between all environments, is what the American scale-up ThousandEyes solution offers to companies and organizations. The monitoring vendor gives customers the ability to use a single tool to gain insight into all the network connections between their different environments, both internally and externally. This enables them to monitor the performance of their own or third-party (SaaS) applications anywhere. The platform offers a 'deep' insight into the entire network and into the internet connections that are necessary for the proper functioning of applications, including essential services like BGP, DNS and Content Delivery networks (CDN).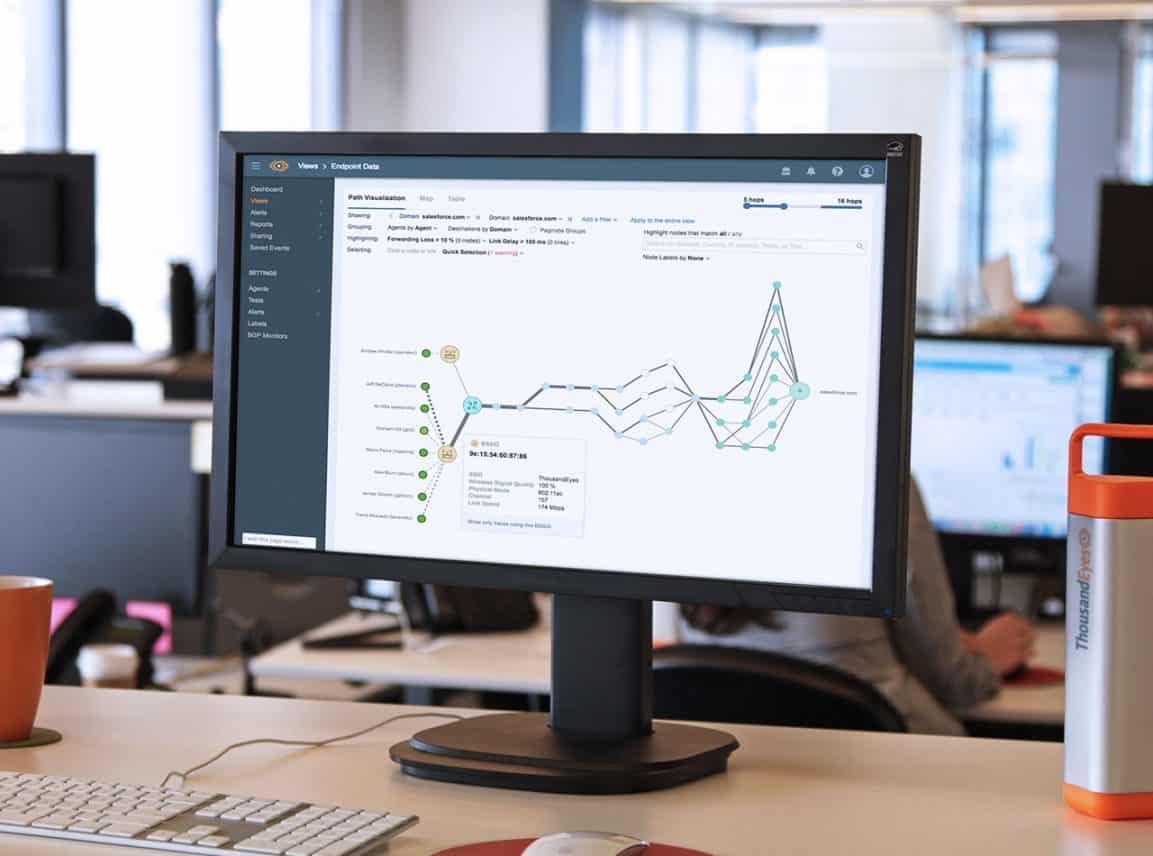 Synthetic monitoring
ThousandEyes uses synthetic monitoring for this purpose. This form of monitoring, also known as active monitoring, uses specially created scripts to simulate certain actions or behaviour of applications within the company network and beyond. This in contrast to so-called 'passive monitoring', for which live data from networks is processed.
Synthetic monitoring follows the entire path taken by end-users on a website, using an application or other software. The scripts are regularly 'unleashed' onto the network and sketch a picture of the performance. The data obtained can be used to identify problems, such as downtime or other delays, before they affect end users. In the case of passive monitoring, this can only be determined after the analysis of the live data.
Because synthetic monitoring does not require data from 'active' traffic, end users can constantly test applications for their performance, or they can test new applications for performance before they become active in the various networks and cloud environments. With its synthetic monitoring, ThousandEyes actually creates a kind of intelligent user workflow. It simulates the web behaviour of end-users and links this to the performance data of the entire underlying environments of network, internet or cloud connections.
Sharing data
End-users can, if they identify problems within application traffic, share the data found within their own organization and with the Internet or cloud providers where these problems are found. The platform has functionality that allows a message to be sent with a share link that provides direct access to the 'map' and associated data. Recipients can view this detailed data immediately, even if they do not have the ThousandEyes platform themselves. This greatly simplifies the troubleshooting process and makes it more effective, Mohit Lad explains.
Deployment of agents
To obtain a complete overview, the network and cloud monitoring specialist uses software-based agents. ThousandEyes calls these agents 'vantage points'. Companies and organizations can roll out these vantage points within their own network(s) – and if desired, even to their endpoints. The monitoring specialist ensures that these agents are present in the most important ISP and various cloud environments.
To this end, the company uses servers at a hosting company and buys access to the traffic of a particular Internet provider so that it can obtain as complete a picture as possible of the (application) traffic to local transit providers and last-mile ISPs. According to Mohit Lad, the company works strategically sound in this respect, because in this way several parts of the internet can be mapped out.
Meanwhile, agents have been deployed in 187 cities, in 58 countries. In addition, there are also agents per region for the cloud environments AWS, Azure, Google Cloud and Alibaba Cloud. ThousandEyes indicates that agents will be added at more locations throughout the country in the near future.
Further insights
ThousandEyes even goes as far that it is possible to determine for each application which cloud environment is most suitable for it (regionally) by using the vantage points of the hyperscale cloud providers. Are public internet connections -which AWS works with, for example- sufficient or is it more convenient to use the direct backbone of Microsoft Azure?
In addition to the agents of the network and cloud monitoring specialist, customers can also roll out ThousandEyes vantage points in the hyperscale cloud environments for more company-specific applications or other purposes. Just like they would in their own on-premise environments.
Expansion on other tools
However, the platform should not be seen as a complete replacement of existing network monitoring and APM tools, the CEO admits. Other applications and solutions, such as those of NetScout or New Relic, can still be used by companies and organizations. Especially if companies and organizations want to know how applications run on their own networks and data centers and which network traffic comes in and out. The tools in question also clearly show the load on the application and/or the proper functioning of certain network devices. The monitoring tools offered by the major cloud providers themselves are also not entirely satisfactory. These are often focused on their own environment and do not analyze much, further down the chain.
ThousandEyes really is an extension of these tools, the CEO says. It maps out how the application is 'transported' to these (multi)cloud environments, how it is delivered to end-users, but also provides insight into how the applications move and perform between the different cloud environments. This information can be combined with the information from existing monitoring tools or environments to create a complete picture.
Collaboration with partners
The monitoring vendor works closely with other parties. For example, in the field of APM, but also, for example, with a specialist such as Splunk. The CEO also sees great value in cooperating with ServiceNow. In total, there are three to four partners with whom we work closely.
ThousandEyes also works closely with a number of real network and cloud specialists, including Cisco, Juniper Networks and VMware, as mentioned above. Emphasis is on the suppliers that are most used by customers. If these vendors start using the products and services of other vendors, ThousandEyes will not hesitate to collaborate with these parties, according to the CEO.
Who uses ThousandEyes?
ThousandEyes' solutions can be deployed by any company or organization that wants to get more out of user experience, performance and insight into the entire network, internet and cloud traffic for its applications. At the moment, these include large financial services companies that the specialist can count as his clients. There is also a lot of interest from the industry sector, especially because of the advancing Industrial Internet of Things (IIoT). Other potential customers include telecom operators.
Future developments
When asked about future developments, Lad indicated that these developments will mainly take place in the cloud, e.g. SaaS, and the rise and implementation of SD-WAN. The latter technology is particularly relevant to ThousandEyes because it uses the Internet as the backbone. In this way, companies and organisations can phase out MPLS connections. All traffic will then be over the internet. ThousandEyes offers the best insight for this, the CEO concludes. This of course also explains the interest in collaborating with SDWAN specialists such as Cisco and Juniper Networks.
Justifiably a 'Google Maps' of sorts
With the ThousandEyes solution, companies and organizations have a powerful and comprehensive tool to gain insight into the entire network, Internet and cloud chain that their own applications, as well as those of third parties, travel to function. The tool can rightly be called a kind of 'Google Maps' for the above insights. Various tabs can be used to zoom in on connections and (internet) nodes in detail. With the applied synthetic monitoring, performance problems can then easily and quickly be detected and solved. By being able to share the data, they can also alert suppliers, such as ISPs or the cloud providers, to these problems quickly and let them do their jobs.
Not only we see great added value. As a scale-up, the company is interesting to investment companies, such as the well-known Sequoia Capital. But real application specialists also look at the company with great interest, because it does what they think is very important; measuring whether applications are available anywhere, anytime and deliver the best performance. That's why Salesforce, for example, invests in the network, internet and cloud monitoring specialist via its investment vehicle. It's not without reason that e.g. Credit Suisse calls the company one of the five 'technology disruptors of 2019'. In conclusion: we are very curious about future developments.