Google has decided to make its Google Workspace product available to everyone. Previously, Google Workspace was only available to business or education users. The service is now available to everyone, although there will still be subscription options for businesses and educational institutions that offer more features and management options.
The move to make Google Workspace available to everyone and introduce a subscription for small businesses under Google Workspace Individual puts Google in a leading role in the new hybrid work after Corona. The Workspace Individual subscription is aimed at small businesses looking for a better Workspace experience and more tools for virtual meetings.
Email and Chat should support each other seamlessly
Business users have had the option of using Google Chat Rooms for some time. That product is now being rebranded as Google Spaces. With Spaces, it will be possible to communicate via instant messages. This can be done one-on-one, but also in groups, for example in education with an entire classroom, or in a company with a number or a whole group of colleagues.
Google Spaces is the cement between Gmail and Google Meet
Google's vision is that Spaces should connect seamlessly with Gmail and Google Meet. For example, it should be possible to quickly and easily scale up an email to a chat session. For example, if you are emailing back and forth with a business contact or colleague, you can start a chat session with a simple press of a button to coordinate matters so that you need fewer e-mails.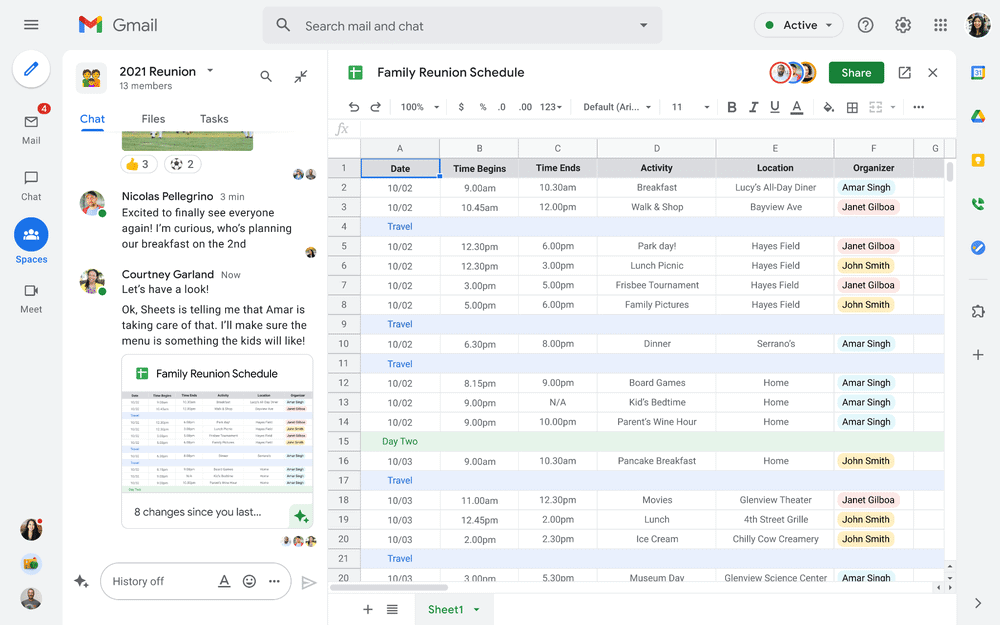 Spaces also works seamlessly with Google Meet. If you are chatting with several colleagues about a project, you can easily scale up to Google Meet and set up a video meeting with all participants. Although Google has developed the products independently, they form a new simple way to communicate, with Spaces being the cement between Gmail and Google Meet.
For individuals who do not have a paid Google Workspace subscription, Spaces will now also become available. The Google Chat features were previously only available to paid customers. This will now change with the introduction of Spaces.
Spaces also integrated into all Office tools
The new Google Spaces will also be deeply integrated into all Office products of Google. So in Documents, Spreadsheets and Presentations, you can start a chat session at any time with colleagues who are also working on the document. That way, you can collaborate easier and faster. We also wrote about this recently, about Google's Smart Canvas.
Google Workspace makes hybrid working easier with specific features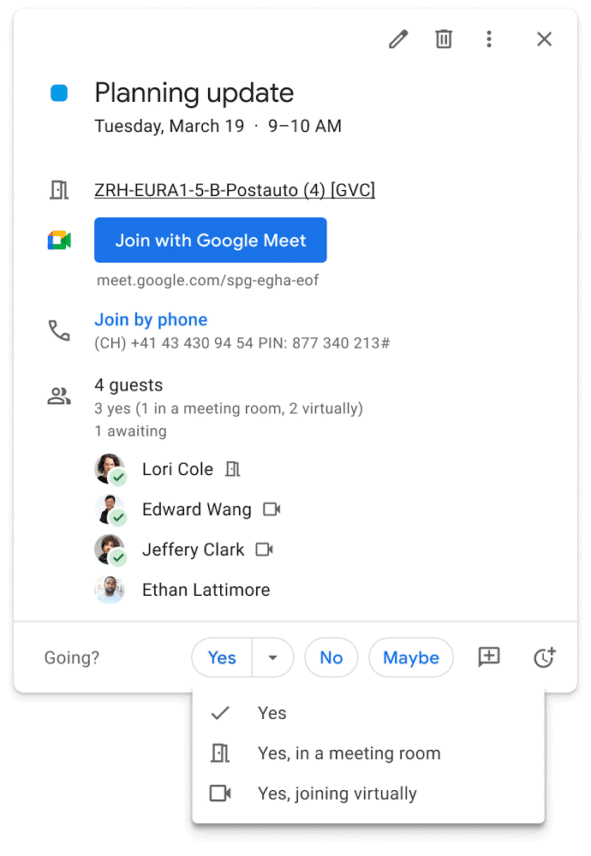 At Google, they seem to have given a lot of thought to specific features needed for the new hybrid work. A good example is an update in the Google Calendar. From now on, you can indicate whether you will be physically or virtually present at an appointment.
You can now also set the location where you work. For example, suppose you work at the office on Monday, Tuesday and Friday, but at home on Wednesday and Thursday. Then you can register this in Google Calendar so that colleagues who want to plan an appointment with you can see on which days this is possible physically and on which days only virtually. If you work at different locations, because your company has multiple offices, you can also register. It can also be done very flexibly, with a different schedule every week.
Active participation in hybrid meetings
Hybrid meetings are also becoming more common. Some people attend a meeting virtually from home, while others sit together in a meeting room with a large screen and a video bar. In principle, you can hold a meeting in Google Workspace in this way. There are plenty of video bars nowadays that can highlight people well in a meeting room when they are speaking. However, what is more, difficult in these situations is to ask everyone's opinion or, if people are making a speech, to come in and have your say.
If you are all physically present, this is much easier, especially in hybrid meetings, where there are delays on the line and people quickly talk at cross purposes. Google has found a solution for this with Companion Mode. This Companion Mode is aimed at people who are physically present at such a hybrid meeting. They can use their smartphone or laptop to log into the meeting, not for voice or video, but for example, to "virtually" raise their hand or answer a question (poll) asked in the meeting.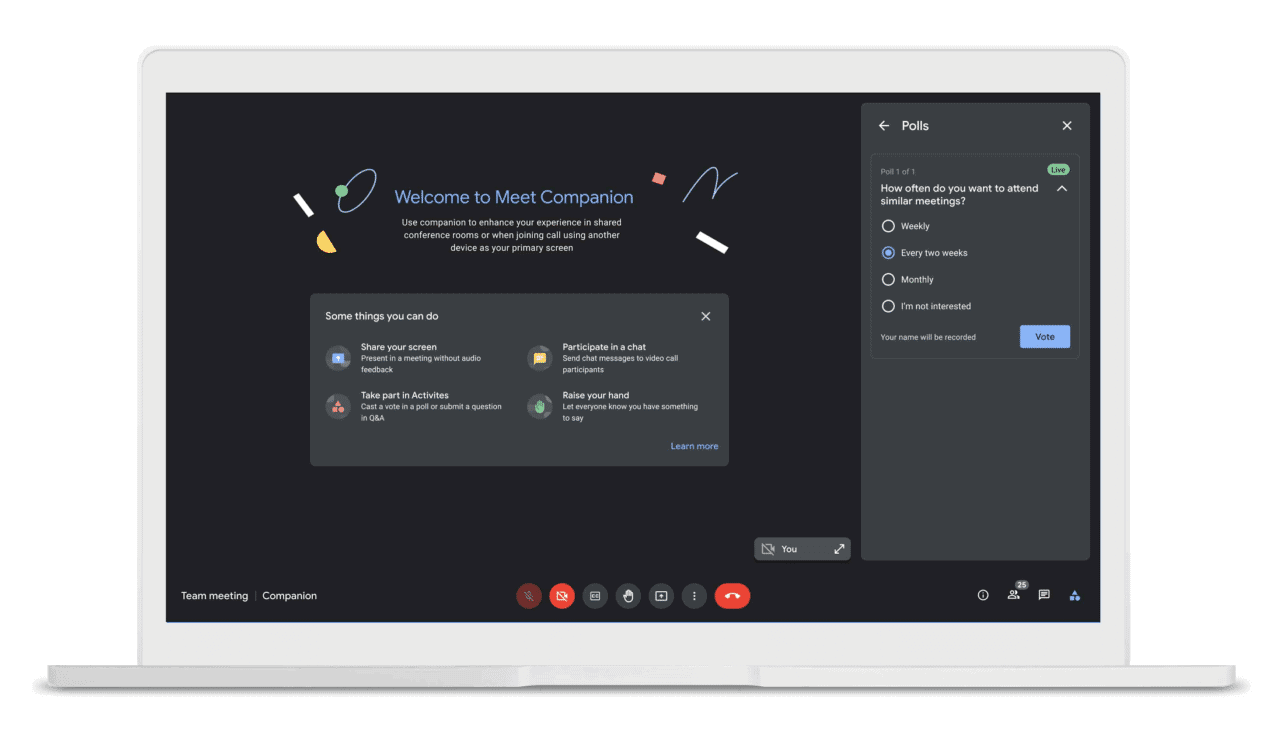 The idea of this companion mode is excellent. The question is whether everyone will use it properly. In the end, it is still easier to skip this step and try to break into the conversation. A discussion leader must, therefore, really encourage people to use the app. They can do this by asking many questions in the meeting, which people have to answer to come to decisions.
Google leads the way in hybrid working
With these new developments, Google Workspace seems to be leading the way in hybrid working. Although still a market leader, its major competitor Microsoft is taking similar steps by adding more options for collaborative working. At Microsoft, their Teams product is central to this development. In our opinion, Microsoft is lagging in this respect; at Google, it all works a lot faster and smoother. It is also more user-friendly and works more intuitively. Microsoft Teams is quite a heavy application that does not always work logically. Especially when working together on documents, Microsoft still has a lot of work to do. Furthermore, for the time being, we do not see a seamless transition between Outlook and Teams, which are still fairly separate worlds at Microsoft.
In the end, every user has his or her own preference, which products he or she likes best. Both companies have a history in which their Office and e-mail services were either better or worse at one time. Based on all the announcements made in the last few months, both are very actively developing their products, and a new competition is on the way. The user can only win because the better the products are, the more pleasant it is for the end-user.