During the annual Google I/O conference, Google has given a glimpse into the development of new products. Google Workspace is getting a big update called Smart Canvas, making Google Docs, Sheets and Slides a lot smarter and more advanced. The solutions are less tied to a fixed format with a single purpose but are now flexible and interactive to use.
The document or window in which you work is becoming much smarter. For example, it is possible to add (tag) people in a document by simply typing the @ and selecting a person. In the same way, you can also make references to other documents so that it is easy to click through different documents. You can also add Interactive lists, for example, a task list that needs to be completed. You can assign these tasks to different users.
With this, Google seems to have copied many features from well-known collaboration tools such as Asana, Trello and Monday into their Workspace product, but more creatively. There are also features like milestones, statuses, and project trackers to add to documents and smart tables. In addition, Google introduces the necessary templates, with which you can immediately create such a Workspace table document.
It is a fusion of well-known text and spreadsheet tools with features from major collaboration tools. This year, the necessary features will also follow, including a timeline. This will allow users to easily see which phase a project is in and which tasks need to be completed when. It should also be possible to sort tasks by owner, category or another characteristic.
It is an interesting step by Google to do this within its Workspace environment, which is mainly based on the well-known Sheets environment. We are curious to see whether this will also work efficiently and can be integrated with third-party products and solutions. After all, many collaboration tools today work intensively together with all kinds of other products via APIs.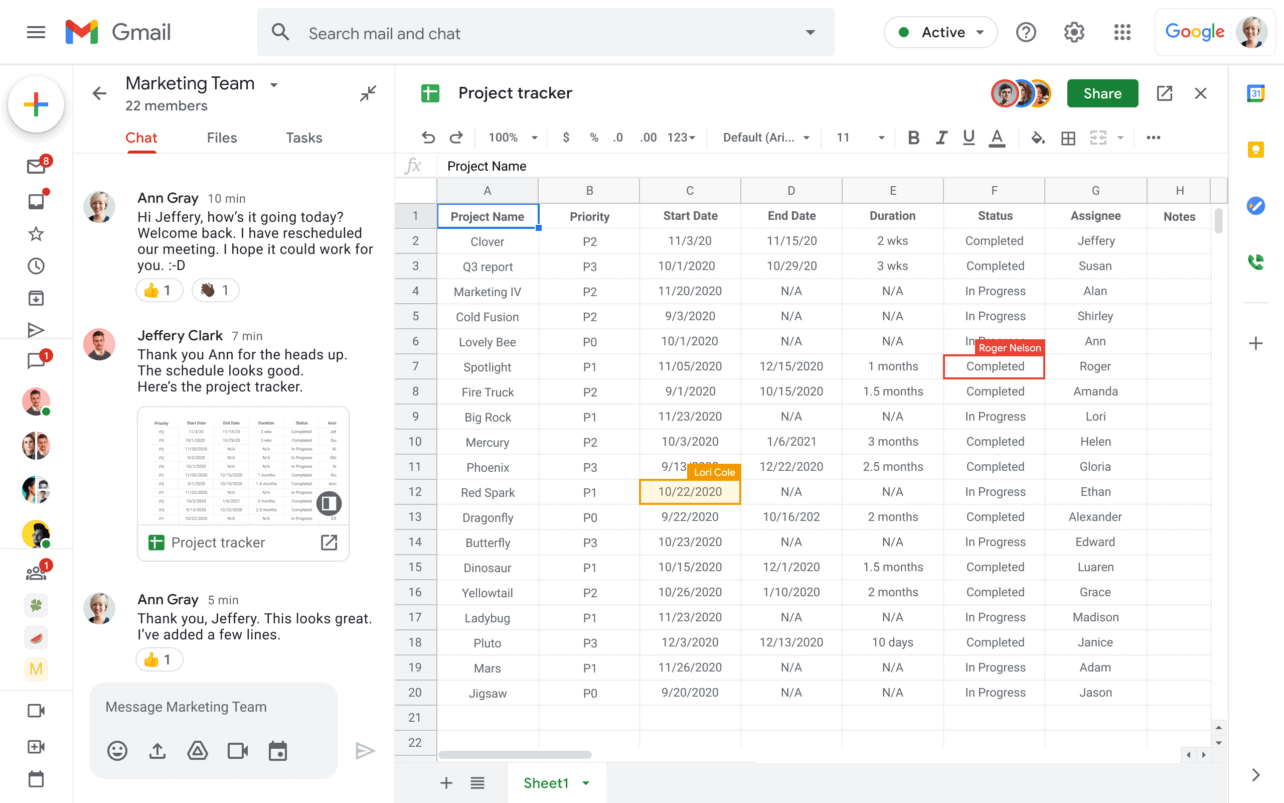 Google Meet takes a central role in Workspace
Another step that Google is taking is to give Google Meet a more important role. Recently, Google added the possibility to pin certain content and video feeds to offer a better content experience. In addition, the content of Docs, Sheets and Slides can be shared directly with Google Meet soon. It will also be possible to create new Sheets and Slides documents together in multi-person chat rooms. Later this year, Google plans to launch a Google Meet picture-in-picture feature displayed on top of Docs, Sheets and Slides. So you can collaborate on documents but also see each other.
Efficient virtual (collaborative) working
Google seems well on its way to making its Workspace solutions more suitable for virtual working. Certainly, the combination of Docs, Sheets and Slides with Google Meet and all-new collaboration tooling may well be a good mix. Google's big competitor in this area is, of course, Microsoft, which also offers these kinds of tools, but all more as a silo and less well integrated.
The big question will be whether it works intuitively and people can find the functions easily so that they will use them. The idea is certainly not bad, nor are the features in themselves, but whether it will be used in this combination and find its way to the users remains to be seen. That ultimately remains the pitfall of many solutions. How do you keep the use of an application as simple as possible, so that it is also adopted?
Competition in collaboration with Office is limited
In any case, it is good to see that Google is trying to innovate with solutions that are well integrated with its Office suite. In the end there is far too little competition in the Office segment for documents, spreadsheets and presentations. As a result, it has become a battle between Google and Microsoft. Apple has also made an attempt in the past, but they have dropped out. They miss the bridge to collaboration in a business environment. Because Google is now investing again, Microsoft cannot stay behind.