Windows 11 is now available for a select number of devices. Windows 10 devices manufactured in the last few weeks will ship with the new operating system. Older devices can be updated manually using the Installation Assistant, Installation Media or an ISO file, provided that they pass the significant step-up in hardware requirements. Should you prefer to wait for the automatic option via Windows Update (for Business) or Windows Endpoint Manager, prepare to settle in. The rollout of automatic updates is phased. According to Microsoft, Windows 10 devices with compliant hardware may be eligible for the update as late as mid-2022. That leaves the question of whether an early, manual update is worth your time.
If you work in a Windows 10 environment and have not yet received the notification from Windows Update (for Business), a 'Health Check' — usable through Windows Endpoint Manager and Analytics, Windows Update (for Business) or this standalone application — allows you to quickly validate whether a device is eligible for an automatic update. Is the resulting assessment unclear? Make sure your device meets the hardware requirements. If so, the aforementioned manual update is your only option for the time being.
Manual updating is far from optimal for organizations that run on dozens, hundreds, or thousands of licenses. Should your environment fit the picture, we advise you to wait. If devices meet the hardware requirements, the automatic option will likely present itself in the not-so-distant future via Windows Endpoint Manager or Windows Update for Business. Windows Endpoint Manager has been updated to allow the management of Windows 10 and Windows 11 devices, supporting insight in fleets of devices with different OS versions throughout the transition period.
Small business and SMB environments are more likely to find value in a somewhat early, manual update. Windows 11 introduces several interesting updates and features for business users. Read on and get acquainted with some of the leading changes.
1. Snap Groups
Windows 11 has a new look. While the (adjustable) Dark Mode and centred taskbar are eye-catching, visual innovation goes beyond appearance. Setups like multiple horizontal or vertical browsers and app windows can be saved as "snap groups". Among other things, snap groups answer the age-old need for a quick way to display three horizontal, equally sized windows. Opening and saving a snap group is not limited to a single display: snap groups work fine in multi-monitor setups.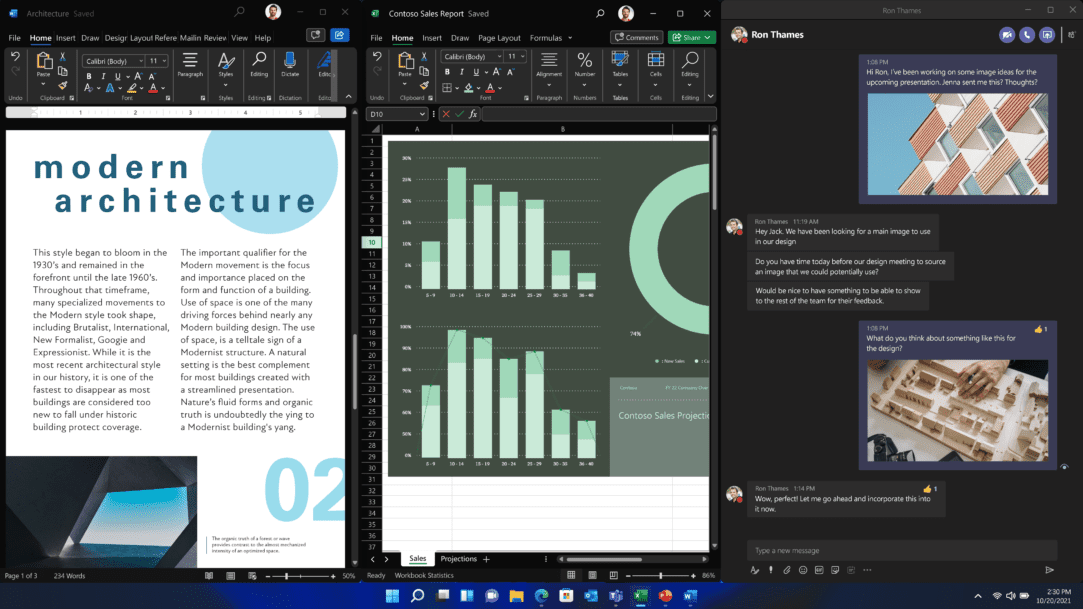 2. (Limited) Teams integration
Teams is an integral part of Windows 11 — provided that you are using a personal account. Windows 11 allows the messaging and calling of other Teams users directly from OS, in the same vein as FaceTime for macOS. However, neither you nor others can do so with a work or school account. For the latter, you remain dependent on a local download or web usage of the software.
3. Security
While most of Windows 11's security technology stems from features that have already found their way into Windows 10, Windows 11 removes the optionality of those features.
Trust Platform Modules (TPM) primarily serve for encryption, were built into most Windows 10 devices, and are conditional for the usage of Windows 11, which partly explains the unique step-up in hardware requirements that the update entails.
Hypervisor-Protected Code Integrity (HVCI) has also been optionally available and is required as of Windows 11. HVCI serves primarily to prevent Control Flow Guard bitmap modifications. It plays a smaller role in certifying trusted processes like Credential Guard.
Lastly: Microsoft Defender Application Guard (MDAG). Readily available for Windows 10 — always enabled in Windows 11. In this document, Microsoft provides a complete description of the feature and added value. In short, MDAG amounts to additional browser and Office software protection based on Hyper-V virtualization.
4. Frequency of updates
Windows 11 pushes back the frequency of significant updates to once a year. If you don't currently qualify for an automatic update to Windows 11, at least you're guaranteed that the manual update will last you until October 5, 2022.
While the frequency of intermediate updates is unchanged, Microsoft says that the size of said updates is reduced by 40 percent, and the act of updating is easily performed as a background process.